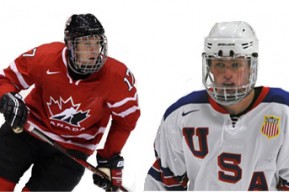 The countdown is ticking down in its final hours until the puck drops on the 2015 IIHF Under-20 World Junior Hockey Championships. On December 26th, Montreal and Toronto will play hosts to ten nations vying to capture gold in the most spirited international junior tournament on the globe. Canada will be looking to not only medal for the first time since 2012 but return to the top of the podium for the first time since 2009 when they won their last in a five-year gold medal streak.
The 2015 WJHC marks a unique opportunity where the world's top prospects convene together with country mates in hopes of riding the passion from hockey fans spanning their homelands to a gold medal victory. Especially this year, excitement looms as several high profiled players ready to don their country's colours. It's been widely covered and anticipated for months now but we will finally see Connor McDavid and Jack Eichel competing on the same stage. Widely considered the best draft eligible prospect since Cole Harbour's Sidney Crosby, Connor McDavid has returned from a month-long hiatus (due to a hand injury) to prepare himself for his second world junior tournament. American Jack Eichel has dominated the NCAA as an underager for the past few months and will look to show scouts that he's on the same level as McDavid. Look for the Canada – USA game scheduled for New Year's Eve in Montreal as the marquee game during round robin action. Outside of McDavid and Eichel, Czech Republic's Pavel Zacha, American defensemen Noah Hanifin and Zach Werenski, Swede Oliver Kylington, Finn Mikko Rantanen, Russian man child Alexander Dergaachyov and Swiss QMJHL import standout Timo Meier are just a few draft eligible names to watch. For complete list, see below.
With several NHL teams agreeing to loan their first year apprentices to their country's respective World Junior rosters, including Canada's Curtis Lazar (Ottawa Senators) and Anthony Duclair (New York Rangers), and Switzerland's Mirco Mueller (San Jose Sharks), the level of competition got a talent boost. The rosters have not been officially set and aren't required to be submitted until Christmas Day, so the following list is subject to change.
GROUP A

FINLAND
The defending gold medalists are not short on talent but their success will depend largely on the play of their highly touted goaltending tandem of Husso and Saros, both extremely talented puck stoppers. Kasperi Kapanen is their go-to offensive weapon and he's enjoyed an excellent season with Kalpa but don't be surprised to see the attention to turn to double underager Jesse Puljujarvi, a high-end forward talent who's been deemed as the best Finnish prospect since Teemu Selanne. Dallas Stars prospect defender Julius Honka will spark the offense from the blueline and could end up as the highest scoring defenseman in the tournament. NHL scouts will be keyed in on potential first rounder Mikko Rantanen, who has registered 10 points through 30 games with TPS.
Top 5 Players:
Kasperi Kapanen, F (Pittsburgh Penguins)
Jesse Puljujarvi, F (2016 eligible)
Julius Honka, D (Dallas Stars)
Juuse Saros G (Nashville Predators)
Mikko Rantanen, F (2015 eligible)
Sleeper:  Artturi Lehkonen, F (Montreal Canadiens) - Small skilled forward who excels with the puck on his stick. If given top powerplay minutes, he could one of Finland's top offensive catalysts. 
Prediction: 3rd Place - Pool A

CANADA
Two years without a medal and the Canada's hockey brain trust are desperate to turn in a gold medal performance on home ice. With Canada returning seven players from the 2014 squad including captain Curtis Lazar, Connor McDavid, Sam Reinhart, Nic Petan, Frederik Gauthier, Josh Morrissey and Zach Fucale, the Canucks will blend experience with some incoming talented forwards in Max Domi, Robby Fabbri and Anthony Duclair. Success will depend largely on Canada's goaltending and defensive responsibilities since scoring goals shouldn't be an issue.
The starters role has yet to be announced but both Zach Fucale and Eric Comrie are outstanding talents yet they must step up and perform on the pressure-filled stage and shake the belief that Canada cannot develop goaltenders. While Fucale has the experience, I expect Eric Comrie to have the confidence of the coaching staff once the key matchups come due. All eyes will be on phenom Connor McDavid as critics look to challenge his skills versus American Jack Eichel's. With him coming off a hand injury and not seeing any competitive game action in over a month, McDavid may take a few games to shake off the rust but if there's any player who will rise to (and exceed) expectations, it's McDavid.
Coach Benoit Groulx certainly has plenty of options to turn to up front where he can rely on speed and skill with Max Domi, Connor McDavid, Anthony Duclair, Nic Petan and Robby Fabbri or combine size and skill with Nick Ritchie, Nick Paul, Lawson Crouse and Jake Virtanen. There are plenty of well-known game breakers in Canada's lineup but I fully expect Nick Paul, Lawson Crouse and Joe Hicketts to introduce themselves to the hockey world with strong showings.
Top 5 Players:
Connor McDavid, F (2015 eligible)
Anthony Duclair, F (New York Rangers)
Curtis Lazar, F (Ottawa Senators)
Josh Morrissey, D (Winnipeg Jets)
Sam Reinhart, F (Buffalo Sabres)
Honourable Mentions: Nic Petan, F (Winnipeg Jets) & Max Domi, F (St. Louis Blues)
Sleeper:  Nick Paul, F (Ottawa Senators) - Blends size, soft hands and excellent vision with a blue-collared work ethic which guarantees that he will always be around the puck.
Prediction: 1st Place - Pool A

UNITED STATES
Fielding a younger team with much of its key core forwards currently too young to be drafted into the NHL, USA is certainly not void of skill. Look for the cage-wearing forwards to create most of the offense. Jack Eichel is prepared to take the world by storm after a strong showing last year and will be joined by double underager Auston Matthews, a player many consider to be the favourite to be selected 1st overall in 2016. NHL scouts will be busy taking notes with Eichel being joined by top draft eligible prospects Noah Hanifin, Zach Werenski, Brandon Carlo and Jeremy Bracco. Youth blends well with experience as JT Compher (Buffalo Sabres), Nick Schmaltz (Chicago Blackhawks), Sonny Milano (Columbus Blue Jackets), Alex Tuch (Minnesota Wild), Dylan Larkin (Detroit Red Wings), Adam Erne (Tampa Bay Lightning), Cole Cassels (Vancouver Canucks), John Hayden (Chicago Blackhawks) and Hudson Fasching (Buffalo Sabres) provide the Americans with tremendous depth.
On the backend, Anthony DeAngelo (Tampa Bay Lightning) is a wild card to make the team but he oozes offense and would challenge the tournament scoring lead among defensemen if he were included. Steven Santini (New Jersey Devils), Will Butcher (Colorado Avalanche) and Ian McCoshen (Florida Panthers) will each log big minutes and help insulate draft eligible defenders Noah Hanifin and Zach Werenski.
It's expected that Boston College standout, Thatcher Demko (Vancouver Canucks), will carry the bulk of the workload between the pipes but if he falters, Alex Nedeljkovic (Carolina Hurricanes) has the pedigree for stepping up in big game situations. 
Top 5 Players:
Jack Eichel, F (2015 eligible)
Sonny Milano, F (Columbus Blue Jackets)
Anthony DeAngelo, D (Tampa Bay Lightning)
Nick Schmaltz, F (Chicago Blackhawks)
Dylan Larkin, F (Detroit Red Wings)
Sleeper:  Jeremy Bracco, F (2015 eligible) - He may not get the ice-time and opportunities to breakout in this tournament but Bracco owns a playmaking skill set that will eventually become a key fixture on the international stage. The way he maneuvers about the offensive zone and creates resembles a young Patrick Kane. 
Prediction: 2nd Place - Pool A

SLOVAKIA
Montreal Canadiens' fans will be sure to tune into Slovakia's games to catch undersized prospect Martin Reway create some magic. Unfortunately for Slovakia, Reway will certainly need to learn some magic to help his Slovakian teammates play spoiler in Pool A, as the team lacks depth up front. Boston Bruins' prospect Peter Cehlarik has some good offensive skill but with him and Reway facing top opposing defenders, creating scoring chances will be difficult.
NHL scouts will be focused on top Slovak prospect Erik Cernak, a 6-foot-3 defender who has registered four goals and six points for Kosice in Slovakia's top league. Cernak was dubbed a B-rated prospect in NHL CSS' pre-season rankings.
Top 3 Players:
Erik Cernak, D (2015 eligible)
Peter Cehlarik, F (Boston Bruins)
Martin Reway, F (Montreal Canadiens)
Prediction: 4th Place - Pool A
GERMANY
With the Edmonton Oilers confirming that 3rd overall selection, Leon Draisaitl, wouldn't be loaned for the WJHC, Germany enters the tournament a bit deflated. With no drafted prospects on the German roster, Dominik Kahun showed well at times in the Ontario Hockey League in 2013-14 but went undrafted and headed back to Munich to compete in his home nation. Frederik TIffels showed well for Germany last year scoring a handful of points and defenseman Tim Bender, who had an abbreviated stint with the 2013-14 London Knights will return to the German blueline.
Top 3 Players:
Dominik Kahun, F (undrafted)
Frederik Tiffels, F (undrafted)
Tim Bender, D (undrafted)
Prediction: 5th Place - Pool A
 ***
GROUP B

SWEDEN
Only one name could potentially upstage the McDavid-Eichel hoopla surrounding the 2015 WJC and that's William Nylander. With the talented young Swede arriving in the city that drafted him, Nylander will have the attention of all Maple Leafs fans. With a chance to play every game in the Air Canada Centre, Nylander will get a head start in familiarizing himself in a city that he will soon call home. Jacob de la Rose (Montreal Canadiens), Adrian Kempe (Los Angeles Kings) and defenseman Robert Hagg (Philadelphia Flyers) are Sweden's other top names to watch. Unfortunately, draft eligible defenseman Oliver Kylington isn't expected to play due to injury. Kylington, a mobile defenseman with slick offensive skills and is projected as a potential top 10 selection for the upcoming 2015 NHL Draft. Sweden received more bad news with news that Jonas Johansson (Buffalo Sabres) will miss the tournament with injury. He was replaced Tuesday with Fredrik Bergvik (San Jose Sharks). Expect Lucas Wallmark (Carolina Hurricanes), Anton Karlsson (Arizona Coyotes), Oskar Lindblom (Philadelphia Flyers) and Victor Olofsson (Buffalo Sabres) to help William Nylander with the offense.
NHL scouts will keep close tabs on Sebastian Aho (D) and Jens Lööke (F).
Top 5 Players:
William Nylander, F (Toronto Maple Leafs)
Adrian Kempe, F (Los Angeles Kings)
Robert Hagg, D (Philadelphia Flyers)
Jacob de la Rose, F (Montreal Canadiens)
Lucas Wallmark, F (Carolina Hurricanes)
Sleeper: Anton Karlsson (Arizona Coyotes) - Pesky and tenacious on the attack, Anton Karlsson is a hard to play against player. While he's known for his aggressiveness, Karlsson does own some solid offensive skill and on this Sweden team, they will need him to tap into that skillset.
Prediction: 3rd Place - Pool B
RUSSIA
Russian hockey is on the rise and after proving to Canada that they can play a Canadian style hard-nosed skilled game during the Subway Super Series, Russia has to be considered favourites in Pool B. Blessed with the tremendous goaltending tandem of Ilya Sorokin (New York Islanders) and Igor Shestyorkin (New York Rangers), New York could be a home to a Russian goaltending hotbed in the future. Both Sorokin and Shestyorkin have put in all-world performances during the Super Series and WJC pre-tournament games and striking fear into opposing attackers.
Nikolay Goldobin (San Jose Sharks), Ivan Barbashev (St. Louis Blues), Vladislav Kamanev (Nashville Predators), Pavel Buchnevich (New York Rangers) and Sergei Tolchinsky (Carolina Hurricanes) provide Russia with the offensive frontlines to challenge any team in the tournament. After playing a depth role with the 2014 Russian team, Ivan Barbashev is expected to lead this team in a scoring role. Look for Goldobin and Tolchinsky to showcase their magician-like puck skills opening up opportunities for teammates to sneak into attacking areas. While not drafted into the NHL, forwards Alexander Sharov and Maxim Mamim have always proved to be lethal attackers. With their offensive skills and superb goaltending duo, Russia surely expects to be a dangerous shootout team.
On the back-end, Rinat Valiev (Toronto Maple Leafs) and Rushan Rafikov (Calgary Flames) will be joined by Ivan Provorov (2015 eligible) and Owen Sound's high scoring defenseman Damir Sharipzyanov (undrafted). It will be Provorov who draws NHL scouts looking for first round talent but Alexander Dergachyov is a 6-foot-4 power forward who should get plenty of looks after coming off a tremendous Subway Super Series.
Top 5 Players:
Ilya Sorokin, G (New York Islanders)
Nikolay Goldobin, F (San Jose Sharks)
Pavel Buchnevich, F (New York Rangers)
Ivan Barbashev, F (St. Louis Blues)
Vladislav Kamenev, F (Nashville Predators)
Sleepers: Sergei Tolchinsky (Carolina Hurricanes) & Ivan Provorov (2015 eligible) - Tolchinsky, depending on how coach Valeri Bragin utilizes him, could end up as the team's leading scorer. With no Nikita Zadorov, Ivan Provorov is Russia's most skilled defenseman and I fully expect him to have a breakout tournament, launching him up the draft boards.
Prediction: 1st Place - Pool B

CZECH REPLUBLIC
Don't sleep on the Czech Republic team as I have a feeling that this team will make noise and could be one of the better teams in recent history. I've been quite vocal on the Twitter about how talented Pavel Zacha (2015 eligible) is and he will have his chance to showcase his game to the world. The big pivot is a high-end skater with slick puck skills, crafty vision and an underrated shooting arsenal. Despite being the marquee draft eligible skater, Zacha will be joined by two tremendously gifted forwards in AHL high-scoring rookie David Pastrnak (Boston Bruins) and Jakub Vrana (Washington Capitals). Pastrnak is tearing apart the AHL and has even drawn into some NHL contests and he offers gives his nation a bonafide start to compete for the tournament scoring lead. Vrana will be skating in his third WJC tournament and will be leaned on heavily for production. Ondrej Kase (Anaheim Ducks) and his younger brother David Kase (2015 eligible), along with Vaclav Karabacek (Buffalo Sabres), Dominik Kubalik and Michael Spacek (2015 eligible) will support the trio of Pastrnak, Vrana and Zacha.
Current CHLers Dominik Masin (Tampa Bay Lightning) and Jan Kostalek (Winnipeg Jets) are the leaders on the blueline but former CHL journeyman David Nemecek has found his game upon returning to his homeland and will help solidify the defense core.
Between the pipes, Washington Capitals goaltending prospect Vitek Vanacek is enjoying a breakout season and could be a front-runner as the Cinderella story in the crease. Daniel Vladar, a 6-foot-5 draft eligible top prospect, could find himself as the backup to Vanacek.
Top 5 Players:
David Pastrnak, F (Boston Bruins)
Pavel Zacha, F (2015 eligible)
Jakub Vrana, F (Washington Capitals)
Vitek Vanacek, G (Washington Capitals)
Dominik Masin, D (Tampa Bay Lightning)
Sleeper: Ondrej Kase, F (Anaheim Ducks) - Kase slid in the 2014 draft but this slick and creative puck handler has the abilities to become a dangerous offensive threat. If Kase can put out a consistent effort, he will help propel his team deep into this tournament.
Prediction: 2nd Place - Pool B
SWITZERLAND
Swiss hockey has become a mainstay in the top division of international play and the nation will enter another competitive roster for the 2015 WJHC. Nashville Predators' top 2014 selection, Kevin Fiala, provides Switzerland with an all-star calibre forward as he's already excelling in Sweden's top league for HV71 (20-5-9-14). He was a point-per-game player at the 2014 WJC and will certainly be counted on to improve upon those numbers after taking a step forward. San Jose prospect Noah Rod and QMJHL import standouts Timo Meier (2015 eligible) and Kay Schweri (2015) will provide the top six with some scoring punch. Specifically, Meier and Schweri will be in the spotlight as NHL scouts take a closer look at two very productive first year QMJHLers. Schweri has racked up 40 assists and 47 points with Sherbrooke while Timo Meier has buried 21 goals and 46 points for Halifax in 33 games each. Pius Suter has proven to be an extremely valuable two-way player in his second year with the Guelph Storm, excelling defensively while posting point-per-game numbers.
Swiss defender Mirco Mueller was graciously loaned by the San Jose Sharks boosting a blueline that also features undrafted, yet effective, defensemen in Yannick Rathgeb, Phil Baltisberger and Michael Fora, all of whom skate in the CHL on North American ice. Keep an eye on draft eligible defensemen Jonas Siegenthaler and Roger Karrer.
Top 5 Players:
1.      Kevin Fiala, F (Nashville Predators)
2.      Mirco Mueller, D (San Jose Sharks)
3.      Timo Meier, F (2015 eligible)
4.      Kay Schweri, F (2015 eligible)
5.      Pius Suter, F (undrafted)
Sleeper: Phil Baltisberger, D (undrafted) - Swiss import defender has played a significant role on the defending OHL champion Guelph Storm team meshing a strong two-way approach with an underrated physical game.
Prediction: 4th Place - Pool B
DENMARK
The Danes are no longer just looking to avoid relegation and hoping to make a bigger splash in a very tough Pool B. With Russia, Sweden, Czech Republic and an improved Swiss squad, wins won't come easy for Denmark but with Nikolaj Ehlers (Winnipeg Jets) leading the charge, their chances are certainly increased. Ehlers is arguably one of the most skilled participants in this tournament and will definitely be in discussion for potential scoring leaders. The 9th overall selection by Winnipeg at the 2014 draft has racked up 47 points in only 23 games and that comes after a slow start in his sophomore QMJHL season. Sliding Blue Jackets prospect Oliver Bjorkstrand alongside Ehlers only improves Denmark's offensive options and Mads Eller (younger brother of Montreal's Lars Eller) provides an industrious two-way game. Mads' father, Olaf, will be calling the shots on Denmark's bench as head coach. The above-mentioned Ehlers will have a unique opportunity to play alongside his cousin Alexander True (2015 eligible) who is playing this season with the WHL's Seattle Thunderbirds.
 Olaf Eller will call upon a pair of 1995-born defenders in Oshawa Generals' import Sonny Hertzberg and Malmo's Mads Larsen as they look to stifle the attack in front of goaltender George Sorensen.
Top 5 Players:
1.      Nikolaj Ehlers, F (Winnipeg Jets)
2.      Oliver Bjorkstrand, F (Columbus Blue Jackets)
3.      Mads Eller, F (undrafted)
4.      Sonny Herzberg, D (undrafted)
5.      Alexander True, F (2015 eligible)
Sleeper: Mikkel Aagaard, F (undrafted) - Transitioning into a new league and country is never easy and now that Aagaard has familiarized himself with his new surrounds, he's been playing a more consistent game from night-to-night. If Denmark hopes to avoid regelation, Aagaard will need to chip in on the offensive side to help support Ehlers and Bjorkstrand.
*** 
WJHC MVP: Connor McDavid
All-Star Team
F: Connor McDavid, Canada
F: Jack Eichel, USA
F: Anthony Duclair, Canada
D: Josh Morrissey, Canada
D: Ivan Provorov, Russia
G: Juuse Saros, Finland
Honorable Mentions: David Pastrnak (CZE), William Nylander (SWE), Nikolay Ehlers (DEN), Max Domi (CAN), Will Butcher (USA), Eric Comrie (CAN)
MEDALS 
GOLD - Canada
SILVER - RUSSIA
BRONZE - USA
10 TOP STORY LINES TO WATCH
Connor McDavid vs. Jack Eichel in battle for 2015 NHL Draft 1st overall pick. 'Nuff said!

William Nylander leads Sweden in his future home at Toronto's Air Canada Centre
David Pastrnak has dominated the AHL (23GP-10G-17A-27P)
Nikolay Ehlers running hot as he enters WJC hoping to keep Denmark from relagation 
Kevin Fiala looks to ride SHL success into WJC for Switzerland
Pavel Zacha introduces himself to world stage hoping to launch himself into a Top 5 draft position
No shortage of top 2015 NHL Draft prospects - Connor McDavid, Jack Eichel, Noah Hanifin, Zach Werenski, Lawson Crouse, Jeremy Bracco, Mikko Rantanen, Alexander Dergaachyov, Timo Meier, Kay Schweri, Erik Cernak and many others. 
Preview of potential top 2016 NHL Draft picks - Auston Matthews (USA) and Jesse Puljujarvi (FIN)
Goaltending talent is top notch - Zach Fucale & Eric Comrie (CAN), Thatcher Demko & Alex Nedeljkovic (USA), Juuse Saros & Ville Husso (FIN), Ilya Sorokin & Igor Shestyorkin (RUS) and Vitek Vanacek (SVK)
Defenseman scoring race could be intriguing with Anthony DeAngelo (USA), Josh Morrissey (CAN), Julius Honka (DAL), Noah Hanifin (USA) and Joe Hicketts (CAN)
Follow @RossyYoungblood on Twitter for all #2015WJC updates and prospect news.