So, the Oilers won the 2015 NHL Draft Lottery much to the dismise of everyone living outside of Edmonton. 
That's fun...right Connor?
Sure, Connor McDavid was caught looking a little stunned after the news was announced but don't worry Oilers fans, he will be just fine.
Connor McDavid is an uber-competitor and if there's anything he hates in the world, it's losing. Good news for an Edmonton franchise looking to shake the "loser" tag. As soon as McDavid dons the oil drop copper and blue jersey, he will make it his ultimate goal to turn the franchise around. He won't care about his personal point totals (although those will swell over time) and that's exactly what the Oilers need - a high character professional whose sole focus is filling the "win" column. It's McDavid's selfless drive for perfection that will ultimately re-shape the Edmonton Oilers. 
With Edmonton slated to make the first overall selection for the fourth time in the past six years, there is no better time to throw out a post-NHL draft lotto mock draft. 
1st Edmonton Oilers – Connor McDavid, C, Erie (OHL)
There will be no Lindros-like holdout or pouting from McDavid after the Edmonton Oilers won the lotto and rights to draft this generational talent. Connor epitomizes the word "professional" and will be key in leading the cleanup that's left fans frustrated for years. Think Sidney Crosby ... probably better. 
2nd Buffalo Sabres – Jack Eichel, C, Boston University (Hockey East)
GM Tim Murray was obviously not thrilled to lose the McDavid sweepstakes but can you blame him? Fortunately, Hobey Baker winner Jack Eichel will be the best consolation prize to enter the league since Evgeni Malkin. Like McDavid, Eichel is capable of rebranding a franchise in desperate need.
3rd Arizona Coyotes – Dylan Strome, C, Erie (OHL)
Yotes' Don Maloney has the right to be the most disappointed NHL GM after missing out on the McEichel talents. What Maloney decides to do with the 3rd overall pick will shape the rest of the Top 10 as he starts the domino effect. Fortunately for Arizona, the '15 crop is deep with big front line centres and drafting Dylan Strome would certainly fill an organizational need. On the flip-side, Mitch Marner does have some tremendous chemistry with Arizona prospect Christian Dvorak and is quite familiar with Knights teammate Max Domi which adds another dilemma and temptation for the Coyotes to consider. Speculating on this pick will be fun. 
4th Toronto Maple Leafs - Mitchell Marner, RW, London (OHL)
Toronto continues to search for a big first line centre and there's a chance that Toronto area pivot Dylan Strome is available but who's to say that he'd even top the Leafs' want list? Mark Hunter is quite familiar with Knights superstar Mitch Marner and let's not completely lock him in as a winger quite yet because he has played valuable minutes down the middle in his past. There are few players in this draft that make an impact as consistently as Marner does.
5th Carolina Hurricanes – Noah Hanifin, D, Boston College (Hockey East)
Pegged as the best defenseman in the draft since the puck dropped on the draft season, Noah Hanifin may wait longer to be selected than his talents might suggest. The smooth skating cerebral defender could go as early as 3rd or fall into the latter part of the top 10 but it's probably doubtful that the Hurricanes pass on him. Adding a franchise pillar defender like Noah Hanifin doesn`t come around too often (ask Edmonton) and he's capable of transforming their blueline.
6th New Jersey Devils – Lawson Crouse, LW, Kingston (OHL)
There are two very polarizing schools of critics when talking about power winger Lawson Crouse. The analytics group cringe at the sound of his name while more traditional scouts pass him with flying colours in the 'eye test'. Regardless of what side you support, Crouse's size, grit and underrated skill is worthy of a top 10 pick and the Devils would be a good landing spot for the this projectable throwback talent.
7th Philadelphia Flyers – Mathew Barzal, C, Seattle (WHL)
After missing the majority of the season with a knee injury, Barzal returned to action in 2015 and has been on an upward climb since, reestablishing himself as a Top 10 talent. Barzal is currently showcasing his high-end potential with Team Canada at the U18s in Switzerland and it should vault him into a very flattering draft spot. Philadelphia has plenty of options but could Barzal give the Flyers another Giroux-like talent?
8th Columbus Blue Jackets – Ivan Provorov, D, Brandon (WHL)
Russian defender Ivan Provorov continues to receive an influx of love from hockey outlets as everyone continues to fall for his smart, low-maintenance, effective puck moving game. There's no denying his intelligent processor because he's established himself as a top tier defender in this draft. The Blue Jackets have quickly stocked their system with promising forward talent so now would be a good time to add another high-end defensive prospect for their future.
9th San Jose Sharks – Pavel Zacha, C, Sarnia (OHL)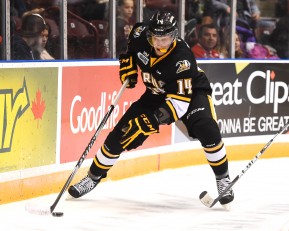 Armchair scouts won't be enamored with Pavel Zacha's statistical production in his OHL rookie season but if they were to watch sixty seconds of the big, smooth skating, aggressive Czech pivot then they'd quickly realize that there's something special here. He's battled through suspensions and injuries that interrupted his momentum all season long but few players have the upside that Zacha owns. San Jose believed in Sarnia import Nikolay Goldobin at the 2014 draft so why not return to the border-town to invest in Zacha?
10th Colorado Avalanche – Zach Werenski, D, University of Michigan (Big Ten)
The Avalanche clearly need some help on their blueline and with one of the draft's best two-way defenders in Zach Werenski remaining on the board they should jump on the opportunity to add this talented piece. The Wolverines freshman defender played like a seasoned vet - often applauded for his competitiveness and ability to push the pace of play.
11th Florida Panthers – Mikko Rantanen, RW, TPS (SM Liiga)
Finnish scoring winger Mikko Rantanen showed well playing against men in the country's top league. After displaying some slick playmaking skills as Finland's most impactful forward at the World Junior Championships, many believe Rantanen is worthy of a Top 10 selection. Rantanen would be a nice add on the wing for a Florida team that has acquired some great young depth down the middle.
12th Dallas Stars – Timo Meier, LW, Halifax (QMJHL)
Dallas should have eyes for Timo Meier, a big sturdy winger with a soft mitts and strong possession game. Playing wingman to QMJHL stud Nikolaj Ehlers (Jets) in Halifax, Meier has improved his skating all while continuing to pile up points. He was also a standout at the CHL/NHL Top Prospects game complementing Connor McDavid and Travis Konecny quite well as the trio dominated the showcase event.
13th Los Angeles Kings – Kyle Connor, LW, Youngstown (USHL)
Like the players above, Kyle Connor is a worthy top 10 selection after pacing all USHL forwards in points (71). He's speedy, loves the puck on his stick and flashes advanced playmaking and scoring abilities. Doesn't that describe the type of players that the LA Kings seek out?
14th Boston Bruins – Travis Konecny, RW, Ottawa (OTT)
The "big, bad Bruins" have lost their snarl forcing ownership to re-think the direction that this once intimidating franchise is headed. Travis Konecny won't physically punish the opposition but he's not afraid to mix it up and hound pucks, making life difficult for teams lining up against him. In addition to Konecny's off-the-charts determination, he's a lethal sniper with game-breaking talent. His high-energy skilled game would certainly help spark a B's franchise that's lost its jump.
The order of 15th – 30th selection will be officially determined as they are eliminated from playoff action.
15th Calgary Flames – Jeremy Roy, D, Sherbrooke (QMJHL)
16th Edmonton Oilers (via PIT) – Thomas Chabot, D, Saint John (QMJHL)
17th Winnipeg Jets – Jakub Zboril, D, Saint John (QMJHL)
18th Ottawa Senators – Daniel Sprong, LW, Charlottetown (QMJHL)
19th Detroit Red Wings – Evgeni Svechnikov, RW, Cape Breton (QMJHL)
20th Minnesota Wild – Oliver Kylington, D, Farjestad (SHL)
21st Buffalo Sabres (via NYI) – Brandon Carlo, D, Tri-City (WHL)
22nd Washington Capitals – Jeremy Bracco, RW, US NTDP (USHL)
23rd Vancouver Canucks – Nick Merkely, LW, Kelowna (WHL)
24th Arizona Coyotes (via CHI) – Paul Bittner, LW, Portland (WHL)
25th Toronto Maple Leafs (via NSH) – Filip Chlapik, C, Charlottetown (QMJHL)
26th Philadelphia Flyers (via TBL) – Brock Boeser, RW, Waterloo (USHL)
27th Winnipeg Jets (via STL) – Colin White, C, US NTDP (USHL)
28th Anaheim Ducks – Joel Eriksson Ek, C, Farjestad (SuperElit)
29th Montreal Canadiens – Jansen Harkins, C, Prince George (WHL)
30th Tampa Bay Lightning (via NYR) – Gabriel Carlsson, D, Linkoping (SuperElit)
Other Potential 1st Round Options:
Anthony Beauvillier, C, Shawinigan (QMJHL)
Jake DeBrusk, LW, Swift Current (WHL)
Vince Dunn, D, Niagara (OHL)
Denis Guryanov, RW, Ladia Togliatti (MHL)
Jacob Larsson, D, Frölunda (SHL)
Jack Roslovic, C, US NTDP (USHL)
Nicolas Roy, C, Chicoutimi (QMJHL)
Ilya Samsonov, G, Stalnye Lisy Magnitorgorsk (MHL)
Zachary Senyshyn, RW, Sault Ste Marie (OHL)
Jonas Siegenthaler, D, ZSC (NLA)
Mitchell Vande Sompel, D, Oshawa (OHL)
Follow @RossyYoungblood on Twitter for all of your 2015 NHL Draft and prospect news.