As we approach the halfway mark of the season, frustration has set in for many fantasy team owners stuck with struggling players that simply can't be moved.  "Never sell low", you keep repeating to yourself over and over again to avoid making a decision you'll regret later.
 Sometimes the best move you can make is no move at all.  Patience folks, patience.  Among this year's slow starters, here are my favorite candidates for a bounce-back second half (in parenthesis: PPG previous three seasons/PPG this season).  As a bonus, I've also included my top breakout star of early 2014.
 Eric Staal (C) - CAR (0.94/0.82): With only 11 points in his first 20 games, the elder Staal's owners may have lost patience with the under-performing center.  Those who believe in track record will be glad they didn't press the panic button too soon.  Staal's trusty sniper of a left winger is finally fully healthy (talking about Jeff Skinner of course) and this bodes very well for 2014.  Expect a more customary point-a-game pace from this point forward.
 Tobias Enstrom (D) - WIN (0.63/0.29): Before this year, the 7-year veteran's worst PPG season was as a sophomore back in 2008-09 (0.39).  At 29, he's still well within his prime years.  Furthermore, Winnipeg's PP couldn't maintain the mediocre pace it has set (ranked 27th at 12.9%) even it tried.  Not with Dustin Byfuglien, Enstrom and the decently skilled group of top line forwards their top unit features.  This horrific start for such a highly skilled D-man is simply unexplainable, which usually means it's a fluky abnormality that will be rectified by season's end.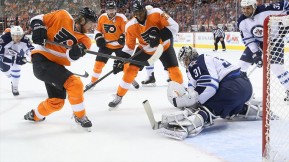 Jakub Voracek (RW) - PHI (0.68/0.52): Not only did this former junior scoring star finally break out during last year's shortened season (48-22-24-46), but he confirmed his point-a-game potential with a solid playoff showing (11-2-8-10).  There is no reason to believe a 24 y/o as skilled as he is will suddenly regress.  He still has an elite centerman on his line (Claude Giroux is already back to old form) and boasts a very respectable -2 rating.  On a team that has been dreadful in 5-on-5 play (ranked 23rd), that means he is doing things right away from the puck, which usually leads to good things the other way for top liners.
 Teddy Purcell (RW) - TBL (0.72/0.52): The soft-mitted Newfie seemed to be victimized by "third-assist-itis" in the early going.  Then Steven Stamkos broke his leg and coach Jon Cooper was forced to employ a system that is very ill-suited to the big right winger's finesse game.  The fact that opponents are now keying on Tampa's hot top line (Ondrej Palat – Tyler Johnson – Martin St-Louis) will mean better offensive opportunities for Purcell's line (centered by Valteri Filppula, with Alex Killorn on LW).  Oh, and Stamkos is on his way back to motor a PP that Purcell usually runs from the half boards.
 2014 BREAKOUT STAR
 Cam Atkinson (RW) - CBJ: He was widely regarded as a prime pre-season breakout candidate.  In his second full NHL campaign, the 24 y/o American is averaging close to three SOG/G.  Now the right-winger on one of the NHL's hottest lines with Brandon Dubinsky and Matt Calvert.  Gave us a glimpse of his game-breaking upside with a 4-point performance (2-2) vs. New Jersey on Dec. 10th.  The Jackets are definitely on the rise and this guy is their brightest young goal scorer.