The Montreal Canadiens may not have left the draft with as many prospects as the club had originally envisioned, but it didn't dampen the enthusiasm of the team's head scout after the proceedings wrapped up on Saturday afternoon (June 25) in Buffalo.
Montreal's Vice-President of Player Personnel Trevor Timmins and his scouting staff had to readjust their draft plans when both the 39th and 45th selections were dealt for Chicago winger Andrew Shaw. While head scouts are never thrilled about losing top 50 picks, Timmins was pleased with the addition of another gritty player who can add some welcome sandpaper to the lineup.
"I was glad we got Shaw," said Timmins, who saw his two second-round picks surrendered for the 24-year-old center/winger. "He's great in front of the net, and on the power play too. He will help us."
The buzz around the draft floor on Friday night was that if Columbus picked Jesse Puljujarvi, Edmonton was prepared to select Mikhail Sergachev with the fourth pick, a rumour that Timmins did not dismiss as it was a commonly held belief. Edmonton's draft plans changed, however, when Columbus surprised everyone by passing on the big Finn to take Pierre-Luc Dubois, leaving Edmonton to pass on Sergachev and add Puljujarvi.
Mind you there were plenty of different rumours swirling that day, and Edmonton GM Peter Chiarelli was on record as saying he didn't think there were any number one defencemen in the draft, a statement not necessarily believed by Timmins.
"Don't believe everything you hear from GM's," said Timmins. "There's a lot of smoke and mirrors... it's a poker game."
Sergachev adjusted quickly to the North American game, compiling 17 goals and 57 points on his way to being named the OHL Defenceman of the Year...a rare honour for a rookie OHL blueliner. He can be a bit lackadaisical at times in his own zone, but Timmins expects that the 6-2, 222-pound blueliner with a rocket shot and elite skating and puck skills will learn to play with more consistent effort in the defensive zone as he continues adjusting to the North American game.
"He can step up to make the big hit," said Timmins, who as usual was reluctant to heap effusive praise on his top pick for fear of generating too much pressure in the hockey-mad market. "He's a great character guy."
Timmins had no expectations that Flint Firebirds forward Will Bitten would be available when the Habs made their next pick at 70th overall. A 30-goal scorer on a team that suffered through horrible distractions and indifferent play, Bitten was ranked as a second-round pick on most draft lists, including McKeen's, which had him slotted at 47th overall
"The third round is a pretty good spot to get him," noted Timmins. "He'll need some time to put on some weight..but if you had seen (Paul) Byron in his draft year...he was 140 pounds, if that. Bitten is already 5-10 and 170 pounds or so."
What London defenceman Victor Mete lacks in size he more than makes up for in mobility and competitiveness.
"I thought he was a second round guy and we got him in the fourth round," said Timmins. "Yes, he's a shorter guy, but those guys can play now..and he can really skate."
Timmins got to see Mete play numerous times, as London was stocked with high-end prospects, and went all the way to the Memorial Cup, where Mete was a key contributor in helping the club win its second-ever CHL championship.
"He's a really good defender," said Timmins, who also scouted both Mete and Bitten at last year's Ivan Hlinka tournament. "You had to like that they played him so much in London...he was on in the last minute defending leads and was always killing penalties."
The Canadiens went a bit off the board with the selection of Casey Staum in the fifth round, a 5-11 Minnesota high school defenceman that was not on McKeen's draft list.
"You put him in the bank...he's a five-year guy," said Timmins. "Next year he'll play in Dubuque (USHL), then he'll have four years to develop at the University of Nebraska-Omaha...he'll be fine. Our scout Bobby Kinsella saw him at Dubuque a few weeks ago...they had some camp. He said he was the best player on the ice."
The knock with a couple of other scouts who saw Staum was that he had a tendency to dead end himself with the puck, but Timmins and his staff saw things differently with the smooth-skating rearguard.
"He's not the type who will skate the puck up and try to do it all on his own," said Timmins, who saw him play on several occasions. "He lets the puck do the work....he can quickly move the puck. Time will tell. We liked him on our staff a lot. We knew he wasn't getting a lot of attention. There weren't a lot of guys out watching him. Five of our guys scouted him and saw the same things."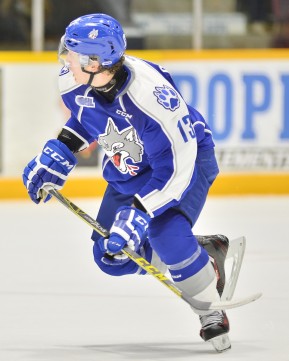 Timmins was also pleased that gritty Sudbury center Michael Pezzetta was still on the draft board when their sixth-round pick came around.
"We picked the 7th, 8th and 11th overall picks from the 2014 OHL draft in the 3rd, 4th and 6th rounds," noted Timmins, who selected four OHLers for the first time in his 14 years as Montreal's head scout. "Bitten was seven, Mete was eight, and Pezzetta was 11 in that draft. He's a real athlete this kid. He's good at all sports."
The draft was supposed to be over for the Habs at that point, but GM Marc Bergevin traded a seventh-round pick in next year's draft to Winnipeg for a pick in the final round to select 6-4 Swedish defenceman Arvid Henriksson
"We hope he's one of those picks nobody knows about," said Timmins, "and in four years when he comes over people will say 'holy jeez. Look at this guy.'"
"Our Swedish scout (Christer Rockstrom) really wanted him. As the draft went on he was saying 'we've got to get this guy.' He was pounding the table. He's a big guy, he skates well."