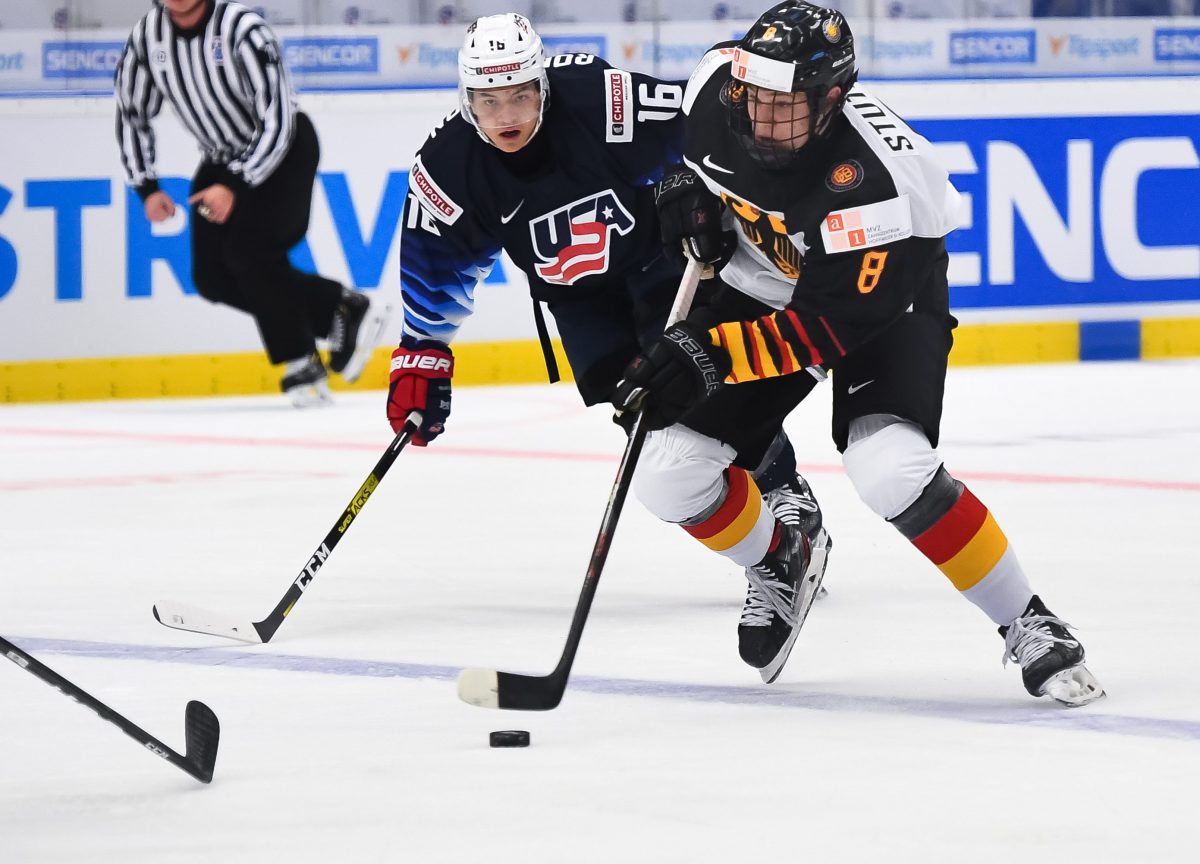 Since this list was last updated, a lot of hockey has been played at all levels. Most notably, just a few weeks ago, the annual World Junior Championships were played out in the Czech Republic. Not only was the tournament full of upsets and tightly played games – ultimately won by Team Canada – but more pertinent to this essay, it was chock full of high profile players who are eligible for the 2020 draft, taking place in around five months in Montreal.
In fact, each of the top six players we have ranked below featured for their home nations at the prestigious tournament, along with two others we have ranked as first rounders, and five additional players we have ranked as second rounders.
That's right – last time we stopped our rankings with 31 players, but we are now ready to take it to 62! In addition to those 62 ranked players, we have included 38 more draft eligible in our Honorable Mention category. We haven't ranked these players just yet, but they are likely to hear their names called in Montreal. To see the full listing subscribers can link here to view it with links to the player pages
The 110 names – those ranked and those unranked – are the products of countless of hours of hockey watching by our unparalleled team of prospect analysts around the globe. People who trek to distant rinks in poor weather, not for a beer and to cheer on the home team, but armed with notebooks and pens, and an eye for detail. And when we aren't in the rink, we are supplementing those views with additional video work.
I don't want to speak for everyone here, but more often than not, by the time I return home from a 1-4-hour drive from the rink, I have completely forgotten who won the game. But I remember how a player, let's say Jake Sanderson, impressed me with his choices to sneak up from the blueline along the wall with the puck and force the defense to react, creating new lanes for passing and shooting.
Speaking of the USNTDP, Sanderson's team, they are worthy of a separate discussion in this space, considering the expectations the program generated after seeing eight members popped in the first-round last year. The team is once again talented, but this year's team is not the Jack Hughes/Alex Turcotte/Cole Caufield/etc/etc/etc/etc/etc/etc team of yesteryear. Between my own viewings, and discussions with scouts who cover the Midwest, there seems to be consensus that the aforementioned Sanderson is pretty safely a first rounder, and after that, opinions diverge. He could be the only one, or there could be between one and three of his teammates also going in day one, but few seem to agree on who those one, two or three players are.
The season's second half, which kicks off this Monday (January 20) with the USHL Top Prospect game pitting the USNTDP against a team made up of top American born, draft eligible players from the league, gives us all a better view as to which program members, if any, join Sanderson in the first round. We currently found room for Brett Berard and Ty Smilanic in the first round, with a few others close behind, but fully expect the lists to shift as the season progresses.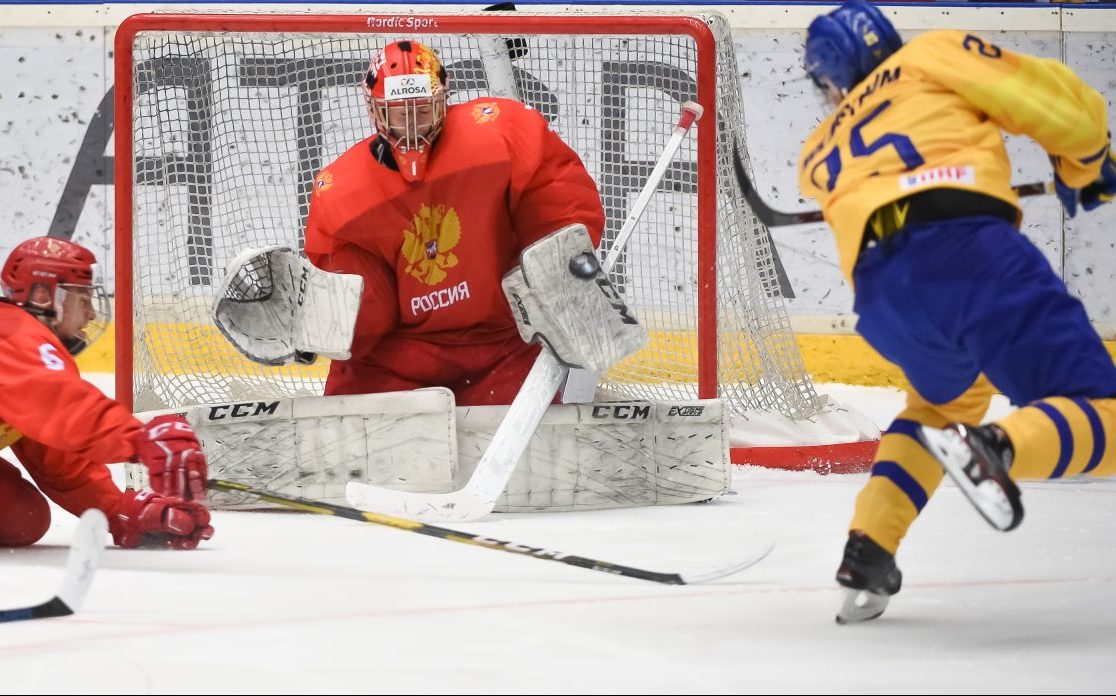 Another topic which often comes up in the draft is the strength of the goalies. The name of Russian wunderkind Yaroslav Askarov has been on prospect hounds' lips for a few years already and a few hiccups in the WJC isn't changing that. Watch this space over the next few weeks for an article from Catherine Silverman comparing Askarov today with Spencer Knight last year. Beyond Askarov, Silverman was fairly complimentary about this year's class of draft eligible netminders, two of whom we have ranked in our second round. Joel Blomqvist has been near unbeatable in the Finnish junior leagues while second year eligible Nico Daws has emerged in a big way with Guelph this year. At this time, I only hope that the upper body injury that Daws suffered while warming up for the Top Prospect game two days ago is not a serious injury and that he returns at full strength soon. We have also picked out three additional goalies to be included in our Honorable Mention section.
Picking up on Daws and the Top Prospect game, I should point out that while those types of events are fun and full of NHL scouts, there is relatively little that we learn from those games, beyond having a chance to cross-scout players from different regions and help us ensure that our team members are able to give us player assessments that all use the same language, such that the grades we assign to players mean the same thing whether they come from the WHL, the OHL, the QMJHL, the USHL, or any of the European regions.
The game itself is faster paced than regular league games, and players are not always able to play their style of game. Some players have a great game (Tyson Foerster) and some are invisible (Quinton Byfield). But the player they truly are is the player we see week in and week out in league play and our grades and the ranking which they feed are for the most part based on those league viewings.
I mentioned Byfield in the last paragraph, and he is worthy of an additional note. He was notably a near-non-entity at the WJC, even if it is an impressive feat for a player of his age to play in the tournament at all. It was unfortunate that he followed up that tournament with a poor showing in Hamilton at the Top Prospects Game, but it did not at all affect our ranking. He is among the youngest players eligible, with an August 19 birthdate, only USNTDP'er Brett Berard and honorable mentions Jan Bednar and Martin Chromiak are younger. On balance, Byfield's blend of youth, tools, and production, is unrivalled in this draft class. We fully expect him to end his season at least as strongly as he started it and hear his name among the first called.
If you are comparing this list to our October list, you will notice six new names in the top 31, who weren't there last time. They start at 16, with Ottawa lamp lighter Jack Quinn, who scored 30 times in his first 38 games, even though he rarely plays on the same line as fellow 67 Marco Rossi. He is joined at 20 by AJHL destroyer Carter Savoie, whose production (66 points in 37 games, with one goal per game!) cannot be ignored. We also found room in our top 31 this time for Brett Berard of the USNTDP, Sean Farrell of the USHL's Chicago Steel (he actually played on last year's USNTDP wonderteam, but his late birthdate meant he wouldn't be draft eligible until this year), Edmonton Oil Kings' playmaker Jake Neighbours (the 'u' in his last name will remain even if he goes to an American team), and big Russian rearguard Shakir Mukhamadullin.
Most other movement in the first round is in the area of 2-4 spots and not worth pointing out at this time, but an exception should be made for German sensation Tim Stutzle, whose performance and production against men in the DEL has been astounding, and he kept it up for Team Germany in the WJC, helping them stay in the top flight for one more year. We had Stutzle ranked 7th last time, while his current standing of 3rd may be underrating him. Between him, 2019 first rounder Moritz Seider, and fellow 2020 Germans John-Jason Peterka and Lukas Reichel, German hockey is blossoming in a way never before seen.
As the season progresses, we will continue to watch these players, modify our assessments of them and their future selves, and update the rankings accordingly. As the months pass, we will also expand the list, 31 ranked players at a time, until we are ready for our final draft rankings and associated guide. All the while, we will release full scouting reports on the best of them, giving you not just a name in a list, not just numbers stamped beside those names, but a feel for who that player is and how he put up those numbers, and why we have him ranked where we do. Stay tuned. The excitement is just getting started.
| RANK | PLAYER | POS | TEAM | HT/WT | DOB | GP-G-A-PTS |
| --- | --- | --- | --- | --- | --- | --- |
| 1 | Alexis Lafreniere | LW | Rimouski (QMJHL) | 6-1/195 | 11-Oct-01 | 34-24-49-73 |
| 2 | Quinton Byfield | C | Sudbury (OHL) | 6-4/215 | 19-Aug-02 | 33-25-38-63 |
| 3 | Tim Stutzle | C | Adler Mannheim (DEL) | 6-1/185 | 15-Jan-02 | 26-5-18-23 |
| 4 | Lucas Raymond | LW | Frolunda (Swe) | 5-11/170 | 28-Mar-02 | 17-3-2-5 |
| 5 | Alexander Holtz | RW | Djurgardens (Swe) | 6-0/190 | 23-Jan-02 | 23-7-4-11 |
| 6 | Jamie Drysdale | D | Erie (OHL) | 5-11/175 | 8-Apr-02 | 31-7-28-35 |
| 7 | Marco Rossi | C | Ottawa (OHL) | 5-9/185 | 23-Sep-01 | 32-26-48-74 |
| 8 | Cole Perfetti | C | Saginaw (OHL) | 5-10/180 | 1-Jan-02 | 40-23-46-69 |
| 9 | Connor Zary | C | Kamloops (WHL) | 6-0/175 | 25-Sep-01 | 37-25-28-53 |
| 10 | Jake Sanderson | D | USN U18 (USDP) | 6-1/185 | 8-Jul-02 | 32-4-11-15 |
| 11 | Anton Lundell | C | HIFK (Fin) | 6-1/185 | 3-Oct-01 | 23-6-9-15 |
| 12 | Yaroslav Askarov | G | SKA-Neva St. Pet. (Rus 2) | 6-3/175 | 16-Jun-02 | 16GP, 2.38, .922 |
| 13 | Rodion Amirov | LW | Salavat Ufa (Rus) | 6-0/170 | 2-Oct-01 | 21-0-2-2 |
| 14 | Noel Gunler | RW | Lulea (Swe) | 6-1/175 | 7-Oct-01 | 32-1-7-8 |
| 15 | Dawson Mercer | C | Drummondville (QMJHL) | 6-0/180 | 27-Oct-01 | 26-18-24-42 |
| 16 | Jack Quinn | RW | Ottawa (OHL) | 6-0/180 | 19-Sep-01 | 38-30-18-48 |
| 17 | Dylan Holloway | C | Wisconsin (B1G) | 6-0/190 | 23-Sep-01 | 19-3-5-8 |
| 18 | Kaiden Guhle | D | Prince Albert (WHL) | 6-2/190 | 18-Jan-02 | 43-7-18-25 |
| 19 | Braden Schneider | D | Brandon (WHL) | 6-2/200 | 20-Sep-01 | 39-5-24-29 |
| 20 | Carter Savoie | LW | Sherwood Park (AJHL) | 5-9/190 | 23-Jan-02 | 37-37-29-66 |
| 21 | Jacob Perreault | RW | Sarnia (OHL) | 5-11/200 | 15-Apr-02 | 39-26-25-51 |
| 22 | Mavrik Bourque | C | Shawinigan (QMJHL) | 5-10/170 | 8-Jan-02 | 40-23-30-53 |
| 23 | Jeremie Poirier | D | Saint John (QMJHL) | 6-0/200 | 2-Jun-02 | 43-11-24-35 |
| 24 | Brett Berard | LW | USN U18 (USDP) | 5-9/155 | 9-Sep-02 | 32-13-16-29 |
| 25 | Roni Hirvonen | C | Assat Pori (Fin) | 5-9/165 | 10-Jan-02 | 36-3-7-10 |
| 26 | Antonio Stranges | LW | London (OHL) | 5-10/175 | 5-Feb-02 | 39-16-14-30 |
| 27 | Ty Smilanic | C | USN U18 (USDP) | 6-1/175 | 20-Jan-02 | 21-4-10-14 |
| 28 | Sean Farrell | LW | Chicago (USHL) | 5-9/175 | 2-Nov-01 | 26-10-29-39 |
| 29 | Emil Andrae | D | HV 71 (Swe Jr) | 5-9/185 | 23-Feb-02 | 27-8-17-25 |
| 30 | Jake Neighbours | LW | Edmonton (WHL) | 5-11/195 | 29-Mar-02 | 44-15-31-46 |
| 31 | Shakir Mukhamadullin | D | Salavat Ufa (Rus) | 6-3/180 | 10-Jan-02 | 20-0-1-1 |