Francesco Pinelli was loaned by the Kitchener Rangers to HDD Jesenice of the AlpsHL this season due to the OHL's non-season – and posted five goals and eleven points across thirteen games played. A respectable clip at the minor-pro level indeed for a player who just turned 18 in April. According to InStat, Pinelli was also a positive puck possession player this season, posting an even-strength Corsi For rating of 58% with HDD Jesenice (a 55 EVCF% team) and 59% with Team Canada at the U18s not counting their exhibition game against Finland. While Pinelli's shot share metrics are promising, it's also important to note that both teams he played for this season were outright dominant. HDD Jesenice finished with 24 wins in 30 games and a goal differential of +47. Team Canada won all seven games they played at the U18s, outscoring their opponents by a margin of 51-12 on their way to gold.
An encouraging sign of relative improvement emerged in Pinelli's game splits with Jesenice; his offensive production saw marked improvement in the second half of the season. Per InStat, over his first 7 games, he produced 1 goal and 0 assists at even strength with a Corsi For rating of 61%. Over his final 6 contests of the regular season, at even-strength, Pinelli potted 2 goals, 2 primary assists and 1 secondary assist for 5 points and a Corsi For rating of 54%. His even strength points-per-game rate with Jesenice of .46 – though impressive for a then 17-year-old – doesn't tell the whole story as he was clearly starting to acclimate to the pace of play and well on his way to becoming a more threatening producer at evens.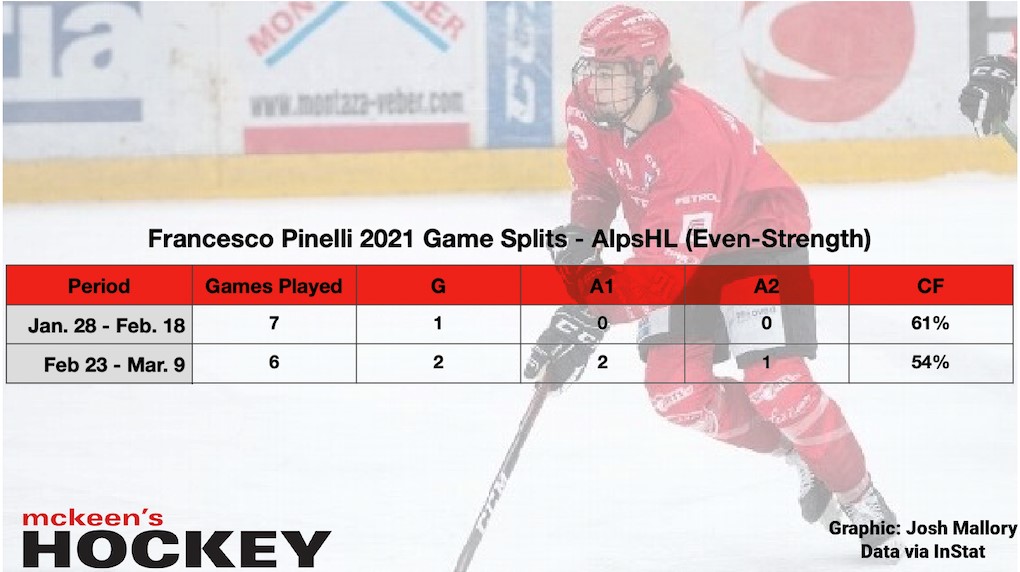 Image Courtesy of Francesco Pinelli
I expect Pinelli to land somewhere between the middle to back third of the first round. He promises to be an enticing offensive producer at the NHL level with the right development. If he reaches his true peak, I see him as a top-6 to top line option at the NHL level.
| Francesco Pinelli | 2021 NHL Draft Eligible |
| --- | --- |
| Position: C Shoots: L | H/W: 6-1" / 185 lbs |
| Stats to Date (GP-G-A-PTS-PIM) | HDD Jesenice, AlpsHL (13-5-6-11-8) |
| | Canada U18, WJC-18 (7-4-7-11-0) |
Skating – Pinelli's base mechanics are actually quite strong. He has a solid base and low centre of gravity. However, at least as of now, he is quite a linear skater. In an era where the best of the best at the NHL level are able to play within uber-dynamic accelerative states using linear crossovers to generate pace through the neutral zone, Pinelli falls back quite a bit on simple linear striding with and without the puck in space. In terms of his static acceleration (i.e., acceleration from a dead stop) he needs to become more explosive through his first handful of steps in order to become a more effective sprinter on the ice. He is a very momentum-based player right now, so extreme changes of pace and direction can be a struggle at times, especially when it comes to his separation speed from a standstill:
His top speed is will only improve as he adds greater explosiveness and accelerative habits to his game. However, he can certainly build a head of steam when he has space:
Beyond adding more explosiveness and dynamism to his skating, Pinelli will also be well-served to improve his body control. Typically for dynamic skating movement, you want to encourage a 'quiet' upper body (i.e., controlled – think Jesper Bratt, William Nylander, and Jack Eichel) and a dynamic lower body (i.e., the legs do the bulk of the work). Pinelli has a bit of the opposite going on right now, particularly in his crossovers. By including extra and unnecessary upper body/shoulder movement in his skating, he is creating an element of inefficiency that will need to be toned down more as he develops. Overall, I see a player with good top-end speed and strong base-mechanics that can be addressed and built upon to add more dynamism. With the right development, he will be a strong skater at the pro level. Grade: 55
Shot – Pinelli's shooting habits are also very good, even if there are a few mechanical elements he can improve upon to unlock another level. He has a very strong, quick release and he is adept at surrounding pucks effectively in catch and release and weak-side shooting scenarios. While he is already strong at playing between checks to generate shots, he would benefit from improving his toecap positioning and pre-orientation to have them facing the net early in catch-and-release situations. Great goal-scorers like Kucherov and Matthews have elite toecap positioning in rapid shot situations, which allows them to generate the ridiculously quick and fluid single motion shot mechanics that they do.
Pinelli's need to shuffle his toecaps after receiving pucks rather than pre-orienting them to the net can make the difference in an immediate and threatening shot and a delayed shot to which the goalie has time to adjust. He scores on the shot shown below, but the half-second he takes to dust off the puck and adjust his toecaps will make this a clean stop at the NHL level on the power play:
Compared to (for extreme comparisons sake) Nikita Kucherov's mastered back-third dual-threat power play shot with his front toe cap pre-oriented to the net:

Or when funnelling into the offensive zone, orienting his toecaps to the net earlier will help Pinelli become a more dangerous one-time and catch-and-release shooter at higher levels. Here, his toecaps prevent him from making this an immediate and more threatening shot attempt:
Compared to Matthews (again, extreme comparison) who's always puck-ready with his toecaps to the net:
Pinelli can also get caught shooting with his bottom hand out in front of his body and 'open up' his chest on his follow-through. If he can load the puck under his torso more consistently while hinging at the hip to generate more downforce and grab ice at the onset of his shot, I have little doubt his shot will become above average at the pro level because of his strong ability to locate and surround pucks before shooting. If he can make these small adjustments to his already strong shooting habits (playing between checks, surrounding pucks), it will allow him to translate quite nicely to the next level as a goal-scorer. Grade: 55
Skills – Pinelli is quite a dynamic puck handler in small spaces. He possesses tight, silky hands and is able to maneuver in a phone booth at times. When he gets into the OZ, he is always looking to make things happen:
His skills will only improve as his skating becomes more dynamic. Skill-wise, one area where Pinelli undoubtedly struggles is in transition; that is, becoming a threat in transition on his own. In a similar fashion to the foot-race clip in the skating section, it is his default to linear striding and his lack of explosiveness that hinders his ability to really be a one-man show in transition. Once he adds more explosiveness and dynamism to his skating, he should be perfectly fine in transition.
Where he shines is in the offensive zone where he mentally picks apart layers of defence, threads clever slip passes to teammates, and runs effective scissors with his defencemen high in the zone to generate time and space. In the offensive zone, he has an innate understanding of where the play is developing to or where loose pucks will emerge, which allows him to beat opponents to the puck after a shot is directed to the net by a teammate. Grade: 60
Smarts – Pinelli is, in my view, one of the most intelligent players in the draft. His ability to process the play in multiple directions and through various layers of pressure allows him to stand out as a high-end problem solver in this year's draft. He shows heady instincts all over the ice and plays with strong intentionality (ie. makes a play, then immediately starts thinking about the next – like his give and go in his rush clip earlier). He also plays within his means; he is seemingly aware of his currently limited explosiveness and dynamism in stop-and-go states, so he rarely overextends himself on the ice. Pinelli's timing on support and funnel routes, ability to play between checks and processing both vertically and laterally are all very strong. He sees the ice very well in all directions offensively with the puck on his stick and is subsequently able to make intelligent plays the majority of the time. Grade: 60
Physicality – Pinelli is a competitive player. While he doesn't typically seek out overly physical play, he doesn't back down physically, and he will also periodically throw a big hit, too. Despite his current lack of small space dynamism skating-wise, he is very strong on his skates. He holds a low centre of gravity on the ice which helps him play well in and around contact against men. One area currently lagging in his physical skill set (mostly due to his non-dynamic small-area footwork) is his ability to consistently accept pressure and escape from puck battles. He can sometimes become an easy pin for defenders in scenarios where he could likely otherwise have been able to escape with possession:
If he works on his small area footwork and deception, his physicality is an area of his game that will naturally improve given his significant puck skill and on-ice awareness. In the defensive zone – in similar fashion to the offensive clip just shown – his limited small-area deception can inhibit his ability to roll off or avoid checks along the wall, which in part is what hinders his individual transition ability. His physicality won't be his selling point as a player, but should he develop his ability to read and accept pressure, push off checks and gain inside body positioning, his physical play should come up to snuff at the pro-level. Grade: 50
Overall Future Projection (OFP): 56.75
A note on the 20-80 scale used above. We look at five attributes (skating, shooting, puck skills, hockey IQ and physicality) for skaters and six for goalies (athleticism/quickness, compete/temperament, vision/play reading, technique/style, rebound control and puck handling). Each individual attribute is graded along the 20-80 scales, which includes half-grades. The idea is that a projection of 50 in a given attribute meant that our observer believed that the player could get to roughly NHL average at that attribute at maturity.