In case you missed it, we updated our 2022 NHL Draft rankings last week. You can find that here. Shane Wright still headlines the list but the gap is unquestionably closing as other candidates elevate their play.
With this series of articles it is our intention is to briefly introduce you to each of the players ranked in our Top 50. Below you will find a short summary of their games in addition to a top highlight. In the coming months you will see in depth scouting reports published by our regional scouts on each of these players (like the Shane Wright one linked below).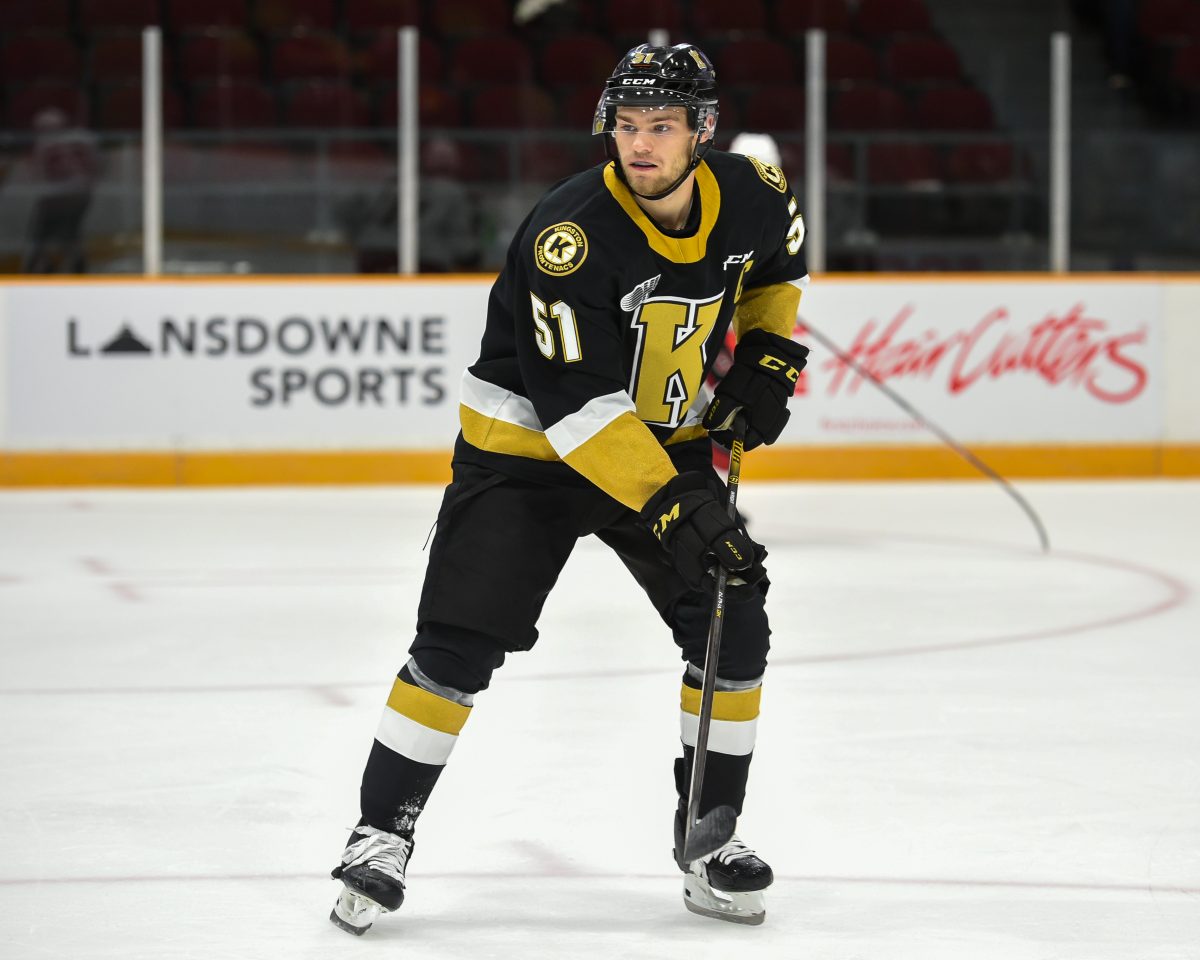 Shane Wright - Center - Kingston Frontenacs (OHL)
Much has been made of Wright's disappointing start to the OHL season this year. The much-hyped former exceptional player was expected to be one of the best players in the OHL in his draft year, on the heels of a dominating, gold medal winning performance at the recent U18's. Instead, he has been just average, and it has many others closing the gap on him to be the first overall selection. You can read more on Wright here. In a nutshell, Wright's strengths are his vision, awareness, and shot. In terms of positional understanding, his game is extremely mature. However, the lack of urgency in his game this year leaves some wondering why he seems uninterested in pushing the pace consistently. Additionally, his play in the defensive end has left something to be desired of late, as he is not playing with the kind of physical intensity required of a player who previously projected as a dominant two-way force. We still have Wright at number one because we believe in his on-ice intelligence level and ability to problem solve through defenses to make his team better and more dangerous offensively. He should figure it out at some point this year and turn things around. If he doesn't? Well, we'll cross that bridge then. His play the last week or so has definitely been encouraging.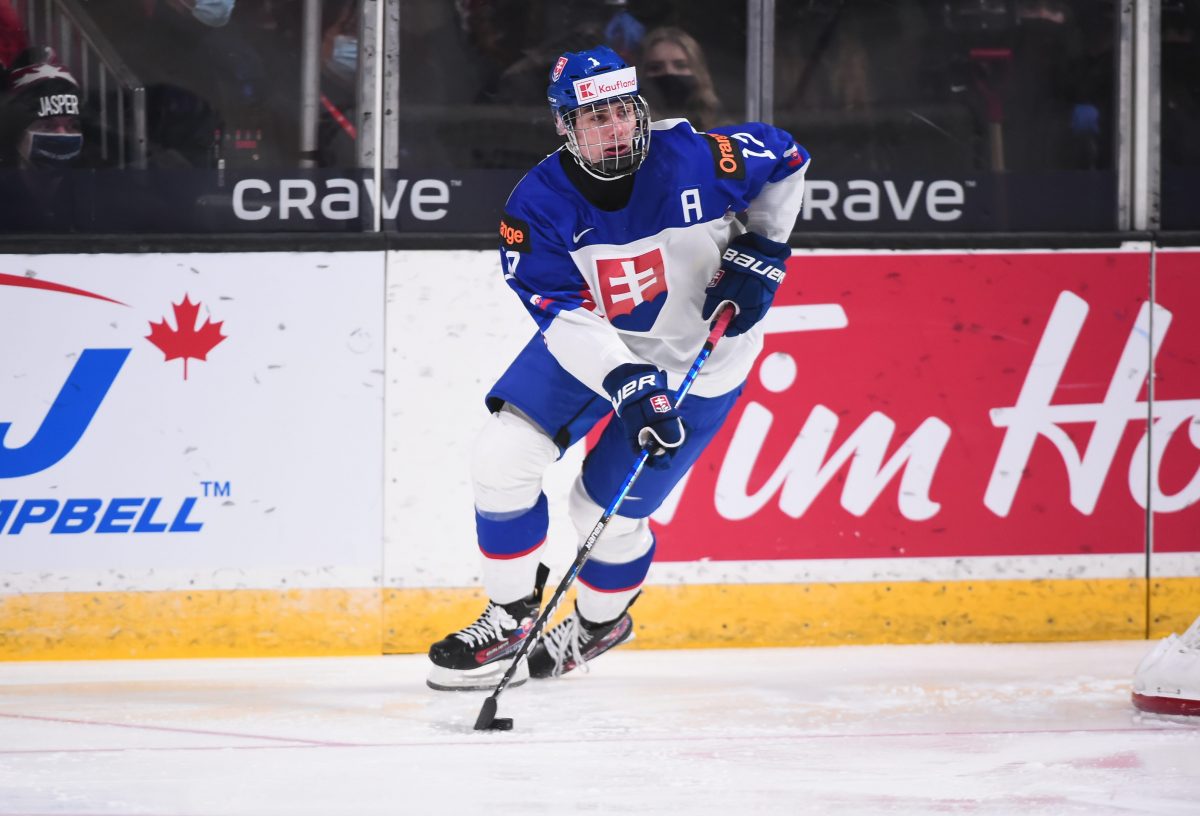 Simon Nemec - Defense - HK Nitra (SVK)
Nemec is a heady, puck moving defender who can be classified as one of the most intelligent players available for the draft this year. He is currently having a historically good season in the Slovak men's league as a U20 defender and was recently named to the Slovak roster for the upcoming Olympics. He has been red hot as of late and we may just be seeing the tip of the iceberg in regard to his offensive capabilities and potential. His high-end mobility allows him to lead the attack out of the zone and he has terrific vision in the offensive end, which makes him a highly dangerous playmaker. His shot is not yet a true offensive weapon, but he is skilled enough and smart enough to quarterback a powerplay in the future. Defensively, he excels because of his defensive zone awareness and ability to use his quickness to stymie offensive attacks. Nemec is someone who projects as a long time minute eater at the NHL level; someone who can excel in all situations for his future club.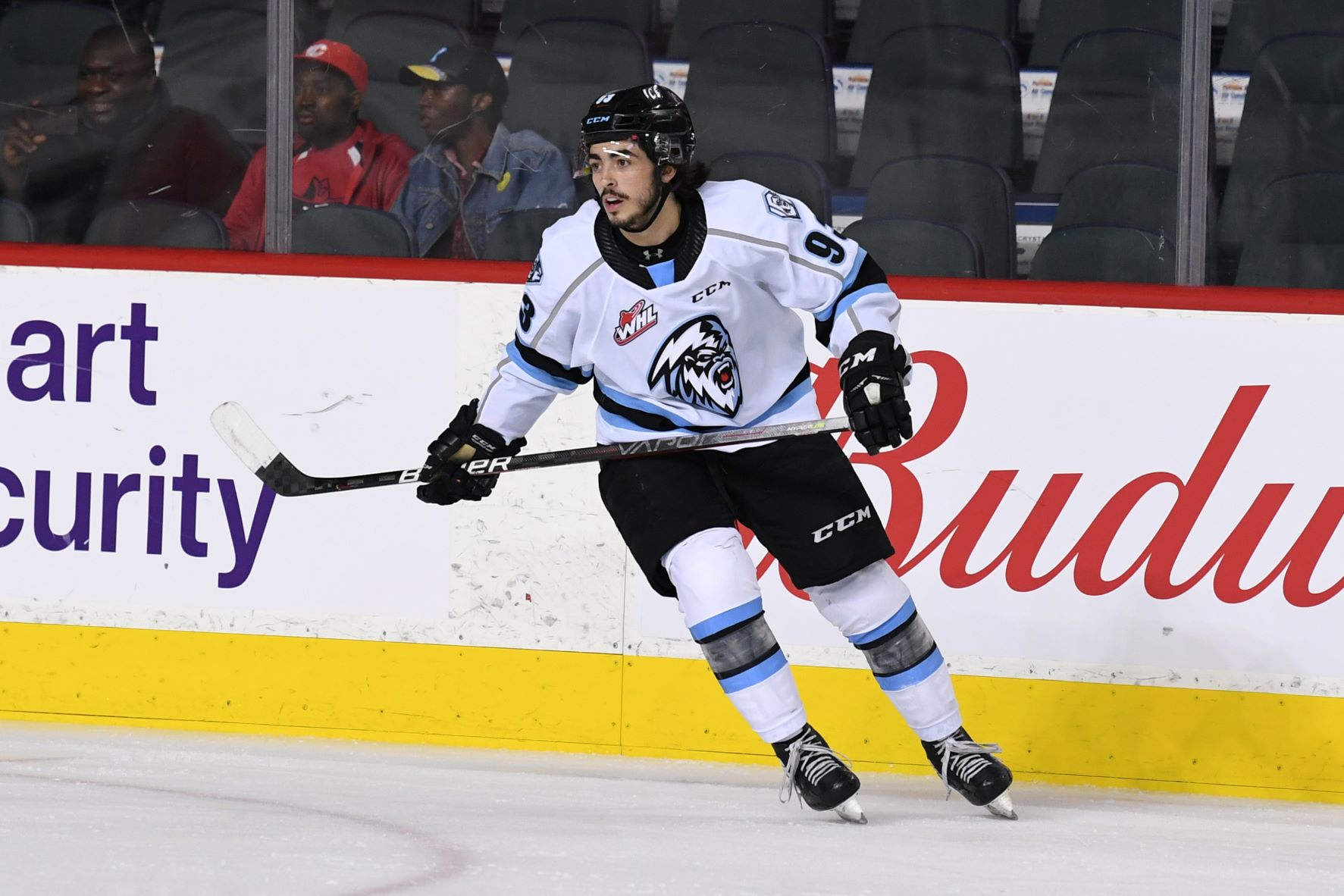 Matthew Savoie - Center - Winnipeg Ice (WHL)
Returning to the WHL this year after spending last season in the USHL, Savoie has been fantastic for the first place Winnipeg Ice. He had been (until recently) the WHL's leading scorer for much of the season thus far and a consistent impact player. Savoie is not the biggest, but he is ultra-competitive. In fact, the physical components to his game are vastly underappreciated and understated. His quickness, skill, and the ability to blend the two makes him an elite problem solver in the offensive end. Give him an inch and he takes a mile, a reason why he has been downright dominant on the powerplay this season. A well-rounded offensive weapon, the concern has been Savoie's production at even strength. He can be kept to the perimeter at times, but much of that has to do with his conditioning/strength, and not from a lack of engagement. Armed with a lethal release and a complement of well above average offensive skills, Savoie has among the highest offensive upside of any player available this year.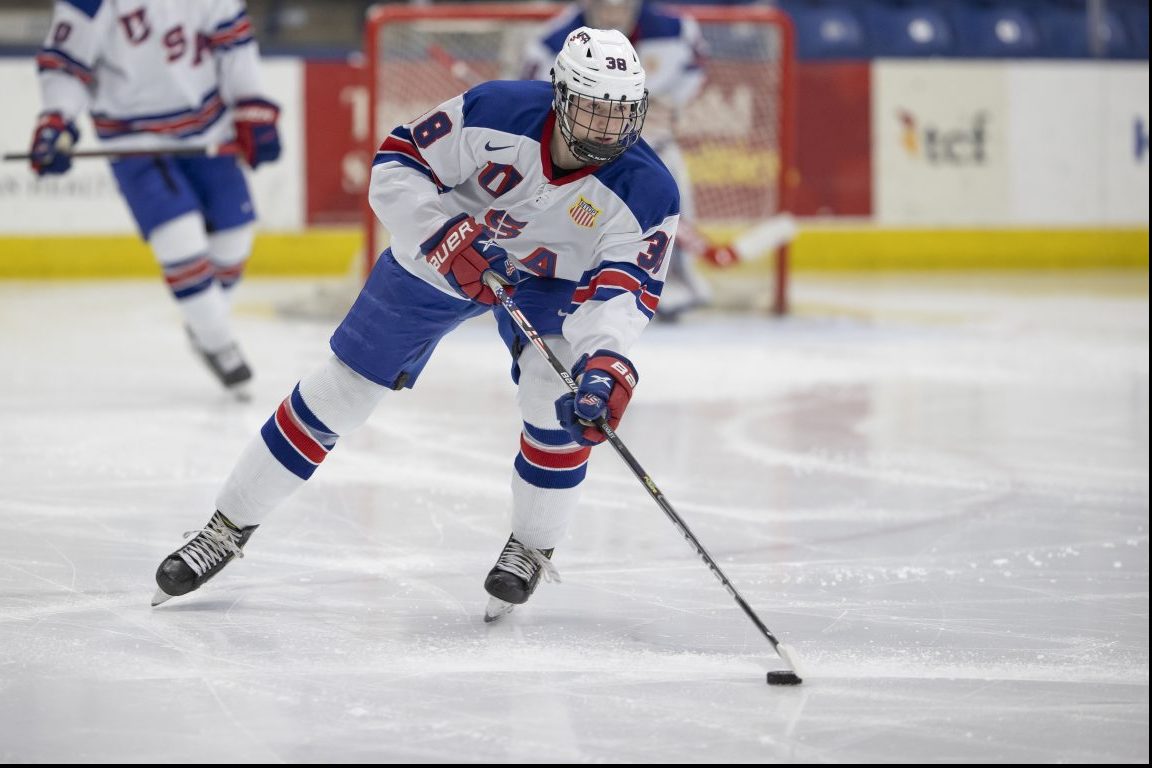 Logan Cooley

- Center - NTDP U18 (USHL)
Last year we had Matty Beniers. This year, we have Logan Cooley. While there are certainly some differences in their games, these two are cut from similar cloths. Cooley is a dynamic skating two-way center whose game is incredibly well rounded. He requires little room to build speed quickly and is highly dangerous in transition as he attacks the offensive zone with a feverish pace. However, he can play it low and slow too. He is active on the forecheck, can play physical, and has excellent anticipation in the defensive end. When comparing him to Beniers, last year's second overall pick, Cooley has to be considered the more creative player with the puck and this may give him a higher ceiling than the Kraken draft selection. The concern with Cooley is that he is undersized in an era when NHL teams are looking for big, power centers to lead their offensive attack. What has stood out most about Cooley is that he has been tremendous when playing against NCAA teams this year (as part of the NTDP's exhibition schedule). The Notre Dame commit has a high floor and a high ceiling, something that makes him a safe bet to be a top five selection, much like Beniers last year.
Danila Yurov - Wing - Metallurg Magnitogorsk (KHL)
You can throw the lack of production in the KHL this year out the window. Playing in the top men's league, Yurov has barely seen the ice (averaging only a few shifts per game). When he has played against his age-appropriate peers, he has produced, including the most recent U18's. Yurov is another well rounded offensive player. He loves to attack the offensive zone with pace and has advanced puck protection skills, allowing him to play through contact as he drives the middle. His hands, instincts, and overall skill level are high-end. As a late born 2003, Yurov will have his detractors, questioning why he has not been able to perform better against older competition. That criticism is simply unfair because the KHL is notorious for being the most difficult European league for young players to earn significant ice time. There is no doubting that Yurov's high skill level makes him a potential top six forward at the NHL level and someone who does possess among the highest upside of any player available in 2022.
Kemell came out of the gate red hot this year. At one point he was leading the Finnish men's league (Liiga) in scoring. However, he has cooled significantly and that has led to some dropping him in their rankings. We remain steadfast that he deserves to be ranked in the same group as the draft's elite offensive talents. Kemell is the ultimate quick strike player because of his ability to blend quickness and creativity. He has one of the draft's best shots and is a dangerous goal scorer from anywhere inside the offensive zone. Was Kemell disappointing in the opening games of the abruptly ended World Junior Championships? Yes. But such a small sample size should not merit strong criticism. He will be a player to watch in the second half as he looks to re-establish his dominance in Liiga. Now fully healthy, Kemell still has a chance to be a point per game player in Liiga, which would be an extremely impressive feat.
The big Slovak winger is an impressive physical specimen. His combination of quickness, power, and skill is rare to find in 6'4, 225lbs forwards. As such, his ability to penetrate the offensive end and drive the net is among the best in this draft class. Already built like a man, Slafkovsky is tough to tie up in the home plate area and he has quick hands to finish off plays in tight and under duress. The question is, why hasn't his production matched his ability? Impressive in his ability to beat defenders one on one, Slafkovsky's vision and awareness in the offensive end has been questioned. Just how well he sees the ice and processes the game on the fly remains to be seen. This will be something that we will be zeroed in on down the stretch. Can he make the necessary adjustments to improve? Additionally, how will he look at the Olympics for Slovakia, after being named to the roster with the aforementioned Simon Nemec?
Conor Geekie - Center - Winnipeg Ice (WHL)
Speaking of big, powerful forwards, insert Winnipeg's Conor Geekie. Built similarly to Slafkovsky, Geekie is great at driving the middle and putting defenders on his back. He has been an even strength play driver for the Ice this year as they look to capture the Memorial Cup. His puck protection skills are a highlight of his game because of his strength and skill combination. He can drive through you or manipulate the space around you to help him create scoring chances. Geekie is also a competitive two-way forward who kills penalties and takes tough defensive assignments, showing the potential to develop into an elite shutdown forward. The only drawback is his skating. Geekie moves well once he builds momentum. However, his first few strides lack power, and it prevents him from being as dangerous as he could be. Whether you believe this can be improved or not likely dictates your opinion on this prototypical power center. Our scouting staff was fairly divided on Geekie as we leave our mid-season rankings behind us.
Brad Lambert - Center - Pelicans (Fin-Liiga)
A few years ago, this draft was supposed to be the Shane Wright and Brad Lambert special. However, Lambert has largely underwhelmed the last twelve calendar months. His international performances last year against his peer group (as a late '03) were particularly disappointing. Hoping to flip the script, Lambert has recently moved from JYP back to Pelicans, where he played youth hockey. All eyes will be on him in the second half to see if he can produce consistently at the Liiga level. You would be hard pressed to find a more dynamic skater in this draft class than Lambert. You would also be hard pressed to find a more creative offensive player. The combination of these two things gives Lambert an extremely high ceiling as an NHL player. The concern is how well does he micromanage situations in the offensive end? Our video scouting team loves Lambert and believes the narrative surrounding his lack of production is overhyped. Our regional scouts are on the opposite end and believe that Lambert lacks the vision and awareness to be able to truly take advantage of his gifts.
Another formerly hyped player heading into this draft season, Miroshnichenko has become an extremely polarizing draft prospect. He started the draft year by captaining Russia to a gold medal at the Hlinka/Gretzky Cup. However, his play in the VHL (the Russian second league) has left some to be desired. Some have questioned his conditioning (including Russian WJC coach Sergei Zubov). Some have questioned his vision and decision making with the puck. However, there is no denying that his combination of quickness, scoring ability, and physical intensity is alluring. His heavy and skilled game should play well on the smaller ice surfaces in North America. That is why we continue to rank Miroshnichenko inside of our Top 10 for the time being. This year's U18's in Germany will ultimately be a big tournament for him.