This is a bit of a change of pace, but we're blending three players into one report in Noah Östlund, Jonathan Lekkerimäki and Liam Öhgren of the SHL's Djurgården IF. After watching these three players play together all season, and seeing the differing playing styles, these players are clearly linked going into this draft but have key unique traits that make them an interesting trio to compare and contrast. We're going to go one at a time and focus on the video for each and summarize some of the differences to wrap things up here, and we'll start with my lowest ranked player of the three and work our way up my board, starting with Noah Östlund, as much as it pains me to say it.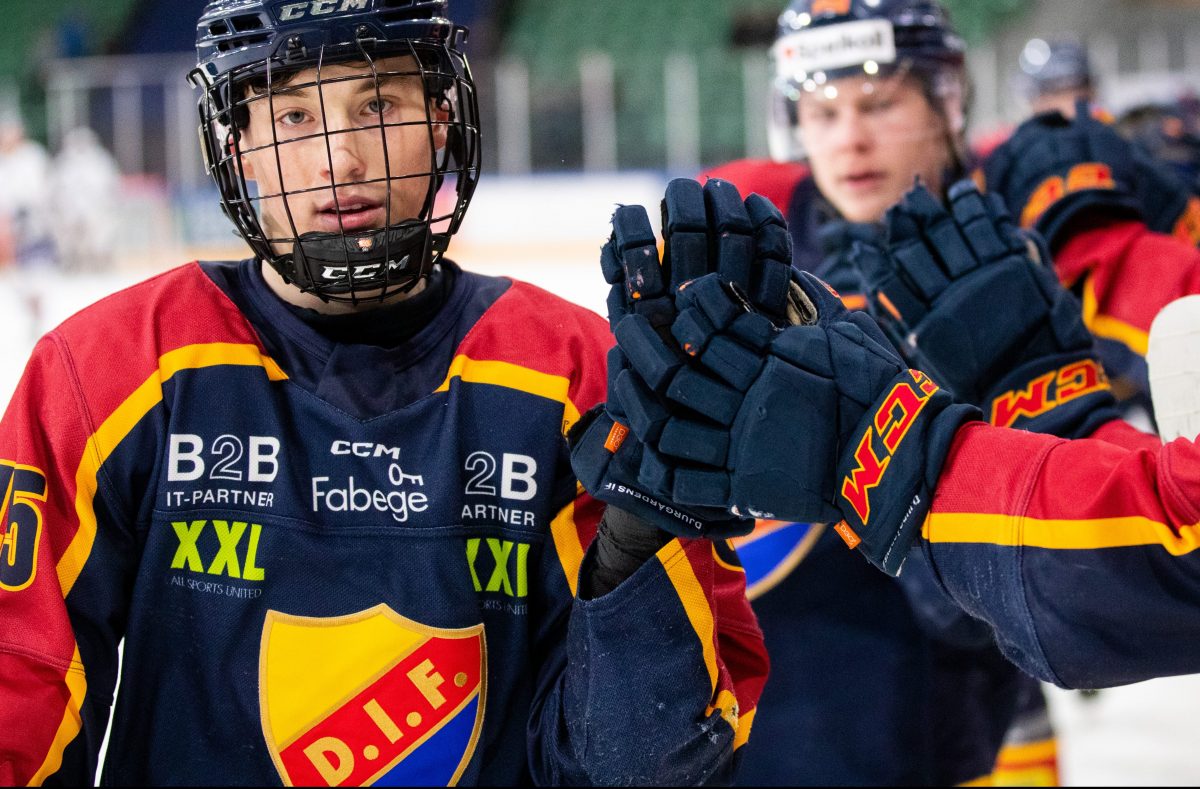 If you haven't read the background on my work and approach, please read the embedded article before continuing below.
Once you have read the article, or are familiar with Scouching, here is the full video. Powered by Instat.com
Noah Östlund - C/LW - Djurgårdens IF J20 #45 - Avg. Rnk - 25.38
32GP - 9G+33A - 7.30% G% 34.07% INV% - 21.58 NHLeS
If I were to make a list of the flashiest and most exciting players available in isolated moments in this draft, Noah Östlund would probably be at or near the top. Over the last two years, he has shredded the Swedish under-20 level with a combined 57 points in 32 games, earning a small amount of SHL ice time, and topping his season off with a remarkable 10 point gold medal under-18 tournament performance. Östlund possesses some of the quickest and tightest edges and turns in the draft, able to navigate tight spaces and find escape options well. He combines that with excellent anticipatory thinking, and I caught him essentially daring opponents to make mistakes using his positioning, causing turnovers and showing strong awareness to try and create chances out of them. Opponents will try to hem him in, but he'll use his hands to quickly move pucks to safety, and those strong turns to completely shift his view of the ice and make safe plays to maintain possession, being a large driver of his 73% pass percentage.
As a centre, if he's got time and space, he can generate speed quickly in various different skating situations, even skating straight forward and brings natural pace to the game that will catch anyone's attention. He's got the quickness and footspeed to close gaps quickly, which put him 7th in defensive transition involvement for a forward in my dataset with a relatively strong 39% DCZT%. In all honesty, Östlund is ranked the lowest of the three, but may have the highest ceiling of them all considering the combination of skill, agility, anticipation and creativity to maintain possession and glue defenders and wingers together in many areas of the ice, even in the limited SHL sample I tracked.
If all that is true, why is he ranked lower than the other two? Well, in isolation, Östlund is a heck of a player to watch at times, but he really struggled to drive consistent results in almost every metric outside of his passing and defensive involvement, with just over 5 shot assists, under a 25% offensive transition involvement percentage, just over 9 dangerous pass attempts and less than 7 individual shot attempts. What led to these issues? Simply put, Östlund is small, slight, and really unpredictable putting all his talent together consistently. He can lose control of pucks in wide open ice, have trouble settling pucks and getting them off the wall, and could be removed from play too easily along the boards. He's got skill, agility and evasion, but he seemed to be somewhat limited in taking that next step to consistently manage pressure in diverse ways. Östlund is also just… very weak on his feet off-puck and not much of a threat along the boards challenging puck carriers.
It's pretty apparent why NHL teams are hesitant about this player when he's been a centre for most of the year and spend more time bouncing off players than creating a ton of turnovers. But what doesn't really go noticed as much is how his quickness helps fetch loose pucks and get play moving offensively, and even though his offensive transition workload was low, he showed the capability of quarterbacking play himself, which is a trait I'm always looking for. I can't help it though, I love this guy. If you can take a chance on him outside the first round and he's available, there's lots to like, especially if you think you can take what he already is, and just… make the really good bits truly elite. The way he controls the puck and dives in and out of rushing lanes with pace and skill is unlike many in the draft, and with a bit more strength and improvements to what's already good, Östlund could be a significantly more dangerous puck carrier and playmaker than he already is. Östlund is ranked 19th on my list. Would I take him there? I honestly don't know, because I admit there are risks that could limit his NHL likelihood and leave him far more effective as an SHL player. Through it all, there are some really impressive moments with the puck, and when examined next to his tracked data, it's easy to wonder how he didn't put up better 5v5 data, but also easy to see why so many scouts are far more hesitant than myself.
Final Ratings: Think - 1C, Move - 1F, Get - 2C, Pass - 1C, Shoot - 2B, Overall - 1F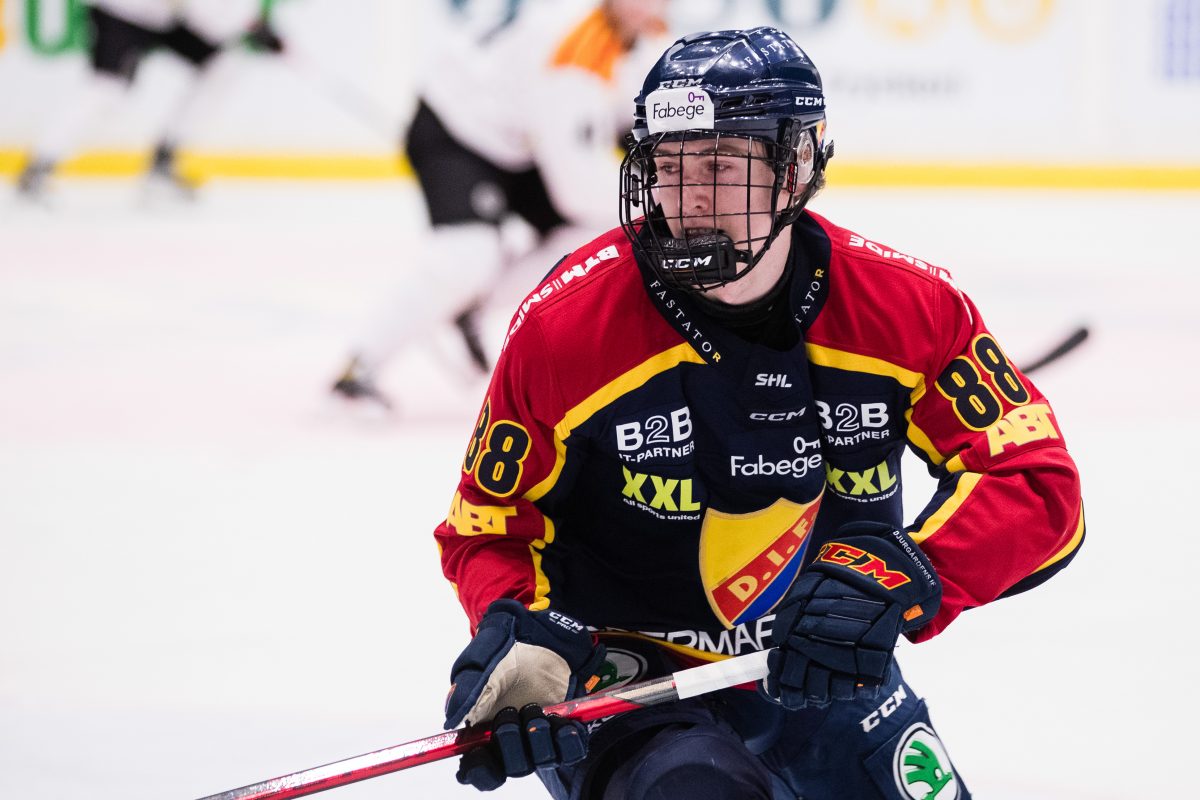 Jonathan Lekkerimäki - RW - Djurgårdens IF #88 - Avg. Rnk - 15.22
(J20 Stats)26GP - 20G+15A - 19.97% G% 34.95% INV% - 23.54 NHLeS
Lekkerimäki is a player everyone has been keeping an eye on after scoring 12 goals in 8 under-18 level games last year in Sweden, and that goal scoring has certainly followed him into this season, landing 20 goals in 26 under-20 level games, and even an impressive 7 SHL goals in the 26 games he played there as well. My sample included five of those SHL games, as I like to focus on the highest levels in which a player plays, and honestly, I've seen a lot of him, and I still don't know what to think of the goal scoring winger, even after tracking a Under-18 tournament performance. What is clear to me, is that Lekkerimäki has one of the quickest releases on his wrist shot in the entire draft class, which came out when he got his chances in the SHL. Pucks hit his stick, and it doesn't take long to change angles and get attempts on net for him, which is an important trait for evaluating goal scoring value. There's also a fair bit of skill that Lekkerimäki brings to his transition game, with a very strong 64.6% OCZT% in his SHL sample, which also improved significantly after my first two tracked SHL games where he controlled 3 of 7 total attempts.
An early concern of mine with Lekkerimäki was an extremely low rate of offensive transition involvement, but looking game by game, he clearly settled into SHL pace and was used as an option significantly more once the new year rolled around, with his last four tracked games all crossing 30% involvement, far surpassing his previous games of which just one crossed 20%. Lekkerimäki does need to work on generating speed efficiently to go along with a solid set of hands, and it'll likely assist him in getting through traffic he could challenge in the SHL on offensive entries.
I wouldn't categorize Lekkerimäki as likely to be a strong defensive player, with under 8% defensive transition involvement and moderate success when he did get involved, especially when it came to battling for loose pucks and directly challenging puck carriers. However, when he does create turnovers, he can think quickly and make little plays to get pucks out of danger, and further speed improvements should help involve him more in defensive play. Lekkerimäki does come with a fair bit of uncertainty with regards to his projection however. He's a somewhat undersized shooter that, like a few other shooters I've tracked over the years, really struggles to get good shooting opportunities consistently across all levels I tracked. In the SHL, Lekkerimaki landed 8 shot attempts for 10.6 per 60 minutes, but just 3 were tracked as dangerous, with just one high danger chance across all seven games I tracked, and it wasn't much of a threatening one. I would really like to see Lekkerimäki show a bit more confidence and awareness of open space as a puck carrier to drive into dangerous areas more often. As much of a legit pure shooting threat he is, getting to the net, especially in offensive rush scenarios is going to be key for diversifying his goal scoring potential.
Before we move onto the next player, I don't want to sound like I'm too down Lekkerimäki. His data improved with more SHL experience, and some of his tools are at the top of this class. He's an improving offensive transition player and an excellent pure shooter, which alleviates some of my concerns with a profile like his. His passing work in my data was somewhat suboptimal, but improved somewhat over the course of the year cutting down a bit on turnovers, even if the volume of passes was 52nd among forwards. He's going to need to get stronger on his feet to win battles at least a little more often, but playing in the SHL at 17 is hard, and plays like these are not uncommon for kids over there. If he can learn to generate speed and change directions a little better, and help diversify his shooting game over time, I could see some big upside from Lekkerimäki, even if he peaks as a powerplay threat due to pass vision and strength issues at the next level.
Final Ratings: Think - 2B, Move - 2B, Get - 2C, Pass - 3B, Shoot - 1D, Overall - 2A
Liam Öhgren - W - Djurgårdens IF #15/28 - Avg. Rnk - 20.21
(J20 Stats)30GP - 33G+25A - 28.56% G% 50.19% INV% - 31.15 NHLeS
Öhgren was a player I knew very little about coming into the year, but he ended up the highest ranked out of the three, largely due to how I see him easily slotting into almost any NHL role with a variety of possible options for his NHL role. Of the three, Öhgren brings the best feel for the flow of the high-end game, not pushing things beyond his control, but playing with enough pace and problem solving to drive good results at all levels. His straight line speed is solid, pushing defenders on their heels, drawing in pressure and getting pucks to linemates effectively, even if his pass volumes were very low. Off-puck, Öhgren uses fluid footwork to float into space and square himself to puck carriers, leading to his OCZT% crossing 80% in my sample. Öhgren is a player who already plays like an NHL player as well, chasing down play along the boards and grinding play down. He may lack truly high end speed and be a low volume passer, but his first few steps and awareness of linemates further lead to that strong offensive transition data, getting to the net in transition to top it off. There are flashes of deception at his pace that can bait opponents and create space for him to play with, even if he's not showing off those quick first few steps of acceleration.
The data case for Öhgren is also the best of the three, even beyond his OCZT% and offensive transition involvement, factoring into 50% of his team's shot attempts with him on the ice, with that number going up to an insane 61% in his under-20 sample alone, often using determination and skill to get into dangerous areas, which I'd like to see more often and brought to the SHL where he failed to register a dangerous shot attempt in my sample. He clearly showed that he was the most willing of the three to get physically involved, which I'm sure NHL teams really like to see.
On that note, however, he sits 77th of 84 forwards at shutting down defensive transitions, allowing control on 70% of those transitions which is… bad… but it's important to understand why that's happening. Öhgren seems to default to reaching in with his stick in transition, removing him as a threat and opponents just breezed through his pressure, which is strange considering the intensity and determination Öhgren brings to the game. Luckily, the fix to me is simply working on getting stronger more than anything without losing the quickness he has, so he can close gaps better and cut back on the reaching and keep his feet moving into applying that pressure.The same trait was noted a few times locked in the defensive zone. Djurgårdens really, really struggled to drive shot differentials and get pucks out of their end, and soft defense from a potentially strong defender like Öhgren was often a big part of the equation.
To me, Öhgren brings the safest floor, especially if he gets stronger, but he's no slouch as is, with a great north-south game, especially with the puck and great finishing ability to end possessions. He's got strong awareness of linemates and makes his passes count and to be involved in 35% of his team's offensive transitions, and maintaining control on 81% of them is an excellent combination, especially for a sample including four SHL games. The intensity he brings to the game should be a target for plenty of NHL  teams, but if he starts slipping a bit, he could bring some great, safe value with good potential for upside.
Final Ratings: Think - 1C, Move - 1D, Get - 1F, Pass - 3A, Shoot - 1C, Overall - 1D
Final Thoughts
These players have played together for very long stretches of this season, and for good reason. Djurgården didn't have the best J20 depth and had trouble driving consistent 5v5 offense in my experience, but were led by these three. In the SHL, they each showed flashes of what they're capable of, but the team itself also struggled and ended up relegated to the HockeyAllsvenskan, but this may end up being a good thing for the trio, with a lower level of adult competition giving them ample time to play big minutes and learn to drive results at the professional level more often.If you want the most projectable, furthest along option that could be a modern NHL power forward with a bit of finesse, Öhgren could be your guy, especially with strength improvements. If you want scoring with room for improvement to be useful in more areas outside of the offensive zone, Lekkerimäki is clearly a great option. If you want the biggest swing, highest upside play driver with the largest amount of risk, Östlund's probably the best case of that in the entire draft. The three of these players complemented each other extremely well, with Öhgren's powerful north/south game, Östlund's high pace, intelligent puck management, and Lekkerimäki's finishing ability to top it all off, and serve as an interesting case study to understand how different player types can offset and intertwine with one another. I'm a big fan of all three of these guys, and while some may come with real risks, they could turn out to be some of the higher octane, more fun players available.