The first look at Team Canada's final roster comes today against Team Sweden in the second of three pre-competition games before the 2015 tournament kicks off on Boxing Day.
With the roster finalized, the game will serve as another step in the evaluation process as those who have made the team compete for roles. 
With 12 regular spots available up front and six spots to compete for on the backend, the 20 remaining skaters will try to avoid falling into a role as the team's twelfth forward or seventh defensemen. To start, Brayden Point and Dillon Heatherington will draw into those roles, respectively.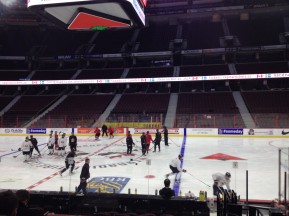 Making their pre-competition debuts will be Ottawa Senators forward Curtis Lazar, top-ranked 2015 NHL Draft prospect Connor McDavid, undrafted Detroit Red Wings prospect Joe Hicketts and a pair of Winnipeg Jets second round prospects, forward Nic Petan and goaltender Eric Comrie.
McDavid said he's just happy to be back after suffering an injury in a fight earlier this year.
For Lazar, the chance to play with McDavid is something he said he's looked forward to since he heard he was joining the team.
"I'm just going to try and get open," Lazar said following the morning skate, laughing.
Head coach Benoit Groulx expects the new line, which sees Nick Ritchie on the left wing, to be a difference maker. The game is a chance for them to gel.
"We look for chemistry, we want to give them a chance," Groulx said. "We have to be patient and see how it goes."
After a dominant performance against Team Russia only to suffer a 2-1 loss at the hands of 52-save effort by Russian goalie and New York Islanders prospect Ilya Sorokin, Canada faces another tough challenge.  
Team Sweden, led by returnees Robert Hagg (PHI), Robin Norell (CHI), Jacob de a Rose (MTL), Anton Karlsson (ARI) and Lucas Wallmark (CAR), plays an up-tempo, controlled game. 
Other core players include Adrian Kempe (LAK), William Nylander (TOR) and Oliver Kylington, a smooth-skating draft eligible defender.
The game will be the only time the two teams meet, barring an elimination round matchup. Team Sweden will play their preliminary round games in Group B, in Toronto, while Team Canada will start in Montreal's Group A.
The game, an instalment in RBC's Road to the World Juniors, will be live on TSN2 at 7:00 p.m. EST.
Team Canada's line combinations:
Domi - Reinhart - Duclair
Ritchie - McDavid - Lazar
Petan - Paul - Fabbri
Crouse - Gauthier - Virtanen
Point
Nurse - Theodore
Morrissey - Bowey
Morin - Hicketts
Heatherington
Note: Stay tuned for updates throughout the day (including full line combinations) from the teams' morning skates and immediately following the game for post-game reactions. You can follow here and on Twitter @scottcwheeler.