One could make a case that Bridgeport or Providence possess one of, if not the most difficult schedules in professional sports. Consider this:
They play 16 sets of three games in three nights. The AHL average is eight (8) per team.
They've played five already, in nine weeks. The AHL average is 2.5 sets per team already played.
Both went through four straight weekends with a 3-in-3 set.
Despite the scheduling, Providence holds a record of 1-4 in Game 1's, 0-5 in Game 2's and 3-2 in Game 3's. Bridgeport holds a record of 2-3 across all games.
For a full, detailed breakdown team by team, you can download the pdf I created for all AHL teams.
AHL scheduling is bonkers under normal circumstances tacking on travel conditions, sometimes wintery, terrible hikes to the next venue.
Manchester (14) and Springfield (14) are a close second with Texas, Rockford, Milwaukee and Charlotte play the least amount of sets with three each.
This is how the AHL splits in 2014-15. Splits include monthly units for a more micro approach. Manchester and Springfield with four sets in March. Hershey has four in February.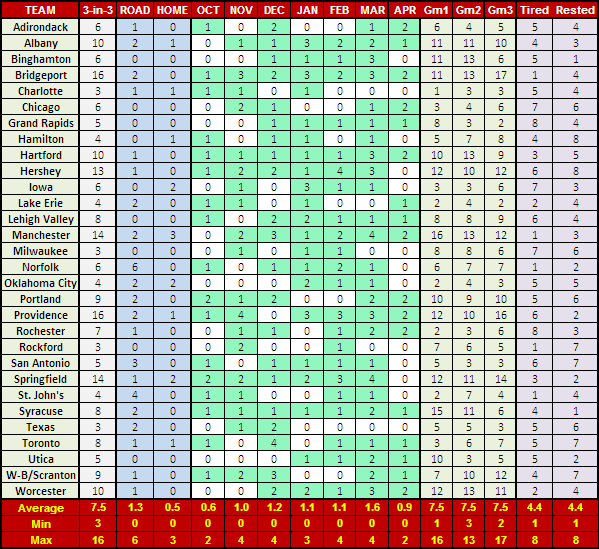 The Gm1, 2 and 3 columns represent the amount of games the listed team has against opposition in the midst a 3-in-3 set. Bridgeport – and Providence – lead the AHL with 17 and 16 games respectively facing a team playing Game 3 of a 3-in-3. The AHL Average is 7.5.
This isn't new with Providence either. They were one off the most sets in 2013-14 and led the AHL in 2012-13.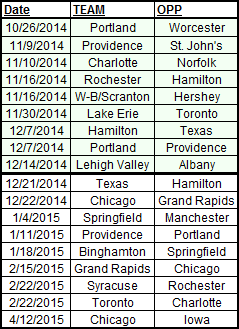 I've also incorporated the number of games as a rested/tired team on the game in consecutive nights, however, that could mean Game 2 or Game 3 of a set, adding another layer to what should be considered a schedule loss.
In 2014-15 18 games feature a team playing Game 3 versus a rested opponent. Collectively, tired teams have a 2- 7 record.
 TEAM RECORDS
To this point, North Division leading Utica Comets and West Division Oklahoma City has yet to play a 3-in-3 set. Presented below are the records for team sets.
The table on the right is the record of teams as the roll through games 1-3 in their sets. That is, Adirondack has an 0-2 record in game 2's and 2-0 in game 3's.
The table on the right represents is from the opposition team facing a team in their 3-in-3 set. Albany is 2-1 versus teams playing game 1's and providence is 5-2 against teams playing game 3's that is, 5 of 14 wins this season.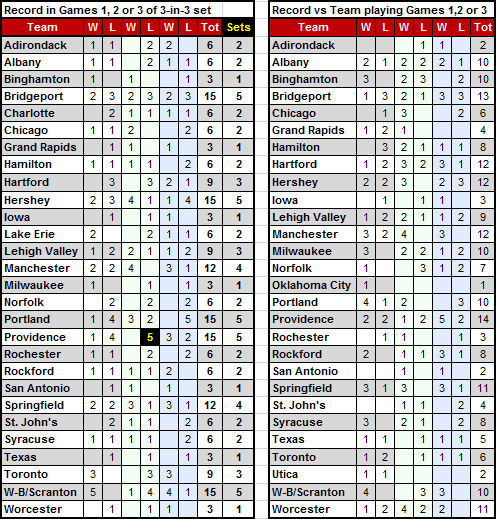 RESTED & TIRED
Of course I couldn't resist breaking down the rested and tired scenario here. At the NHL level, rested teams usually win about .596% of their games. Thus far in 48 games rested teams have won 32, for a winning percentage of .667%.
Midwest Division leading Rockford IceHogs have played five games as a rested team earning eight points.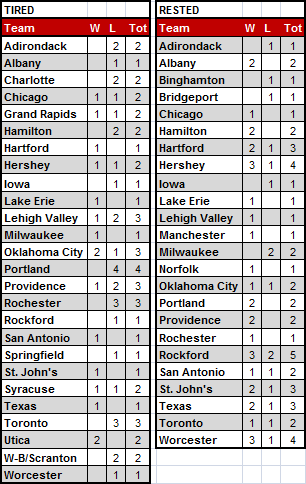 The records are up to mid December. Binghamton, Manchester, Norfolk and Bridgeport, have yet to play as a tired team. On the rested side, Charlotte, Grand Rapids, Springfield, Syracuse, Utica and Wilkes-Barre Scranton have not played as a rested team.
Portland holds the dubious distinction of having four losses as a tired team, both losses to divisional rival, Providence.
I guess there's a bright light in each schedule after all.
************************
Follow the McKeen's team on Twitter: