No matter who I asked or when I asked it, every scout told me the same thing; Quinnipiac senior goaltender Eric Hartzell was the best puck-stopper in the NCAA this season.
Heading into Saturday night's Championship game against the Yale Bulldogs, Eric had a 30-6-5 record with a 1.53 goals-against average, .934 save percentage, and six shutouts.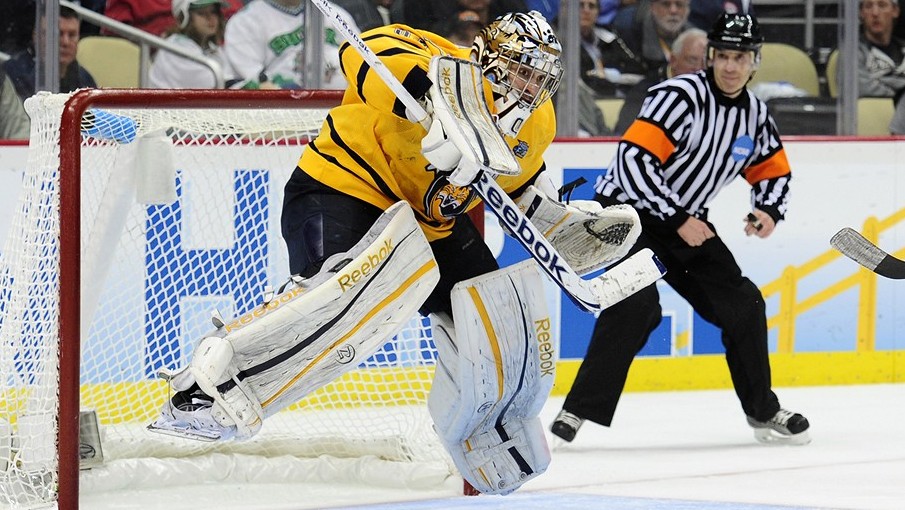 But after a lazy finish to the second period, which led to the game's first goal with just 3.5 seconds remaining, Hartzell allowed an even weaker goal early in the third period, and that's all Jeff Malcolm and Yale would need to complete the storybook championship victory. They devoured Quinnipiac by a score of 4-0, winning their first-ever NCAA Men's Ice Hockey title.
Malcolm stopped all 36 shots he faced and completed the rare shutout on his 24th birthday.
*Although this scouting report focuses solely on Hartzell, please don't consider it as a slight against Malcolm. What he accomplished in the tournament was sensational, admirable, rare, and clearly worthy of a pro contract. But my scouting assignment was to evaluate Hartzell, so I stayed focused on that task despite the fact he was clearly outplayed by Malcolm.
And even though it won't show up on scouting reports, and you won't hear it being discussed in the NCAA hockey media circles, the emotional aspect of this game for both senior goalies had to be taken into consideration. As a senior, to know this is your last game, it's not hard to put it all on the table. But one goalie had to deal with the lofty expectations of bringing home an NCAA title as the #1 seed in their region, while the other -- in a happy state of mind on his 24th birthday -- was able to stay relaxed, enjoy his daily routine, and embrace the role of being the underdog.
As one NHL goalie coach once told me, as goalies, we play some of our best games when we're happy.
Hartzell didn't go to sleep happy on Saturday night, but something tells me he'll be smiling by Monday. He's expected to sign a pro contract quickly, and if so, I'll update this post with a few paragraphs projecting his path within the depth chart of whatever team he joins. It's not a matter of if he signs, but a matter of when.
GAME NOTES
Eric made an early routine blocker save in a free-flowing and smooth manner, directing the rebound to the right half-boards. He then showed off some stick skills by making an excellent two-line lead pass up the ice while Quinnipiac worked their early power-play chance. He made an excellent reaction glove save on a wrist shot by through traffic by Ryan Obuchowski with 14:25 in the first period, a sign he was "dialed in" early. He also looked very solid down low with seconds remaining in Yale's first PP, sealing the ice inside his left post and making a terrific paddle-down save.
Kenny Agostino created some space short side high after executing a wraparound with 6:50 left in the first period, but Hartzell took away a sure goal with a glove reaction save. His upper body was off his left post, and the rebound was left out in front, but he had ample defensive support and didn't have to make a secondary save.
Following Agostino's chance, Hartzell appeared a little unsettled and imbalanced for the remainder of the first period. On one instance, he almost got caught cheating off his right post on a potential centering pass, but he got lucky as the shot went off the outside of the right post, popped up into the slot, and was quickly cleared.
Yale earned their second PP with 4:30 left in the first period, but they didn't challenge Hartzell. Still, he didn't look the most comfortable in his down movements, and had some trouble tracking a few pucks through traffic. No worse for wear, Hartzell escaped a late push by Yale and stopped all nine shots he faced in the first period.
Hartzell was not tested early in the second, as Quinnipiac carried the play for the first seven minutes. But he made a real nice stop when Agostino placed a great re-direction from the high slot right on goal in the opening seconds of Yale's third PP chance. The puck was tipped perfectly and just glanced off the toe of Hartzell's left pad, so he was in perfect position through traffic. That was a timely save considering he had been watching Malcolm shut the door on the other end for nearly the entire first half of the second period.
With 11:41 left in the second period, Eric once again showcased his dominance down low, snuffing out a shot along the left goal line with the paddle, then covering up the puck with his big body. A few timely saves allowed Quinnipiac to escape unscathed from Yale's third PP chance, keeping the game scoreless.
With only 5:30 remaining in the second, Yale had 20 shots on goal, 12 of them coming on their three PP chances. Quinnipiac had also blocked 17 shots at that time as well, all while killing off five power plays and one 5-on-3 disadvantage.
The breaking point for Hartzell transpired with only 3.5 seconds left in the second. On a routine dump-in, Hartzell met the puck behind the goal, but instead of holding it and draining the clock, he continued to relay the puck around the boards with a backhand push. With his back turned to the play, Hartzell was unaware of a pinching Gus Young, so he wasn't able to return to his crease with a sense of urgency. Young one-timed the puck on goal from the right half-boards, and that's when Clinton Bourbonais tipped the shot just enough to beat Eric five-hole.
It was a rough turnover on somewhat of a lazy play by Quinnipiac's entire six-man unit. It was also a momentum-crusher, as the Bulldogs entered the third period with a 1-0 lead.
Just 3:35 into the third period, Hartzell made a back-breaking mental mistake that led to Charles Orzetti's memorable goal. After making an initial save on a shot from the left boards, he elected to recover back to skates instead of staying in the down position and keeping a seal with the ice. Because he got back to his skates and was forced to drop down again to seal the right post, Orzetti had the time and space he needed to slip a rebound shot under the right pad.
At this point, Hartzell was clearly rattled and frustrated. While the ice crew was fixing the pane of glass that Orzetti detached during his celebration, Eric was looking up at the replay on the jumbotron, trying to see how that puck snuck past him. When this sort of thing happens, every scout knows the mistake got in the goalie's head, and they're having trouble focusing on task at hand -- making the next save.
Andrew Miller's goal to extend Yale's lead to 3-0 with 10:54 remaining was considered as weak as Orzetti's, as Hartzell was sniped five-hole on a clear-cut breakaway. At this point, stick discipline and reading plays became the most prevalent issue for Hartzell. The first goal was a bad read, the second goal was a mental error and a lack of sealing the ice on a bad-angle shot, and the third goal was an inability to keep the stick centered.
Hartzell was boldly pulled with 7:30 left in the game, but Yale extended their lead to 4-0 with 6:58 on an empty-net goal by Jesse Root. He finished the game with 27 saves on 30 shots, but it was Malcolm that earned all the glory.
SCOUTING NOTES
Aside from the obvious traits -- athleticism, size, and good mobility -- Hartzell really impressed me with his strength down low. He is very powerful when pushing laterally or recovering out of the butterfly to regain his edges, and he's like an anchor in the crease when he's in the paddle-down position. His net coverage was excellent and he moved well for the size he carries. He has decent depth control in the crease, being aggressive on some instances, and staying inside the blue paint when killing penalties, or when facing far-side or cross-crease threats.
Another positive trait in Hartzell's game was his active stick. Whether it was lateral passes below the goal line, up-ice passes trying to catch Yale on a line change, backhand chips along the boards, or retrieving and setting up pucks for his defensemen, he was not  afraid to get out of the net. It certainly cost him on the game's first goal, and he wasn't the most balanced or precise on every passing occasion, but it was easy to see he was comfortable doing it.
As I mentioned above, I did notice a fair amount of imbalance in the game, but this is where an NHL scout will consider him to have excellent pro upside. To be so dominant all season long and still not be technically polished with some of his footwork and butterfly mechanics is proof he has a lot of room to grow and "tighten up" some loose aspects of his game.
I don't use NHL comparables for NCAA goalies very often, but in Hartzell's case, I saw a mixture of Antti Niemi and Corey Crawford. He isn't the smoothest skater when asked to cover long distances in the crease, he's slightly hunched over, his size is his biggest advantage, he has good hands that are held slightly lower and tighter to his body than most progressive butterfly goalies, and he battles hard to make the tough saves down low.
Niemi loves to use the paddle down technique to absorb a lot of those low shots in tight around the net, which is what I saw from Hartzell. Crawford is slightly hunched over and not the best skater, yet exhibits excellent hard and soft focus when tracking pucks and reading plays, another similarity I saw in Hartzell. So in terms of form and function, if you're looking for a simple way to explain his game, take a look at Niemi and Crawford.
Overall, Hartzell is going to appeal to a lot of NHL teams due to the fact he has the optimal frame and he's very strong down low. His skating can improve, his footwork and lateral mobility is slightly rough around the edges, he'll need to get quicker and sharper on his edges, and being able to maintain body control and rebound control against the faster pro-level speeds will also be an obstacle. Once he gets some more coaching and experience, I believe his posture and save selections will improve, which will help him look and play even bigger in the crease.
With that in mind, I have no doubt that Hartzell has appealed to numerous NHL teams, and I won't be surprised when he inks a pro contract in the near future.