When Ryan Hardy first took the job to become the General Manager of the Chicago Steel, he found himself thrown into the fire right from the get-go, tasked with preparing for the USHL Futures Draft on short notice.
Scrolling through hours of video searching for the next generation of players that would shape the future culture of the program, he came across a very familiar last name. As the Coyotes maroon jersey did its job of popping off the screen, it was the #19 on the Arizona Jr. Coyotes that had the "Doan" last name on the back of it.
"He was a pretty small guy, but he worked hard, and he was smart, and he made plays." said Hardy, who first noticed Josh Doan during sifting through the film of the 150 USA Hockey National Championships. "He kind of reminded me of Brady Tkachuk looked in Bantam, five feet five inches tall, really smart and really competitive."
Despite Doan's small frame, Hardy saw the potential and decided to take a chance and select him with the 95th overall pick in the 6th round of the 2018 draft. At the time, Doan was prepping on taking a different route, following in his father's footsteps to play Major Junior in the Western Hockey League.
"I didn't know much about the [USHL] because we had been focused on the Western Hockey League." Doan explained, who was caught by surprise when the Steel had selected him.
Nevertheless, after another productive season with the Jr. Coyotes where he tallied 36 points in 30 games, Doan earned a spot with the Steel, with a development plan put in place that would focus on continuing to develop his body.
"The original plan was to play half the games, and then work out the other half, so that I could continue to get stronger and work on my body," he said, as they discussed the plan for his rookie season. "Once I got there, luckily I think they put a little more trust in me and I got to play more."
Fast forward two seasons into their 'master plan', Doan now stands at six feet and two inches, weighing in around 180 lbs, following a dominant season in which he helped lead the Steel to a Clark Cup championship notching 70 points in 53 games, and was named to the All-USHL Second Team.
Although Doan's journey to becoming one of the most dominant players in the USHL was a long and grueling process that required patience and hard work, the people around Doan on a regular basis all shared the same thought:
It was only a matter of time until he finally put it altogether.
_________________________
If you have watched a Chicago Steel game on HockeyTV, you've heard Mark Citron, the play-by-play broadcaster call Josh Doan by his nickname, a nickname that is hands down one of the most creative in all of junior hockey.
The Diesel.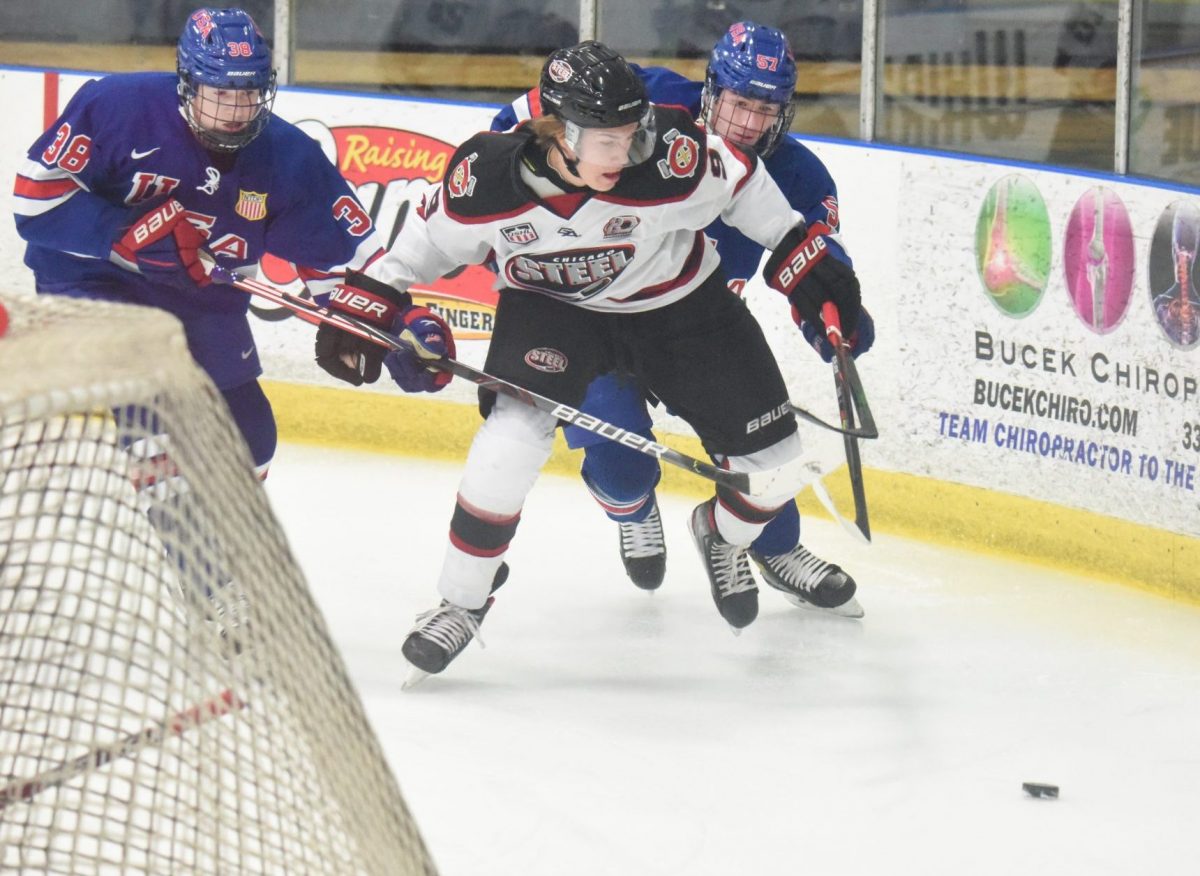 "It started in Sioux City during a morning skate, Parker Hoffman, our equipment guy was messing around with Mark Citron our commentator and they came up with Diesel." Doan said explaining the origins of his nickname from his rookie season. "I ended up scoring my first goal that night, so it stuck."
On a team that featured a forward corps of the top three scorers in the league followed by the Defensemen of the Year on the back end in Owen Power, not much was asked of Doan in his rookie season. His main priority was getting his body and mindset acclimated to junior hockey.
"It was frustrating early on, being a guy that wants to produce at a high level for this team," Doan admitted, dealing with the struggles of being a rookie in junior hockey. "I learned a lot."
Despite finding himself in and out of the lineup throughout his rookie season, Doan remained patient heading into the off-season, and then when the season ended abruptly due to the pandemic, Hardy and Josh and his family re-assessed the plan and more specifically, setting up an off-season routine that would continue the work that he had started developing during his rookie season.
"Adding the strength and the seating, were probably the two biggest areas of focus for it," Hardy said was the main point of emphasis for Doan's off-season plan.
During the early stages of the pandemic when the lockdown was in effect, Doan developed a daily routine of using the squat rack he had to continue that explosive work, but also the little things; like, shooting pucks for hours and hours under the Arizona sun.
Luckily once things opened up a little bit in Arizona, he had the perfect group of guys around him to help keep his goals in check.
This group included the likes of all the top junior players in the Arizona area, players that he grew up with throughout his minor hockey career, such as fellow Steel teammates Erik Middendorf and Jake Livanavage, Riley Stuart of the Dubuque Fighting Saints (who will also be joining Doan at Arizona State), and Tri-City Storm forward Matthew Knies.
"Having him to compete with in the weight room allowed me to get more out myself and the same for him," said Knies, who has been best friends with Doan for a number of years, dating back to their days playing together with the Jr. Coyotes.
"I'm very grateful I got to compete with and against him, obviously he's a tremendous hockey player and it's not surprising for how hardworking and dedicated he is."
Although the main goal for the group during the summer was to prepare for the upcoming season, and at times when there would be an odd number of guys at the rink, Josh's father would turn back the clock in his referee shin guards and tracksuit and hop in and train with them.
"I absolutely loved getting to skate once in a while with the guys this summer," said the long-time NHLer, who would only jump in when there would be an odd number of guys on the ice.
"Everyone laughs because the way he's built, he's just bigger than everyone without gear, it just doesn't make sense," said Josh on what it was like scrimmaging against his dad. "He's definitely not as fast as he once was, but his brain definitely still thinks at a high enough level to get him by and still dominate."
With a significant roster turnover of players graduating to the next level, this meant that there would be plenty of opportunity to take that next step and earn a bigger role.
This meant that the returning players, the likes of Doan, Mackie Samoskevich and Matthew Coronato, would be thrusted into leadership roles, continuing to transfer the culture of the Steel organization to the new batch of teammates joining the club.
"Once I got to camp, it was, I felt good, I was confident myself right from the beginning," Doan said, crediting it to the constant skating with his group in Arizona for the boost.
After getting the chance to sit back and learn from the veterans of the year before, Doan embraced his new role, both on the ice playing in increased minutes, but as well as off the ice as a leader inside the locker room.
"He was a really big mentor for me this year," said Adam Fantilli, a teammate of Doan who entered the USHL as a 16-year-old this season. "He really helped me adjust to the team culture and playing style of the league."
In combination with his new leadership role, Doan started out the season playing much more than he did the year before. As Doan continued to get acclimated into his new role with the team, this also meant having to deal with some growing pains along the way.
"I think I hold myself to a pretty high standard," Doan said about his expectations for himself heading into the season. "I think early on in the year I came out the gate slow, and then I started worrying about points, and I think that kind of hurt me a little bit."
With that being said, Doan looked to his father's guidance, looking back at their previous conversation for their goal for the season, a goal that when you boil down to it, was quite simple: "Our thought process was just trying to be the best player on the ice every night, and then the points will come along," he said. "Just play my game and be the best I can be, and it'll come."
With 10 points in his first 15 games to start the season, despite the increase in ice and production nearing a point-per-game, the Arizona State commit still felt that there was still another gear that he could take his game to.
After finishing off 2020 on a three-game drought without points, Doan went into the new year seeking to finally follow through with the goals set by him and his father; Try to be the best player on the ice every single night.
Unlike many junior players, Doan was not superstitious by any means about it. Whether it would be choosing to joke with some of his teammates to loosen the mood within the locker room, if not, he would find himself listening to his favourite country music singers, Doan kept his routine simple heading into games.
Using the new year as a way to reset his mindset, Doan wasted no time to achieve his goal in the first week of the new year, and for Matthew Coronato, he got a front row seat to Josh's season-defining weekend.
"That weekend he had was huge," said Coronato, who was also in the middle of a hot streak of his own at the time. "Josh was dominant and contributed in big ways."
In his first game of a back-to-back series against the NTDP U17s, Doan filled up the scoresheet with a goal and three assists. Despite the 7-5 loss in that game, Doan's breakout performance gave him a reality check that this was possible.
"I think just getting one big night, followed by another kind of put me back in that thought process that I can compete at this level and not only compete but kind of dominate," he said. "I was happy but there was still a lot of work to still do,"
And then the very next night, the Scottsdale native followed up on his belief, delivering yet another dominating performance, this time around, tallying a hat-trick and an assist in an 11-2 victory.
It was the spark that he needed, and from that point on, everything finally started to come together for Doan, who used this weekend to propel himself up to a level that he always knew he was capable of.
Doan would go on to have a dominant rest of the season with 53 points in his following 36 games, as the Steel would go on to steamroll their way through the USHL competition, ultimately capping it all off with a Clark Cup victory, a championship that felt was long overdue considering the untimely ending to last season.
As the days continue to go by, the draft continues to get closer and closer, and thanks in large part to Doan's mid-season surge has catapulted himself as one of the premiere re-entry players in this entire draft class.
Ryan Wagman, the head of the McKeen's scouting staff, has been able to catch a close viewing at Doan's progression over the past year, and truly believes that he can have an impact at the next level.
"He is a bit faster now, but the biggest difference is his ability to process the game and drive events, instead of being reactive to them," said Wagman about the improvements that the 79th rated player in the McKeen's Top 217 rankings. "He plays an impact game… Many players improve a lot from age 17 to age 18, but few to this extent."
Doan, who will be alongside his peers that will also be waiting to hear his name called, Coronato and Knies continue to preach the type of person and player that NHL teams will be getting from their friend.
"I loved playing with Josh," Coronato replied, while Knies shared similar thoughts about his childhood best friend. "He's a tremendous hockey player and it's not surprising for how hardworking and dedicated he is."
While the goal is to one day follow in his father's footsteps and become an NHL player, Josh currently has his sights set for Tempe Arizona, as he prepares for his freshmen season with Greg Powers' team at Arizona State, studying in their sports business program.
Shane's advice for the upcoming steps in Josh's hockey journey?
"I think the biggest thing is to enjoy it," he says. "The game is meant to be fun and when you're having fun, you're creative."
"Whether you're drafted or not didn't change your results for this year, and it won't change your results for next year."