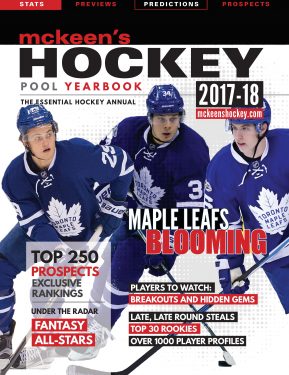 We are very proud to release the 23rd edition of the McKeen's Hockey Pool Yearbook. It is now 250 pages packed with information. We have expanded our coverage this year on both our NHL profiles and our NHL prospect coverage.
To purchase please click SUBSCRIBE
We now include a scouting profile along with a review of last season and the outlook for the 17-18 season. Gus Katsaros provides a detailed breakdown of all the fantasy relevant NHL players this season. Combining scouting and breaking down video with a statistical analysis of all key metrics, Gus brings a unique and insightful perspective on a skaters potential. It is combined with a detailed scouting report that has been compiled by the McKeen's team over years of scouting. 40 goaltenders receive a detailed analysis also accompanied by a scouting report.
Ryan Wagman delivered expansive coverage of all 31 NHL franchises and their prospect system. Coverage includes a profile of the top twenty prospects on each team. Drawing on the support of our global scouting team, and working with publisher Iain Morrell, Wagman provides a detailed snapshot of each organizations future.
You can check out a sample of Arizona along with our Table of Contents to give you an idea of what we offer. Please click here for sample download 2017-Yearbook-Arizona-Sample
We have feature plus more as outlined below:
Preview 2017-18: Breakouts and Hidden Gems
Top 250 Prospects 2017-18
Top 25 Calder Candidates
Under the Radar Fantasy All Stars – James Mirtle
The Four S's of Scouting – Gus Katsaros
The Late, Late Show – Deeper Round Steals – Peter Harling
Stats and Stuff – Gus Katsaros
Top 475 Scoring predictions
2017-18 Top 50 Goaltending predictions
Full Team Rosters
In addition, online there are many player profiles, plus the following: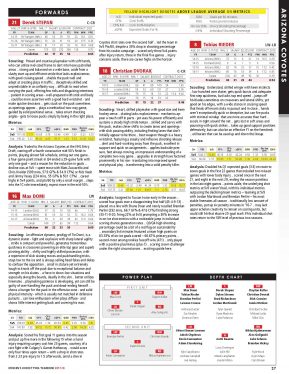 Top 475 projections and many statistical charts downloadable to Excel. Over a 1000 player profiles and insightful advice.
Detailed player profile and scouting reports (2016-17, 15-16 14-15, 13-14, 12-13, and 11-12 seasons).
Updates in real time from rotowire.com plus extensive history. Current statistics and a Google newsfeed.
Extensive database of prospects including top 250 for 2017-18. Thousands of players profiled in a deep hockey resource.
Be completely up to date for your draft. Predictions and projected line combinations updated until the start of the season!
Mobile web enabled for smart phones.
It includes a copy of our 2017 NHL Draft Guide as well
We will be uploading player profiles, online articles and more over the next week.
Enjoy our coverage for this season.