Current subscribers can download it here: 
https://www.mckeenshockey.com/nhl/subscriber-downloads/
This is what you receive with a subscription:
The magazine is included in a three-month subscription for $9.99*. This subscription includes all downloads made available during that period. The 2017 NHL Draft Guide and top 125 rankings are available now for download. We will be releasing our McKeen's Hockey Pool Yearbook in September. Your subscription gives you access to an extensive database online that includes the NHL. In addition to 100's of draft profiles already posted, we will be posting our fantasy content beginning late August, including at least 150 NHL current draft eligible prospect profiles, along with approximately 400 NHL player profiles with detailed analysis and scouting. We should have everything posted in late August/Early September. The 23rd edition of the McKeen's Hockey Pool Yearbook (Established in 1994 - 144 pages) will release then as well in PDF/Magazine format.

All season long we will continually provide new feature material and are scouting and reporting on prospects. The best value is a yearly subscription at $35. You can learn more and subscribe here
For the NHL we will have some feature articles and continuous updates from rotowire.com on the player pages. Supplementing the NHL profiles with up to date news along with a fantasy analysis on the development. These are available as a separate section on your phone to stay up to date on the go. Here is an example.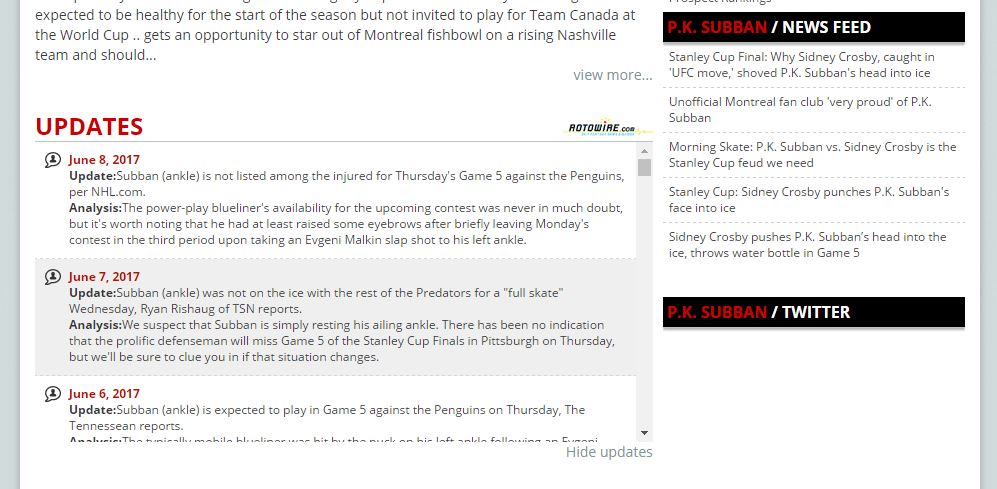 *It is a recurring subscription that you can cancel at any time and you will receive your full three months access, including any downloads or magazines published in that time. There is no requirement beyond $9.99 and a three month subscription. 
The 2017 NHL Draft magazine features:
Top 125 rankings
In-depth player profiles. Here are two examples of the player profiles
Mackenzie Entwisle and Stelio Matheos free sample
nico-hischier-mckeens-nhl-draft-guide-2017-digital
McKeen's Choice Awards - top players ranked in 10 different categories.
A mock draft
10 feature articles
Articles included:
World History - a 1700 page overview of the 2017 draft class by McKeen's founder and publisher Iain Morrell.
The Shanaplan 2.0 - an exhaustive 2000 word review of Leafs prospects by Anthony Petrielli reviewing the prospects in the system beyond the current recently arrived superstars.
Territory Reviews  (800 to 1200 words each) from our team of scouts. Led by Ryan Wagman, we absorbed the scouting staff from Hockey Prospectus onto our team this season and expanded our content. Publisher Iain Morrell still remains intensively involved in the rankings and scouting. He has been scouting and profiling prospects for over twenty years.
WHL - High end talent flourishing by Kevin Olexson
OHL - Ontario delivers need for speed and power by Scott Crawford
QMJHL - Sprong excites as offence continues to flourish in the Q by Mike Sanderson
USA - A deep pipeline of talent
Sweden - The Premier D-Man factory of the hockey world by Jimmy Hamrin
Finland - Power surge continues with Heiskanen by Marco Bombino
Central Europe - Hischier will make Swiss history by Dennis Schellenberg
Russia - Karpizov highlights a wealth of impact drafted prospects
Online:
We currently have over 100 NHL Draft eligible profiles currently posted on our website. They can be accessed through our player pages. You can also link directly from the player profile in the magazine to our player page, which includes a lot more detailed analysis and a specific breakdown of attributes with grades. You will need to be connected to the internet and signed into your McKeen's account.
We can feature many more players our website than in the magazine.
Here is an example of Nico Hischier's player page scouting profile. The page also includes up to date stats, a player news feed, and any articles featured on McKeen's.