With the CHL leagues now into the second round of their respective playoffs, the NCAA season completed (congrats to new champions Minnesota-Duluth!), European leagues beginning to wrap up and the USHL with only one more weekend remaining in their regular season, it is time for the penultimate McKeens Hockey Draft List. This list once again runs 125 players deep, with a few more names tacked on at the end to keep in mind.
Our final list will run deeper – and be more definitive – but know that the names you see below are the fruit of the combined labor of the full McKeens scouting team. Covering all of the leagues touched on in the first paragraph above, we have watched them all and players in most cases were also cross-checked by multiple team members.
While the size of our list has not changed from the previous iteration, much else is different. Yes, Rasmus Dahlin still heads the ranking (hint: barring a career-threatening tragedy in the next 10 weeks, he will lead our final list as well), but the next player who maintains the same position as last time is Joel Farabee, still sitting in 12th. Alexander Alexeyev, at 29th, is the only other player in the top 31 who is ranked the same today as he was in February.
Looking at the top ten, the changes begin in the two/three slots, as we saw fit to bump Russian import Andrei Svechnikov past Czech import Filip Zadina. The latter has been strong all season long, but the two keys for us were a) he plateaued to an extent in the dying days of the regular season while Svechnikov has taken his production to a new level down the stretch. On a point per game measure, Svechnikov's 1.64 points per game outshine Zadina's 1.44, and the latter's extra ten games played cannot explain away the discrepancy. The first round of the playoffs have seen this trend continue. Zadina has been very good. Svechnikov has been stellar. b) Svechnikov is four months younger than Zadina. In the grand scheme of things, that is not much. In a draft class, that is a full third of the way from one year of eligibility to the next. There is just that much greater likelihood that Svechnikov has more development potential. This factor is not destiny, but cannot be overlooked.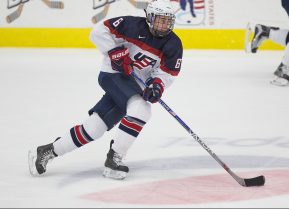 Quinn Hughes and Adam Boqvist, both undersized (by traditional standards, if not by modern ones) and very mobile defenders have almost switched places. Hughes, whose game grew by leaps and bounds since playing a supporting role for the US Bronze winning WJC entry ended his season in the Frozen Four. He was the youngest player in the NCAA this year and tied for 16th among all defensemen in scoring. Only one of the blueliners with more points is within even one year of his age. Through the second half of the year, he was consistently the best player on the ice whenever he stepped over the boards. He leaps from 9th last time, to 4th now. Boqvist, who dropped from 5th to 8th, is still an electrifying skater whose speed brings an extra dimension to his game. He is still highly coveted, but there is at least a hint of a red flag due to his dearth of production at the senior level in Sweden. He scored nearly one point per game in the SuperElit league, but has only one assist in 18 regular and post-season SHL games. The skill set is obvious, but his struggles against men highlight the greater gap between what he is and what he should become.
The one change to the previous top ten sees Spokane defender Ty Smith fall from 10 to 16. His offensive production in the WHL has been fantastic all the way through the Chiefs' first round playoff exit. There have been some questions about his play off the puck, which were highlighted by a rough showing earlier in the year at the CHL Top Prospects Game. He should have another chance to boost his stock in the coming weeks as part of Canada's entry to the World Under 18 Championships.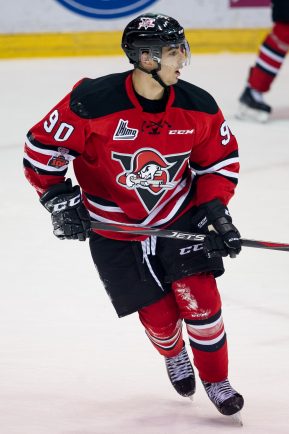 Taking Smith's place in the top ten is former Exceptional Status player Joe Veleno. Huge things were expected of Veleno this year, not only due to his unique entry point into the QMJHL, but a three goal showing for Saint John at last year's Memorial Cup certainly whetted the appetite for a huge draft season. Unfortunately, his previous team, the Saint John Sea Dogs were gutted by graduation and trades, and Veleno started off slowly, amid reports that he was taking the team's struggles too much on his own shoulders. He scored only six goals in his 31 games in the Maritimes. A mid-season trade to Drummondville has allowed him to take off in a more competitive atmosphere, finishing the year with 48 points in 33 games for the Voltigeurs. He is also having another strong post-season, helping his team into the second round. In short, Smith has seen questions added about his projection, while Veleno has answered more of his, helping him jump up from 11th to 9th.
Without laboring over each change in the list, let us meditate briefly on the four subtractions (and four additions) to the top 31. Dropping into our second round are Jett Woo, B-O Groulx, Jack McBain, and Martin Kaut. Like Ty Smith above, none of these players necessarily did anything to harm their own standing, but were simply surpassed by some players who managed to end on a strong note. For each of the four, it can legitimately be said that there are open questions about their offensive upsides. Woo, Groulx, and Kaut may lack top half of the roster upside, while McBain did not score as much as his talent would suggest he should have in the OJHL. Like Smith, he is expected to play for Canada at the WU18 and his performance with CHLers should speak volumes about his draft standing.
Replacing those four are a trio of small defensemen who have finished strong in Rasmus Sandin, Nils Lundkvist, and Calen Addison, and one ultra-talented German forward developing in Sweden in Dominik Bokk. These four players all carry a dynamic element to their games that the four players falling to the second round do not look to have.
The next six weeks, including the completion of the North American junior playoffs as well as the WU18 competition will see several more reputations made and others tarnished, as happens every year. We try to see the whole picture, and promise not to inordinately elevate the ranking of any player simply for getting hot at the right time. Our final list will reflect not just good or bad production at the right time, but the skill sets of the best draft-eligible talent in the hockey world, leavened by their ability and success rates of those skills in actualizing as performance.
We welcome your feedback on this list and look forward to seeing our draft list through to its completion in Dallas in late June.
Here is our penultimate top 31 ranking for the 2018 NHL Draft. Our final rankings will release June 1st, 2018. For subscribers the full list of the top 125 plus other noteworthy draft eligibles can be found here - Top 100 2018 NHL Draft - Mid Season.  If you are interested in a subscription, you can learn more here - $9.99 for three months access, plus any downloads we release. We publish a 2018 NHL Draft Guide on June 1st, 2018 and our 24th anniversary of the McKeen's Hockey Pool Yearbook on September 1st, 2018.
| RANK | PLAYER | POS | TEAM | HT/WT | DOB | GP-G-A-PTS |
| --- | --- | --- | --- | --- | --- | --- |
| 1 | Rasmus Dahlin | D | Frolunda (Swe) | 6-2/185 | 13-Apr-00 | 41-7-13-20 |
| 2 | Andrei Svechnikov | RW | Barrie (OHL) | 6-2/185 | 26-Mar-00 | 44-40-32-72 |
| 3 | Filip Zadina | RW | Halifax (QMJHL) | 6-0/195 | 27-Nov-99 | 57-44-38-82 |
| 4 | Quinn Hughes | D | Michigan (B1G) | 5-10/175 | 14-Oct-99 | 37-5-24-29 |
| 5 | Brady Tkachuk | LW | Boston University (HE) | 6-3/195 | 16-Sep-99 | 40-8-23-31 |
| 6 | Evan Bouchard | D | London (OHL) | 6-2/195 | 20-Oct-99 | 67-25-62-87 |
| 7 | Oliver Wahlstrom | RW | NTDP (USHL) | 6-1/205 | 13-Jun-00 | 54-40-43-83 |
| 8 | Adam Boqvist | D | Brynas (Swe Jr) | 5-11/170 | 15-Aug-00 | 25-14-10-24 |
| 9 | Joe Veleno | C | SNB-Dru (QMJHL) | 6-1/195 | 13-Jan-00 | 64-22-57-79 |
| 10 | Noah Dobson | D | Acadie-Bathurst (QMJHL) | 6-3/180 | 7-Jan-00 | 67-17-52-69 |
| 11 | Isac Lundestrom | C | Lulea (Swe) | 6-0/185 | 6-Nov-99 | 42-6-9-15 |
| 12 | Joel Farabee | LW | NTDP (USHL) | 5-11/165 | 25-Feb-00 | 54-27-37-64 |
| 13 | Barrett Hayton | C | Sault Ste Marie (OHL) | 6-1/190 | 9-Jun-00 | 63-21-39-60 |
| 14 | Jesperi Kotkaniemi | C | Assat Pori (Fin) | 6-1/190 | 6-Jul-00 | 57-10-19-29 |
| 15 | Bode Wilde | D | NTDP (USHL) | 6-2/195 | 24-Jan-00 | 53-11-25-36 |
| 16 | Ty Smith | D | Spokane (WHL) | 5-10/180 | 24-Mar-00 | 69-14-59-73 |
| 17 | K'Andre Miller | D | NTDP (USHL) | 6-3/205 | 21-Jan-00 | 50-7-17-24 |
| 18 | Akil Thomas | C | Niagara (OHL) | 5-11/170 | 2-Jan-00 | 68-22-59-81 |
| 19 | Jared McIsaac | D | Halifax (QMJHL) | 6-1/195 | 27-Mar-00 | 65-9-38-47 |
| 20 | Grigori Denisenko | LW | Loko Yaroslavl (MHL) | 5-11/175 | 24-Jun-00 | 31-9-13-22 |
| 21 | Serron Noel | RW | Oshawa (OHL) | 6-5/200 | 8-Aug-00 | 62-28-25-53 |
| 22 | Rasmus Kupari | C | Karpat Oulu (Fin) | 6-1/185 | 15-Mar-00 | 39-6-8-14 |
| 23 | Ryan McLeod | C | Mississauga (OHL) | 6-2/200 | 21-Sep-99 | 68-26-44-70 |
| 24 | Ryan Merkley | D | Guelph (OHL) | 5-11/170 | 14-Aug-00 | 63-13-54-67 |
| 25 | Mattias Samuelsson | D | NTDP (USHL) | 6-3/215 | 14-Mar-00 | 50-9-19-28 |
| 26 | Rasmus Sandin | D | Sault Ste Marie (OHL) | 5-11/185 | 7-Mar-00 | 51-12-33-45 |
| 27 | Nils Lundkvist | D | Lulea (Swe) | 5-11/180 | 27-Jul-00 | 28-2-3-5 |
| 28 | Alexander Alexeyev | D | Red Deer (WHL) | 6-3/200 | 15-Nov-99 | 45-7-30-37 |
| 29 | Calen Addison | D | Lethbridge (WHL) | 5-10/180 | 11-Apr-00 | 68-11-54-65 |
| 30 | Jacob Olofsson | C | Timra (Swe 2) | 6-2/190 | 8-Feb-00 | 43-10-11-21 |
| 31 | Dominik Bokk | LW | Vaxjo Lakers (Swe Jr) | 6-1/180 | 3-Feb-00 | 35-14-27-41 |