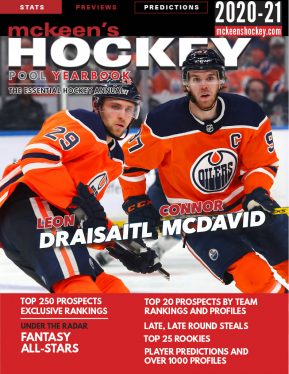 McKeen's is thrilled to announce the release of the 2020-21 Hockey Pool Yearbook (26th year).
It will be bigger than ever and packed with the  incredible content with great feature articles and in- depth player profiles you have come to expect.
Subscribe Today!  $12.99 CDN for three months access, $45 yearly including all downloads
If you are already a subscriber you can download the magazine here.
268 page magazine format
Top 475 player predictions with over 1000 player profiles
Feature articles
Downloadable charts online - predictions and line combos updated until the start of the NHL season.
Top 250 prospects, top 20 by team with profiles
Top 25 Rookies
The most exhaustive resource available - Get ready for the season
Based on many requests, we have made a print on demand edition of the Yearbook is available for $27.99 (Approximately $22 USD). A print copy of the magazine  will be mailed to your home. Shipping and handling is extra. It can be purchase on our subscribe page with the buy button just below the digital edition.
LIMITED TIME SPECIAL OFFER ON PRINT EDITION OF MCKEEN'S 2020-21 HOCKEY POOL YEARBOOK
CURRENT SUBSCRIBERS: 25% off of the $27.99 CDN price =$20.99 CDN (a saving of $7.00 applied as a rebate to your mckeenshockey.com subscription)
NEW CUSTOMERS: Receive one month's access to mckeenshockey.com with a purchase of the print on demand 2020-21 Yearbook. You will receive immediate access to updated predictions, line combinations and all of the player profiles on the website.
Both offers ends on January 13, 2021
Your subscription also includes the following magazines available for Download now