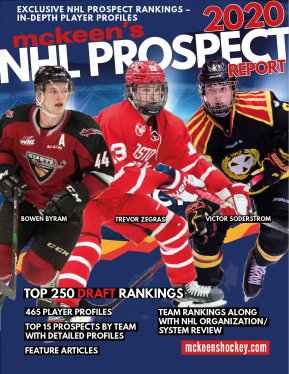 McKeen's is excited to announce the inaugural release of a new magazine - McKeen's NHL Prospect Report. It is packed with information in 306 pages with full profiles, analytics and much more. It will provide a deep look at each NHL team's prospect system and the next wave of NHL stars. Our team is based in rinks around the world and have been watching these prospects up close for a number of years. Enhanced by video review (powered by instathockey.com) the team have provided a picture of where the player is heading into the 2020-21 NHL Season.
If you are a subscriber download the magazine here.
If you would like learn more about subscribing to McKeens please go here 
PDF Magazine format
Top 250 NHL Prospects Ranked
Top 15 prospects by team with full profiles (465 prospect reports)
Team Rankings along with NHL organization/system review written by Editor in Chief Ryan Wagman.
Feature Articles from Ryan Wagman, Brock Otten, Jimmy Hamrin, Mike Sanderson, Vince Gibbons, Catherine Silverman, Peter Harling, Patrick Williams, and Jashvinah Shah
Advanced Statistics for each prospect - league adjusted for comparison.