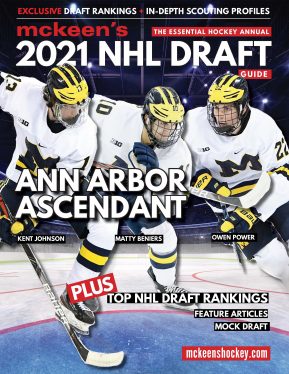 McKeen's 2021 NHL Draft Guide is now available to download for subscribers to mckeenshockey.com. You can download the magazine here.
New for this year is a PRINT EDITION which can be purchased in colour or black and white. If you would prefer not to subscribe to McKeen's Hockey, the magazine is also available for direct download. You can order in our Store here.
142 pages, packed with information on the top 223 NHL Draft eligible ranked players plus 100 honourable mentions. A two-round mock draft, a look ahead at 2022, great feature article, including our team of scouts picks as sleepers, and analysis of the most polarizing players available.
The magazine is just a part of our NHL Draft coverage for subscribers. We have over 100's of scouting profiles, plus video and analytical breakdown in Scouching reports, and a ton of feature coverage from our team not found in the magazine with more to come before the draft.
TWO MAGAZINES FOR $16.50 CDN (APPROX $12.50 US) WITH A THREE MONTH SUBSCRIPTION ($5.50 A MONTH) - PLUS TONS OF ONLINE CONTENT!
If you are no longer a subscriber, this is a great time to renew your subscription. You subscription will also include our 2021-22 MCKEENS HOCKEY POOL YEARBOOK DIGITAL MAGAZINE, releasing in early September, 2021. Free agency (August 1st), the NHL Draft (July 23rd) are both a month later this year, and we have the Seattle Kraken expansion draft in a couple of weeks - going to be a wild summer but we will have you ready for the season. To learn more about a subscription link here.
We are expanding our NHL coverage for the coming season. More news to come!