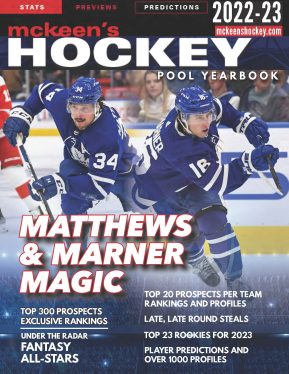 We are proud to release the  2022-23 NHL Hockey Pool Yearbook. We are thrilled with the line-up of expert writers and analysts we have on board this season to give you insight into what you can expect from players and their teams this season. Our scouting team provides deep reports on the top 10 prospects on each team with notes on the top 20. It is absolutely packed with information and you will refer to it all season long.
SUBSCRIBERS CAN DOWNLOAD HERE!
If you are not a subscriber, you can learn more about the benefits of subscribing here: 
If you wish to purchase the print edition, or choose not to subscribe but want the digital download, you can order both in our store. 
Online Magazine Download - 311 pages,  Print - 284 pages - The PDF available for download includes the top 20 prospects, while the print edition includes the top 10 by team. The rest of the content is identical.
Top 475 player predictions with almost 800 indepth player profiles (over 1000 when all top 20 prospects are included) – Full player profiles by Scott Cullen,  Corey Sznajder,  Ryan Dadoun,  Jesse Marshall, Shawn Ferris, Joe Yerdon, and Graeme Nichols. Catherine Silverman provides expert goaltender analysis and profiles.
Team analysis
Feature articles – Fantasy All Star Team by Scott Cullen, Top Rookies by Brock Otten, The Late, Late Show by Peter Harling, Also by Peter - Top Prospect Ranking for Fantasy Hockey, our annual Breakouts and Hidden Gems plus more
Downloadable charts online – predictions and line combos updated until the start of the NHL season
Top 300 prospects, top 20 by team with profiles
The most exhaustive resource available