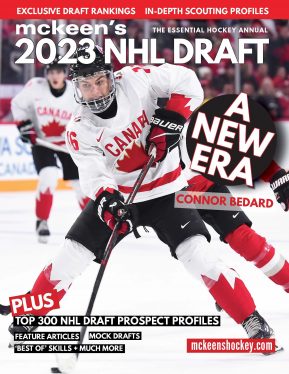 We are proud to release our McKeen's 2023 NHL Draft Guide as a downloadable magazine. Our team has put in tremendous work in rinks around the world these rankings and reports would not be possible without their efforts. Special thank you to Director of Scouting Brock Otten for his leadership and direction. You can learn more about them here. The excellent profiles are written by Brock, Derek Neumeier, Josh Bell and Chapin Landvogt. They give you a good sense of the player and his skill set and why they are ranked where they are.
The guide is packed with information:
Top 224 NHL Draft Ranking + 90 Honourable Mentions
Profiles of over 300 Prospects
Informative Feature Articles
'10 Best Of' in 12 Different Skills
Two-Round Mock Draft
Sleepers Chosen by the McKeen's Team
Top Re-entry Candidates
Top 64 Prospects for the 2024 NHL Draft
You can have a look at the interior here: SAMPLE PAGES - MCKEENS 2023 NHL DRAFT GUIDE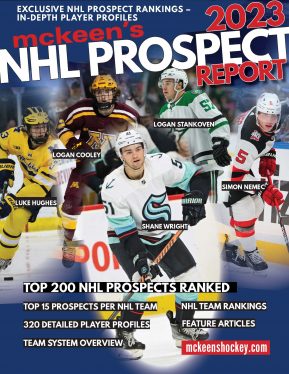 If you subscribe now, you will also be able to download our recently released McKeen's 2023 NHL Prospect Report.
It contains:
152 -page magazine (PDF format) for download
Top 200 NHL Prospects Ranked
Top 15 prospects per NHL Team
320 Detailed Player Profiles
Team System Overview
NHL Team Rankings
Feature Articles
You can check out some sample pages here: Sample Pages from MCKEEN'S 2023 NHL PROSPECT REPORT