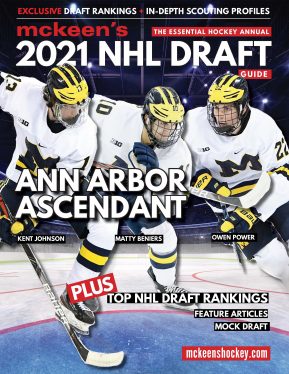 We are working away to finalize McKeen's 2021 NHL Draft Guide which will go into much great detail in the player profiles. For now, we wanted to get you our final list so that you can link through to the player pages and begin reading up on this draft class.
Subscribers will find it easiest to link through to the player page here: The entire list is available for download to excel.
We have published over 100 prospect profiles, scouting reports, Scouching reports, video breakdowns, along with feature articles and so much more to read while you wait for the magazine. We will be publishing on July 2nd, 2021. In the meantime, subscribers link to the player pages on these pages.
If you are not a subscriber, You can learn more here. 
NEW for the 2021 NHL Draft McKeen's Hockey will be making a print edition of their leading NHL Draft Annual. The price will be $24.99 Canadian.
Subscribers ALWAYS receive a 20% discount on all print editions, including the 2021-22 NHL Yearbook releasing in September.
Subscribing today will provide three months access to the site ($5.50 CDN per month, $4.25 USD approximately) and will include a download of the McKeen's NHL Draft Guide when it is available (and likely the Yearbook as well given the closeness of the NHL Draft and the start of the season).
217 players ranked with notes and analysis
100 Honourable Mentions
Many feature articles including:

Mock Draft
Most Polarizing Prospects
Biggest Sleepers
A look ahead to 2022
Plus much, much more!
Also new at McKeen's
New NHL content! – We are growing our list of NHL contributors including Scott Cullen, Jeff Veillette, Corey Sznajder, Shayna Goldman, Alison Lukan .. and planning to add more right through next season.
New Website! – Much improved on mobile with more content than ever.
Enough selling. Onto the rankings. Subscribers dive into those player reports with  much more analysis to come. Our top 32 below, our top 217 for subscribers here.
| RANK | PLAYER | POS | TEAM | HT/WT | DOB | Nation |
| --- | --- | --- | --- | --- | --- | --- |
| 1 | Owen Power | D | Michigan (B1G) | 6-6/215 | 22-Nov-02 | Canada |
| 2 | Matthew Beniers | C | Michigan (B1G) | 6-1/175 | 5-Nov-02 | USA |
| 3 | William Eklund | LW | Djurgardens (SHL) | 5-10/175 | 10-Dec-02 | Sweden |
| 4 | Luke Hughes | D | USN U18 (USDP) | 6-2/185 | 9-Sep-03 | USA |
| 5 | Jesper Wallstedt | G | Lulea (SHL) | 6-3/215 | 14-Nov-02 | Sweden |
| 6 | Brandt Clarke | D | Barrie (OHL) | 6-2/185 | 9-Feb-03 | Canada |
| 7 | Mason McTavish | C | Peterborough (OHL) | 6-1/205 | 30-Jan-03 | Canada |
| 8 | Dylan Guenther | RW | Edmonton (WHL) | 6-1/180 | 3-Apr-03 | Canada |
| 9 | Chaz Lucius | C | USN U18 (USDP) | 6-1/185 | 2-May-03 | USA |
| 10 | Fabian Lysell | RW | Lulea (SHL) | 5-10/175 | 19-Jan-03 | Sweden |
| 11 | Simon Edvinsson | D | Frolunda (Swe J20) | 6-4/200 | 5-Feb-03 | Sweden |
| 12 | Aatu Raty | C | Karpat (Fin) | 6-2/185 | 14-Nov-02 | Finland |
| 13 | Logan Stankoven | C | Kamloops (WHL) | 5-8/170 | 26-Feb-03 | Canada |
| 14 | Simon Robertsson | RW | Skelleftea AIK (SHL) | 6-0/190 | 5-Feb-03 | Sweden |
| 15 | Kent Johnson | C | Michigan (B1G) | 6-1/170 | 18-Oct-02 | Canada |
| 16 | Matthew Coronato | RW | Chicago (USHL) | 5-10/185 | 14-Nov-02 | USA |
| 17 | Cole Sillinger | C | Sioux Falls (USHL) | 6-0/195 | 16-May-03 | Canada |
| 18 | Isak Rosen | RW | Leksands (SHL) | 5-11/160 | 15-Mar-03 | Sweden |
| 19 | Sebastian Cossa | G | Edmonton (WHL) | 6-6/210 | 21-Nov-02 | Canada |
| 20 | Oskar Olausson | RW | HV 71 (SHL) | 6-1/180 | 10-Nov-02 | Sweden |
| 21 | Xavier Bourgault | C | Shawinigan (QMJHL) | 6-0/170 | 22-Oct-02 | Canada |
| 22 | Brennan Othmann | LW | Flint (OHL) | 6-0/175 | 5-Jan-03 | Canada |
| 23 | Jack Peart | D | Fargo (USHL) | 5-11/185 | 15-May-03 | USA |
| 24 | Mackie Samoskevich | RW | Chicago (USHL) | 5-11/190 | 15-Nov-02 | USA |
| 25 | Francesco Pinelli | C | Kitchener (OHL) | 6-1/185 | 11-Apr-03 | Canada |
| 26 | Nikita Chibrikov | RW | SKA St. Petersburg (KHL) | 5-10/170 | 16-Feb-03 | Russia |
| 27 | Corson Ceulemans | D | Brooks (AJHL) | 6-2/200 | 5-May-03 | Canada |
| 28 | Carson Lambos | D | Winnipeg (WHL) | 6-1/200 | 14-Jan-03 | Canada |
| 29 | Zachary Bolduc | C | Rimouski (QMJHL) | 6-1/175 | 24-Feb-03 | Canada |
| 30 | Fyodor Svechkov | C | Lada Togliatti (VHL) | 6-0/185 | 5-Apr-03 | Russia |
| 31 | Zachary L'Heureux | LW | Halifax (QMJHL) | 5-11/195 | 15-May-03 | Canada |
| 32 | Ville Koivunen | LW | Karpat (Fin U20) | 6-0/165 | 13-Jun-03 | Finland |