The 2018/19 OHL season is underway but it is still early enough to preview the league and converse about some potential season highlights. Who are the contenders? Who are the pretenders? Who are some of the top NHL prospects to keep an eye on? And who are the top NHL draft prospects for 2019?
The Contenders
London Knights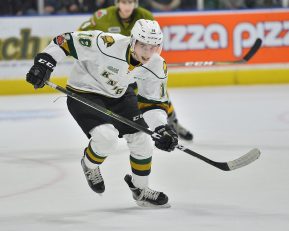 Currently the top ranked team in the OHL in the weekly CHL rankings, the Knights also happen to be the top preseason favorite of most in the media. This team has it all; top end scoring talent; a strong defense; quality goaltending. After getting Adam Boqvist (Chicago) from Blackhawks camp, London is still waiting on a few other stars to be assigned; Evan Bouchard (Edmonton), Alex Formenton (Ottawa), and Brady Tkachuk (Ottawa). All three seem likely to start the year in the NHL and late October is probably a more likely arrival date, if it happens at all. A safe assumption would be that London gets at least one of the above. Until then, stars like Liam Foudy (Columbus), Alec Regula (Detroit), and Boqvist will need to pace the offense. In net, overager veteran Joseph Raaymakers and Jordan Kooy (Vegas) should combine to provide quality goaltending. As with any London team, depth is a serious strength. Once the situation surrounding their top players has been given closure, look for the Knights to use their depth to acquire a few big fish to put them over the top.
Oshawa Generals
This is a veteran squad that should be considered among the favorites in the Eastern Conference. Team defense and goaltending are major strengths. At 6-1", Nico Gross (NY Rangers) is the smallest defender who sees regular playing time, and Kyle Keyser (Boston) is a top contender for goaltender of the year. Up front, Jack Studnicka (Boston) is a serious candidate for the Red Tilson and the scoring title now that he has returned from a long stay at Bruins camp. Swiss import Nando Eggenberger (2019) is another player everyone has their eye on. Overager Matt Brassard (Vancouver) returned this past weekend too, and he should be one of the top defenseman in the OHL this season. The Generals are just a well balanced squad.
Niagara IceDogs
Along with Oshawa, the IceDogs are a preseason favorite to take home the Eastern title. Niagara has a very strong nucleus at forward with Akil Thomas (Los Angeles), Kirill Maksimov (Edmonton), Ben Jones (Vegas), and Ivan Lodnia (Minnesota), which should help them score a ton of goals. They also have a very mobile blueline, which may lack size, but makes up for it with speed, puck skill, and heart. Billy Constantinou (2019) is a player to watch here as one of the most dynamic young defenders in the OHL.
Saginaw Spirit
The Spirit received a bevy of media attention this off-season due to their recruiting efforts. The team brought in Bode Wilde (NY Islanders), Ivan Prosvetov (Arizona), and Cole Perfetti (2020). This was after they were able to bring Blade Jenkins (NY Islanders) into the fold last year. This team has a lot of depth and fans should be excited about the fact that this team is the favorite to take home the West Division. Cole Coskey (2019) is a player to watch as one of the most underrated players in the OHL. Perfetti is an electrifying offensive player and one of the top players in his age group in Ontario, as well as a potential lottery pick in 2020.
Ottawa 67's
Maybe a year early to talk about the 67's as a potential Memorial Cup contender, but make no mistake, this team is insanely talented. Not only do they have five NHL draft picks already, but they have several top prospects for the 2019 and 2020 drafts as well. Sasha Chmelevski (San Jose) is a top contender for the Red Tilson this year after a breakout last season. The progression he has shown as a prospect has been extremely encouraging. Austrian Import Marco Rossi (2020) is another name to watch. The recent import selection is currently touted as a potential top 5 pick in 2020 and he could have a Nico Hischier type impact for the 67's. The only thing that this team is missing is a top flight goaltender. Look for them to go out and find one at some point. Worth noting that the 67's currently have 12 second round picks over the next four OHL priority selections. That is some serious trade ammunition.
The Pretenders
Kingston Frontenacs
The Frontenacs loaded up last year to make a run at an OHL title that ultimately fell short. The cyclical nature of the CHL means that this team could struggle this year due to numerous high end graduations. Star Jason Robertson (Dallas) is still around, but he will be a top trade target at some point. The future of injured playmaker Gabe Vilardi (Los Angeles) also hangs in the balance as Kingston waits to see if they will get him back once he is healthy. But depth is an issue, as is goaltending. Kingston has to capitalize on a few solid trade assets to recoup what was lost previously.
Erie Otters
After an impressive four year run that saw the Otters compete for and win an OHL Championship, the time has come for this team to rebuild. There are still some solid veteran pieces in place that could keep the team afloat, like star overager Kyle Maksimovich. But this team does not have a single NHL affiliated player and that hurts. Hayden Fowler (2020), and Petr Cajka (2019) do give this team hope for the future.
Mississauga Steelheads
Another team that now lacks serious depth after some serious runs the previous years. Graduations and failed draft picks (like Jack Hughes) have left this team pretty sparse in a lot of areas heading into the year. They do have Owen Tippett (Florida) and Ryan McLeod (Edmonton) back in the fold and they should both be among the best players in the league this year. However, just how long they remain Steelheads remains to be seen.
North Bay Battalion
Like Erie, North Bay does not have a single NHL affiliated player. There is some solid firepower up front with overager Justin Brazeau, Brandon Coe (2020), and Matthew Struthers (2019), but depth is an issue. This is especially true on the back-end. The lack of experience on the blueline could mean that this North Bay team gives up a ton of goals. No Stan Butler coached Battalion team has ever given up 280+ goals against, but this year's edition may be the first. And speaking of Butler, he is currently taking a leave of absence from behind the bench and that may be bad news for Battalion fans.
Flint Firebirds
Disastrous start to the year for the Firebirds. As of the creation of this article, Flint has yet to win and has given up an ugly 24 goals in 4 games. This team has talent, like Ty Dellandrea (Dallas), Fedor Gordeev (Toronto), and Dennis Busby (Arizona). But missing on the 6th overall Import selection this year (Jan Jenik) is a big black mark and the team just cannot seem to separate itself from the drama of their ownership under Rolf Nilsen.
Five Candidates for the Red Tilson
Nick Suzuki
Fresh off being the centerpiece of the Max Pacioretty deal, the new Montreal Canadiens prospect returns to the OHL and will look to the hit the 100 point plateau for the second year in a row. He is bound to miss some time for the WJC, but Suzuki only needs 92 points to pass Bobby Ryan as the Attack franchise's all-time leading scorer.
Morgan Frost
Highest returning scorer from last year, the Flyers' prospect should be a shoe-in for a spot in the top 5 in scoring. There were some who felt that Frost should have been the Red Tilson winner last year so maybe this is the year he takes it home. The Hounds offense has lost some talent to graduation, but there is enough remaining to give Frost the supporting pieces he needs.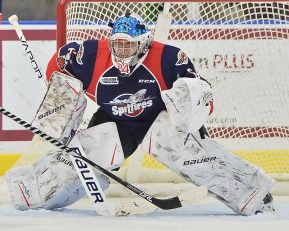 Michael DiPietro
Reigning OHL Goaltender of the year, the Canucks prospect returns to Windsor to help a young team improve. DiPietro will likely be Canada's starter at this year's WJC. He is also a likely trade candidate, unless Windsor is pushing for the division. The talented netminder is one of the few gamebreakers at the position in the league.
Jack Studnicka
Nearly earned the 3rd line center spot in Boston with a strong training camp performance, but the Generals captain returns for a final OHL season and should be one of the league's elite offensive catalysts. If the Generals are as good as many think they will be, he will be a top candidate for player of the year. His strong two-way play allows him to impact the game on so many different levels.
Sasha Chmelevski
It seems like so long ago that Chmelevski fell at the draft after a very poor draft year showing. He bounced back in a big way last year, re-inventing his game under new head coach Andre Tourigny. Now a committed player away from the puck, Chmelevski will look to lead a young Ottawa team to a championship, perhaps a year ahead of schedule.
Five Draft Eligibles to Monitor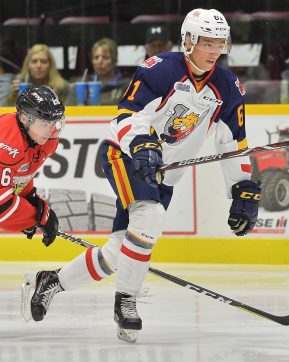 Ryan Suzuki (Barrie Colts)
After a strong Hlinka performance, Suzuki is off to a blazing hot start as one of the early leaders in OHL scoring. Suzuki, brother of Nick, is an exceptionally talented playmaker whose vision and puck skill are game breaking qualities. As of right now, Ryan looks like the lone potential candidate for the top 10 from the OHL.
Arthur Kaliyev (Hamilton Bulldogs)
Another of the early scoring leaders is also a draft eligible forward. Kaliyev had one of the best 16 year old seasons in recent memory after scoring 30+ goals last year. He looks to round out the rest of his game in Hamilton, improving his playmaking ability and play away from the puck to match his strength on the puck and NHL quality shot.
Matvey Guskov (London Knights)
An import selection by the Knights this year, Guskov has matched the high expectations thus far, averaging over a point per game. Guskov was one of only three OHL players mentioned on Bob McKenzie's preseason draft ranking and the playmaking Russian forward looks like a serious first round candidate come June.
Blake Murray (Sudbury Wolves)
A big, power center who is being overshadowed a bit due to the arrival of top 2020 prospect Quinton Byfield. Murray possesses all the qualities that NHL teams look for in centers these days, with size, skating, and finishing ability. Murray has the potential to be that complete package.
Michael Vukojevic (Kitchener Rangers)
Vukojevic may not be the sexiest of defenders at this point. He is not yet a truly dynamic player, but he is as steady as they come and plays the game with the composure of a five year OHL veteran. His defensive acumen projects him to be, at the very least, a terrific stay at home top four defender at the NHL level. The question is, just how much offensive ability does he possess?