This week the 2019 OHL playoffs will kick off with first round action getting under way on Thursday. More so than any year that I can remember, the field is wide open. There are favorites to take home the J.Ross Robertson Cup, sure, but the sheer number of candidates to make it to the end is greater than previous years because of how many teams loaded up with talent at this year's trade deadline. As difficult as it is, I will make my predictions. Just do not place any large bets or wagers based upon it.
Eastern Conference First Round
#1. Ottawa 67's vs. #8. Hamilton Bulldogs
Season Series: 5-0 for Ottawa
Analysis: A rematch of last year's 1 versus 8 match-up in the Eastern Conference, only this time the roles are reversed. The rebuilding Bulldogs match up against the top team in the OHL in Ottawa. Hamilton has done exceptionally well as the only team from last year's Memorial Cup to make the playoffs in their respective leagues (with nearly as many wins as Regina, Swift Current, and Acadie-Bathurst combined). Arthur Kaliyev has emerged as a star in his NHL draft year, hitting the 50 goal mark and the team did a great job of trading away valuable assets but also keeping some veteran leaders around like Matthew Strome to keep order. All that said, they do not stand much of a chance against Ottawa. The 67's are three lines deep that can score at any time. They have a physically imposing defense that can also move the puck. And either Michael Dipietro or Cedrick Andree will likely provide top notch goaltending, even if Dipietro's health is a question mark after being forced to leave a game recently after a high shot stung him. I do have some question marks as to how they hold up later in the playoffs, but this first round victory should be a relatively easy one, no offense meant to Hamilton.
Prediction: Ottawa in 4
NHL Prospects to Watch:
Sasha Chmelevski (SJ): While he may not lead the 67's in scoring, I feel that he is the most integral part of Ottawa's offensive attack. When he is on, the 67's are firing on all cylinders. He may not have had the year that I expected of him prior to the start of the year, but he remains one of the OHL's elite offensive players because of his individual puck skill and shot generation. If Ottawa wants to take home the Eastern Conference crown, he will need to be a consistent leader.
Marco Rossi (2020): A late 2001 birthday, Rossi missed being eligible for this year's draft by just over a week. The slick Austrian forward has been an absolute revelation as a first year Import and has met or exceeded all the expectations placed on him. His skill level is very high, but most impressive to me is his tenaciousness away from the puck. This youngster is a real puck hound who makes his presence felt in many different ways on the ice. His game is built for success in the playoffs, even if he is young. A strong performance could help solidify him as a potential top 10 selection heading into 2020 Draft season.
Jan Jenik (ARI): I could have easily mentioned Kaliyev here for Hamilton. But Jenik has been extremely noticeable since arriving at midseason. He is another player whose game is built for success in the playoffs. He plays an 'in your face' kind of style and is way more aggressive physically than I would have imagined. Pair that with terrific hands and a natural ability to gain the blueline with his speed and puck control and you've got a fierce offensive competitor who is fun to watch.
#2. Niagara IceDogs vs. #7. North Bay Battalion
Season Series: 4-2 for Niagara
Analysis: No offense meant to North Bay. I have a great respect for legendary head coach Stan Butler. But I see this as being one of the most one-sided first round matchups. North Bay relies heavily on their first line of Justin Brazeau, Matthew Struthers, and Brad Chenier, but just do not have the depth to keep up with Niagara's firepower up front. And while North Bay can often surprise teams in the postseason with their team commitment to defense, Niagara's forward group may be one of the better two-way groups in the league themselves with guys like Jack Studnicka and Ben Jones anchoring the middle. In net, overager Stephen Dhillon gives Niagara an advantage too, especially with how good he was in last year's playoffs and the experience he can take from that. The IceDogs and Battalion played a pretty lopsided final game of the regular season this past weekend and unfortunately I could see most of the games looking like that one did.
Prediction: Niagara in 4
NHL Prospects to Watch:
Jason Robertson (DAL): The winner of the Eddie Powers Trophy this year as the OHL's top scorer, Robertson has been an unstoppable force since arriving in Niagara. With the IceDogs he has averaged over two points per game. While Robertson will never be a speedster, he is so good at controlling the puck in the offensive zone and slowing down the pace to open up lanes for his linemates. This makes him such an efficient player on the powerplay because he often requires two defenders to separate him from the puck. After last year's disappointingly abrupt run with Kingston in the playoffs, Robertson will look to take that next step with Niagara and help them reach the Eastern finals.
Jack Studnicka (BOS): Another player brought in by Niagara who has had a remarkable impact, up near the two point per game mark. Studnicka is so valuable because he excels in all situations. He is on the ice when you are a goal down or a goal up late in the third period. He is going to need to be a huge part of Niagara's penalty killing unit, which struggled at times during the regular season. A potential OHL playoffs MVP candidate.
Justin Brazeau (UFA): Sure, he has some warts. His stride is not the prettiest. He needs work on his play away from the puck and in his own end. But you cannot ignore the fact that he is a 6-6", 60 goal scorer in the OHL, a feat that does not occur very often. With a strong first round performance (likely to be his only chance as North Bay does not have a good chance of advancing) in a playoff atmosphere with tighter checking, perhaps he can prove to NHL scouts that he deserves an NHL contract (if he has not done enough already).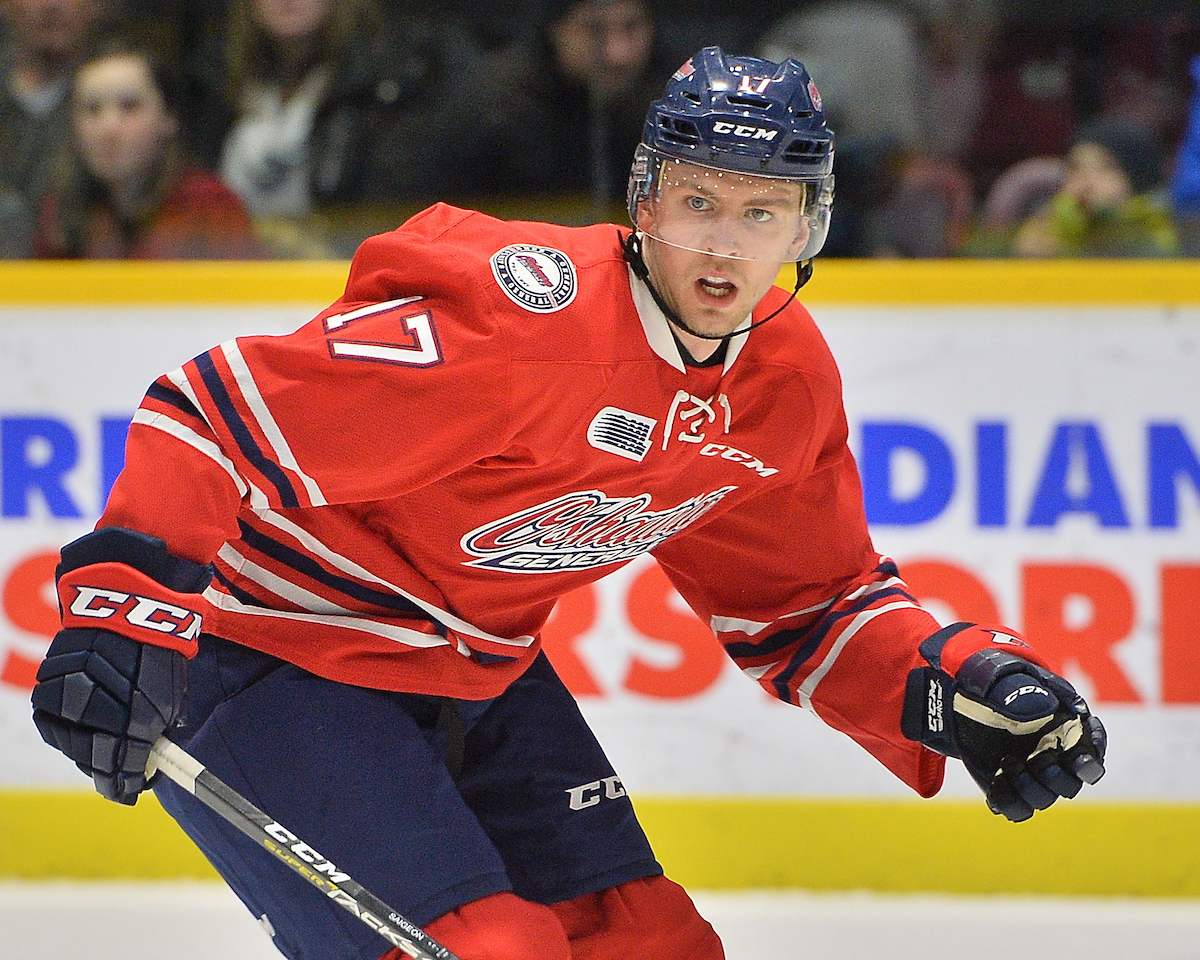 #3. Oshawa Generals vs. #6. Peterborough Petes
Season Series: 6-2 for Oshawa
Analysis: The Generals have owned the Petes in the season series, especially in the four games post trade deadline. In those four games, Oshawa has scored 30 goals. While Peterborough has played better of late, I just do not believe that they have the defensive chops to hang with the Generals. Oshawa rolls three very competitive scoring lines. They bring speed. They bring grit. They play in all three zones. There are some inexperienced players in their core group, but veterans like Brandon Saigeon and Nic Mattinen are battled tested after last year's Championship victory. For as well as Hunter Jones has played this year (save for a dry spell post deadline), Kyle Keyser has been even better and should be able to turn aside the majority of Peterborough's chances. I think Peterborough is still a year away from being a truly competitive playoff team.
Prediction: Oshawa in 5
NHL Prospects to Watch:
Brandon Saigeon (COL): 18 goals in 21 playoff games for the Hamilton Bulldogs last year in helping them win an OHL Championship. What does Saigeon have in store for us this year? One of the most lethal powerplay players in the OHL because of his shot and ability to get in scoring position. Saigeon will need to be a leader on and off the ice for a younger Oshawa team that, at its core, does not have a ton of playoff experience.
Serron Noel (FLA): Really struggled in the OHL playoffs last year during his draft year, but no question that Noel is a different player now. There are not many players in the league like him with his size, speed, and skill combination. He is just so strong on the puck, especially along the wall. In the playoffs, establishing the cycle game to tire out the opposition's best defenders is such a key component and Noel can do that in his sleep. This could be a real breakout opportunity for him to hit the mainstream spotlight.
Ryan Merkley (SJ): Without question, Merkley is one of the most individually skilled players in the OHL. His ability to create offensive scoring chances from the back-end because of his skating ability and vision are nearly unrivaled. The issue is nearly everything else. A midseason trade to Peterborough and a fresh start has not done much to squash concerns as he has found himself in the doghouse with his new club on a few occasions already. If Peterborough wants to progress past the first round, they will need a motivated Merkley at both ends of the ice.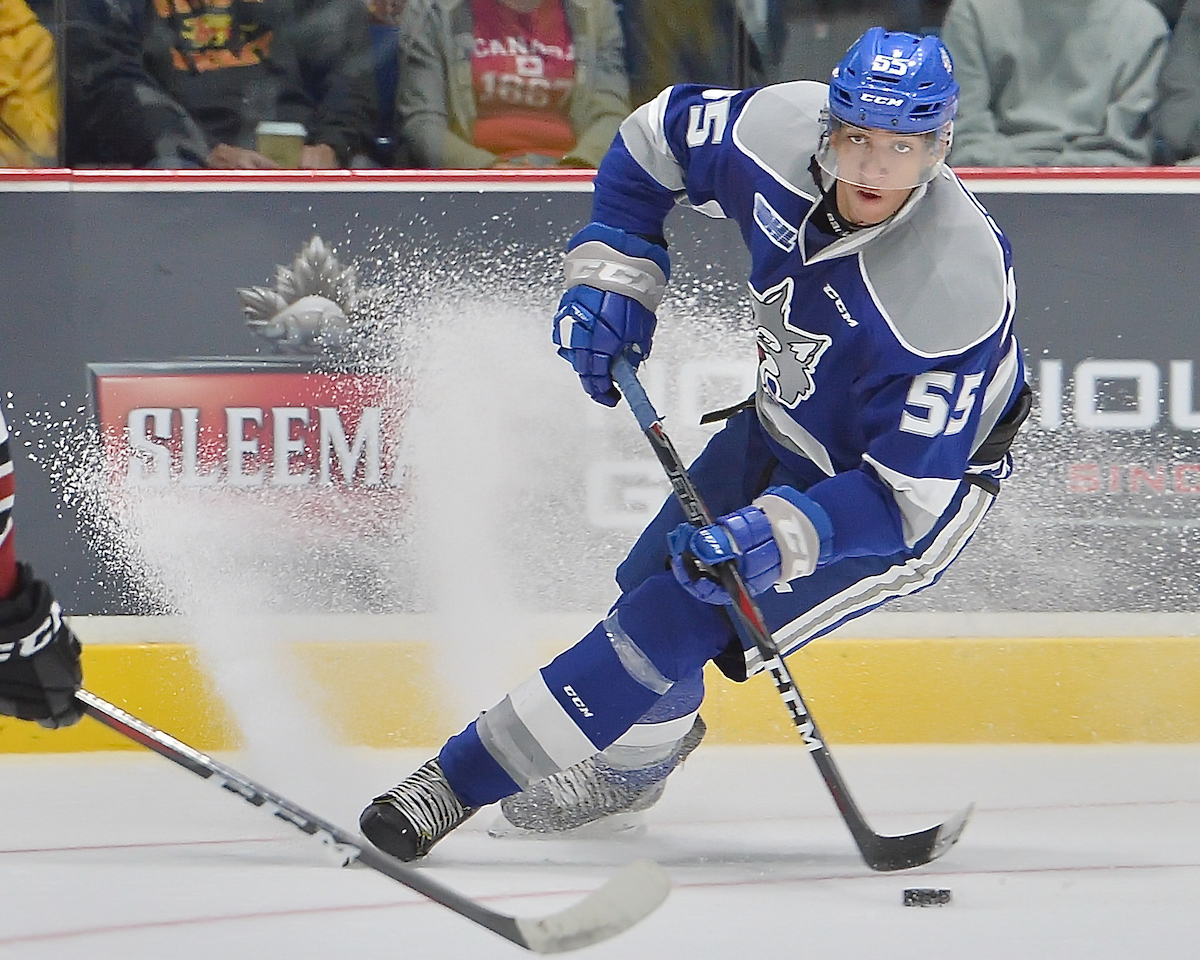 #4. Sudbury Wolves vs. #5. Mississauga Steelheads
Season Series: 4-2 for Sudbury
Analysis: These division rivals have not met in the playoffs since 2011; the year that Mississauga captured the Eastern Conference and hosted the Memorial Cup. That was a second round sweep for the Majors (yes, it was before they were renamed the Steelheads). This time around, I expect Sudbury to come out on top, but it could be a close one. Ukko-Pekka Luukkonen has been sensational this year and should hypothetically give the Wolves an advantage in net, but you just never know when Jacob Ingham is going to turn in a remarkable performance. Defensively, I think these teams are fairly similar in ability. Mississauga generates more offense from their back-end. Sudbury's defense is better in their own end. On the other hand, I do worry about Mississauga's speed giving Sudbury's defense some issues. That brings us to the offensive side of things. I ultimately think Sudbury has more game breakers in their line-up with the likes of Quinton Byfield and Adam Ruzicka. This could be closer than people are going to predict. Sudbury's powerplay will need to be way better than it was in the regular season (a league worst), as teams do not go far in the playoffs without scoring on the man advantage.
Prediction: Sudbury in 6
NHL Prospects to Watch:
Ukko-Pekka Luukkonen (BUF): Hands down the Goaltender of the Year this year in the OHL. No offense meant to Kyle Keyser or Michael Dipietro, but this is an easy decision. Luukkonen might even be the most valuable player in the league, if such an award existed (the Red Tilson is for Most Outstanding Player, not Valuable). I have been so impressed with Luukkonen's composure in the crease. His ability to read the play is outstanding and because of his size and athleticism, he always seems to get himself in the right position to make key saves. He is a prime time goaltending prospect.
Quinton Byfield (2020): I have been completely captivated by Byfield when I have seen him play this year. Such a fantastic and explosive skater for a big guy. I truly feel that if his game continues to progress, he could challenge for first overall in 2020. For now, it will be interesting to see how he performs in his first playoffs in the OHL. Regardless of the outcome, the experience it provides him will only make him better in the long run, which will make the Wolves better too (at least for next year anyway).
Thomas Harley (2019): All eyes will be on this potential first round pick in the first round to see how he handles the physicality of the playoffs. As skilled as he is as an offensive defenseman, a lack of defensive intensity has been one of the most discussed weak spots. Scouts will be looking to see how he defends in the corners and in front of his net, and his overall response to being up against a more powerful offensive squad and having to play more in his own end.
Continued Eastern Conference Predictions
Conference Semi Finals
#1. Ottawa vs. #4. Sudbury
#2. Niagara vs. #3. Oshawa
I am taking Ottawa and Niagara here. While I do have some concerns over Ottawa's special teams play and their defense's ability to handle the forecheck and move the puck, I think Sudbury is the best matchup for them. Niagara and Oshawa is a toss-up. Kyle Keyser could shut the door, especially with a big defense in front of him. But, like Guelph, I just really like the make-up of Niagara's team. Their team speed. Their powerplay. Their core veteran group, especially up front. And Stephen Dhillon is not chopped liver.
Eastern Conference Final
#1. Ottawa vs. #2. Niagara
Like Guelph, I am all in on Niagara in the Eastern Conference. Jason Robertson, Jack Studnicka, and Akil Thomas are all nearly unstoppable right now. Plus their blueline does such a good job skating the puck out of trouble, it is difficult to pin them in their own zone, which means that you are always playing on the defensive against them.
OHL Championship Series

Niagara IceDogs vs. Guelph Storm

Another toss up for me. Ask me tomorrow and I may just choose someone different. Both of their regular season matchups were decided by a single goal. Honestly, this comes down to goaltending. I give Niagara the advantage at forward. I give Guelph the advantage on defense. But in net, I think you have to tip your hat in Stephen Dhillon's direction. Especially considering that there is no guarantee that Anthony Popovich finishes the postseason as Guelph's starter. So...I am selecting the Niagara IceDogs as this year's OHL Champions!