This week the 2019 OHL playoffs will kick off with first round action getting under way on Thursday. More so than any year that I can remember, the field is wide open. There are favorites to take home the J.Ross Robertson Cup, sure, but the sheer number of candidates to make it to the end is greater than previous years because of how many teams loaded up with talent at this year's trade deadline. As difficult as it is, I will make my predictions. Just do not place any large bets or wagers based upon it.
First Round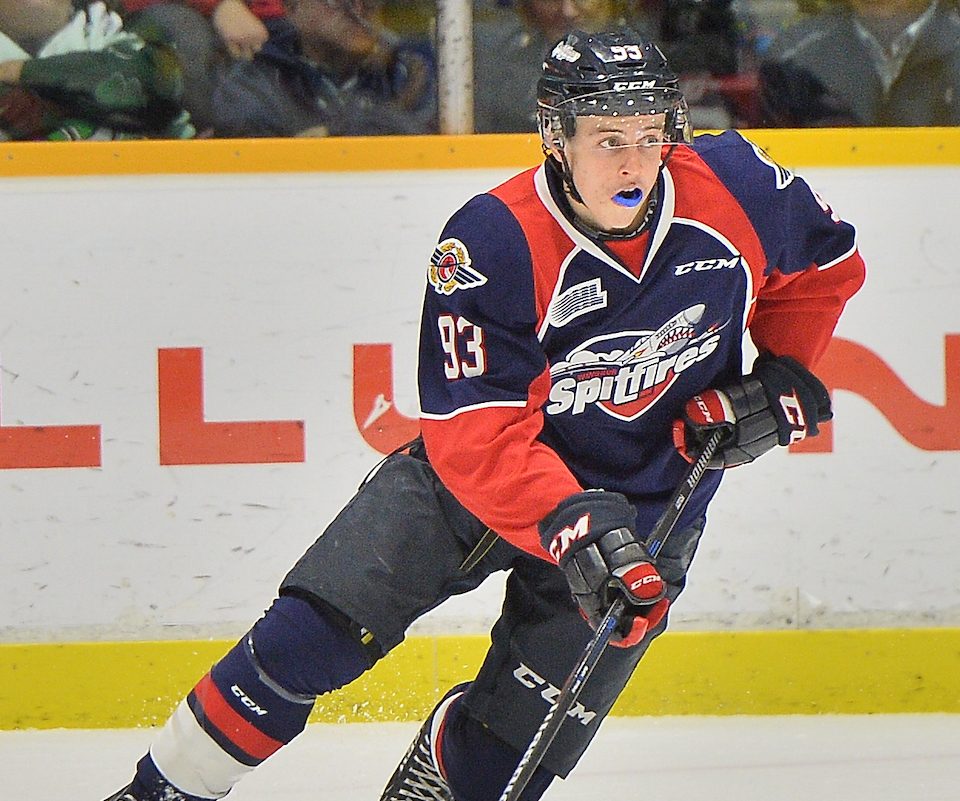 #1. London Knights vs. #8. Windsor Spitfires
Season Series: 5-1 for London
Analysis: The Spitfires limped into the playoffs with only one regulation win in their final ten games. Their punishment? A date with London, who narrowly held off Saginaw to take the #1 seed in the West. Even if I don't expect this to be a close series, it will be a terrific experience for the Spitfires and their talented, young roster. Young players like Jean Luc Foudy and Will Cuylle will get a taste of the playoffs to know what is required of them when Windsor becomes a powerhouse again in a few years' time. The Knights hold the clear advantage in nearly every area here. The team's #5 defender, Joey Keane, would be Windsor's #1. They outscore them by over a goal per game. And even if discipline issues creep up (London is the most penalized team in the Western Conference), their top-rated penalty kill is efficient enough to limit Windsor's chances of getting back in games. Look for Evan Bouchard to have a big performance after last year's poor showing in the first round that saw London get swept by Owen Sound.
Prediction: London in 4.
NHL Prospects to Watch:
Evan Bouchard (EDM): As mentioned, Bouchard did not have a good first round performance in last year's playoffs, something that may have led to his slide to the 10th spot last June. To be honest, I wasn't enamored with his performance this year either with his offensive production taking a step back and his defensive engagement continuing to be a concern. That said, the best players elevate their game when it matters most and I'll be looking for Bouchard to do that this playoffs. As deep as London is on the blueline, they need him to be a dominant force at both ends if they want to go for the championship.
Liam Foudy (CBJ): Foudy was another player who looked overmatched in last year's playoffs against Owen Sound. After a slow start to this year, Foudy finished the season well and ended up second in goals for the Knights. The Knights know that they will be getting production from Formenton and Hancock up front, but again, if they want to go far, they will need the speedy Foudy to be an impact player; someone who can use his speed and puck skills to create consistent scoring chances for himself and his linemates.
Jean-Luc Foudy (2020): It is a Foudy vs. Foudy match-up with Liam going against his younger brother Jean-Luc. Like Liam, Jean-Luc is an absolute lightning bolt on skates. He has shown a penchant for using his speed to be one of the OHL's elite young playmakers, leading all OHL rookies in assists this year. He is a prime time prospect for the 2020 NHL Draft and it will be interesting to see if he is able to better his brother's initial playoff performance.
#2. Saginaw Spirit vs. #7. Sarnia Sting
Season Series: 3-3 TIE
Analysis: The Sting have played the West Division champion Spirit extremely tight this year, including a recent 7-6 shootout victory in late February. Sarnia has a team of workhorses that just never give up on a play and that tenacity always plays well in the postseason. They have seven different players who had over 15 goals on the year, and that's not including Jamieson Rees who would have hit that mark easily had he played all year. But Saginaw is a CHL ranked team for a reason. Lately one of the main reasons for their success has been goaltender Ivan Prosvetov, who has only two regulation losses in his last 16 and who finished in the top 5 of nearly every statistical category this year. Rookie winger Cole Perfetti has also been a remarkable story as the first U17 player since Taylor Hall, Steven Stamkos, and John Tavares to score more than 35 goals in a season. He is aided by the likes of Owen Tippett, Bode Wilde, Ryan McLeod, and Cole Coskey on a deep and balanced roster. I expect the Sting to give the Spirit a bit of a scare and be in most games. But the Spirit are rolling on too much of a high and have too much firepower to fall victim to an upset.
Prediction: Saginaw in 6
NHL Prospects to Watch:
Ryan McLeod (EDM): While his production for Saginaw since the trade from Mississauga has been a little underwhelming, McLeod has been a proven playoff performer so far in his OHL career. He was a huge part of Mississauga's deep run in 2017 and I would expect him to bring himself back to that point per game production. His playmaking ability will be much needed if the Spirit want to eventually come out on top in the Western Conference.
Bode Wilde (NYI): Wilde has been sensational in his first OHL season after coming over from the USHL. No question he is in the conversation for the Max Kaminsky as the league's top defender. His size and skating combination make him a lethal operator off the rush and very difficult to stop as he cuts through the neutral zone like butter. Defensively, there have been some ups and downs and now he will be getting into his first playoff action. I am very intrigued to see how he responds and looks to take over and control the play at both ends.
Ryan McGregor (TOR): A 2017 draft pick by the Leafs, McGregor is still without an NHL contract. He has had a very good season, establishing himself as one of the OHL's elite two-way forwards. But a strong playoff series performance for Sarnia here, even if it is in a losing cause, would go a long way to proving to Toronto's management that he deserves a place in their future plans.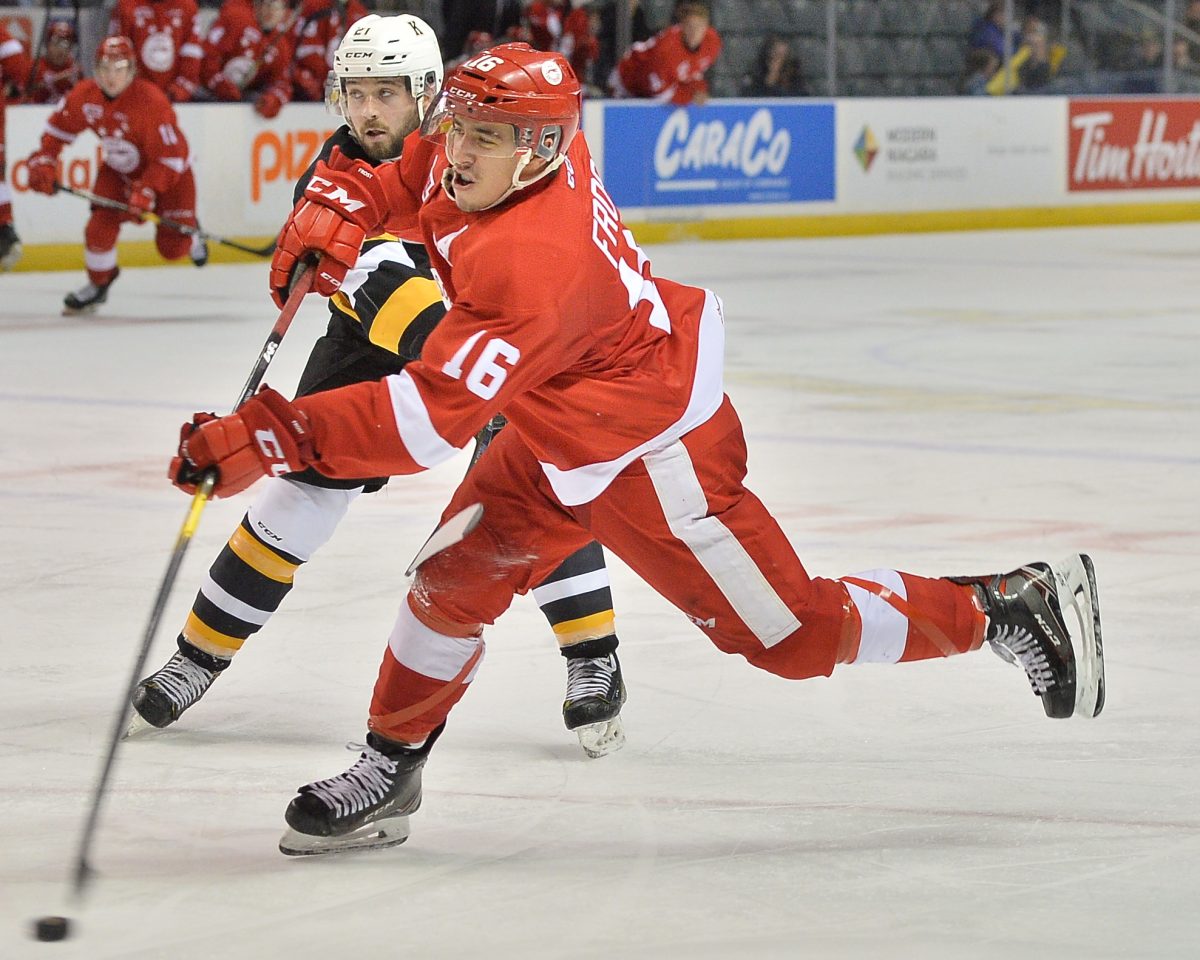 #3. Sault Ste. Marie Greyhounds vs. #6. Owen Sound Attack
Season Series: 2-0 for Sault Ste. Marie
Analysis: Two things are bad news for the Attack. The first, Morgan Frost avoided a longer suspension for cross checking and will be available for the entire first round. The second, Barrett Hayton is back and healthy, showing no rust whatsoever with four goals in two games to close out the year. That means that the 'Hounds will be operating at full speed offensively and that does not bode well for the Attack, a team that has struggled to keep the puck out of their net this year thanks to inconsistent goaltending. Owen Sound also only has two 20 goal scorers in their lineup and no one operating at over the point per game mark. With a healthy lineup, the Greyhounds have the advantage here in nearly every facet. While I do worry about their depth and supporting cast as the rounds progress, I am confident that they should be able to get past a rebuilding Attack team pretty easily.
Prediction: Sault Ste. Marie in 4
NHL Prospects to Watch:
Barrett Hayton (ARI): Had to be a difficult year for Hayton to settle in and find a groove. Start the year in the NHL. Back to the OHL. Then off to the World Juniors. Then get injured. Through it all, his production has been fantastic with one of the highest point-pergame averages in the league. His game is tailored perfectly for the playoffs because of his high intensity level and how well he plays through traffic in the offensive end. He had a very successful playoffs last year for the Soo as a support player, now let us see how he does as a focal point.
Mac Hollowell (TOR): The front runner for OHL defender of the year was recently rewarded with a much deserved NHL contract from Toronto. Hollowell is an elite offensive defender who is great at using his above average mobility to jump up in the attack. He is also a major weapon on the powerplay, something that any team needs operating at a high level to make a deep run in the playoffs. This guy competes so hard and is easily one of the most underrated players to have played in the OHL in recent years.
Mack Guzda (2019): If Owen Sound hopes to stay in this series, they will need top shelf goaltending and that will have to come from Guzda. He came into the year very highly touted but consistency issues have continued to plague him as they did in his rookie year. He has the size and athleticism that NHL scouts are looking for, but he needs to show that he possess the mental makeup too. Not only will NHL scouts be looking closely at him here, but so will Hockey Canada for the 2019 U18 roster. He can't afford to be a sieve and look overmatched.
#4. Guelph Storm vs. #5. Kitchener Rangers
Season Series: 4-4 TIE
Analysis: With the way the Guelph Storm loaded up at this year's trade deadline, bringing in Nick Suzuki, Markus Phillips, Sean Durzi, and Mackenzie Entwistle, one would have to consider them the heavy favorite here. And they have been playing some great hockey lately. But so have the Kitchener Rangers; a team that I do not believe can be completely written off. They have five 30 goal scorers, something that matches Guelph and their firepower. Guelph's Anthony Popovich has struggled down the stretch and is being threatened by Nico Daws for the starting role, so I am slightly concerned about Guelph's netminding. However, I believe the thing that sways this in Guelph's favor is their veteran defense. Dmitri Samorukov has been playing out of his mind lately and along with Durzi, Gordeev, Phillips, Hanley, and Lalonde, make up one of the strongest and veteran-heavy defensive units in the OHL. Contrast that with Kitchener, which relies on youngsters like Mike Vukojevic and Donovan Sebrango to play key roles. The Rangers will push the Storm, but ultimately come up short.
Prediction: Guelph in 6
NHL Prospects to Watch:
Nick Suzuki (MTL): Took him a bit of time to really acclimate himself with his new surroundings in Guelph, but he has been on a tear lately and really seems to have settled in. In his last 11 games, he has 5 games with 3 points or more. Suzuki is such a good distributor, but he is at his best when he is active without the puck, forcing turnovers and putting pressure on the opposition in all three zones. He has traditionally performed very well in the playoffs in his career and I would expect nothing less from him here as Guelph gears up for a long run.
Dmitri Samorukov (EDM): Speaking of a tear, few defenders in the OHL have been as hot as Samorukov in the second half. Whether it was the confidence he gained from the World Juniors, or the increased role he received from the trade of Ryan Merkley, Samorukov has blossomed at the right time. He has become extremely aggressive offensively, using his skating ability to create off the rush. He still remains a physically aggressive stalwart in his own end; a true two-way force.
Riley Damiani (DAL): Earlier I spoke of underrated OHL players and few fit that category more than Damiani. Among 2000 born players in the OHL, only Akil Thomas and Barrett Hayton had greater point per game averages as he jumped from 37 points last year to 85 in 2018/19. He has an infectious energy about him on the ice and his dynamic playmaking ability and vision are one of the main reasons why Kitchener's powerplay has been one of the league's best this year.
Continued Western Conference Predictions
Conference Semi Finals
#1. London vs. #4. Guelph
#2. Saginaw vs. #3. Sault Ste. Marie
I am taking Guelph and Sault Ste. Marie here. I just was not crazy about what I saw from London in the last month of the year. They are relying on too many younger forwards to create offense and I think they lack a premier playmaker. And on defense, I think they lack the jam necessary to slow down an offensive juggernaut like Guelph. As for the Soo, I like them over Saginaw because I feel that their veteran leadership group consisting of Morgan Frost, Barrett Hayton, Mac Hollowell, Jordan Sambrook, and Keeghan Howdeshell can help to elevate the play of some of their younger support players. I think their abrasive style of play bodes better for playoff success, even though I see potential for Prosvetov to stand on his head. That is a true coin flip, but I am sticking with the Greyhounds.
Western Conference Final
#3. Sault Ste. Marie vs. #4. Guelph
I am all in on Guelph this year to take home the Western Conference title. I feel like they have been constructed the right way and have really found chemistry and hit their stride at the right time. Goaltending is a mild concern for sure, but in the West, I think everyone has similar concerns to a certain degree.
OHL Championship Series

Niagara IceDogs vs. Guelph Storm

Another toss up for me. Ask me tomorrow and I may just choose someone different. Both of their regular season matchups were decided by a single goal. Honestly, this comes down to goaltending. I give Niagara the advantage at forward. I give Guelph the advantage on defense. But in net, I think you have to tip your hat in Stephen Dhillon's direction. Especially considering that there is no guarantee that Anthony Popovich finishes the postseason as Guelph's starter. So...I am selecting the Niagara IceDogs as this year's OHL Champions!