The 2018 Ontario Hockey League playoffs kick off this week after the regular season wrapped up this past weekend. Heading into the playoffs, the Sault Ste. Marie Greyhounds are the clear favorites to come out of the OHL and represent the league at the Memorial Cup in Regina. They have spent the vast majority of the season as the top ranked team in the CHL, one of only two teams to chart the entire season (along with Blainville-Boisbriand of the QMJHL). But competition is always fierce and there are no sure bets in the OHL. Let us now take a look at each first round match-up.
Eastern Conference
#1 - Hamilton Bulldogs vs. #8 - Ottawa 67's
Season Series: Hamilton leads 5-0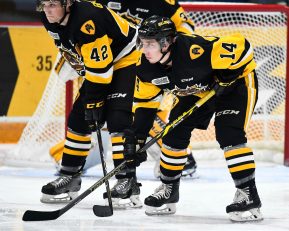 Analysis: The Conference Champion Bulldogs face off against the 67's after the Steelheads won on the final Sunday, securing the number 7 seed. Hamilton has been the cream of the crop of the Eastern Conference for the vast majority of the season. They have been extremely active in trades this year to give them the best chance of coming out of the East. The Bulldogs added Robert Thomas (St. Louis), Riley Stillman (Florida), Nic Caamano (Dallas), Ryan Moore, and Nic Mattinen (Toronto) to an already stacked lineup, giving Ottawa an extremely daunting challenge in round one. This team rolls three powerhouse offensive lines with Matthew Strome (Philadelphia), Will Bitten (Montreal), Mackenzie Entwistle (Arizona), Marian Studenic (New Jersey), and Brandon Saigeon being other top options. Forward Arthur Kaliyev (2019) is another name to watch. He is the first 16 year old to score 30 goals in the OHL since Alex Galchenyuk and he is a potential lottery pick next year as a power winger. In net, the Bulldogs boast one of the OHL's most improved players this year in Kaden Fulcher (Detroit).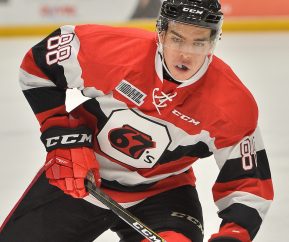 Ottawa, on the other hand, is a very young team. In a few years' time, they could be Memorial Cup contenders. They could have five players drafted in the first three rounds this year (Kody Clark, Mitchell Hoelscher, Merrick Rippon, Kevin Bahl, and Carter Robertson). Offensively, they are paced by Sasha Chmelevski (San Jose), Travis Barron (Colorado), Austen Keating (2018) and Tye Felhaber. Chmelevski was a much hyped prospect who fell hard at last year's draft (all the way to the 6th), but he has returned much stronger this season. His play away from the puck has greatly improved and it has taken his game to another level. But for all their talent offensively, the 67's have had a very difficult time keeping the puck out of their own net this year. Overager Olivier Tremblay has not provided the stability that the team had hoped for when they brought him in early this year.
This one has all the makings of a quick series. This Ottawa team, as talented as they are young, is not yet ready for this type of challenge. The Bulldogs are one of the deepest teams in the OHL and their offensive firepower is likely to overwhelm an inexperienced defense and inconsistent netminder. One particular thing worth watching is the 67's struggling penalty kill going up against one of the league's best powerplay units from Hamilton. This has to be troubling for Ottawa because they also happen to be one of the league's most undisciplined teams. And while Ottawa does have some great young offensive talent, the Bulldogs have one of the oldest defensive units in the league and are likely to limit the offensive chances of the 67's. I look for Robert Thomas to have a big series here (and a big playoff performance overall). His points per game has taken a big dip since joining the Bulldogs, but I think he explodes this postseason.
Prediction: This Hamilton team is just too experienced and too talented for the 67's. They have the advantage in nearly every area and should dominate. If Ottawa was getting better goaltending, I would say that they might be able to steal a game or two, but I do not even see that happening. Hamilton in 4.
#2 - Barrie Colts vs. #7 - Mississauga Steelheads
Season Series: Mississauga leads 4-2
Analysis: If I was a betting man, I would bet that this is the match-up that Barrie wanted to avoid in the opening round. In fact, it was probably the match-up every team wanted to avoid in the first round. Mississauga has underachieved all season long, but they have shown some signs of finally coming to life the last month or so. Offensive talent is not to be questioned. Their first two lines include names like Michael McLeod (New Jersey), Ryan McLeod (2018), Owen Tippett (Florida), Trent Fox, Albert Michnac (2018), and Mathieu Foget. This group of six matches up well against any top six in the Eastern Conference and it helps to explain why the Steelheads are the third highest scoring team in the Conference. And this excludes their leading scorer, defenseman Nic Hague (Vegas), who was the first OHL defender to score 30+ since Allan Rourke. But keeping the puck out has been a challenge at times. Swedish import and defensive stalwart Jacob Moverare (Los Angeles) has been injured and that has really challenged their younger defensive players to play more minutes than they are ready for. Furthermore, young netminder Jacob Ingham (2018) has had an awful sophomore season that has seen him essentially lose the starting job to Emanuel Vella.
This is potentially trouble because Barrie is the highest scoring team in the Conference and the 3rd highest scoring in the OHL. Their first line of Andrei Svechnikov (2018), Aaron Luchuk (Ottawa), and Dmitry Sokolov (Minnesota) has been absolutely shredding teams of late. The supporting offensive cast includes guys like Ryan Suzuki (2019), Jason Willms (2018), and Zach Magwood who work extremely hard in all three zones and bring energy that exhausts the opposition so that the first line can go to work. The Colts do not have any stars on the blueline, but they are a tight knit unit who work well with Barrie's forwards to play a terrific team defense. In net, overager Leo Lazerev starts and while he does not necessarily win any games outright for the Colts, he is a mostly reliable presence. It should be noted that he has yet to win an OHL playoff series in his career and probably goes into this match-up with just as many question marks as Mississauga's tenders.
There is no question that this is not your average #2 versus #7 seed match-up. This is especially true when you consider the fact that Mississauga largely dominated the season series, winning all three games in the new year by a combined score of 18-10. For whatever reason, the speed of Mississauga's forwards gives the defense of Barrie a tough time and Lazerev has an .840 save percentage against the Fish this season. This is complicated even more by the fact that Andrei Svechnikov has been suspended for the first four games of the series for a head check. But I admit, I have a tough time picking Mississauga to win this series. I do not trust their defense to be able to handle Barrie's depth up front. And if these games go to an offensive shootout like they did in the regular season, I think Barrie ends up coming out on top this time. Mississauga's Mathieu Foget has also been suspended for the first four games of the series and his loss might actually be felt more because of Mississauga's lack of depth. His acquisition really triggered the turnaround for the team. Barrie also needs to stay out of the box. In the regular season, they gave Mississauga almost double the amount of powerplays that they received and it cost them dearly with the Steelheads clicking at over 30% with the man advantage. If they can stay out of the box, and Lazerev can make a few saves, I still like Barrie to come out on top.
Prediction: The result of this series would not surprise me either way, even with the difference in seeding. But depth is critical in the playoffs and Barrie has the advantage there. I am excited to see how the Svechnikov/Luchuk/Sokolov unit handles the pressure of the playoffs. Svechnikov, in particular, can really cement himself as the #2 prospect available in the draft with a strong postseason performance once he returns from suspension (as long as Barrie does not get swept). Barrie in 7.
#3 - Kingston Frontenacs vs. #6 - North Bay Battalion
Season Series: Kingston leads 3-1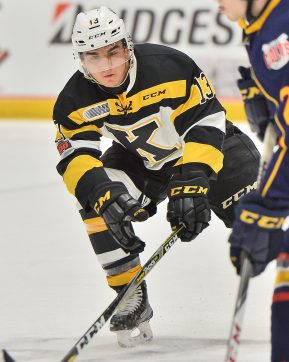 Analysis: This is an intriguing match-up because of how differently these two teams approached the OHL season. Kingston brought in Gabe Vilardi (Los Angeles), Max Jones (Anaheim), Cliff Pu (Buffalo), Sean Day (New York Rangers), and Mitchell Byrne at the deadline to bolster an already solid line-up and make them contenders to come out of the East. While they failed to secure a division banner, the results post deadline have been mostly extremely positive. A healthy and re-invigorated Vilardi has provided the biggest boost, as his 1.87 points per game in Kingston is second to only Jordan Kyrou (St. Louis) in the OHL. His strength, on and off the puck, makes him a dominant force in all three zones and the type of player who works to tire and grind out opposing defenses.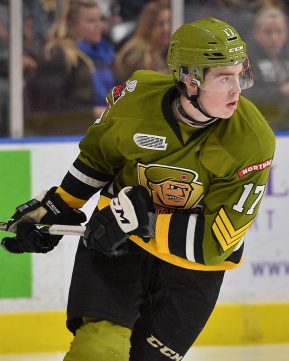 The North Bay Battalion were sellers at the deadline this year, shipping out veterans Cam Dineen (Arizona), and Brett McKenzie (Vancouver). Those moves only worked to light a fire under the Battalion roster and the team actually improved their record in the New Year thanks to the play of new acquisitions Matthew Struthers (2018), and Jake Henderson, as well as veterans Justin Brazeau (2018), and Adam Thilander (2018). Brazeau, in particular, is a player to watch. The 6-5" winger finished just inside the Top 20 of league scoring and was named as the East's most underrated player in the recent coaches poll that was released.
If we are measuring up these two teams, we need to give the edge to Kingston in nearly every area. The Fronts lead the season series 3-1, winning the three most recent games (February on). The biggest advantage Kingston has is in net with Jeremy Helvig (Carolina) manning the crease. The overager and veteran netminder has 19 OHL playoff games under his belt and is unquestionably one of the league's top netminders. Meanwhile, the Battalion will rely on either Christian Propp (2018) or Julian Sime, who have a combined zero OHL playoff appearances. Kingston also has a heavy advantage on special teams, with their powerplay and penalty killing units operating at a higher level. With Robertson and Vilardi operating down low on the powerplay, North Bay is going to need to stay out of the box to have any chance in this series. One wild card to keep an eye on is the health of Max Jones. Jones has been out since the end of January after undergoing surgery on a broken finger. It is likely he returns at some point in these playoffs and he can be a major x-factor.
Prediction: Ultimately, Kingston's experience and leadership should carry them to a relatively easy victory in this match-up. Gabe Vilardi and Sean Day won a Memorial Cup together last year. Mitchell Byrne won an OHL Championship last year. And Cliff Pu and Max Jones won an OHL Title and Memorial Cup in 2016. Kingston in 5.
#4 - Niagara IceDogs vs. #5 - Oshawa Generals
Season Series: Tied at 1 game apiece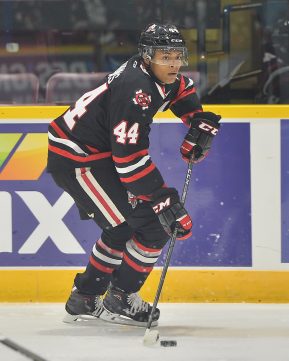 Analysis: Two teams that do not see a ton of each other match-up in round one. Niagara and Oshawa also happen to be two of the hotter teams in the OHL heading into the playoffs. The IceDogs are a team that rely on speed and energy to play an up tempo and offensively oriented style of game. They get after it on the forecheck and have a powerplay that has been much improved since the acquisition of overager Sam Miletic (Pittsburgh) from London. On top of Miletic, Niagara has a trio of offensive weapons that they rely on in Kirill Maksimov (Edmonton), Akil Thomas (2018), and Ben Jones (Vegas).
Oshawa, on the other hand, prefers to slow things down and grind it out in the offensive end. Their fearless leader is Jack Studnicka (Boston), an excellent two-way center who makes an impact in so many different ways. A pair of first time draft eligible forwards support Studnicka; Serron Noel (2018), and Allan McShane (2018). Defenseman Matt Brassard (Vancouver) is also critical to their offensive success. He was one of the highest scoring defenders in the league in the second half and finished the year 7th in defensive scoring.
If we are truly comparing these two teams, it is difficult to determine who has a clear advantage. In goal, the nod should be given to Oshawa and their starter Kyle Keyser (Boston). Keyser has been a stable presence in net this year, definitely more so than Stephen Dhillon who has struggled for Niagara this year, or the inexperienced Colton Incze. Up front, I give the slight edge to Niagara because of their explosiveness and depth. On defense, the two teams boast slightly inexperienced units who are mobile, but can be mistake prone. Ultimately, I see two things possibly tipping the favor in Niagara's direction. The first is special teams play. As mentioned, Niagara's powerplay has been performing at a high level lately and Oshawa has one of the league's worst penalty killing units. The second is home ice advantage, which Niagara owns after finishing the regular season on a 7 game winning streak.
Prediction: With home ice advantage, better special teams play, and a slightly more explosive offense, I like Niagara to win this series. Their goaltending concerns me slightly, but between Dhillon or Incze, they should be able to make enough big saves to at least get the IceDogs into the second round. But this one will be close. Niagara in 7.
Western Conference
#1 - Sault Ste. Marie Greyhounds vs. #8 - Saginaw Spirit
Season Series: SSM leads 7-1
Analysis: The juggernaut Greyhounds kick off their Memorial Cup push against the Saginaw Spirit, whose five game losing streak to end the season forced them down the standings and into this first round match-up. Sault Ste. Marie has nine NHL draft picks on their roster and two more potential first rounders for 2018. Up front, Boris Katchouk (Tampa Bay), Taylor Raddysh (Tampa Bay), Jack Kopacka (Anaheim), Tim Gettinger (New York Rangers), Barrett Hayton (2018), and the underrated Hayden Verbeek pace the attack. But the real star is OHL 2nd leading scorer Morgan Frost (Philadelphia), one of the breakout stars of this season. On the backend, the Hounds are equally strong, led by Conor Timmins (Colorado), and Rasmus Sandin (2018). Neither seem to make a mistake with the puck and both are just as good in their own end as they are offensively. In net, Matthew Villalta (Los Angeles) has been a steady presence who makes the saves when he needs to.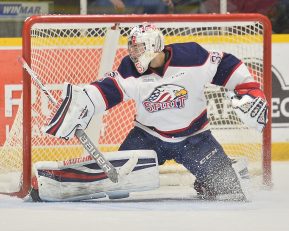 Saginaw's strength actually starts in net where overager Evan Cormier (New Jersey) keeps the Spirit in a lot of games that they do not deserve to be in. This is important because the Spirit struggle to score goals. They were only one of three teams in the OHL to not score 200 goals on the season and the other two finished dead last in their conferences (Flint and Sudbury). Furthermore, their powerplay was a league worst 14.7%. There is definitely some offensive talent on this team, but the team's best days are ahead of them as guys like Blade Jenkins (2018), Nicholas Porco (2019), Ryan Stepien (2020), Aidan Prueter (2020), and Damien Giroux (2018) gain experience. In fact, the team's only NHL drafted forward, Brady Gilmour (Detroit) finished 9th in team scoring.
In all honesty, this series should not be close and is not likely to be close. The Spirit have a talented young roster, but they are not currently an equal to the Greyhounds. Sault Ste. Marie has the advantage in nearly every area except maybe goaltending. Even then, Evan Cormier can only do so much. Heck, we might see the Greyhounds score more shorthanded goals than the Spirit score powerplay goals in the series.
Prediction: I want to say that Evan Cormier can do enough to steal a game for the Spirit in this series, but I cannot even see the Spirit winning a game. The Greyhounds are just too strong. SSM in 4.
#2 - Kitchener Rangers vs. #7 - Guelph Storm
Season Series: Kitchener leads 5-3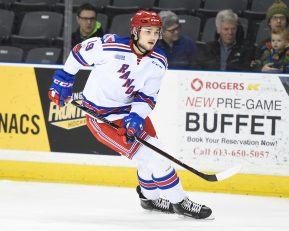 Analysis: This is an interesting first round match-up between two teams that did not end the regular season the way they wanted to. Kitchener, a strong team all season, struggled down the stretch, although managed to hang on to their Division crown. Meanwhile, the Guelph Storm were one of the league's worst teams in the last few months that saw them lose their grip on the #6 spot in the West. Kitchener loaded up at the deadline by bringing in Logan Brown (Ottawa), Givani Smith (Detroit), Mario Culina, and Austin McEneny. I think it would be fair to say that Kitchener is still waiting to see the best out of three of those four, with Culina playing well so far as a starter. It has been the guys around all season like Adam Mascherin (Florida), Kole Sherwood (Columbus), Joseph Gareffa, Logan Stanley (Winnipeg), and Riley Damiani (2018) that have been driving the team's success. Moving into the playoffs, it will be about whether the newer faces can finally find chemistry or not. The health of defensive stalwart Connor Hall (Pittsburgh) could also impact the series.
Guelph, as mentioned, has also struggled down the stretch, especially when it comes to preventing goals. Goaltender Anthony Popovich (2018) appeared to tire of late after seeing a huge jump in workload this season. The defensive group, led by Ryan Merkley (2018), and Dmitri Samorukov (Edmonton) also struggled, to the point where Merkley was a healthy scratch at times down the stretch. The Storm do have a hard working forward group who is capable of icing multiple scoring lines. The offensive leaders are unquestionably Isaac Ratcliffe (Philadelphia) and Cam Hillis (2018), who along with Alexei Toropchenko (St. Louis) form a quality first line.
Looking at this series a little more under the microscope, it is probably closer than people are making it out to be. The special teams match-up pretty well. Neither team has a dominant goaltender that one would qualify as a game-changer (no offense meant to Culina or Popovich). Both teams struggled down the stretch with team chemistry issues. The tipping point for me is experience. The Rangers have the clear advantage there, especially on the defensive end. Guys like Logan Stanley and Austin McEneny, who won a Memorial Cup together with Windsor last year, should really help to stabilize things, even without Connor Hall. I also look for longtime Rangers like Mascherin or Connor Bunnaman (Philadelphia) to really step up offensively to get this team over the first round hump.
Prediction: As mentioned, I feel like Kitchener's experience advantage will help them come out on top in this series. I also feel that they have a much better team defense approach that likely plays out better for success in the playoffs. Guelph has talent, but they play a very high risk game that, without a ton of playoff experience, could be their undoing. It will be close, but Kitchener in 6.
#3 - Sarnia Sting vs. #6 - Windsor Spitfires
Season Series: Sarnia leads 5-1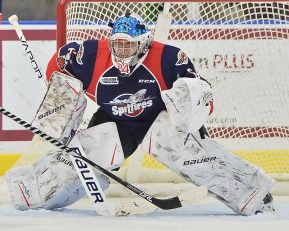 Analysis: No offense meant to the rest of the Windsor Spitfires, but this match-up is about two things. The Sarnia offense (2nd best in the OHL) versus the goaltending of Michael DiPietro (Vancouver). The dynamic DiPietro is one of the few goaltenders in the OHL who is capable of stealing a series victory for his team. The Spitfires rebuilt, dealing off the majority of their veterans held over from their Memorial Cup victory last year, but decided to hang on to their star netminder for this reason. They battle hard in the offensive end behind the likes of Curtis Douglas (2018), Cole Purboo (2018), Cody Morgan (2019), Luke Boka, and Matthew MacDougall (2018). And they play smart in their own end thanks to Connor Corcoran (2018), Nathan Staios (2019), Grayson Ladd (2019), and Zach Shankar. But this team has zero NHL drafted players outside of DiPietro and are incredibly inexperienced.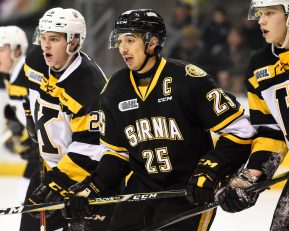 The Sting, conversely, were one of the biggest buyers throughout this OHL season, bringing in talented veterans like Cam Dineen (Arizona), Jonathan Ang (Florida), and Michael Pezzetta (Montreal). The lifeblood of the team is Jordan Kyrou (St. Louis), the league's leader in points per game this year and possibly the best offensive player in the OHL. He is currently zero for three in first round appearances and is likely to do everything in his power to finally reach the second round (and beyond). You could likely argue that overager Justin Fazio is the team's second most important player in the series, especially considering that he has to match-up against DiPietro. The margin for error is slim.
One of Sarnia's biggest strengths is on the powerplay where Kyrou, Adam Ruzicka (Calgary), and Drake Rymsha (Los Angeles) have a combined 34 powerplay goals this year. Problem is, Windsor takes among the least amount of penalties in the OHL so as long as Windsor can continue to stay out of the box, Sarnia is going to need to beat DiPietro 5 on 5. The question I have is, how will Windsor manage to score goals, at least enough goals to win this 7 game series? It will not be with the man advantage either (likely) as the Sting have the league's top penalty killing unit. I am slightly worried about Sarnia's inexperienced defense though, but that concern is more directed towards round two or three (if the Sting advance that far). Sarnia will need big guys like Ruzicka, Pezzetta, Jordan Ernst, and Hugo Leufvenius (2018) to crowd DiPietro's space as much as possible and really make him uncomfortable. Shoot, shoot, and shoot some more. Windsor fans can tell you, sometimes the best way to beat Michael DiPietro is through sheer luck and bad bounces.
Prediction: As much as I want to predict a Windsor victory, I do not see it in the cards. DiPietro will steal a few games and he will make Sarnia sweat. But the offensive firepower of Sarnia, combined with the inexperience of Windsor's defense is likely to give the Sting too many scoring chances for the Spitfires' star netminder to handle. Sarnia in 6.
#4 - Owen Sound Attack vs. #5 - London Knights
Season Series: London leads 4-2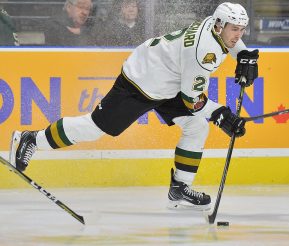 Analysis: As is usually the case, the 4/5 matchup in the Western Conference looks to be the closest match-up of the first round, and subsequently the most difficult to prognosticate. London traded off the vast majority of their big guns to retool to fight another day. Instead, the team played inspired hockey down the stretch led by a host of younger players eager to make their mark. When talking about London, we have to start with defenseman Evan Bouchard (2018), the lifeblood of the Knights. His 87 points are the highest by a blueliner since Ryan Ellis hit the 100 point mark in 2011. The speedy Alex Formenton (Ottawa) is also playing the best hockey of his OHL career thus far with 12 goals in 14 games to close out the regular season. And you cannot talk about London without mentioning how good the "kid" line of Liam Foudy (2018), Billy Moskal (2018), and Nathan Dunkley (2018) has been since the trade deadline. This trio was challenged to step up their games with increased ice time and they all responded accordingly.
Owen Sound, on the other hand, was expected to be one of the top teams in the OHL this year but struggled to keep their star players healthy all year and subsequently struggled to perform consistently. That is, until the last few months when they have been, arguably, the OHL's best. This team is scary good when healthy and they are now finally healthy. They roll three outstanding scoring lines, including a top unit of Jonah Gadjovich (Vancouver), Kevin Hancock (2018), and Nick Suzuki (Vegas) that has been one of the OHL's best over the last two seasons. They also have one of the OHL's top offensive blueliners in Sean Durzi (2018), who if he did not get injured, likely could have challenged Bouchard for the defenceman scoring title. It is in net where Owen Sound has struggled this season as Olivier Lafreniere and Mack Guzda (2019) have battled to find consistency. No question, Owen Sound has to have their offense rolling to win because they are not going to win many 2-1 games.
So who has the advantage going into this match-up? Experience wise, the nod has to be given to Owen Sound...and by a wide margin. The Attack are returning the vast majority of a roster that lost in the Conference finals last season. The Knights are an extremely well coached team, but they are relying on a lot of rookies and sophomores in key roles and that can often prove to be a recipe for disaster in the postseason. The deciding factor in this series probably comes down to the goaltending. So long as Owen Sound can get at least adequate goaltending from one of Lafreniere or Guzda, they should win this series. But if their goaltending struggles and team is forced to constantly play catch-up, the series tips in London's favor, a team with nothing to lose.
Prediction: I have to give the nod to Owen Sound here because now that they are fully healthy, they look like a tough team to stop. This is especially true for a team as inexperienced as London; even if they are extremely talented. The Attack can get the saves they need to win this one, even if London pushes them and makes them sweat. Owen Sound in 6
OHL Finals Prediction
When the field is finally narrowed down to two teams who battle it out for OHL supremacy, I expect those two teams to be the Kingston Frontenacs and the Sault Ste. Marie Greyhounds.
From the East I like Kingston for a couple reasons. The first is experience. As I already alluded to, they have a lot of players on that roster who have already won a Memorial Cup or OHL Championship (or both). That type of leadership goes a long way in the playoffs. The second is special teams play. The great Scotty Bowman always said combined special teams play was a great indicator of postseason success. Well the Fronts have the best powerplay in the league and the second best penalty kill. The third is goaltending. Jeremy Helvig is a veteran netminder who is about as consistent as they come. I have a ton of confidence in his ability to make saves when he needs to.
From the West, I like the Soo Greyhounds as they have looked about as dominant as anyone in the OHL has over the last few years. Their 116 points is the most since Barrie put up 116 in 2010. This team has it all. Special teams success. Good goaltending. Speed. Physicality. But most of all...depth. Drew Bannister's players rarely seem to take a shift off and they rarely make mistakes with the puck. That composure at both ends of the ice makes them the favorite.
For the OHL Title, I am taking the Soo Greyhounds to win their first J. Ross Robertson Cup since they won back to back championships in the early 90ś.