The 2023 scouting season is upon us! As we head into a new draft season, we, at McKeen's Hockey, have made a few changes to our roster of writers and scouts. This piece serves as an opportunity to not only meet the team, but also preview some of the players to watch across the globe this hockey season. We asked our staff to give us one draft eligible player and one already drafted player from their region to keep a close eye on.
Director of Scouting/Ontario Region - Brock Otten
https://twitter.com/BrockOtten
2023 Player to Watch: Beau Akey, D, Barrie Colts
"Akey is a highly mobile two-way defender with the Colts who will likely take on a top four role on a strong Barrie team this year. He would have likely been on the Canadian Hlinka team this summer had he not picked up an injury at the beginning of camp. Akey is a preseason regional favourite of mine and after a strong preseason performance, he looks poised to be a steady riser over the season."
Already Drafted to Watch: Ben Gaudreau, G, Sarnia Sting
The San Jose Sharks draft pick heads into the OHL season as my preseason favourite to be the OHL's top netminder (Jim Rutherford award) this year. He doesn't have an NHL contract yet and is playing for one this season, but I fully expect him to earn one. The athletic Gaudreau should also be the starting netminder for Canada at the WJC's this year.
Assistant Director of Scouting/Western Canada Region - Derek Neumeier
https://twitter.com/Derek_N_NHL
2023 Player to Watch: Riley Heidt, C, Prince George Cougars
The Cougars haven't had a winning season since 2016-17, but they also haven't had a prospect as good as Heidt to help turn that tide until now. His hockey sense and puck skills are high-end, and he has the right mental makeup to handle the pressure that will be placed upon him as his team's number one center and best player.
Already Drafted Player to Watch: Logan Stankoven, C, Kamloops Blazers
The reigning WHL Player of the Year has already accomplished a lot (including winning World Juniors gold) but will have a new challenge this season: leading his Blazers team as they host the 2023 Memorial Cup. It barely seems possible that Stankoven could be more dynamic or terrorizing offensively, but he always finds a way to surpass expectations.
Western Canada Region - Arlo Schulz
2023 Player to Watch: Andrew Cristall, F, Kelowna Rockets
"Cristall begins this season under the radar as all eyes are on Connor Bedard in the WHL this year, but that won't last long. Cristall had a terrific rookie season last year and with the young Rockets returning almost their entire roster, they won't need time to gel and Cristall could explode out of the gate. He possesses elite offensive instincts, a slick set of hands, and is constantly creating something out of nothing in the offensive zone. He lacks explosiveness but focused on his skating during the offseason and showed well at the Hlinka in August. He projects as a 1st-rounder and could shoot up draft boards as the year progresses."
Already Drafted to Watch: Mats Lindgren, D, Red Deer Rebels
"Lindgren is a beautiful skater who was projected to go in the top two rounds last draft but slipped to the 4th round (Sabres) amid concerns about his inconsistency and offensive upside. An effortless mover who can carry the puck with ease and distribute well, Lindgren was one of the youngest players in his draft class and could take a massive step forward in his D+1 season. He requested a trade and was dealt to the Rebels, where he will assume greater responsibilities and play in all situations. His skillset is tailor-made for the modern game, as a mobile defenseman with terrific instincts. It will be fascinating to watch if the rest of his game catches up to his potential this year."
Sweden Region - Jacob Smeds
https://twitter.com/Scouting_Jacob
2023 Player to Watch: Kalle Carlsson, C, Örebro HK
Kalle Carlsson is a potential riser throughout the season. He is a playmaker who creates space for his teammates with his strong skating and high hockey IQ. In the same way that his hockey sense allows him to thrive offensively, he can also play defense efficiently thanks to his smartness.
Already Drafted to Watch: Jonathan Lekkerimäki, RW, Djurgårdens IF
Lekkerimäki is a pure goal scorer with tremendous offensive instincts. In the offensive zone, he works hard off the puck to create space to shoot. He also brings the puck to the net to challenge goalies in tight using his soft hands. Lekkerimäki is looking to establish himself at the pro level in the Swedish second tier league this winter and his preseason bears the promise of a smooth transition from the junior leagues.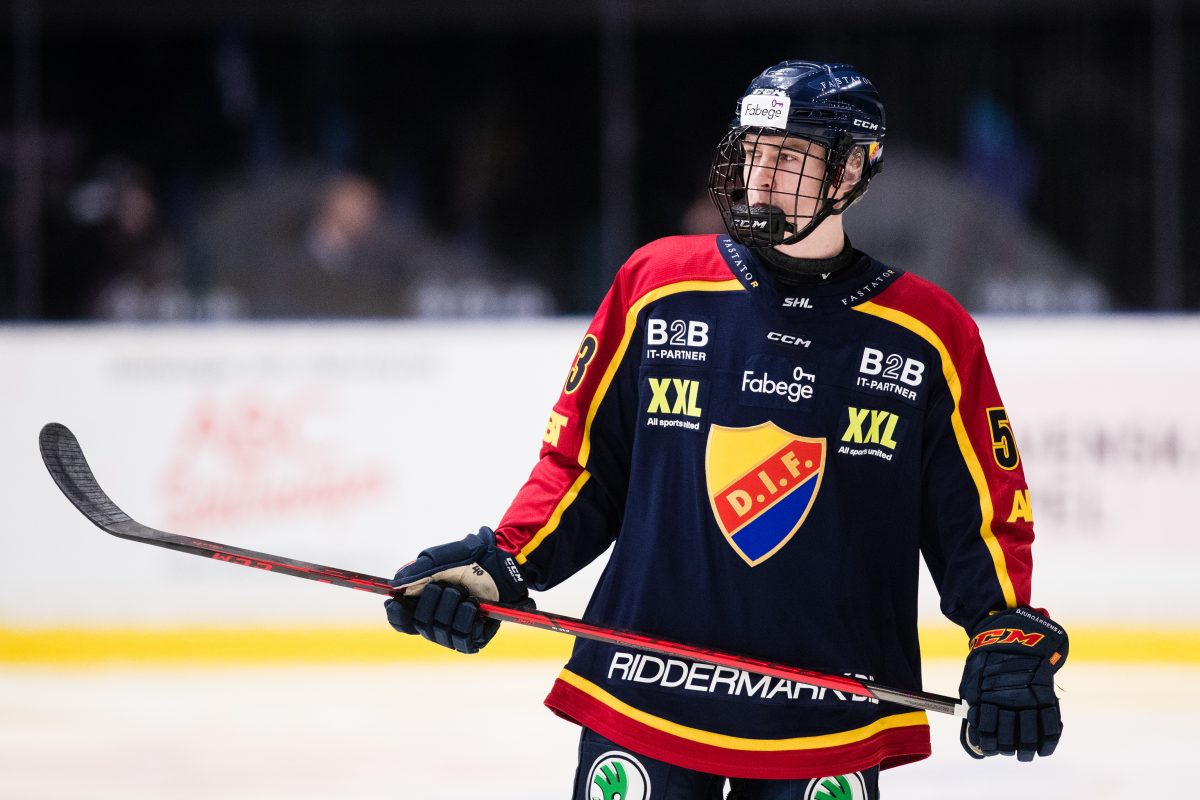 Eastern Canada Region - Éloi Biondo
https://twitter.com/eloi632211
2023 Player to Watch: Etienne Morin, D, Moncton Wildcats
Etienne Morin is a mobile two-way defenseman who can move the puck up the ice very effectively and make plays in the offensive zone. He averaged 21 minutes a game last year as a rookie blue-liner for the Wildcats and tallied an impressive 34 points in 70 games. Morin could've probably played at the most recent Hlinka-Gretzky cup tournament, but Team Canada probably preferred a more steady and physical option on their blue line— something that Morin will have to work on this upcoming season.
Already Drafted Player to Watch: Jordan Dumais, RW, Halifax Mooseheads
Dumais was one of the most polarizing prospects for the most recent NHL Draft. The undersized winger has been scoring at historic rates in the QMJHL and is poised for another big year with the Moose. Such numbers and offensive abilities would usually guarantee you of a high-end draft pick. However, Dumais' skating and physical tools are just not what you want in an NHL prospect, which made him a third-round selection by the Columbus Blue Jackets, instead of a higher selection. It will definitely be very interesting to see how he progresses this upcoming season.
Western Canada Region - Adam Tate
2023 Draft Eligible Player to Watch: Riley Heidt, C, Prince George Cougars
Having led the Cougars in scoring last season, Riley Heidt will be looked upon to be the "do everything" centre for the team again this year. Coming off a strong showing in this past summer's Hlinka Gretzky Cup, I'm looking forward to seeing if he can solidify a middle of the 1st round draft ranking.
Already Drafted Player to Watch: Owen Pickering, D, Swift Current Broncos
The first-round pick of the Pittsburgh Penguins in last year's NHL draft, Owen Pickering is looking to improve his raw talents in Swift Current this season. If his skating and offense can start to catch up to his size and transitional skills, he could very well secure a spot on Canada's WJC roster this year.
Russia Region - Viktor Fomich
https://twitter.com/RUSProspects
2023 Player to Watch: Roman Kantserov, W, Stalnie Lisy Magnitogorsk, MHL
Roman Kantserov is a winger whose every movement is just oozing attacking skill. He might not always be showing that on a consistent basis, but when he is on his game he is definitely as electrifying to watch as the top Russian guys like Matvei Michkov or Mikhail Gulyayev. He still should be evaluated more closely to find out what outweighs here: skill or inconsistency.
Already Drafted Player to Watch:  Nikolai Kovalenko, W, Torpedo Nizhny Novgorod, KHL
For Colorado Avalanche wing prospect Nikolai Kovalenko, last season was one to forget due to a heavy concussion that left a question mark on his NHL upside. After an amazing start to this KHL season, he suffered another concussion. Even though he is back now, we have the same questions about his health and ability to reach the NHL level in two years (when his KHL contract is up). This season should provide some answers though.
Director of Video Scouting - Will Scouch
2023 Player to Watch: Caden Price, D, Kelowna Rockets
After a strong Hlinka camp and tournament performance logging tons of minutes, Price is exactly the defender I'm looking for. Mobile, quick, skilled, jumps into offensive situations, deceptive with the puck and a reliance on his feet to do a lot of defensive work. There's creativity in spades to execute plays well, and his youth in this draft class combined with his current ability are tantalizing to consider. He's been ranked in late first rounds at times but I get the feeling that keen-eyed observers will come around a little more.
Already Drafted Player to Watch: Simon Robertsson, W, Skellefteå AIK
I've been a big believer in Robertsson and believe that patience will be rewarded with more development in Sweden. A slow start in the SHL gave way for a relatively strong finish in very limited minutes, but Robertsson's shot, evasive skill, and improving straight line speed could make him a more threatening SHL scorer this season. There may be better players out there right now developing, but Robertsson's offensive upside is hard to ignore and still has plenty of time to emerge against men.
Video Scout - Zack Szweras
https://twitter.com/Zack_Szweras
2023 Player to Watch: Otto Stenberg, W, Frölunda, SHL
Stenberg is an exciting offensive winger, with plenty of creativity as both a playmaker and scorer. Stenberg captained team Sweden to a silver medal recently in the Hlinka Gretzky Cup. He also led the team in scoring. After a strong tournament, Stenberg has a good chance to increase his draft stock with his flashy and crafty play.
Already Drafted Player: Noah Ostlund, C, Djurgardens IF, SHL
Ostlund, the 16th overall pick by the Buffalo Sabres in the 2022 NHL Draft, is poised for a larger role at the pro level. Ostlund will split time between the J20 and HockeyAllsvenskan for Djurgårdens IF. He produced over a point per game in the J20 last season but will be looking to achieve that playing against men. Ostlund is a strong playmaking centre, who will have a chance to crack Sweden's World Junior roster in December too.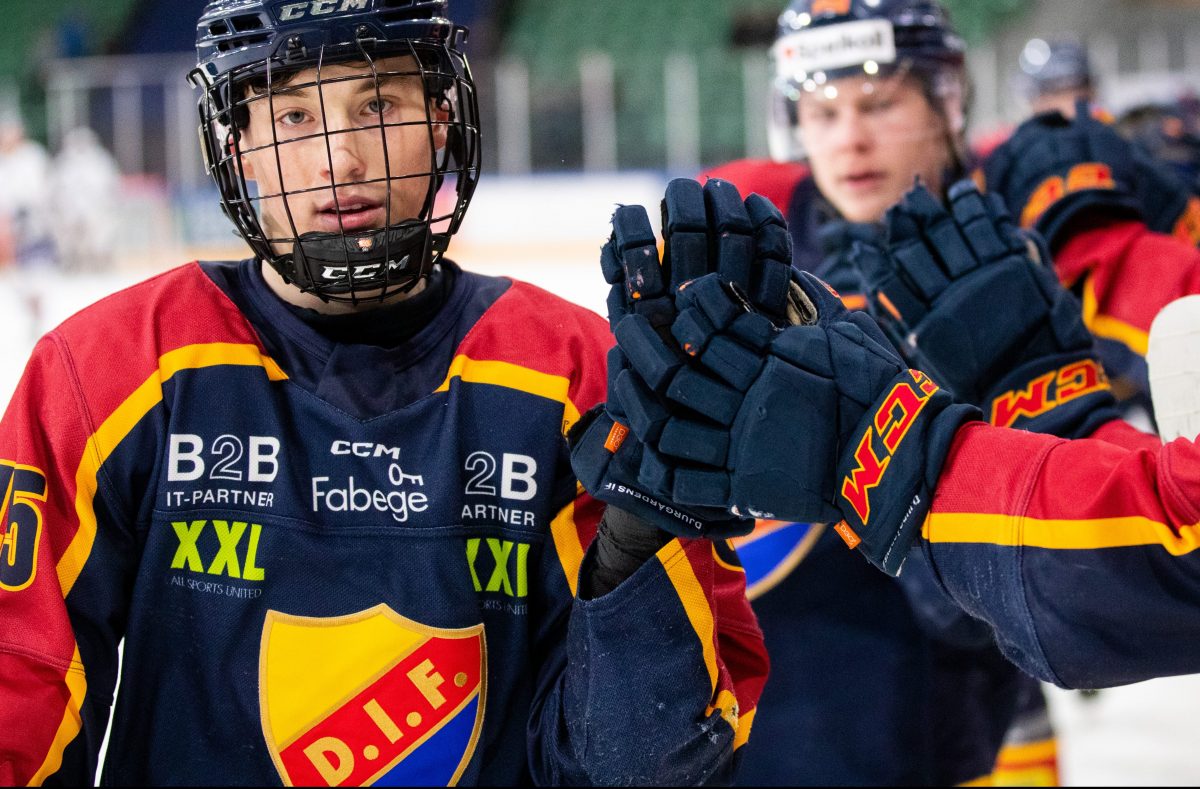 Central Europe Region - Chapin Landvogt
https://twitter.com/Csomichapin
GERMANY
2023 Player to Watch: Linus Brandl, F, Mannheim Jungadler (DNL)
In a season where not a single name stands out as a surefire draft pick next summer, the 6-foot Brandl has followed up a somewhat eye-opening, yet unassuming Gretzky Hlinka Cup (2-3-5 in 4 games) by kicking off the DNL season with 5-5-10 in 6 games. Brandl won't stick out with any specific tool, but he simply never fails to produce. He just "gets it" when it comes to generating offense with what he has. Pro play is in the cards this season.
Already Drafted to Watch: Dominik Bokk, RW, Frankfurt Lions
The DEL's new team has brought in a big fish in Dominik Bokk, who already concluded last season (minimally) helping Berlin grab the league title. Growing long in the prospect tooth and clearly not looking like a player in Carolina's plans, the 22-year-old has kicked off things with a bang, going 4-3-7 with a +4 in his first 4 games of the season.
SWITZERLAND
2023 Player to Watch: Leo Braillard, F, Biel-Bienne U20
Playing together with skilled overager Mattheo Reinhard, Braillard has put up 7-3-10 numbers in 6 U20 games thus far. Already having represented Switzerland at every level between U16-U18, he has been a constant producer for his club, having captained the U17 outfit last season for which he put up 62 points in 30 games. A U18 Worlds appearance at home next spring is a given after his 4-1-5 output at the Gretzky Hlinka Cup this summer.
Already Drafted to Watch: Simon Knak, RW, HC Davos
After being drafted as an overager, Knak went from being a productive winger for the Portland Winterhawks to chugging away in the pro ranks as a 19-year-old to the tune of 15 points in 51 games. A multi-year captain of the U20 team, Knak is back at it for Davos this season and has a 1-1-2 statline in 4 NL games this year. More importantly, he's playing a line higher than last year, averaging just over 14 minutes a night.
Ontario Region - Dylan Krill
https://twitter.com/dylan_krill
2023 Player to Watch: Cam Allen, D, Guelph Storm
Allen is a high-end two-way defenseman who looked like a veteran in his rookie year. After a strong Hlinka tournament where he served as captain for team Canada, Allen will look to have a big season with Guelph, establishing himself as the premier defenseman of the 2023 NHL Draft.
Already Drafted Player to Watch: David Goyette, C, Sudbury Wolves
The 61st overall selection by the Seattle Kraken in the 2022 draft, David Goyette was my favourite player last year because of his blend of high-end creativity and puck skills with elite skating. After finishing with the most points by a rookie, he will look to have another big season on an improved Sudbury team.
Slovak and Czech Region - Matej Deraj
2023 Player to Watch: Ondrej Molnár, W, HK Nitra
Molnár is an electric winger who has nifty hands, good hockey sense and a dangerous shot, although he's more of a playmaker. His biggest asset is his skating; he's quick, agile and his acceleration is at the top level. The main room for improvement is in his defensive game and awareness. Overall, an intriguing player to watch who's dangerous every time he steps on the ice.
Already Drafted Player to Watch: Adam Sýkora, W/C, HK Nitra
Sýkora has gained a lot of confidence since last year. The second-round pick of the 2022 draft had impressed everybody with his tremendous worth ethic and compete level, but the expectations are now higher for the Rangers prospect. I believe Sýkora will use his speed and skills to improve his last year's point record and earn a call-up to the Men's National Team.
Eastern Canada Region - Charles Lassonde
https://twitter.com/cl_hockeyscout
2023 Player to Watch: Mathieu Cataford, RW, Halifax Mooseheads 
Cataford has been outstanding since the second half of the last season with Halifax. He elevated his game to a higher standard and had a strong showing in the playoffs. Despite a quiet Hlinka-Gretzky tournament, I really think that everything is set for Cataford to establish himself as a 1st round pick or at least a second-round selection in the 2023 NHL draft. His skating remains the weakness in his game, but his skill level, intensity, hockey sense and responsible 200-feet game style will quickly erase the doubts of the scouts in Cataford's game
Already Drafted to Watch: Tristan Luneau, RD, Gatineau Olympiques 
The Anaheim Ducks 2nd round pick has already been sent back to Gatineau after getting two points (1 goal and 1 assist) in his only exhibition game with the Ducks. Despite dealing with injuries in the 2020-21 season, Luneau surely didn't show the best of himself last year. Knowing him from the M18AAA in Quebec, I'm sure that he'll be in a better shape and ready to bring his game to the level he knows it can be.
AHL Coverage - Josh Bell
https://twitter.com/JoshuaBell31
Already Drafted to Watch: Yaroslav Askarov, G, Milwaukee Admirals (AHL)
The Nashville Predators 11th overall draft pick in 2020 is finally making the trip overseas, joining the AHL's Milwaukee Admirals as he adjusts to the North American game. Touted as the next Carey Price in his draft year, the Russian netminder will likely be sharing the crease with another strong goaltending prospect in Connor Ingram, but Askarov will get his share of starts and is one injury or hot streak away from taking over the starting reins.
Already Drafted to Watch: Jiri Kulich, C, Rochester Americans (AHL)
One of my favourite prospects in the 2022 NHL Draft, Kulich is entering his first professional season in North America. He had a remarkable 2021-22 campaign, leading all rookies in points in the top-Czech men's league before captaining the Czechs in the World Under-18s, leading the tournament in goals and being named MVP. Plus, he finished over a point-per-game at the U20s. I'm excited to see how he adjusts in the AHL.
U.S. Region - Ethan Hetu
2023 Player to Watch: William Whitelaw, C/RW, Youngstown Phantoms
The University of Wisconsin commit starred last year at Shattuck St. Mary's alongside top 2024 prospect Macklin Celebrini and now will play his draft season as "the guy" for the USHL's Youngstown Phantoms. Whitelaw is a creative playmaker and an aggressive, pace-pushing offensive generator. Whitelaw has said that he'd like to improve his defensive game and become the most well-rounded player of the 2023 class, so it'll be intriguing to see how he evolves as he strives to commit more to the 200-foot game.
Already Drafted Player to Watch: Lane Hutson, D, Boston University
Concerns about how Lane Hutson's size (he is listed at five-foot-nine, 155 pounds) would limit his game's translatability to more difficult levels of hockey caused the dynamic blueliner to have to wait until the 62nd pick of the 2022 draft to hear his name called. A more difficult level of hockey has now arrived for Hutson, who at Boston University will look to continue to break the mold of what the modern NHL defenseman "should" look like.
Russia Region - Dmitri Blokhin
2023 Player to Watch: Mikhail Gulyayev, D, Omsk Yastreby VHL
Gulyayev shines bright and stands out among Russian draft eligibles because of his hockey IQ. He is really great with the puck in the offensive zone and he's also very confident and reliable in the defensive end. He has a high skill level, playmaking and quarter-backing ability, and character. He started this season with VHL team Omskiye Krylia and already played several games with Avangard KHL. The expectations are high for him.
Already Drafted to Watch: Alexander Perevalov, F, Kunlun Red Star KHL
Selected in the 3rd round of the 2022 draft by the Carolina Hurricanes, Perevalov has high expectations due to his talent level. His last season was a controversial one with his play being inconsistent and his character being questionable. Nevertheless, he gets a trade from CSKA system in the new season and finds himself with the Kunlun Red Star KHL team. He's already showing more confidence, and in a recent game against CSKA he scored 2 goals and was successful in the game winning penalty shot. If his growth is consistent, he'll be able to develop his talent to 100% and play in the NHL after his current contract expires.
Eastern Canada Region - Benoit Belanger
https://twitter.com/BenoitGBelanger
2023 Player to Watch: Miguel Tourigny, D, Shawinigan Cataractes
At just 16, he turned heads with a stellar performance in the President's Cup Championship and Memorial Cup. His calm play, his intelligence, his maturity, combined with his skills, make him a player with great potential. He did very well during the U18 Hlinka-Gretzky tournament. Very good across 200 feet, very good hockey sense, with good passing and skating skills. He is a player to watch.
Already Drafted to Watch: Angus Booth, D, Shawinigan Cataractes
After an emotional and experience-filled season, including a President's Cup and a Memorial Cup appearance, Booth saw that memorable season come to a close with his 4th round selection by the Los Angeles Kings. It will be a totally different situation for him this year, with a team starting a junior cycle again. But it will be interesting to follow how he will react to this challenge and if he will be able to take his level of play to another level. I'm curious to see the full extent of his intelligence being passed on to his younger teammates.
Finland Region - Mikko Kuikka
2023 Player to Watch: Arttu Karki, D, Tappara U20 SM
"Karki is a very mobile defenseman with good shooting skills. Overall, he is a puck moving defenseman with good size (187cm) and good skating. At the moment, Karki is a 2nd/3rd-round talent, but if he has another great year, he could climb higher."
Already Drafted Player to Watch: Joakim Kemell, W, Jyp
"Kemell is a strong shooter who can also create his own chances. Drafted by Nashville Predators 2022 Draft as a first-round pick, he is playing this season at Jyp Jyvaskyla (Finnish liiga) as a loan player from Nashville Predators. I hope he makes this an injury free season that will show his real potential playing at the men's level."