John-Jason Peterka - LW - EHC München - NHL CSS EU7
42GP - 7G+4A - 4.98% G% 7.83%INV - 6.43 NHLeScore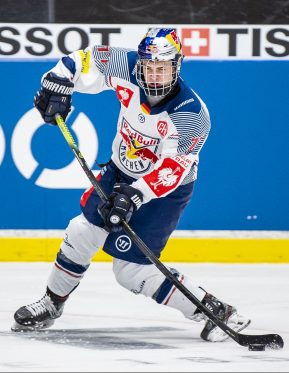 I was extremely excited to see what I've begun to affectionately call the DEL Trio at the World Juniors and they certainly didn't disappoint. It's clear that Tim Stützle is a top prospect with excellent playmaking skill and skating ability, and I was pleasantly surprised with Lukas Reichel's quiet effectiveness offensively. John-Jason Peterka caught my eye last year in the Czech junior league, but his production didn't quite translate to the DEL in his first professional league. My experience tracking and analyzing him led me with a completely different impression than I expected going in, and he left me absolutely fascinated with what his projection to the NHL could be.
If you haven't read the background on my work and approach, please read the embedded article before continuing below.
Once you have read the article, or are familiar with Scouching, here is the full video 
Think - 1C
It is immediately apparent that Peterka is a hard-working two-way player with excellent intelligence away from the puck. He can read and anticipate play well and is perfectly willing to get physical along the boards. He defends well positionally, getting his body between forecheckers and the puck, with enough explosivity to get moving at any time. Another indicator of his maturity is how unselfish he is with the puck in transition, making little plays that maintain possession using teammates effectively. Peterka can absolutely explode on the ice and constantly be on the go looking for loose pucks and open ice.
In offensive transition away from the puck, he is extremely smart with his routes and gap management from opposing defenders. This part of the game is something really special with Peterka and could make him a great potential scoring option in a rush offense. He's an admirable player on and off the puck that will get plenty of leeway with any coach.
Overall, Peterka is a straightforward north-south player willing to play hard along the boards, but with a great ability to anticipate play in transition and away from the puck. I don't believe he'll have any problem translating to North American hockey, but the only thing that may hold him back is a bit too much simplicity to him. He's a straight line hard worker who can get physical, cover ice well, get up the ice well, find open space in offensive rushes well, but he can be hasty when good opportunities present themselves, and he can chase play a bit too much, opening space for opponents.
Think Move 
Think Get Move 
Move - 2A
While he may not be the most skilled player available, he's one of the more explosive players in this year's draft. Peterka is an exceptionally hard worker on his feet, able to quickly separate himself from opponents and create space to go with his no-nonsense positional game. There are times when he can lose control of the puck when push comes to shove, and his best talents were his straight-line explosiveness and motor, but his four-way mobility and dynamic ability on his feet seems a bit limited.
Funnily enough, Peterka was actually better than Stützle at generating controlled offensive transitions/60 by 50% across both bluelines. He maintained control over the puck in all offensive transitions 13% more often than Stützle. There were indications that his hands may be a bit of a step behind his feet sometimes, but this was more of an inconsistency, and usually occurred when under pressure. At the same time, there were nice flashes of skill even under pressure to create space and defuse pressure deep in the offensive end. Peterka is able to keep defenders on their heels with his skill and pure speed and can and does push deep into the offensive zone to create dangerous chances.
Overall, the only thing I can critique is the lack of dynamism. Seems to have one gear, but it's a good gear and almost constantly evident. There's good skill, but more development in that area could make him a dangerous player under high defensive pressure. A bit of time to train and build strength could turn him into an excellent power winger that could fit in any NHL franchise, but there are a lot of legitimately interesting routes his career could go with the talent he shows in this category.
Move Pass 
Get - 1C
Peterka's overall motor makes him an excellent energy player, but he's also no slouch with his stick. He immediately challenges opponents with the puck and doesn't give them a chance to think. All over the ice, he shadows and sticks to opponents extremely well, and engages physically a ton to separate opponents from the puck. When he strikes, he strikes hard and often with plenty of power, which should translate well, even if his offensive upside doesn't reach its potential. I get the feeling this is a player that will get lots of leeway with coaches in North America. His lack of dynamic ability on his feet can cause him to lose track of agile opponents, and he could be caught flat-footed defensively without moving his feet to cut down gaps quickly enough, but when he's going, he goes.
Overall, Peterka isn't much of a complex player away from the puck. He plays hard, he can hit, he can strike with his stick, and he can turn play around quickly. There's a real meat-and-potatoes approach here that I always love to see. The NHL thrives on hard forechecks and minimizing decision making time all over the ice, and Peterka plays with a great motor that checks a lot of boxes away from the puck. There may be a level of inconsistency with his physical involvement and slow defensive reads, and the choice between keeping his feet moving for physical aggression, and using his stick can be incorrect at times, but his best tools are physical and with his feet. Relying on his physical play and speed more often could refine and focus his game to being a much more effective defensive player.
Get 
Bad Get 
Pass - 1C
Of the three big DEL players, Peterka led in pass completion percentage, but was third in dangerous pass attempt percentage. He blew Lucas Reichel out of the water in attempted, dangerous and completed passes/60, but trailed Stützle. Peterka is a smart transitional player, but 17% dangerous passing for a player with such limited production indicates that better linemates and more ice time may unlock more potential for him. He's clever under pressure, but an extremely creative and dynamic passing ability was hard to spot. There weren't a ton of bad passing decisions, but he can spot teammates well in all zones.
Overall, he's a reliable passer, rarely making poor decisions, and perfectly able to keep up and surpass his talented DEL cohort, even if he played the least. 11.02 dangerous passes/60 is an excellent measure in a men's league, but I found this to be a tough area to dig into based on his linemates. That being said, completing more than ¾ of his passes, and continuing to refine his offensive game against men could improve his production.
Shoot
While Peterka takes "only" 64.5% of his shot attempts from dangerous areas, good for 3rd among the DEL trio, he lands 35% from high danger, over double Stutzle's rate and barely trailing Lukas Reichel. On that note, he only generated dangerous shot attempts at 45% the rate of Reichel, and his Off.Threat metric was 3rd among the DEL trio. He did seem to have a great nose for open space away from the puck, and his ability to navigate under pressure and push towards the net helped generate danger. He uses his explosiveness to apply offensive pressure consistently and rarely gives up on plays if he loses control of the puck.
I am a bit unsure of his goal scoring potential, as I wasn't blown away with his shooting ability at 5v5, but he's good with his instincts away from the puck, and his skill and feet can take him a long way towards generating danger, which is a key ingredient for scoring goals. Overall, his shot is quick, but nothing spectacular, but he likely will score more off the rush, working hard to battle pucks to dangerous areas and cleaning up garbage around the net, especially if he gets stronger on his feet and even more resilient than he already is.
Shot Get 
The Best Part
John-Jason Peterka's nonstop motor is really promising. He uses it to generate offensive transitions and stifle defensive ones extremely well. He plays physically with his speed, and if he can capture that more often, he could be a scary player to handle, especially away from the puck. There's good separation skill to go with it, especially under pressure in flashes, but developing this further could make him a nightmare to stop with the puck. He can be a really an exciting player to watch when he gets moving. His explosivity and intensity allows him to close gaps and constantly apply pressure to opponents at all areas of the ice. At the very worst, you're looking at a great energy winger, but there's potential for more.
The Good Part
He seems to play the game simply in a very good way. He's a straight-line player, he plays hard, and when away from the puck makes little cuts that make finding open space much easier. He can be a pain defensively down the middle, and refining that over time will help him develop into an even better power forward. If he spots a passing opportunity, he rarely avoids it. He's unselfish and intelligent with really nice potential considering his age and career trajectory. You know what you're getting with him almost every shift, and it's a valuable piece of any line, even if he may not be a primary point producer in the NHL.
The Not-So Good Part
At times his game I felt his game was a bit too simple. Rounding out his mobility in all directions will help immensely, and if he can fill out his frame to be even stronger, even more resilient, and even more skilled with his hands, he could diversify what he's capable of and unlock his potential that would go hand in hand with his overall approach to the game. He's a player I believe is a bit easy to scout and counter right now, but he's still a tough player to contain. If he can bring a more dynamic ability to control pace and manage his hands and feet a bit better in conjunction, he could be a terrific offensive talent.
Overall
It's hard to find serious flaws in Peterka's game. He's a high percentile player in almost every metric I track that isn't team based. When he was on the ice, he bled shot attempts against, but I can't place too much blame on him considering how good his transitional, passing, and shooting data was. He's quick in a straight line, he plays hard, he prevents breakouts at a rate comparable to Stützle, and he generated more offensive transitions than Stützle did. At the very least, Peterka should be an NHL player with great energy capabilities and could become a fan favorite for his quickness and ability to play physically. Further building his skill and strength, with complementary gains in his overall mobility could make Peterka a real scary two-way player who can chip in offensively. At his best, Peterka was a generator of dangerous offence and underrated defense in a men's league coming out of the Czech junior league last year. He's a promising high energy power forward that should be gone on the first day of the draft but would be an extremely easy high floor pick to make on day 2.
NOTES
Data tracked includes controlled and uncontrolled zone entries and exits the player is involved in, as well as shot attempts, their location, the player's pass attempts, and the percentage of those pass attempts that are directed to high or medium danger areas. The grades referred to in the video are assigned with a number and a letter grade. The number from one through four indicates the general tier of talent, with one being highest, and the letter indicating the consistency around that tier of talent.
Final Rankings: Think - 1C, Move - 2A, Get - 1C, Pass - 1C, Shoot - 2A, Overall - 1C
Click here for all tracked data from every Scouching Report!
https://docs.google.com/spreadsheets/d/1y6dAnYsYQg5f5Zrt0ilo9gR1hfFNIPXl3PuKpubFbrc/edit#gid=664929841