Quinton Byfield - C - Sudbury Wolves - NHL CSS NA2
45GP - 32G+50A - 17.30% G% 44.32%INV - 40.51 NHLeScore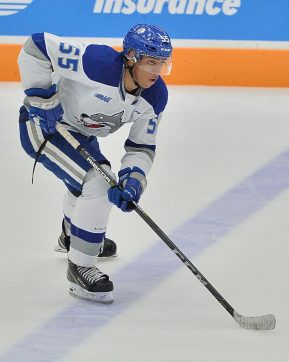 I'll start by getting this out of the way. In terms of potential high impact NHL players, the 2020 NHL Draft is a two horse race between Alexis Lafreniere and Quinton Byfield. Byfield is, in my view, closer to the best player in this year's draft than he is to the 3rd, and frankly I don't believe it's particularly close. Byfield is a big centre who brings a small player's game to the position, and it's something I find endlessly fascinating. Last season I didn't manage to get videos on the highest of high picks in the 2019 Draft, and I won't be making that mistake again. Byfield is a player that I honestly would have a conversation about drafting ahead of Alexis Lafreniere if I'm the New York Rangers. Why? Well, I thought you'd never ask.
If you haven't read the background on my work and approach, please read the embedded article before continuing below.
Once you have read the article, or are familiar with Scouching, here is the full video. Powered by Instat.com
Think
Ah Quinton Byfield. One of the most strangely maligned players in the 2020 NHL Draft. Yes, it would be nice to see him moving his feet like he's 5'9" every shift, but this is a 6'4" centre who anticipates play very well, and when he gets pucks back, can absolutely dance around opponents. He supports teammates in defensive transitions well, using his reach and skill to break up play. He did show a tendency to chase offense before breakouts get going, and he'll need to be more reliable in the DZ. Chasing breakouts before your team can get set can put players out of position, opening up passing lanes, especially for centres.
He also showed a bit of a lack of awareness under very little pressure but considering 71% of his offensive transitions were done with control, this was far from the norm and should be able to be coached out of his game. Byfield is an extremely clever offensive player, especially in the offensive end, able to make plays out of nothing on the back of his strength, agility and skill. He is still a bit of a work in progress, but I think the criticisms of his game are a bit overblown. He does show inconsistencies and things you wish could be cut down, especially away from the puck. He can be careless with his stick, tripping two players at once on one occasion, he can be hasty with his decisions on the puck, chase offense off the puck, and he can be too passive away from the puck, but his reach, offensive skill, power on his feet and playmaking vision are top-notch, and small improvements over the next little while should make him a far more reliable player with and without the puck.
Think Get 
Bad Get 
Move
Now things get interesting. Byfield is a rare case of the power of a big centre, and the skill of a small winger, especially with the puck. He can absolutely dance around the ice with the puck and when he's dialed in, he's nearly impossible to keep track of. There is tremendous power on his frame leads to great explosiveness off his pivots and he can navigate open ice away from the puck tremendously well. This is an excellent puck protector with a ruthless playmaking streak to him. He brushes off opponents like it's nothing with great one-handed determination and puck control. At times with the puck he can be almost impossible to counter with his unpredictability when he's got his hands going.
Even when playing more of a chip and chase game, don't let anyone tell you he's a lazy player, able to close gaps and pin pucks deep in the OZ when control might not be possible. He could skate a bit hunched over, dropping a lot of weight on his front foot, but efficiencies are things that can be worked on. Byfield is a rare case of a big centre with small winger skills and vision. He's strong on his feet, but physical strength isn't what he relies on. He juggles resiliency with skill and speed unlike anyone in the draft.
All over the offensive zone, he can be a major playmaking piece from a variety of areas, while also generating the 4th most COZT/60 and 3rd most OZT/60 of anyone tracked this year. He is also the #3 player I've tracked in offensive offensive blueline transitions, so he's putting in the work necessary to get pucks into the offensive zone. There were inconsistencies here and there, could try to punch through pressure and he could have trouble settling pucks, but far, far more often than not, Byfield is a dazzling player with the puck for someone his size and has all the potential in the world to take over shifts, at least offensively.
Move 
Move Pass 
Move Shot 
Bad Move 
Get
It seems everyone is looking for players that play a "perfect" game, or team's that are "perfect". Full four lines deep, full 200-foot games, never slipping up, never missing reads, etc. I'm not here to say that Byfield is perfect when the puck isn't on his stick, but he certainly isn't unreliable or "bad". He's a big player who doesn't impose himself physically, but his ability to anticipate mistakes by opponents in open ice, combined with his reach make him more than capable enough over my sample when you take his offensive ability into consideration.
He has the agility of a player much smaller than him to evade opponents and laser in on loose pucks and apply pressure. Reading body language going into a board battle to get an inside route to the puck is a sign of defensive intelligence and immediately is able to generate offense out of those encounters. There was often great tenacity on forecheckers and rarely gave up on potential turnovers, and with more strength over the next few years, he could be a very difficult centre to fight through.
He's also a great stick checker in transition, which should also help add years to his career, with physical encounters somewhat secondary. That being said, he's able to get physical if need be. There are reasons to be a bit concerned about his awareness defensively and you definitely wish he would just put in a liiiiittle bit more to get the job done from time to time. He can chase play a little bit, and smaller agile opponents could navigate through his pressure. Many times, he would immediately follow those moments often with parts of the game that are highly positive.
Seeing the forest through the trees in this area and projecting him into the future is imperative. Byfield will definitely will need to learn that pressure should be a constant, but these are things I think players confront one way or the other, and how they adapt if at all could make the difference between Byfield being a true #1 franchise championship winner, and an excellent offensive centre with some shortcomings away from the puck. Similar to Kasper Simontaival, I felt he was a player where pucks bled through him at times, but he was still shutting down control on over 60% of defensive transitions. For a centre, that doesn't strike me as a particularly worrisome set of results with the concerns that are out there in this area. Just trailing defenders usually won't be good enough, but he showed the capability of being relentless, so more consistency here will be necessary, but he has all the potential to get there over time.
Get Pass 
Bad Get 
Pass
While being 11th in D.Pass/60 and 10th in D.Pass% in my tracking, and 47th in PassAtt/60 may not jump off the page, it's how he's generating those results that are so noteworthy. His vision in the OZ and ability to create offense out of pressure is tremendous. Using skill and rotation to open up new passing lanes was a ton of fun to watch. A shooting threat to boot, he can fake shots in dangerous areas and thread passes instead. I felt there were rarely poor passing decisions, but problem solving on the fly after a few options were removed was a bit hit or miss once in a while. Even under pressure, he often finds ways to just get his stick on pucks and move them to linemates, often in dangerous areas. He's just a tremendous playmaker in open ice, under pressure, in full stride, or anything in between. It's simply a fantastic trait of his game that should be the easiest area to translate at an exceptionally high level.
Pass GF 
Shoot
For someone on a 48 goal, and 36 even strength goal pace over 68 games, I would've expected more than the 49th most individual dangerous shot attempts/60, and 60th most HD shot attempts/60. The guy can simply wire it from open ice, however. His strength and skill can navigate him through open ice to get himself into scoring areas, but it would be nice to see this a bit more often. His game does revolve around his playmaking off the boards moving inwards a bit more, but this is a big player who can really move, with a quick release, and no matter where his shot is coming from, could really spook any goaltender.
I'm not sure quite how much this area is going to project at a similar level to where it is now, and it'd be nice to see him using his skill to get himself inside for shooting opportunities, but this is a player who was on the ice for seven 5v5 goals for in my sample, or nearly four per 60 minutes, as a centre with the playmaking streak he has. This is a bit more of a supplementary part of his game at 5v5, but when he gets himself to open space, or simply finds himself 1-on-1 with a goaltender, he can do real damage on his own stick, and if he chooses not to, he fakes shots and tries his passing game efficiently.
The Best Part
The combination of strength on the puck, creativity and skill is unlike anyone else in this year's draft, let alone anyone available at the top end since 2016. He's a powerful skater who can carry pucks up the ice at near the top level in the draft, and control possession as if he were 5'9". It's just such a rare combination of skills that if his development progresses positively at anything close to a standard amount, he could be very scary. On the offensive side, he gets his team control of the puck in the OZ better than anyone I've tracked, and after that point is when he can really take over a shift, which I saw many times.
The Good Part
Byfield's creativity and adaptability under pressure with the puck are just simply awesome. He can make plays out of nothing and generate danger unlike many centres I've tracked. He's deceptive with his offensive tools, can send passes into dangerous areas on his forehand and backhand, and seems to have vision that is rare to find, especially for such a big centre.
The Not-So Good Part
The difference in his play with and without the puck is a bit questionable and lacking consistency. He does take the foot off the gas, overanticipate offensive rushes, and there are times you'd wish he'd put in an extra stride or two to close lanes. It's a legitimate issue, but one that I think is far too much of a focus for his naysayers, and one way or the other, he's going to learn what being a truly dominant centre takes. He's capable of it, but it remains to be seen just how much of a true 200-foot threat he could be at the NHL level.
Overall
To me, Quinton Byfield is a mirror-universe Auston Matthews. Big, strong centre with a ton of skill, but rather than a ruthlessly ridiculous individual scoring ability, Byfield drives offense through passing pucks all over the offensive zone to enable scoring chances for linemates. Where Matthews is a capable playmaker, Byfield is a capable goal scorer, but the criticisms of Byfield feel all too familiar when you hear what's said about Auston Matthews. Matthews needs linemates like Zach Hyman and William Nylander to do a bit more heavy lifting, but that doesn't make Auston Matthews any less valuable. Furthermore, at draft time, Auston Matthews was also 11 months older than Byfield, and had a full year playing professional hockey in Switzerland under his belt. For what Byfield has shown, there's tremendous potential and room to grow his game, even if it means another year in junior.
He doesn't move his feet enough defensively, doesn't use his size enough, yadda yadda yadda, but the proof of the pudding is in the eating. Byfield does a large number of things tremendously well, and while his shortcomings may expose themselves at the next level, he has more than enough talent to learn the lessons required to become a premiere centre. At the end of the day, you're getting a big, strong centre with skill of a player half a foot shorter, with remarkable offensive vision and tremendous offensive transition generation, and he's an August birthday.
If he shows the mental preparedness to confront the issues that may flare up away from the puck in the NHL, I think he could step straight into the league in sheltered minutes on a rebuilding team and learn how to bring his game to the NHL level. Most 125-point pace centres in the OHL can usually stay above water in the NHL, and I think Byfield could be no different. His creativity, skill, and power are exceptionally hard to find at such a high level, and with the right supporting cast, he could be at the worst a very solid offensive centre in a variety of scenarios with the potential to be a truly dominant force down the middle of any NHL team willing to let him play his natural game.
NOTES
Data tracked includes controlled and uncontrolled zone entries and exits the player is involved in, as well as shot attempts, their location, the player's pass attempts, and the percentage of those pass attempts that are directed to high or medium danger areas. The grades referred to in the video are assigned with a number and a letter grade. The number from one through four indicates the general tier of talent, with one being highest, and the letter indicating the consistency around that tier of talent.
Final Ratings: Think - 1D, Move - 1B, Get - 1D, Pass - 1B, Shoot - 1C, Overall - 1B
Click here for all tracked data from every Scouching Report!
https://docs.google.com/spreadsheets/d/1y6dAnYsYQg5f5Zrt0ilo9gR1hfFNIPXl3PuKpubFbrc/edit#gid=664929841