Dennis Schellenberg provides a detailed scouting report of Filip Chytil, currently 42nd by McKeen's. We are providing a free look at what is available online in addition to a download of our 94 page McKeen's 2017 NHL Draft Guide.
Here is his profile the guide. Dennis' detailed breakdown follows. You can learn more about our Draft Guide here
McKeen's 2017 NHL Draft Guide: One of the younger prospects available in the 2017 draft (10 days from being a 2018 eligible), Chytil is one of the more under-the-radar dynamic talents available. He spent the majority of his regular season with Zlin, in the Czech Extraliga, playing against grown men. Although his scoring totals were not overly impressive, only Martin Necas outscored him among U18 players. Secondly, he ended league play with very strong scoring in the relegation round, contributing one goal and one assist, as Zlin maintained their standing in the country's top level.

Although Chytil is still lean, he has a solid frame, suggesting added strength in a few short years. Although his game is still justifiably raw, he displays the entire toolkit on the ice, rating as above average as a skater, shooter, puck handler and for his hockey IQ. When it came time to shine, he continued to impress at both the Five Nations tournament where his smarts and vision stood out, and finished his year with a very strong showing at the WU18 event, with five points in five games wearing the national
colours.

He will play an East-West game when carrying the puck, and it has worked for him thus far in his nascent career. Currently slated to return to Zlin next season, he is also a player to watch in the upcoming CHL Import Draft. Chytil is a relatively long-term project for whichever team calls his name on draft day, but he has high breakout potential.
A note on the 20-80 scale used below. We look at five attributes (skating, shooting, puck skills, hockey IQ and physicality) for skaters and six for goalies (athleticism/quickness, compete/temperament, vision/play reading, technique/style, rebound control and puck handling). Each individual attribute is graded along the 20-80 scales, which includes half-grades. The idea is that a projection of 50 in a given attribute meant that our observer believed that the player could get to roughly NHL average at that attribute at maturity.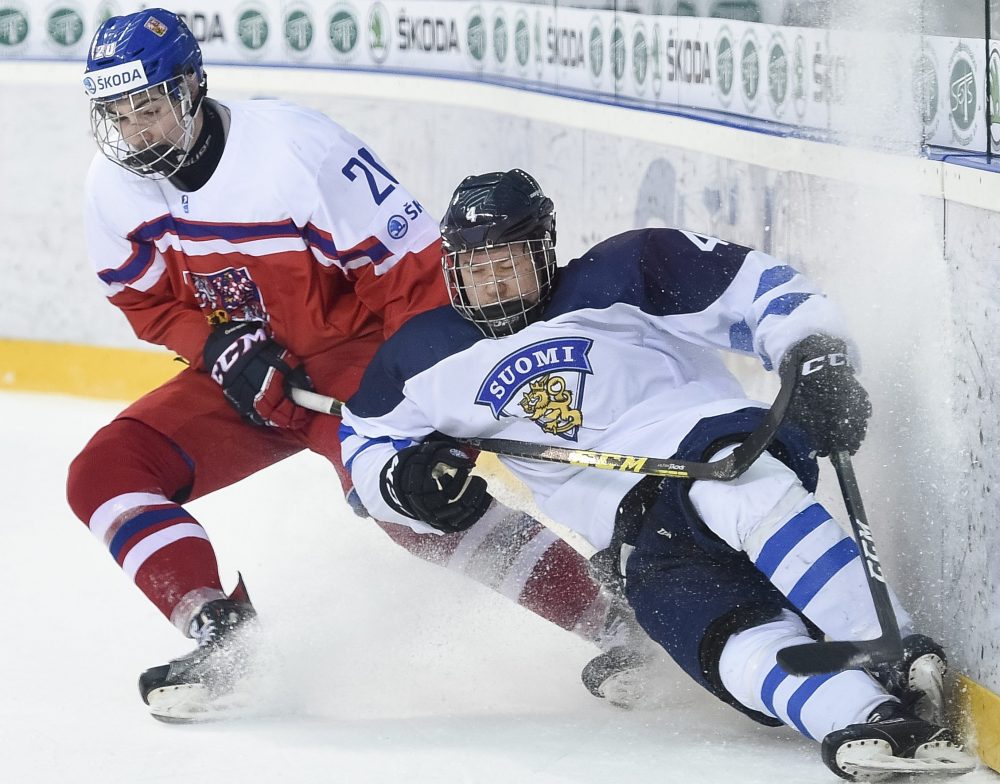 | Filip Chytil | 2017 Draft Eligible |
| --- | --- |
| Position: LW/C, Shoots L | H/W: 6-2", 190 lbs |
| Stats to date (GP-G-A-PTS-PIMS) | HC Zlin U20, Czech U20 (2-0-0-0-0) |
| | HC Zlin, Czech (38-4-4-8-16) |
| | Czech Republic U18, WU18 (5-2-3-5-2) |
Skating: Chytil is an above-average skater. He possesses good top speed and great overall speed. His acceleration is quick and he hits top speed in a hurry. Chytil moves over the ice very smoothly and possesses fluid strides. Grade: 55
Shot: Equipped with an accurate wrist shot, Chytil fires the puck with good velocity as well. Going forward, he needs to shoot the puck a bit more often as he only shoots when he is in a really good position. Grade: 55
Skills: Chytil is a fine puckmover and possesses smooth hands and therefore, fine overall puckhandling abilities. He can also make quick moves with the puck while still maintaining puck control. In tight, he does not get pressured easily and can maneuver the puck through close spaces where there is not much room to escape. Grade: 55
Smarts: Showing good awareness of his teammates, Chytil is a good playmaker who finds his linemates positioned in good scoring areas. He can deal well with pressure when in puck possession and keeps calm with forecheckers attacking him. Although he is no finisher, he is good on rebounds and is often in good position to execute on those. He possesses a decent two-way game and he backchecks, but he sometimes loses track of his opponent defensively and is left floating around in his own zone instead of playing him. Grade: 55
Physicality: Chytil is not the strongest guy at only 6-0" and 180 lbs, however he can play a gritty type of game and does not shy away from getting involved physically. Especially on the boards, Chytil can dig out the puck and take it away from defenders using his active stick and willingness to take on the board battles. Still, he will need to improve his strength more than may be possible to continue this type of game at the next level. Grade: 45
Summary: One thing to keep in mind when talking about Filip Chytil is his age. He is a very late 99-born and is almost one year younger than some other prospects, indicating that there may be more growth in him than in many others in consideration for an early round pick in this draft. He is a scoring winger who possesses good awareness of his linemates. Skating is probably one of his best assets as he is smooth on his skates and shows good overall speed. Puck skills are good as well and he is a fine puckhandler. Chytil has already played 40 games of pro hockey in the Czech Republic this season and should be a player who gets targeted in the second round.