If there is an exception to the across-the-board negative impact of COVID-19 on the world of hockey, it may rest in the USHL. As north of the border, the three leagues of the CHL were in disarray – at best – the USHL, played a fairly "normal" year.
Sure, the league proceeded without the participation of the Madison Capitals (regional COVID restrictions) or the Cedar Rapids Rough Riders (a Derecho huffed and puffed and blew the arena down), but the rest of the league played (an approximately) 54 game schedule with rather few disruptions.
Not only that, but in terms of quality, the league was better than ever, as a number of players who had expected to suit up for Canadian teams – both CHL and Jr. A – were given an opportunity to play for various USHL teams as their regular leagues were delayed indefinitely, or outright cancelled. Those bonus players included some that were drafted already, including Cross Hanas, Bear Hughes, and Danil Gushchin*. Other drafted players came in from the Ivy League schools, who did not play a hockey schedule this year. In addition to the likes of Henry Thrun, Jack Malone, and Austin Wong coming to the USHL after some time in college, others like Sean Farrell and Alex Laferriere, who had intended to start collegiate life this year, were forced to stay back for one more year in the Midwest.
*Gushchin, who had played the previous two seasons with Muskegon, was expected to play in Ontario with Niagara for the 2020-21 season, but with the OHL in permanent statis, he was loaned back to the Lumberjacks, where he put up his best season yet.
And then there were the draft-eligible ringers who unexpectedly joined the league and played so well that they have legitimate first round consideration at the end of it. I am thinking, of course, of Cole Sillinger, who joined Sioux Falls, before it was known when, or if, the WHL would get going, and Ayrton Martino and Jack Bar, who had played in Ontario last year and had been planning on playing in the BCHL this year before Canadian restrictions pushed them to the USHL, with Omaha and Chicago, respectively.
Of course, there were many other unexpected players in the league this year, with those mentioned only scratching the surface of the most famous names.
So, before we preview the postseason, which begins this Friday (Apr. 30), let's pour one out for the six teams that didn't make, and give a word to the top 1-3 draft eligible players from those squads.
Team USA
One point behind Dubuque for the final playoff spot in the Eastern Conference – although far further back via points percentage (.510-.481), the USNTDP team that would have played in the USHL playoffs had they made it would have been the U17 team. The best of that group – Rutger McGroarty, Isaac Howard, Ryan Chesley, Lane Hutson, Charlie Stramel and others – are playing with the U18 team in Texas at the WU18 tournament. No draft eligibles but remember those names for next season.
Youngstown Phantoms
By points percentage, easily the weakest team in the league. The aforementioned Jack Malone, a Vancouver draft pick, was far and away the top performer on the team, which is to be expected from a player with a year at Cornell under his belt. Among first year draft eligibles, Japanese import Yusako Ando was the most notable, although his second year in the league was worse than his first. He can create for others, but he doesn't skate well enough to make up for his slight 5-7" frame. The only other draft eligible who ever made a positive impression on me from this roster was blueliner Austen May. The Providence commit is on the small side, but he is really fleet of foot and shows decent attention to detail off the puck.
Des Moines Buccaneers
Despite the presence of three drafted players – Alex Laferriere (LA), Noah Ellis (Vgk), and Lucas Mercuri (Car), the Buccaneers struggled this year, particularly in terms of putting the puck in the net. The drafted guys were all solid, but too few of the rest of the roster could match their output. Perhaps things would have been different if Paul Davey hadn't of left mid-season for a stint back home in Connecticut. Davey and Scout Truman were the two most notable first time draft eligible on the roster, but neither really put their stamp on the season. If there are to be any Buccaneers drafted this year, they will be among the redraft candidates. To that end, file away the names of Matt Choupani and Remington Koepple. Choupani is a forward who lacks much in the way of physical tools but can play the puck well. Koepple is a goalie who had decent numbers in his first year in the league, although he has only average size and athleticism and he chocked in the BioSteel game, hurting his standing for some.
Lincoln Stars
The Stars went heavy on the ringers partway through the season. Cross Hanas was already mentioned, but he was just one of four players brought in from the WHL Portland Winterhawks, joining Clay Hanas (no relation), Jack O'Brien, and James Stefan, as well as Charles-Alexis Legault from West Kelowna in the BCHL and Michael Mastrodomenico from AAA hockey in Quebec. Simply put, the shuffled team never gelled, and the newcomers couldn't get into the swing of the USHL.
O'Brien was the biggest disappointment. There was some expectation that he could be a high round pick this year, but one goal and six assists in 23 games ended that sentiment. Blueliner Legault didn't hurt his stock too much, as he still has great size and skates well and shoots from his right side. Stefan, son of former first overall pick Patrik Stefan, had enough moments to maybe convince some team to call his name in the late rounds. A kind word also to big bruising winger Gleb Veremeyev. Veremeyev isn't an offensive threat, but one of the top PIM players in the league is a threat, nonetheless. The USHL is not a very physical league, and when a player has that size and plays with that snarl, he sometimes gets drafted, such as we saw with Nick Capone last year and Martin Pospisil in 2018.
Waterloo Black Hawks
Generally contenders, the Black Hawks find themselves out of the playoffs for the first time since 2014-15, and only the second time in 14 seasons for which there were playoffs. Fielding one of the smaller and least experienced lineups in the league, this just wasn't their year. Their one drafted player, Toronto's Wyatt Schingoethe, regressed heavily from his strong draft year. The team cycled through goalies, with three seeing significant minutes. Remember the name of Emmett Croteau, the best performing of their netminders, as he won't be draft eligible until 2022.
Among players eligible this year, the most impressive were second time eligible defenseman Cooper Wylie, a USHL rookie, who can play the puck and skate well enough to make his ornery game effective, if not spectacular. He could be drafted. On the other hand, David Gucciardi, acquired in an early season trade from Youngstown, will be drafted. His game is raw, and his mistakes are often critical, but he has tools, and his instincts are good enough to think he can be a good one if he relies on his instincts all the time.
Sioux Falls Stampede
The Western Conference bottom feeders are a mystery. In the last USHL playoffs, the Stampede took home the title. In addition to their usual solid team, this year they brought in the highest profile ringer in Cole Sillinger, who didn't disappoint, with a team leading 46 points despite only playing in 31 games. He is a sniper with an NHL style game who will be back in the WHL next year. The USHL rarely sees a player of his caliber, whether talking about skill or about reading the game, yet he couldn't drag the Stampede upwards on his own. I would be surprised if he isn't the first player from this year's USH: crop to play in the NHL.
Defender Brent Johnson was one of the better draft eligible defenders in the league as well. A power play specialist with good wheels and an ornery side, his season ended right before the BioSteel All American Game due to a shoulder injury, but could hear his name called in the 50-80 range of the draft if his medicals hold up.
Although not as high profile, I also have time for second time eligible, defenseman Nate Schweitzer, who can do a lot well, but nothing spectacularly, and winger Mike Citara, who can skate and shoot. I don't expect either to be drafted, but I wouldn't be surprised if either was.
The Playoffs
The format this year is simple. The top four teams from each conference made it in. All series are best-of-threes. Top seed plays the fourth seed, and second seed plays the third seed. All games are hosted by the higher seed. One series per weekend until one team lifts the Clark Cup. Let's go!
Western Conference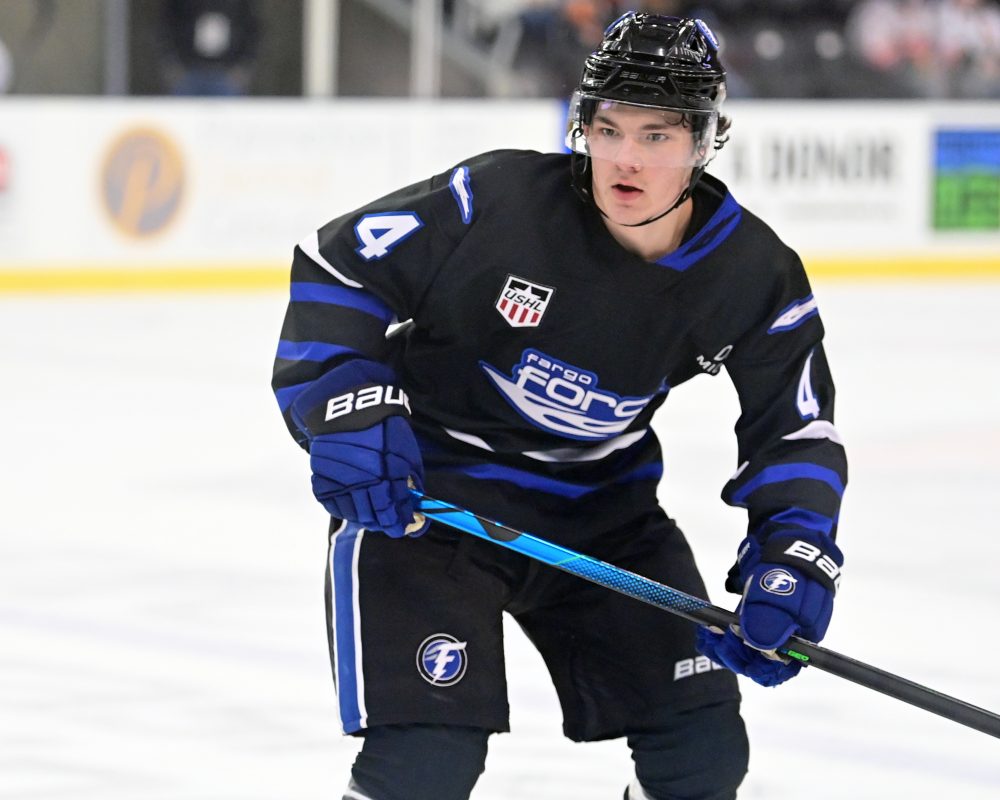 #1 Tri-City Storm vs #4 Fargo Force
The Western Conference was incredibly tight at the top with the playoff picture not being settled until the final weekend of the regular season. The points percentage difference between Tri-City and Fargo (32 percentage points) was less than between Fargo and fifth place Des Moines (34 percentage points).
Fargo was the third best defensive team in the league, although Tri-City was the best at keeping the puck out of its net. Neither team is known for filling their opponents' nets either, but both had generally done enough to walk away with points more often than not. In fact, they are quite evenly matched. The difference in these three games (outside of home ice advantage) is likely to rest in special teams. Fargo was mediocre on both the power play and the penalty kill, while the Storm were strong with the man advantage and almost impregnable on the penalty kill, leading the league with a breathtaking 88.3% kill rate. To Fargo's credit, they have played far more of their season at 5-on-5 than Tri-City. And they will have to do that again this weekend to keep their season alive.
Beyond the expected close games, another reason to watch this series is the head-to-head matchup between two very interesting and talented draft eligibles. On Fargo, that would be Tristan Broz, a two-way center with a good motor and the vision to be a power play weapon. The Minnesota commit ran away with the scoring lead on his team. His numbers would be even more impressive if he had more talented teammates to play with. On Tri-City, the man of the hour is Matthew Knies. Knies started his season painfully slow, but ended it on fire, with 20 points in his final 11 games. Knies has heavier feet, but a very mature build and at his best, can take over the game. He will join Broz with the Golden Gophers next year.
Knies and Broz are not the only intriguing draft eligible players in this series. In fact, Fargo blueliner Jack Peart has a very good chance to be the highest drafted player in this series. The St. Cloud State commit split his season between Fargo and Grand Rapids High School (Mn). He is a good skater with a very strong first few steps, who plays with preternatural poise. He controls the puck like a much older player and plays a strong 200-foot game. Had Peart spent the entire season in Fargo, the final standings may have looked very different. For Fargo, also keep an eye on Aaron Huglen, a Buffalo draft pick who returned from over a full year on the sidelines after around a third of this season was done and has played a skilled game ever since.
On Tri-City, Knies is joined by a pair of intriguing draft eligible players in Hunter Strand and Carter Mazur, the latter of whom is a second time eligible player. Strand is a USNTDP alum, whose late birthday prevented him from being drafted last year. The Alaska native is a great skater and plays a patient game with the puck. Mazur has more of an East-West style game, helped along by plus edges. He can play the pest role as well and retains utility off the puck. Strand and Mazur both outscored Knies this year, but Knies already had a big reputation through his big pre-draft year and his run to end the year keeps him top of mind.
Prediction: Fargo in three. A mild upset to be sure. The return of Peart helps Fargo just as much as the loss of top blueliner Guillaume Richard hurts Tri-City. Richard is currently representing Team Canada at the WU18s in Texas. Neither team has stellar goaltending, but Fargo's Brennan Boynton should be able to roughly match Tri-City's Todd Scott.
#2 Omaha Lancers vs #3 Sioux City Musketeers
Both Omaha and Sioux City put up 63 points in 53 games, but their paths to getting there could scarcely have been more different. Consider that Omaha's goal differential was a mediocre +13, while Sioux City outscored their opponents on aggregate by 35 goals, with the league's best – by far – defense.
The two teams are both led by high end goaltending, each starting one of the three drafted netminders in the league. For Sioux City, that man is the Swiss Akira Schmid, a New Jersey prospect, while Montreal draftee Jakob Dobes, from Czechia, mans the pipes for Omaha. Dobes was a true workhorse for the Lancers, playing in 47 of the team's 53 games, while Schmid played roughly two-third of the time for Sioux City, as his back up was more reliable.
Schmid will need to be at his best in this series, however, as Omaha has one of the biggest offensive weapons in the league at their disposal in Ayrton Martino. Martino joined the club shortly after the calendar flipped into 2021 and took the league by storm, with the fifth best points-per-game ratio in the USHL (1.47). A great skater with a fantastic shot, Martino did not let his slight frame prevent him from dominating, and his playmaking game is just as strong as his finishing ability. If Sioux City can shut Martino down, the Lancers don't have too many other weapons at their disposal as their secondary scoring is largely in the hands of USHL veterans like Ryan Lautenbach, Nolan Renwick and Zach Dubinsky. The Omaha roster is one of the oldest in the league.
Sioux City, on the other hand, has a few more weapons at its disposal. Detroit draft pick Chase Bradley and New Jersey pick Ethan Edwards were both in the team's top four in scoring, while Buffalo pick Matteo Costantini showed well after joining the league mid-season. Although the Musketeers don't have a draft eligible player the likes of Martino, don't sleep on defenseman Shai Buium. A USHL rookie out of the Shattuck-St. Mary's program, he combines quick hands with smooth, if not quick, feet. He plays a strong two-way game and if he were a better skater (he isn't bad, but he isn't great), we would be hearing more people call for him as a first round type of talent. As is, he has enough raw skill to dream on a big, late-blooming future. I am also keeping an eye on redraft candidates defenseman Daniel Laatsch and center Justin Hryckowian. Laatsch is a USNTDP alum who has great size and some burgeoning skill, but is still raw, while Hryckowian has a fun skill game, but an injury-filled history and a sub-optimal build.
Prediction: Sioux City's depth overcomes Martino's solo skill in three games.
Western Conference Final Prediction: Sioux City over Fargo in three games. Sioux City is just too difficult to score against and has enough offensive weapons to get the job done.
Eastern Conference
#1 Chicago Steel vs 
#4 Dubuque Fighting Saints
By all accounts, this should be a washout. Chicago is, by great lengths, the top team in the USHL. They enter the postseason on an eight-game undefeated streak, and won 38 of 54 games this year, often by wide margins. Their goaltending has been shoddy at times, but far more often than not, they were able to outscore their troubles and their total of 265 goals scored was 24 more than the runners-up. Dubuque, on the other hand, won only 24 of 51 games, securing the final playoff spot in the east thanks to a win in their final game coupled with a loss from the U17 USNTDP squad.
If Dubuque is to have a hope in this series, look to their defensive players. Goalie Lukas Parik, a Los Angeles draft pick, struggled since joining the team, in late-January from the Czech second division, but shut out Green Bay in his final game, reminding us of what he is capable. On the blueline, fellow LA pick Braden Doyle teams up with Anaheim draft pick Henry Thrun to give the Fighting Saints a pair of weapons. Up front, Dubuque has a balanced attack, but the man to watch is Robert Cronin. While too old to be drafted this year Cronin is a late bloomer with speed and skill who will be a good follow next year once he joins the University of New Hampshire. The boy to watch, on the other hand, is Matthew Savoie. The 17-year-old is a 2022 draft eligible, who should have been playing in the WHL, but the uncertainty in that league led him to Dubuque, where he immediately played a central, and at time dominating, role. He's going to be really fun to watch next year.
Looking at draft eligibles for this summer, keep your eyes on Connor Kurth and Andrei Buyalsky. Buylasky is actually the same age (born three days later) as Cronin, but as he is considered a foreign player (this is his first season in North America), the Kazakhstani forward is draft eligible while the American Cronin is not. Buyalsky is an impressive skater with impressive finishing ability. Kurth, on the other hand, has no particular big attributes to his game, but he finds a way to put up good numbers. He has a very stocky build but moves well enough regardless.
Moving on to Chicago, almost every skater on the roster is worthy of mention. Start with Montreal draft pick Sean Farrell, a USNTDP alum who would have been with Harvard this season had the Crimson actually played. Instead, he put up a breathtaking 101-point season for the Steel. His playmaking ability is simply unfair to most opponents on most nights. Then there is Matthew Coronato, a likely first round pick, who scored 48 goals in 51 games. Sure, it helps to have Farrell playing on your team, but the two actually rarely played together at even strength. Coronato is an offensive dynamo, who is content to cycle on his own for multiple full loops of the offensive end before he sees a seam to exploit.
Then there is Jack Bar, a late add to the roster from the BCHL. After a brief period acclimating to the league, he began to dominate. The defenseman likes to get deep into the offensive zone but is also a physical and committed defender. He has some first round upside. Of course, I also have to mention Mackie Samoskevich, who at one time was seen as a better draft prospect than Coronato. Samoskevich struggled somewhat after a midseason injury but is another gifted playmaker and a fantastic skater to boot.
I don't want to get into the weeds too much, but I also expect Josh Doan (son of Shane), Ryan Ufko, and Jackson Blake to be drafted this summer, and Jack Harvey being drafted wouldn't surprise me either. Anaheim draft pick Ian Moore has been impressive in his first season in the USHL, and 2023(!!) eligible forward Adam Fantilli is a burgeoning superstar. As good as everyone else already mentioned on this roster is, Fantilli's upside is the highest. I am talking top three in the draft upside.
Prediction: Chicago in two, barring a complete breakdown in net. Chicago in three if the goalies stumble.
#2 Muskegon Lumberjacks vs #3 Green Bay Gamblers
A testament to how tight the West is, the Muskegon-Green Bay series is the second most lopsided duel after Chicago-Dubuque, with .040 percentage points separating the Lumberjacks and the Gamblers. Muskegon plays an up-tempo, high-event game with red lights going off at both ends. Green Bay is best when they keep goals to a minimum, and actually ended the season with the fewest goals allowed in the conference.
Green Bay's chances are led by a pair of Boston Bruins' draft picks in defender Mason Lohrei and center Jake Schmaltz. The latter is a two-way forward, who after three seasons in the USHL, has figured out how to be a factor offensively. He does a lot of little things well but lacks any dynamic elements. Lohrei was a surprise second rounder last season but has grown his game even more this year. He is big, skates very well, has a big point shot and plays a tough game at all ends. The Gamblers will go as far as he can take them. Vancouver draft pick Jackson Kunz and Vegas pick Jackson Hallum are also on the roster, and while both have shown the ability to provide secondary offense, neither can make things happen on their own. 2022 eligible Ryan Greene is an interesting player, but if there is a wild card in Green Bay, it is Camden Thiesing. The Tennessee native combines skill with grit, finishing third in the league in PIMs. He will work to make things happen on his own, and when he stays out of the penalty box, he is dangerous.
Led by San Jose draft pick Danil Gushchin, Muskegon is incredibly entertaining. Gushchin is a dynamo, who is not the most consistent player, but when he is involved and engaged, is one of the top handful of forwards in the league. He is joined by a deep roster of talented players, a few of whom should be drafted this summer, many of those in their second year of eligibility. The best of that secondary bunch is center Cameron Berg. Berg finished last year hot after a slow start and didn't miss a beat coming into this year. He has a high-end wrist shot and knows how to create space for himself to rip one off. Winger Quinn Hutson is another second-year eligible forward who made waves this year. The type of player to get to the right spot at the right time, he knows how to finish what his linemates create. On the blueline, there are a trio to watch. The offensive blueline is Jacob Guevin, a power play specialist, whose production overshadows his average tools. Alex Gagne and Hank Kempf are bigger, more physical blueliners who make life difficult for attacking forwards. I could see all three drafted this summer.
Prediction: Muskegon in three games.
Eastern Conference Final prediction: Chicago in three games over Muskegon. This would be an immensely entertaining series.
Clark Cup Final Prediction: Chicago over Sioux City in three games. It's really hard to bet against the Steel this year.