After another exciting season in the Dub it took one final game to finalize this year's playoffs. The Kelowna Rockets and Kamloops Blazers finish the season tied forcing a one-game playoff, the seventh in WHL history, to move on and play the Victoria Royals.

The Blazers made up a seven-point deficit in the last week and a half of the season, going 5-0-1 to tie Kelowna and earn a home tie-breaker game. They came in riding some momentum and sported a 6-3-1 record against the visiting Rockets this season. The Blazers were led by 16-year-old rookie goaltender Dylan Garand, who put aside 27 out of 28 shots, and forwards Connor Zary, Zane Franklin, Brody Stuart, and Captain Jermaine Loewen to earn their biggest win of the season. Next year's Memorial Cup hosts have some work to do, as this is only the second time in the Rockets tenure that they have missed the playoffs.

The Prince Albert Raiders were far and away the top team in the Dub this year finishing with a 54-10-2-2 record for a league leading 112 points. The Vancouver Giants finished with the second-best record after going on a real tear in the last quarter of the season, as they surpassed the Everett Silvertips for the best record out of the BC and US divisions erasing a 16-point deficit.  The Edmonton Oil Kings finished the season as the hottest team down the stretch winning their last 10 games to edge out the Lethbridge Hurricanes by two points for the division title.

As the quest to represent the WHL in this year's MasterCard Memorial Cup begins, the Western Conference matchups look like this:
Western Conference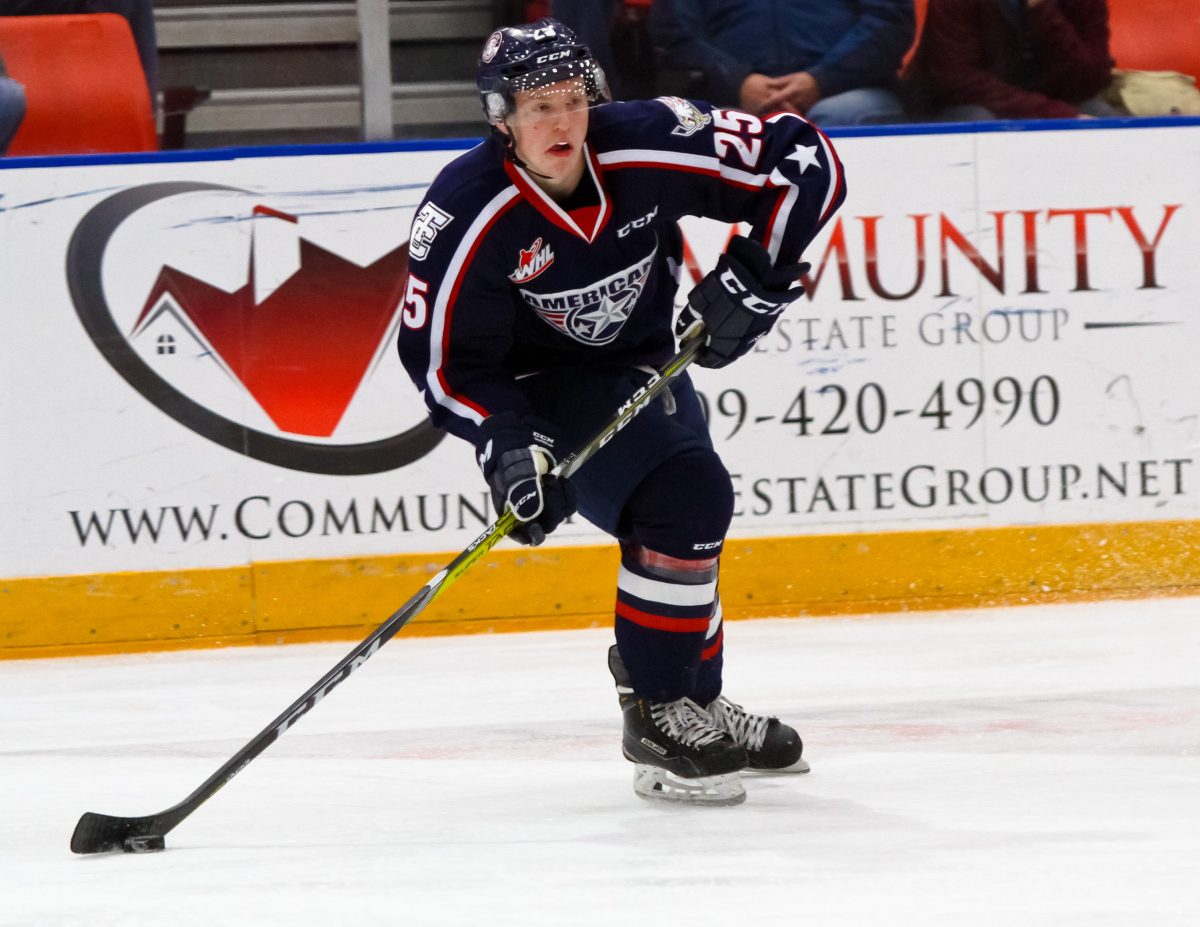 Now, to the US division, which has really stepped up the past few years, as these clubs have much huge strides are now one of the best divisions in the WHL. Let's start with the division leading Everett Silvertips, who finished with a record of 47-16-2-3, good for 99 points and another division win. They face off against the Tri-City Americans, who have been dismal down the stretch, going 1-6-3 to finish off the season.
Despite the 12-point differential between these two teams, and the rough finish by Tri-City, the Silvertips bested the Americans by winning five of the eight meetings against them in relatively close games. Everett is hoping that Washington Capitals pick Riley Sutter (14-27-41) will be ready to go for the playoff, after sustaining a lower body injury back in December, keeping him off the ice for most of the season. He has recently been skating on his own accord and getting ready. If he won't be able to go, the Silvertips will be led by the Minnesota Wild draft pick Conor Dewar (36-45-81), who led the team in scoring and has been great all season for Everett. He will be helped out by Bryce Kindopp (39-34-73), Zack Andrusiak (38-26-64) who was acquired midway through the season from the Seattle Thunderbirds and had 25 points in 29 games, and Max Patterson (14-25-39) who was also picked up halfway through the season from the Swift Current Broncos.
Tri-City will rely on Parker AuCoin (42-42-84) who has been their offensive workhorse this season, along with Anaheim Ducks pick Kyle Olson (21-49-70), Nolan Yaremko (28-38-66), Riley Sawchuk (21-33-54) , and rookie Krystof Harabik (21-30-51) to crack the tough Silvertips defence and put some pucks in the net.
Defensively, the Silvertips are almost a blueprint or model for success, as they once again had the fewest goals against them. The blue line is bolstered by Philadelphia Flyers prospect Wyatte Wylie (11-36-47), Jake Christianson (12-32-44), and draft-eligible Gianni Fairbrother (10-26-36). Tri-City picked up Aaron Hyman (10-40-50) in a trade earlier this season with the Regina Pats, and he will log most of the minutes for them. Alongside of him will be rookie Samuel Stewart (0-18-18), and Domm Schmiemann (3-12-15) who will be relied upon to keep things organized in their own end.
We have a good matchup in goal between Dustin Wolf (41-15-2-2) of the Silvertips, and Beck Warm (32-23-5) of the Americans. Wolf replaced parting goaltender Carter Hart as he made his way to the Philadelphia Flyers, and in all honesty, has stepped in and has not missed a beat. The Silvertips have a really good system going, and the numbers that Wolf has put up, are equally impressive if not better than those of Hart. Wolf boast a fabulous 1.69 GAA, and a whopping save percentage of 0.936%, and adding seven shutouts to the process.
Warm on the other end, put up a goals against of 2.94 and a save percentage of 0.916%. Both goaltenders have played well against the other this season and were equally impressive. Wolf shutout the Americans twice in the last three games against Tri-City and allowed only one goal in the other game. While Warm has been more than shelled by the Silvertips this season, as he was peppered over and over the 8-game series against Everett, posting a 2.41 GAA and a smoking hot 0.941 save percentage.
This should be a low scoring series in which the goaltenders do battle to put their team over the top. The Silvertips should have their top centre back in the fold as Sutter gets closer and closer to a return. They also went out and added an abundance of experience, as they added Max Patterson, Sahvan Chair, Artyum Minulin, from last year's WHL Championship Swift Current Broncos team, and Robbie Holmes of the Regina Pats, all who have played in last year's Memorial Cup. The Silvertips are really working hard as they keep getting closer and closer to winning the WHL's Ed Chynoweth Cup. Will this be the year? The Americans seem to have trouble putting the puck in the net against Everett and will have to overcome that to have a chance in this series as Everett is a stingy club who doesn't allow many goals.
Pick - Silvertips in 6
We have one of the best matchups in this year's playoffs as the Spokane Chiefs and Portland Winter Hawks square off in an evenly matched series, and the regular season proves just that.  Spokane took the regular season series 3-2-0-1 outscoring the Hawks by a 29-27 margin. Spokane enters the playoffs on a 3-game win streak, and an 8-2 run at the end, while Portland lost their last two games, and went four and six down the stretch.
Spokane has more balanced scoring in their lineup as Riley Woods (29-46-75) led them. He will be joined up front by LA Kings prospect Jaret Anderson-Dolan (20-23-43), who only played in 32 games for the Chiefs. Eli Zummack (15-53-68), Jake McGrew (31-23-54), draft eligible Luke Toporowski (21-28-49), and rookie Adam Beckman (32-30-62) who has been more than impressive this season, will round out the attack for Spokane.
Portland has the dynamic duo of Joachim Blichfeld (53-61-114), and Cody Glass (15-54-69) to lead their charge. Blichfeld, who went undrafted but inked a deal with the San Jose Sharks, led the league in both scoring (with 114 points) and goals (53), as he tied Tristan Langan of the Moose Jaw Warriors for the goal lead. Vegas Golden Knights selection Glass, helped Blichfeld, as they were more than dominate this season when together, and dangerous every time they stepped on the ice. Glass has missed a substantial part of the season with an injury, and the Hawks hope that he will be back and ready to play as they are going to need him. Alongside of them, Jake Gricius (27-34-61), draft-eligible Reece Newkirk (23-36-59), and Josh Paterson (24-30-54), acquired in a trade with the Saskatoon Blades, will provide support and secondary scoring.
The Chiefs have the WHL's top defensemen this season in Ty Smith (7-62-69) to lead them. Maple Leafs prospect Filip Kral (10-26-36), and Nolan Reid (17-34-51) will be counted on to keep Blichfeld and Glass in check. Jared Freadrich (15-33-48) was the top producing defencemen on this team this year, and draft eligible players in Clay Hanus (8-19-27)  , and Brendan DeJong (7-20-27) playing well, this should be a close one.
In goal, Bailey Brkin (27-11-1) backstops the Chiefs with his 2.75 GAA and 0.914 save percentage, while it looks like Joel Hofer who went 9-8 for Portland with a 3.18 GAA and 0.911 save percentage will lead the Hawks.
This will be one of those series that can go either way, as these teams are evenly matched in most aspects. With only a one point difference in the standings, and the even record between them this season, you could almost flip a coin to see. Both teams can score, both have NHL quality players in Anderson-Dolan and Glass, both have a nice balanced scoring system, and whichever team can withstand the least amount penalties, should get the edge.
There are game breakers on both sides, but I expect Ty Smith to have a big impact on this series and help his team to the next round. If Playmaking centre Cody Glass can't lace them up, that would be a big blow to his team, as he is a difference maker. If the Chiefs defence and goaltending can keep Blichfeld and Glass at bay, then the Chiefs should have no problems. Goaltending will be another key in this series, as will who wins the special teams battle.
Pick - Chiefs in 7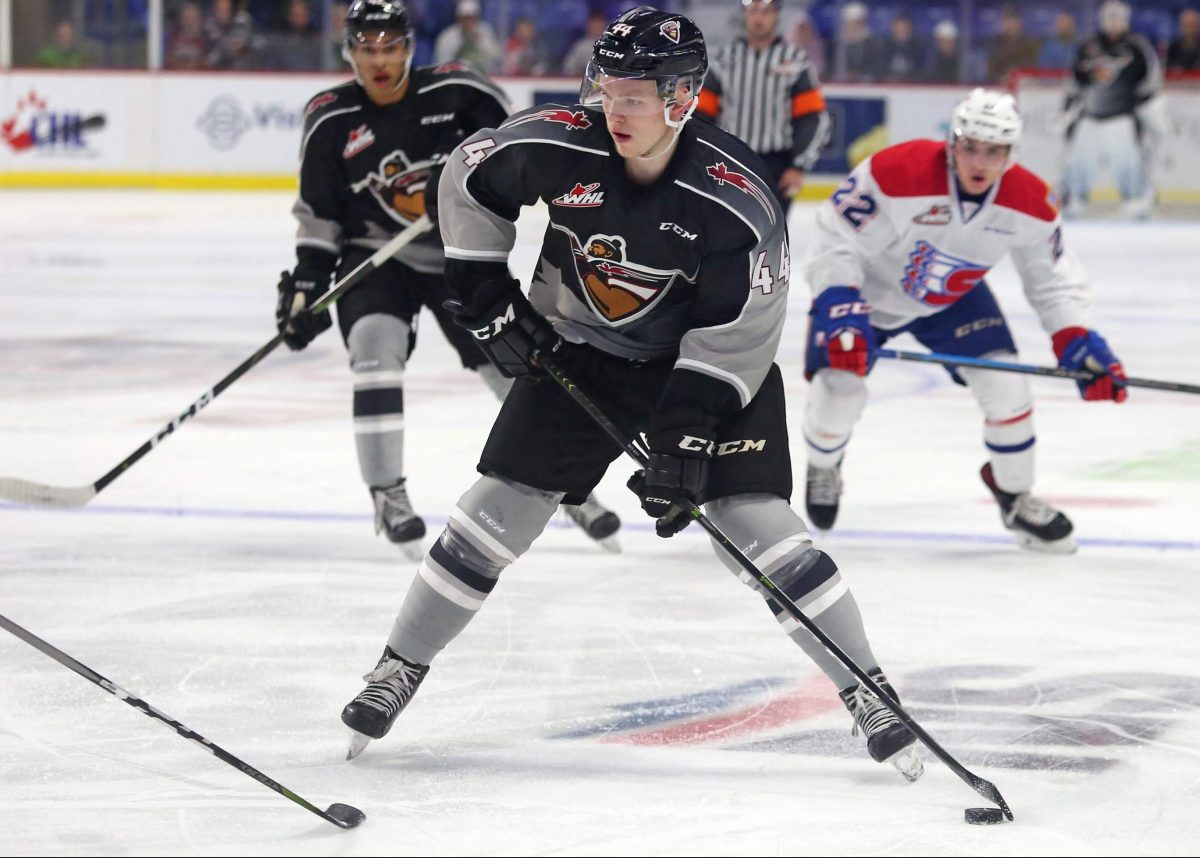 Down to the BC Division where we were graced with a tie breaking play in game to kick off the playoffs between Kamloops and Kelowna. But let's start with the division leading Vancouver Giants, who went on a run in 2019 to erase a 16-point Silvertips lead to overtake them as the Western Conference Champions, finishing second overall in the WHL standings. They now get ready to face the Seattle Thunderbirds in their first-round matchup. The season series between these two teams looks fairly equal on paper and stats; 2-2 records, both teams scoring 11 goals, and everything that should set you up to believe there is an upset story in the making.
Seattle finished with a 7-1-1-1 record while riding a winning streak of three games. The Giants go in to this year's playoffs with an 8-1-1 record to finish, while sporting a 3-0-1 streak. So yes, we look even again. The T-birds and Giants finished 9th and 11th respectively in goals scored, but that's where things seem to end in similarities.
The Giants finished second overall and boast a very good hockey club. Their forward group is led by Davis Koch (28-50-78), Calgary Flames prospect Milos Roman (27-33-60), recent acquisition Jadon Joseph (22-31-53) who came over from Lethbridge and managed to carve out 28 points in 32 games, and rookie Justin Sourdif (23-23-46). Seattle's forward group is led by Matthew Wedman (40-37-77), Noah Philp (26-49-75), Nolan Volcan (27-30-57), Andrej Kukuca (25-32-57), Henrik Rybinski (8-32-40) who came over from the Medicine Hat tigers and put up 35 points in 33 games.
Defensively, the Giants have a phenomenal blue line, led by arguably the best draft eligible defender for this year Byram Bowen (26-45-71) who scored 26 goals, and will be sure to see his name go early at this year's draft right there in his back yard of Vancouver. Dylan Plouffe (8-27-35), and Washington Capitals prospect Alex Kannok Leipert (5-14-19) will help anchor up the blue line and support their tight system and goaltenders. Seattle also has some nice defenders, Montreal selection Jarrett Tyszka (8-22-30), draft eligible prospect Jake Lee (3-21-24), and rookie Simon Kubicek (9-19-28) will be by their goalies' side.
In net, the Giants have arguably the best tandem going in David Tendeck (24-10-2-1), and Trent Miner (24-5-1-1). Both goalies finished near the top in most categories, and basically split games all season. Miner shows a GAA at 1.98 with a save percentage of 0.924% with three shutouts, while Tendeck has a 2.48 and a 0.911 save percentage. Seattle has two rookie goalies that they have been relying on. Roddy Ross (16-5-1-2) has a 2.76 GAA and a 0.919 save percentage, and his counterpart Cole Scweibius had a 3.89 GAA and 88.6 % save percentage.
The offence provided by both clubs are pretty close, but Vancouver has dominated with special teams, and seem to have much more depth than the T-Birds. Their defence and goaltending are outstanding, and they seem to have more difference makers. The Giants also lost twice to Seattle, both early in the season, and seemed to have turned it on after Christmas in which they defeated Seattle twice in that span, most recently a 5-1 drubbing near the end of the season. There is no reason to think that this dominance won't continue, as the Giants seem primed and ready to roll.
Pick - Giants in 5
Finally……let's get to the Victoria Royals and Kamloops Blazers, which should be another fun series to watch. These teams come in to this playoff matchup with Victoria taking the regular season series 5-3-0-1, with most of the games being close. That saying……the Blazers did play playoff hockey down the stretch as they battled their way in to the last playoff spot and just refused to be denied. The Royals have been in a comfortable spot for some time now, as they were well below the Giants yet far enough above Kelowna and Kamloops not to worry, so they have been in coast mode for a bit.
The Royals have been without some of their key players and leaders for a period of time now as they have missed leading scorer Kaid Oliver (27-22-49), and power forward Kody McDonald (20-22-42) who are both out indefinitely with upper body injuriesand would be welcome additions to the roster. Meanwhile, the Royals are led by D-Jay Jerome (23-19-42), import player Igor Martynov (11-31-42) to provide offence.
Kamloops has been carried by Zane Franklin (28-40-68), and Connor Zary (24-43-67). Orren Centazzo (18-33-51), and Dallas Stars prospect and Captain Jermaine Loewen (28-18-46) have also been contributing to help this club with its push. Scott Walford (9-38-47), Ralph Jarrett (6-9-15), Mitchell Prowse (3-18-21), and Jameson Murray (3-16-19) will all have to pitch in to make life easier for net minder Griffin Outhouse with the lack scoring up front the Royals. Rookie Quinn Schmeimann (5-23-28), Luke Zazula (3-24-27), and Montana Onyebuchi (5-15-20) will all be very active and get lots of play in this series.
In goal, Griffin Outhouse (27-16-1) has been great for the Royals, with a 2.81 GAA and a 0.913 save percentage. He has only played two-thirds of a season for the Royals, and they hope that he is well rested for they playoff push. He will have to come up big for them to move on especially without two of their leading scorers. Blazers starting goalie, and Vegas Golden Knights prospect Dylan Ferguson (17-24-4) has been out injured for much of this playoff run, but has received a clean bill of health to return. A tough decision will have to be made as the Blazers have ridden the coat tail of 16-year-old rookie (and Victoria native) goalie Dylan Garand (11-7-2-1), who has been lights out for them. Garand played down the stretch as a clutch performer going 6-0-1, with an excellent 1.93 GAA and a 0.930 save percentage.
This series will be close to the end and will ultimately comedown to a goaltending duel once again. Which goalie will get the nod for the Blazers? Will they ride the hot hand? Injuries will play a big part in this, especially if Victoria does not get their leaders back. The Blazers come in to this with confidence and swagger after finishing the season 5-0-1, and then defeating the Kelowna Rockets in the tie breaker game. They also defeated the Royals in the last three meetings they had, including 6-1 and 8-0 drubbings. They will come out with lots of energy, and really push the Royals, who come in to these playoffs going 4-5-1. Outhouse and the Royals defence will be pressed and will need a complete effort to withstand the push from the resilient Blazers, who are riding a wave of momentum.
Pick - Blazers in 6
LINK TO EASTERN CONFERENCE PREVIEW HERE