After another exciting season in the Dub it took one final game to finalize this year's playoffs. The Kelowna Rockets and Kamloops Blazers finish the season tied forcing a one-game playoff, the seventh in WHL history, to move on and play the Victoria Royals.

The Blazers made up a seven-point deficit in the last week and a half of the season, going 5-0-1 to tie Kelowna and earn a home tie-breaker game. They came in riding some momentum and sported a 6-3-1 record against the visiting Rockets this season. The Blazers were led by 16-year-old rookie goaltender Dylan Garand, who put aside 27 out of 28 shots, and forwards Connor Zary, Zane Franklin, Brody Stuart, and Captain Jermaine Loewen to earn their biggest win of the season. Next year's Memorial Cup hosts have some work to do, as this is only the second time in the Rockets tenure that they have missed the playoffs.

The Prince Albert Raiders were far and away the top team in the Dub this year finishing with a 54-10-2-2 record for a league leading 112 points. The Vancouver Giants finished with the second-best record after going on a real tear in the last quarter of the season, as they surpassed the Everett Silvertips for the best record out of the BC and US divisions erasing a 16-point deficit.  The Edmonton Oil Kings finished the season as the hottest team down the stretch winning their last 10 games to edge out the Lethbridge Hurricanes by two points for the division title.

As the quest to represent the WHL in this year's MasterCard Memorial Cup begins, the Eastern Conference matchups look like this:
Eastern Conference
The top seeded Prince Albert Raiders open their playoff series against the Red Deer Rebels boasting the best overall record, and head in to the postseason with a 7-2-1 record, where the Rebels stumbled in with a 4-5-1 record down the stretch finishing with 33 wins and 72 points. These teams played four times this season, with the Raiders taking three of the four games, losing only their first meeting of the season in Red Deer. All four games were decided by one goal, including a 2-1 shootout win by the Raiders in their most recent game played in Prince Albert.
The Raiders led the league in goals scored and finished the season with the second-best goals against. They are loaded up front with Brett Leason (36-53-89), San Jose prospect Noah Gregor (43-45-88), Montreal prospect Cole Fonstad (29-44-73), Ottawa prospect Kelly Parker (35-32-67), and Dante Hounen (29-38-67) who was acquired from the Victoria Royals and put up 31 points in 28 games with the Raiders.
The Rebels are led by Buffalo pick Brandon Hagel (41-61-102), Reece Johnson (27-26-53), and a couple of acquisitions in Cameron Hausinger (21-33-54) who put 37 points in 40 games, and Dallas pick Brett Davis (20-30-50) who produced 31 points in 41 games. On the back end, the Raiders are more than solid with Brayden Pachal (15-36-51) with 51 sporting an amazing +76, his partner Zach Hayes (3-24-27) with an equally impressive +71, Sergei Sapego (10-33-43) with a +42, and Max Martin (6-35-41) showing a +45. They have Washington Capitals 2018 first round selection Alexei Alexeyev with 43 points in 49 games, who is dealing with something but should be available, and Dawson Barteaux (7-27-34) to work their blue line.
In goal, Ian Scott has had a stellar season for the Raiders, going 38-8-1-2 with a 1.83 GAA, and a save percentage of 0.932 posting eight shutouts. The Rebels are back stopped by Ethan Anders 28-22-4-1 with a 3.09 GAA and a save percentage of 0.907 and two shutouts.
The Raiders seem to have the edge in most of the categories, but every game has been extremely close, and Red Deer was a top team last year, and anything can happen in the playoffs.
Pick - Raiders in 5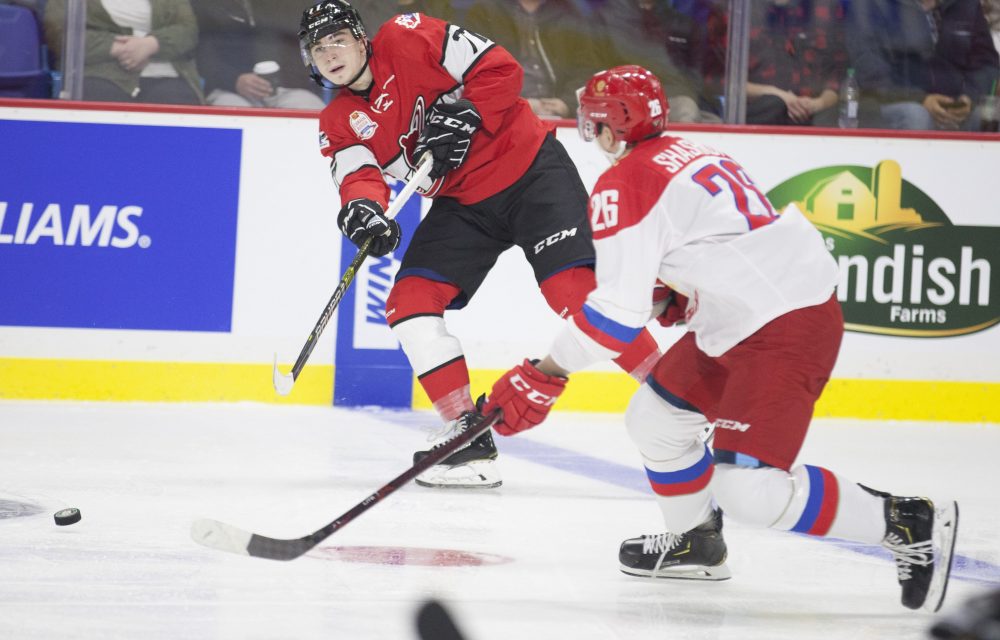 The Saskatoon Blades and Moose Jaw Warriors are set to meet as the second and third seeds in the East. The Blades have dominated the Warriors this year going 5-1 against them, including a 5-3 win near the end of the season. These are two good teams meeting, with lots of talent and players to watch.
At forward the Blades are led by top prospect Kirby Dach (25-48-73) who is slated to be a top five pick in this year's draft, Max Gerlach (42-32-74), Washington prospect Eric Florchuk (21-29-50), and acquisitions Ryan Hughes (30-39-69) who had 29 points in 25 games, and Gary Haden (31-35-66) who scored 62 points in 55 games. The Warriors are led by line mates Tristan Langan (53-60-113) who topped 50 goals and sports a +43, and Justin Almeida (33-78-111), finishing second and third respectively in league scoring. Rookie Brayden Tracey scored 36 goals and put up 81 points in his first season with the Warriors.
On defense, both clubs have some nice features, as the Blades boast Dawson Davidson (13-62-75) and Nolan Kneen (6-39-45) with 25 points in 33 games since being acquired. One of the Warriors strengths is in their D-line, with Montreal prospect Josh Brook who scored 75 points in only 59 games, and Vancouver Canucks draftee Jet Woo (12-54-66).
In goal, Nolan Maier (36-10-6) backstops the Blades with a 2.64 GAA, a 0.910 save percentage, and four shutouts.  The Warriors have used more of a committee approach as goalies Adam Evanoff (19-10-2-1) with a 2.62 GAA and a 0.916 save percentage, and Brodan Salmond (21-10-4-1) with a 2.73 GAA and 0.906 save percentage have shared the crease duties all season.
This should be a very good series to watch, and these teams are similar and should put forth an entertaining series. The Blades have dominated the regular season series, and have been the better club, and are headed in to the playoffs on an 8-2 run, but the Warriors enter on a three-game winning streak and will give them trouble, and make them earn it.
Pick - Blades in 6
The central division winning Edmonton Oil Kings will host the Medicine Hat Tigers in the next matchup, and really seem to have the edge after going 5-0-1 against the Tigers this year, although all the games were relatively close except for one game which was a 5-0 final.
The Oil Kings Trey Fix-Wolansky (37-65-102), a Columbus Blue Jackets pick has led the charge all season and is definitely a player to watch. He is supported by Vince Loschiavo (37-25-62), Quinn Benjafield (15-39-54), and then 2019 draft prospects in Josh Williams, Vladimir Alistrov, and Jake Neighbours who will carry the load. The Tigers will rely on James Hamblin (33-44-77), Ryan Jevne (32-36-68), former Edmonton player Brett Kemp (33-27-60) who scored 21 points in 24 games for MH, and Ryan Chyzowski (27-28-55) to provide the scoring.
The Oil Kings defence is led by Conner McDonald (19-31-50), and Matthew Robertson (7-26-33) who is eligible for this year's draft. The Tigers defence is led by Florida Panthers pick Linus Nassen (7-39-46) who will log a lot of minutes in this one. In goal, the Oil Kings have Dylan Miskew (28-11-2-3) between the pipes, who finished the season strong with his 2.53 GAA and 0.914 save percentage. He will battle the Tigers rookie Mads Sogard (19-8-2-2)  with a 2.64 GAA and a 0.921 save percentage.
Even with the Oil Kings dominance throughout the regular season against the Tigers, it has been a close series and pretty equally matched. The Oil Kings ride an 11-game winning streak into the playoffs and look they have gotten hot at the right time. I like the forward depth for the Tigers and the defensive edge for the Oil Kings, and with two strong goaltenders this should be a close series. I feel it has upset potential, and despite the regular season series results, I think that Sogard can make a big difference and possibly steal this one.
Pick - Tigers in 7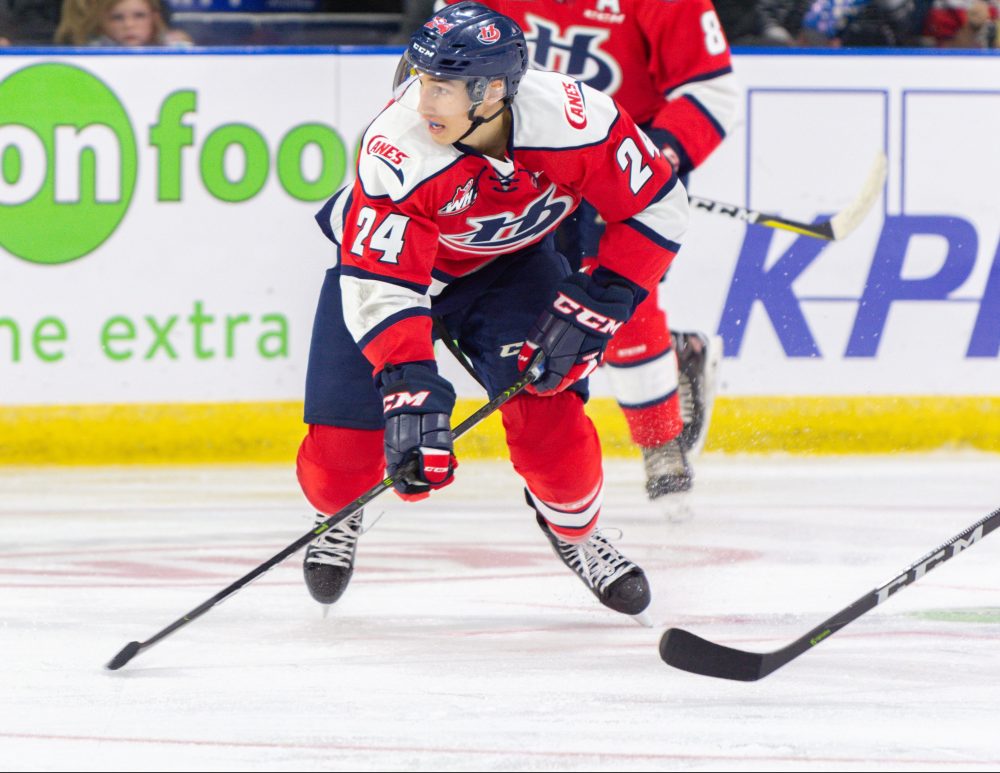 The last of the Eastern series is a central division matchup, with the Lethbridge Hurricanes playing the Calgary Hitmen. Once again, the Hurricanes dominated the season series by a 5-1 mark and scored handily as they averaged six goals a game in the series. Lethbridge has an abundance of offence, with five players who scored over 80 points, and will be a handful for the Hitmen.
The Hurricanes acquired forward Nick Henry (29-65-94) from Regina earlier this season, and the Colorado Avalanche prospect rolled on to lead the club in scoring as he put up 54 points in 44 games. Alongside of Henry, the Hurricanes also acquired Jake Leschyshyn of the Golden Knights (40-41-81) from the Pats, and he stepped in nicely as he had 49 points in 44 games. Top prospect Dylan Cozens (34-50-84), who is expected to go very early in this year's draft, and Hurricanes Captain and Pittsburgh Penguins property Jordy Bellerive (33-50-83) filled the net regularly against the Hitmen, as Cozens had nine points in six games, and Bellerive had 13 in six. Joining them is Jake Elmer (39-42-81), who also had a very nice season and was able to knock 10 points in 6 games against the Hitmen.
As for Calgary, they have some offence as well, with line mates Mark Kastelic (47-30-77) and James Malm (34-43-77) leading the way. Malm, acquired from the Vancouver Giants put up a point a game against Lethbridge, while Kastelic scored nine points. They will be joined by Carson Focht (26-38-64), Kaden Elder (27-33-60) who was picked up from last year's WHL champion Swift Current Broncos, Riley Stotts (19-38-57) , and Jake Kryski (19-27-46) to try keep pace with the Hurricanes.
On defense, the Hurricanes are led by Cale Addison (11-54-65), the Pittsburgh Penguins prospect will play a major role in this series and should have a good showing. He will be joined by hulking Ukranian defender Igor Merezheko (4-31-35) who will be responsible to shut down the Hitmen forwards. For Calgary, Russian defenseman Yegor Zamula (10-46-56), who was signed by the Philadelphia Flyers, and Belarussian Vladislav Yereomenko (7-26-33) will work with Dakota Krebs (4-21-25), as they have their work cut out to try and keep the Hurricanes forwards at bay, and hopefully keep the scoring to a minimum.
This will be an even more interesting series in the net, as both teams have rookie goaltenders that will duel against one another. Both goalies have been rather impressive thus far. Carl Tetachuk of Lethbridge put up a record of 24-9-1-1, with a GAA of 2.88 and a save percentage of 0.909 and two shutouts. His counterpart in Calgary, Jack McNaughton, went 25-14-3, with a GAA of 3.25 and a save percentage of 0.888, while posting two shutouts.
The Hurricanes finished the season going 9-1 down the stretch, while Calgary comes in with a 6-4 record to finish. The strong offence and forward depth of the Hurricanes should propel them to win the series, but the real story will be which 17-year-old goaltender will outplay the other, and even though McNaughton has played well down the stretch, his numbers against Lethbridge have not been good, going 1-2 against them, with a GAA of 5.16 and a save percentage of 0.838.
If the Hitmen can keep it close, and their special teams play, which was much better than the Hurricanes this year, seem to click, then they could make a good series out of this. The Hurricanes do have the experience after losing the Eastern Conference Championship two years in a row and should be extra motivated to get going for another chance.
Pick - Hurricanes in 6