Will the Memorial Cup be the deciding factor in who goes 1, 2, or 3 in the upcoming NHL Draft?
It has been a compelling draft year to date with a deep pool of intriguing prospects. It is this wealth of talent has made determining the final rankings for the McKeen's 2013 NHL Draft Guide a challenge. This is complicated this year by a Memorial Cup that features a surprisingly large number of top ranked prospects. There are eight potential first round picks, including the consensus top 3 overall, playing in the tournament. A scenario few remember in recent memory.
It has become accepted by the media that Colorado will draft Jones first overall. The compelling back story of how a tip provided by Joe Sakic, current heir to the Colorado kingdom, to his father Popeye Jones while he played for the Denver Nuggets is growing into legend. His play at the U20 World Junior tournament, as an assistant captain helping the US win a gold medal, cemented his status as consensus #1 overall pick by scouts and media.

The same U20 World Junior tournament saw Jonathan Drouin rise to prominence over teammate Nathan MacKinnon. Earning a scoring role on a team that was stacked as a result of the NHL lockout, Drouin (6-2-2-4) overshadowed MacKinnon (6-0-1-1) who was used more sparingly. Taking three QMJHL awards including MVP and the scoring lead in the playoffs saw his profile grow. Taking into account the breathtaking highlight reels throughout the season, it is understandable that NHL clubs project an exciting, marketable, superstar to build around.
MacKinnon started the season as a favourite for #1, but the U20's and a 14 game absence with a knee injury, saw his profile eclipsed by the other two stars. However, an inspired playoff showing for MacKinnon (17-11-22-33) with 4 game winning goals has made a strong late season statement. Almost a full year younger than Jones, he just made a convincing argument with a dominant 2nd period performance in a head to head matchup with Jones on Saturday night. The Mooseheads opened the Memorial Cup with a 7-4 win, while MacKinnon displayed speed and hockey smarts at both ends of the ice, contributing a hat trick and a plus four performance.
One game will not be the deciding factor on draft day, let alone one period. Having three potential number one picks adds an intensity to the scrutiny in this tournament, and will make for a dramatic ending to an interesting season.
McKeen's will publish the Draft Guide this season immediately following the Memorial Cup, rather than on May 22nd as previously announced.
In the meantime, we are releasing the McKeen's scouting profiles of the top prospects in the Memorial Cup, in a series of articles. The prospects we will be covering are: Nathan MacKinnon, Seth Jones, Jonathan Drouin, Zach Fucale, Nikita Zadorov, Bo Horvat, Max Domi, and Nicholas Petan. We will be making several of these available for free to provide a sample of the quality of the scouting reports from this year's guide. Inspired by Nathan MacKinnon's performance last night we will launch this with his current scouting report. The final story will be written as we watch.
From the current write up in the McKeen's 2013 NHL Draft Guide.
Nathan MacKinnon C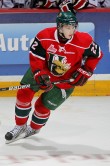 Rebounded from a February knee injury (missed 14 games) to power Halifax to a QMJHL title, leading all playoff scorers with four game-winning goals (17-11-22-33) .. named a QMJHL Second-Team All-Star after firing a career-high 32 goals in 44 games - missing time to injury and the U20 World Juniors where he won bronze with Team Canada (6-0-1-1) .. a Halifax native and first-overall pick in the 2011 QMJHL Draft .. finished second in QMJHL rookie scoring in 2011-12 - and was co-Team MVP with Zach Fucale .. SCOUTING REPORT .. explosive, wide-track skater driven by a powerful core and lower body .. produces a sharp takeoff burst - and requires just a few long thrusts to reach a blazing top gear .. firm on his edges, digs into the ice on stops and starts .. sustains steady fast momentum - even in glide mode, maintaining better velocity than others .. dynamic moving laterally - makes fast diagonal cuts by driving his feet on crossovers .. hands are strong and exceptionally quick .. efficient handling and distributing the puck .. packs a hard, accurate wristshot .. shows impressive command of the puck at full throttle .. able to ramp up his speed and intensity - and manufacture a shot as a natural extension of his stickhandling .. should continue to refine his in-close finesse skills and puckhandling in traffic .. gets headstrong - tries to bully through resistance - seemingly showing limits in his vision and playmaking awareness .. displays smart instincts away from the puck - finds open space well - gets to the front of the net .. highly-competitive, tireless worker .. persistent in pursuits - applies suffocating backcheck pressure .. a natural internal drive impels him to operate at a frenetic pace - yet is starting to integrate lower gears - forcing himself to slow down and expand his field of vision .. among youngest available given a fortuitous September, 1995 birth date.