The microscope which these prospects play under is huge, and their shortcomings don't go unnoticed.
Once considered a first-round pick, Guelph forward Jason Dickinson fired goose eggs offensively and saw his stock plummet as a result. Western Hockey League defencemen Ryan Pulock and Shea Theodore each left scouts with more questions than answers, while Ryan Kujawinski's omission on Canada's under-18 team spoke loudly about how far he's fallen.
Finnish defenceman Rasmus Ristolainen can fall back on his statistics only so far. His play was mired with inconsistency down the stretch.
Here are the prospects whose draft stock have fallen this year.
------------------------------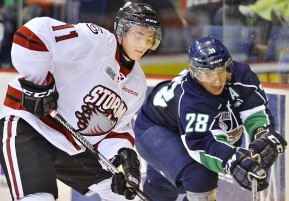 Jason Dickinson (W/C, 2013), Guelph
Unable to participate fully in the U18 World Championships due to an injury .. factor in a long scoring drought in the regular season, which was capped off with a sub-par performance in the playoffs, and his draft stock tumbled.
Ryan Pulock (D, 2013), Brandon
May own the best point shot in the draft .. however, skating woes appear to be troublesome, as does his lack of physical aggression .. injuries derailed his season.
Hunter Shinkaruk (LW, 2013), Medicine Hat
No questioning his sheer ability to generate offence and speed levels .. however, he pulled a disappearing act in the second round of the WHL playoffs and doesn't always pay the price to record his points, nor does he back-check with any enthusiasm.
Shea Theodore (D, 2013), Seattle
Has a bomb of a point shot but stagnated in the second half of the season before coming apart at the seams in Seattle's opening round loss to Kelowna despite being up 3-0 in the series .. looked completely lost at times for Team Canada at the U18 World Championships.
Hudson Fasching (RW, 2013), USNTDP
Despite an impressive showing at the U18 World Championships, Fasching failed to build on his point totals this year .. his skating also saw limited improvement since the beginning of the season.
Ryan Kujawinski (C/W, 2013), Kingston
Returned to playing wing in the playoffs and started to scratch the surface of his potential .. however, he took way too many nights off and was omitted from Team Canada's U18 team in favour of '96-born teammate Sam Bennett.
Stephen Harper (LW, 2013), Erie
Was pegged as a top-40 prospect to start the season but failed to play with any type of consistency throughout the year and barely managed to reproduce his offensive totals from his rookie season.
Rasmus Ristolainen (D, 2013), TPS
Despite leading a weak TPS in defenseman scoring, his stock dropped due to his wayward play towards the end of the year, as he didn't play with any emotion and lacked a physical edge.