The Saginaw Spirit underwent an unspeakable event with the passing of teammate Terry Trafford recently.
The Spirit rallied in the face of adversity and are giving the heavily-favoured Erie Otters all they can handle in their first round playoff series.
Once considered a promising prospect for this draft, Blake Clarke's stock began falling well before being traded by North Bay to Saginaw. The Chesterfield, Mo. native actually gets lower marks for playing through injury.
Dylan Sadowy, meanwhile, found his game while playing alongside two big bodies, making him an intriguing prospect for the draft. Brandon Prophet's eagerness is noteworthy, yet his effectiveness doesn't always correlate to his work ethic.
McKeen's Hockey Director of Scouting David Burstyn profiles three Spirit prospects from a recent game report.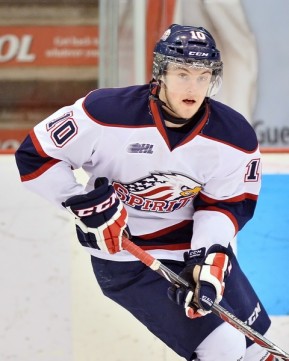 Dylan Sadowy (2014), RW
Confidence has been growing since lining up with two of the Spirit's bigger players, Justin Kea and Nick Moutrey .. added an offensive element to the line .. numbers look similar to a Cy Young award-winning pitcher with 27 goals to accompany nine assists (68-27-9-36) .. modest size that could stand to fill out more to avoid slight appearance on the ice .. plays a consistent two-way game but can be prone to stop moving his feet at times in the neutral zone and subsequently being caught out of position .. an average skater with a sluggish first step, slight knock-knee and struggles with balanc and isprone to falling down  .. skill-set is not elite, meaning his goals are a direct result of his hard work ..  stays with plays, willingly drives the net and is not afraid to sacrifice his body .. shows strong determination inside the offensive zone and keeps his game simple showing that he can contribute .. skating needs to improve and he mustbulk up to be effective at the pro level.
Blake Clarke (2014), LW
No player has seen a decline in their offensive numbers more so than Clarke with a meagre 12 points through 54 games (54-2-10-12) .. after skating a regular shift on Brampton's first line last season, he was shipped to Saginaw just before the Christmas break for Zach Bratina .. participated at the All American Top Prospects Game where he played through a shouldeinujuryr which heneglected to tell the training staff which resulted in a slow start .. unable to find his groove in Saginaw despite possessing solid offensive instincts and better than average puck skills .. can make plays with the puck in his possession but too often bails on plays and does not compete hard enough for the puck .. skating is OK; he is a bow-legged skater with deceptive quickness and can accelerate with the puck .. always a step behind without the puck, which negatively affects his defensive contributions .. consistently loses board battles, making him easy prey for the opposition .. apprehensive to engage and plays a more perimeter game, refusing to attack the dirty areas of the ice or driving lanes without the puck .. Clarke has soft hands and can architect plays but he needs to regain his confidence as he has shown he can produce at this level.
Brandon Prophet (2014), D
Jesse Graham's addition was a boon for Prophet as the two play together, alleviating pressure on Prophet to ignite the offence by rushing the puck up ice and making plays offensively .. offensive zone reads and pinches are often miscalculated, subsequently leading to odd-man rushes the other way .. skating is plausible -- lateral quickness needs to be addressed and forward skating is a tad jerky .. skates with his feet too close together which affects his stride and overall speed .. pivots and overall fluidity get exposed when smaller, skilled players dance around him .. ordinary puck skills , average decision making and creativityand is not a threat to make a play up ice.. a big body who plays with some jam and is good on the PK due to his size and the amount of ice he can cover.