With the NHL draft fast approaching, many a fantasy owner are sifting through draft guides and scouting reports getting to know the '15 class of prospects. While there are plenty of outlets for the top 30-100 prospects, for those deep dynasty keeper leagues who have a large or full prospect roster digging a little deeper can pay huge dividends.
One strategy I try to keep in mind in such instances is looking for players who will be NHL ready as soon as possible. This may reduce the wait time I need to endure while they ripen on my prospect bench. The faster they can graduate and start making an impact on my roster the higher their value. There are a few factors which can lead to an accelerated path to the NHL, elite skill such as Connor McDavid, or a physically mature prospect such as Lawson Crouse. Perhaps they are simply a year or two older already and have passed through a previous draft but are sure to be selected come the draft. While most 18 year old prospects selected in the draft are sure to return for one or two more seasons of junior followed by the potential of another season or two in the AHL before they make it to the NHL, players who are already 19 or 20 may go straight to the minors and only be a year or two away as opposed to three or four. While their offensive ceiling may not be as high as playersin the first two rounds, if your draft goes as deep as three, four or even five rounds these are good options in later rounds.
With that in mind here are the top draft re-entry players available in the coming 2015 draft.
Pius Suter - Guelph Storm (OHL) Centre, 5'11 165 lbs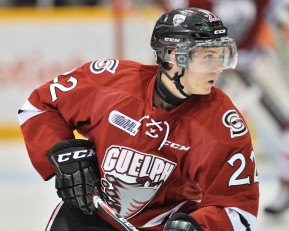 The Swiss import (Who has no relation to the famous American Suter family) was buried on a deep Guelp team in his draft year limiting his ice time and opportunity producing 24 points in 66 games. This year, with several Guelph stars having graduated Suter assumed a more prominent role and was far more productive producing 72 points in 61 games. While there were two underlying causes for him being passed over in 2014, being his modest production and size, neither of those concerns will prevent him from being drafted in 2015. He is a highly competitive and driven player who is known for his maturity, work ethic and goal scoring prowess having netted 43 goals (7th overall in the OHL). His size is not a factor considering his drive and determination, he never gives up on a play and is quite willing to battle against bigger players.
Rankings
McKeens: 102
NHL Central Scouting final ranking NA skaters: 74
Craig Button: Not rated
Shane Malloy: 64
Hockey Prospectus: 64
Conor Garland – Moncton Wildcats (QMJHL) RW 5'8" 168 lbs
After going undrafted in 2014, Garland responded by leading the league in scoring with 129 points in 67 games, was named league first star of the week three times and was player of the month in February and March ensuring he is selected in 2015. He is an offensive magician capable of bringing fans out of their seats with incredible vision and elite passing. While his size prevented him from being selected last year he actually plays an aggressive game and has a little of an agitator element to his game. With small players excelling in the NHL such as Johnny Gaudreau and Tyler Johnson, Garland could be the next little big thing.
Rankings
McKeens: Not rated
NHL Central Scouting NA skaters final ranking: 86
Craig Button: 43
Shane Malloy: 76
Hockey Prospectus: 76
Sebastian Aho – Karpat (LIIGA) LW 5'11" 172lbs
If you draft Aho, be sure to specify which Sebastian Aho you are drafting, you want the Finnish player not the Swedish defender of the same name (no relation).  Aho spent the past season playing in the Finnish mens league and is under contract for one more season, but may be NHL ready after that and cross the pond. Aho is a playmaker with good offensive upside and vision who can plays a high energy game with speed and finesse. The knock on him is he may not translate in North American pro hockey.
Rankings:
McKeens: 92
NHL Central Scouting International skaters final ranking: 18
Craig Button: 50
Shane Malloy: 84
Hockey Prospectus: 84
Andrew Mangiapane – Barrie Colts (OHL) LW/C 5'10" 161lbs
Yet another player who went undrafted mainly due to his size, Mangiapane took steps to ensure his offensive upside by posting a 100+ point season including 43 goals. He plays a lot bigger than he is and is a water bug on the ice, using his quickness and determination to gain and maintain puck possession. He has also refined his defensive game making him a more complete player.
Rankings:
McKeens: Not Ranked
NHL Central Scouting NA skaters final ranking: 85
Craig Button: 44
Shane Malloy: 48
Hockey Prospectus: 48
Vladimir Tkachev – Quebec Ramparts (QMJHL) LW 5'9" 163 lbs
You may remember Tkachev from his audition last summer at the Edmonton Oilers training camp where as an invitee he turned heads playing with Bogdan Yakimov. The due were so impressive that the Oilers attempted to sign Tkachev to a contract, only to have it ruled illegal as he had to go back into the draft. He is a dynamic offensive player but went undrafted because of his size and lack of defensive commitment. You can learn defense and embrace its importance but you can't make yourself taller. He needs to bulk up and become a complete player to make it to the NHL. The skill is unquestionably there but he is a big risk boom or bust.
Rankings:
McKeens: Not ranked
NHL Central Scouting final ranking NA skaters: 159
Craig Button: Not ranked
Shane Malloy: 86
Hockey Prospectus: 86
For complete lists of the ranking sources listed in this article visit