­Ontario hockey is as strong as ever with the long line of NHL stars emerging from the Ontario Hockey League. Each of the OHL's 20 franchises contributed to the NHL landscape in some way or another. The London Knights have sent first round selections Rick Nash, Corey Perry, Patrick Kane, Sam Gagner and Nazem Kadri onto successful NHL careers. The Sault Ste Marie Greyhounds are best known for contributing Wayne Gretzky and Paul Coffey but have also added current stars Joe Thornton and Jeff Carter. Sarnia Sting gun slinger Steven Stamkos has relocated his ability of sniping goals to warm Tampa Bay. Windsor Spitfires' alum Taylor Hall is electrifying fans in Edmonton with his blazing speed. On Long Island, former Oshawa Generals star John Tavares has emerged as one of the NHL's newest superstars.
The OHL has routinely churned out all-star prospects and it's a trend that won't disappear anytime soon. The 2013 NHL Entry Draft featured a league high eight first round selections from the OHL, highlighted by the Calgary Flames' 6th overall selection of Ottawa 67's pivot Sean Monahan. In total, 37 players were chosen in seven rounds at the 2013 draft, the most from any league. As players flock to the Wells Fargo Center in Philadelphia, it's expected that even more OHL players will hear their names called in the opening round. With 20 of the 40 invitees, the OHL dominated the 2014 BMO CHL/NHL Top Prospect Game in Calgary in January. NHL Central Scouting lists 14 skaters from the OHL among its top 30 North American ranked players.  The OHL bloodlines are as strong as ever in the National Hockey League.
As all eyes set on the draft eligible prospects from the Ontario League, let's break down its top treasures starting with the top five and ending with some honourable mentions.
Ekblad defining exceptional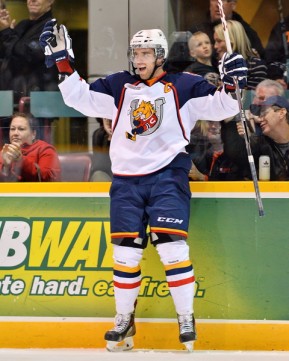 Capping off a strong freshman season by winning the Emms Family Award as the OHL Rookie of the Year, Ekblad displayed considerable improvements in his skating and began to silence criticisms of his oft-debated "offensive limitations".
Fast forward two seasons.
As his draft season draws to a close, Ekblad filled his trophy case with Ivan Hlinka gold and the 2013-14 Max Kaminsky Trophy as the OHL's Most Outstanding Defenseman. He's the unanimous top defenseman in the 2014 draft in a class lacking top-end star defensemen and exemplifies leadership, poise and maturity. Offensively, Ekblad has launched his game to new levels showing improved confidence and puck skills that top-pairing defensemen require. He doesn't possess the puck rushing ability of an Erik Karlsson or the intimidating physicality of Shea Weber but he's proven to be above average in almost every facet of the game.
The gem of the OHL class is Barrie Colts' defenseman Aaron Ekblad, who has exceeded expectations in each of his three seasons dating back to his rookie year as a 15-year-old underage player. The Belle River native was the second player, and first defenseman, to be granted "exceptional status" by Hockey Canada and he has been on an upward trajectory ever since. It was Ekblad's efficient point shot that has served as his offensive launching pad displaying an ability to get pucks through traffic on net, resulting in a league-leading 23 goals from the blueline. Ekblad also topped the OHL in power play goals (16) showing that his offensive game has some serious upside. Besides growing an caveman-like beard that grown men are envious of, Ekblad possesses the exceptional hockey sense, size and two-way skill set to draw interest right out of the gates at the 2014 NHL Entry Draft. He's a potential cornerstone defender and a player who should be ready to step right into an NHL lineup. 
The accomplished Ekblad doesn't stand alone at the top of the OHL class, as pivot Sam Bennett has assembled loads of praise from the scouting community and will serve as Ekblad's biggest challenger from the OHL. 
Indicative by the sweater number 93 he wears, Sam Bennett grew up as a Maple Leafs' fan idolizing Dougie Gilmour for the way he played the game with skill, grit and passion. Now as a young man, Sam Bennett is realizing a dream playing for Gilmour's Kingston Frontenacs team as its star forward, in a similar mold as his idol.  Although blessed with a dazzling offensive skillset featuring soft hands and an innate scoring ability, Sam Bennett receives the most praise for his intangibles that include an unmatched compete level, leadership services and in-game adaptability. He mixes it up in all four corners whether he's attacking or defending and the big-game pivot will unquestionably be on the ice during the final minutes of close games after earning a reputation as a clutch player.
Bennett's game starts with an exceptional skating stride that keeps opponents on their heels and uses his advanced hockey sense to gain ideal positioning in the attacking areas of the rink. He is a player who has become unpredictable, either unleashing a quick shot or utilizing creative vision and playmaking gifts as a setup man. In just his second season, Bennett was arguably the OHL's most consistent player and his 25-game point streak that witnessed him tally 17 goals and 46 points was the second longest in the league. With a scrappy-in-your-face competitive style, the skilled Sam Bennett may be the most complete forward available, making him a worthy first overall selection.
Finding sophomore stardom
Common dialogue in hockey circles suggest the top pick from the OHL is a two horse race with Ekblad and Bennett as the heavy favourites but don't overlook Oshawa Generals' forward Michael Dal Colle. After an unexpected breakout rookie campaign that watched him collect an impressive 48 points, Dal Colle's encore performance in his sophomore season was scoring a remarkable 39 goals and 95 points to lead all draft eligible skaters and finish top five in league scoring.
His game receives mixed reviews from analysts but he remains high on Youngblood's list. Knocked for his effort at times in a similar way that Joe Thornton receives criticism, Dal Colle's analytical and calculated approach often portrays his effort as lackadaisical but do not mistake that for him lacking a competitive drive because that would be drastically incorrect. Possessing creative vision and patience with the puck, Dal Colle's playmaking skills are often understated. Particularly strong on the powerplay, Dal Colle dissects opposing defences quickly with creative back door blind passes for easy tap-ins. Equally impressive is the young man's shooting arsenal as he possesses one of the best shots in the league. He has not perfected how to use his size and physicality efficiently but it's an element that can easily be worked on. If he can add some snarl and pushback to his game, Dal Colle stands a good chance to tap into his star potential.
An old school prospect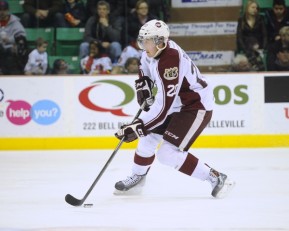 Next on the rankings is Peterborough's intimidating power forward Nick Ritchie, the one OHL skater with the size, strength, skill set and pedigree to develop into a true superstar. Ritchie is far from a sure bet to reach superstar status but he's got a chance. He is a massive physical presence who moves with ease hunting down pucks using great stick skills and crushing body checks. Willing to drop the mitts to defend a teammate, Ritchie plays on the edge, as evident by his 136 penalty minutes (5th in the OHL), and it's this bull-in-a-china-shop approach that is so appealing to NHL scouts. Questioned for his wavering effort, Ritchie hasn't exactly performed with ideal consistency but he has also been on a struggling franchise his entire OHL career so stagnant periods can be normal.
The tide is turning in Peterborough as the future looks bright and the same can be said for Nick Ritchie. His brother, Brett, was a second round selection of the Dallas Stars and hit his stride later in his junior career. The potential is high for Nick Ritchie and when he's on his game, few can dominate a game like this Orangeville native. That domination alone may be worth the high investment. He is cut from the same cloth as Milan Lucic and what NHL team wouldn't want that throwback style of power forward.
A 'dog that lacks bite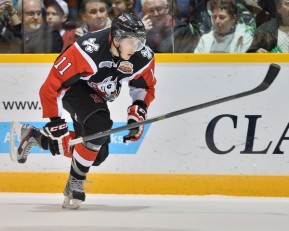 Rounding out the top five wasn't an easy process as several OHLers received considering including Sault Ste. Marie's Jared McCann, Guelph's Robby Fabbri and Sarnia's Nikolay Goldobin. In the end, Niagara's Brendan Perlini's size, intelligence and skating abilities edged out his draft mates. Stamping his place inside the Top 10 early in the season after coming out of the gates hot, Brendan Perlini impressed with a well-balanced puck possession game. He made a living shielding opponents from pucks along the boards and walking off the wall to unleash a deadly shot. Perlini uses his combination of speed and puck skills to back up defenders, and his net drive and hunger for the loose puck speaks volumes of his love for scoring goals. And boy, can this kid score goals. Perlini scored 16 goals with the man advantage tying Aaron Ekblad for the lead among draft eligible skaters in the Ontario league.
Had Perlini showed scouts that he can play a more consistent physical game, he may have moved up the rankings into the top 5. For teams looking to add a sizeable winger with poise and natural scoring instincts, Brendan Perlini will be a hot target. 
The abovementioned five OHL prospects are great players with appealing upsides but the pool of talent doesn't end there. The 2014 NHL Draft class has been deemed average by most analysts and it's an accurate assessment given the lack of a sure-fire stud prospect. However, some of the drafts most talented prospects are those that have grown accustomed to being critiqued, for varying reasons. Opting to go outside of the box to select these prospects may prove worthwhile gambles down the road given that their offensive ceilings are similar to those previously mentioned.
Building a captain
Jared McCann is one of the safest OHL skaters in terms of eventually playing in the NHL as this mature two-way forward packs both skill and intelligence into a competitive personality. McCann's best weapon is his shot but he's become a desired commodity because of his projectable intangibles. McCann slowed down as the season progressed finishing just shy of point-per-game numbers but scouts are more infatuated with his overall two-way presence and contributions behind the scenes.  
Fabbri-ulous finish
Enjoying a long successful playoff run to cap off a fantastic season has been the perfect scenario for undersized skilled forward Robby Fabbri. A Youngblood favourite dating back to his OHL draft season, Robby Fabbri is a tremendously gifted offensive talent that uses his elite hockey intelligence, poise and competitive drive to get the job done. He's a big game player rising to the occasion and despite critics trying to knock him down because of his size, he continues to push on…rising higher, and higher with each passing game. Sure, Fabbri plays on a star-studded Guelph Storm roster and his 45 goals (leading all draft eligible) may have been inflated slightly but this youngster knows how to exploit the goal scoring areas. Despite playing in a smaller frame, Fabbri thrives around the blue paint using his creative passing abilities to feed quick tricky passes to waiting teammates. Adding strength will be a priority but it's the only attribute that is keeping Robby Fabbri from being a sure-fire top 10 selection. Fabbri's doing his best Jeff Skinner impersonation heading down the playoff stretch and don't count out this  hungry forward in his quest to exceed everyone's expectations. 
Gold'n hands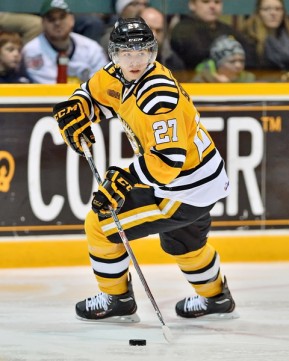 Carrying a Russian passport never helps your case but Nikolay Goldobin has done all he could to abolish the traditional fleeing Russian stereotype. Finishing one point shy with 94 points of leading all draft eligible skaters in the OHL, Nikolay Goldobin was a dynamic offensive threat on every night for the Sarnia Sting. He enjoyed a 22-point game streak posting 21 goals and 43 games.
He's the most creative and gifted puck handler in the OHL and is capable of highlight reel action every time he hits the ice. Defensively, Goldobin will require more coaching and while his work ethic gets questioned because he's not an in-your-face attacker, he does play hard in traffic by using a strategical approach. Goldobin thrived on the OHL's last place team but it shouldn't be forgotten that he was a true standout among his CHL draft peers at the Top Prospect game. Teams will weigh the risk-reward factors of selecting a fairly one-dimensional Russian in Nikolay Goldobin but his offensive talents are considered top 5 worthy and he is looking like he could be a steal if he slides outside of the top 20. 
The fire of passion
Staying in Sarnia, Anthony DeAngelo led the OHL in points (71) and his 15 goals (3rd), 56 assists (1st among draft eligible skaters) and 30 powerplay assists (3rd) were among the top. No one doubts DeAngelo's offensive production as this undersized smooth-skating defenseman controls the game with ease from the back end. Tricky puck handling skills, creative vision and precise passing allows DeAngelo to push the pace with utmost confidence. He's a passionate competitor who loves to win but his short temper and volatile attitude has been well documented, and resulted in several team and league induced suspensions. Based on talent alone, Anthony DeAngelo would be snatched up inside the top 15 but some teams have crossed him off their lists entirely. Look for the interview process at the NHL Combine to be an important element in determining DeAngelo's ultimate draft fate as teams look for answers from this skilled defenseman.
Opening round curtain call
The dynamic skating Josh Ho-Sang, mobile two-way defender Roland McKeown, developing power forward Ryan MacInnis, raw skilled pivot Eric Cornel, athletic netminder Alex Nedeljkovic and skilled agitator Brendan Lemieux are just a few players to keep tabs on as potential first round selections.
Two months remain until the 2014 NHL Entry Draft commences on June 27th at the Wells Fargo Center and it marks an event full of unpredictability but one thing is for certain, the Ontario Hockey League will be well represented on day one of the draft.
Be sure to follow the McKeen's Hockey (@mckeenshockey) Youngblood series as Brendan Ross (@RossyYoungblood) continues to break down the happenings inside the hockey prospect world.