An outstanding season to lead the London Knights in scoring began quietly with only one goal in his first ten games (10-1-6-7) and a four game pointless streak before he went on a tear with 12 multiple point games in the next 13 (13-20-20-40). The result was Marner led the OHL most of the season before being eclipsed in the final game despite missing five games due to injury. He would record 32 multiple point games after enjoying excelletn chemistry on the wing with two-way center Christian Dvorak through much of the season. They had success with Max Domi at times, but coach Hunter substituted Aaron Berisha in his place on occasion. They were separated when Marner switched to center, at his own suggestion, late in the season to balance out the scoring lines. After some adjustment he was leading the OHL playoffs in scoring with nine goals in seven games in the playoffs (7-9-7-16) before being knocked out in the same games as Max Domi against Erie.
McKeen's Hockey ranked him fourth in the March rankings and with the rabid Toronto market analyzing their fourth overall pick with increasing intensity, much scrutiny between himself and Dylan Strome has occupied analysts, including an article by our own Sean LaFortune, at the end of January

Marner's size versus the 6'3" Strome is an oft-mentioned mark against him, but he has a style of game that will be well-suited for the pros reminding strongly of Claude Giroux. The Thornhill native grew up cheering for the leafs and wearing number 93 can only invite Doug Gilmour references. Regardless of where you land in the debate there is no argument he represents an elite offensive forward that would vie for the first overall pick in a less deep draft.
David Burstyn provides a scouting report:
_______________________________________________________________________________________________________________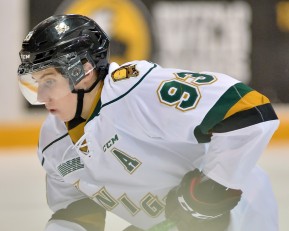 Mitch Marner (2015), RW, London
A highly skilled and intuitive offensive player whose game reading ability is off the charts – able to dance all over the ice and make plays both forward and backhand .. attacks the middle of the ice and is not afraid to go into danger zones .. deploys a hair-trigger release and finding optimum scoring chances .. elusive in his approach as he spins off guys and simply anticipates the game better than his peers .. displays an uncanny ability to create even more room for himself when he is down low; habitually finds the best possible passing or shooting option .. slippery when entering the zone as he employs a series of head fakes and his upper body is like a slinky as he can twist and turn without losing stride and/or possession of the puck .. an excellent stick handler who owns a surplus of moves .. does not possess a prevailing gear however his stride is extremely efficient as he can maintain his speed the length of the ice and the length of his shift .. great stamina levels as he readily retreats back behind his own goal to make a heady defensive play only to dart up ice in the same sequence .. protects the puck very well in all areas of the ice .. not a selfish player as he readily dishes off the puck not a physical player and relatively small in stature as he continues to grow and expand into his 5'11, 165 pound frame however his self-preservation and constant awareness to the developing play are sublime .. constantly peeks over his shoulder and knows where everyone is on the ice lends to him never being in a bad situation to get blindsided .. sky high potential as his game marries traits of both Jordan Eberle and even more, Claude Giroux – and will adapt well to the pro game despite size, and he is still growing.