In our fourth and final installment of the OHL draft, scouting reports highlight the final four picks of the first round.
The Plymouth Whalers are proving patience is a virtue after drafting the highly-skilled forward Jordan Greenway with the 16th pick. Greenway is heading to the USNTDP, which means he won't make his Whalers debut for two more years, but once there, he should be worth the wait.
The Owen Sound Attack took Ethan Szypula with the next pick. Szypula is a wizard with the puck, but plays with a chip on his shoulder and a burning desire to make a difference.
Justin Lemcke (pictured), a big and fluid skating defenceman, followed in the 18th pick. The Bulls took a player that will be hard to play against who could also emerge as a future leader in the Quinte region.
The London Knights closed out the first round with the supremely-skilled, but diminutive forward Mitchell Marner. The future Knight will have time to grow in a depth role on a skilled team and should emerge as a scoring sensation in the not-too-distant future.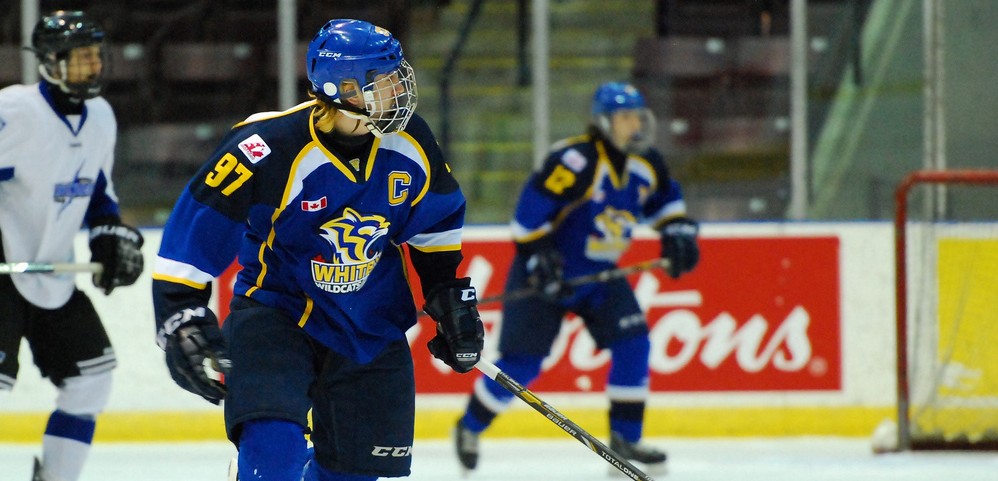 --------------------------
Jordan Greenway (LW, 2015), Shattuck St Mary's U16 – 6'5" – 205 pounds – February 16, 1997
Drafted 16th overall by the Plymouth Whalers
Greenway has been developing at the famed Shattuck St. Mary's prep hockey program over the past few years, a program that has had such graduates as Sidney Crosby, Zach Parise and Jonathan Toews over its storied history .. Potsdam, NY native has the rare combination of size, mobility and puck skills that make him a real appealing option for OHL teams .. protects the puck like few at this age group, holding off checkers and dishing out seeing-eye passes .. most effective when driving the net courageously, looking to unload a heavy, accurate snap-shot .. gets his blade on tip-ins and rebounds due to his sharp hand-eye coordination .. not an elegant skater, he is somewhat stiff and slightly heavy-footed .. continues to ad fluidity and length to his skating stride .. shows flashes of a gritty, physical edge to his game, yet lacks that natural aggressive streak .. continues to add muscle and core strength to his massive frame .. still lacks defensive zone awareness at times, as he takes poor angles and doesn't sustain consistent positioning .. currently uncommitted to a U.S. college, Greenway has multiple options at his disposal .. has reportedly committed to the USNTDP U17 program, where he will play an important role for the squad .. had the ability and potential to be a top-5 selection for the OHL Draft, but fell due to his USNTDP commitment .. the selection of Greenway seems reminiscent of the Saginaw Spirit selecting Brandon Saad in the 2009 OHL draft, where the Spirit felt that two years with Saad would be more valuable to them then other options.
Ethan Szypula (C, 2015), London Jr. Knights – 5'9" – 154 pounds – January 28, 1997
Drafted 17th overall by the Owen Sound Attack
A shifty skater who can create space using a deceptive change of pace and tricky stick-handling .. insightful playmaker, cleaver passer with sneaky hands plus a good, undersized shot .. soft hands, a strong puck-handler and cleaver "in close" skills .. a crafty and talented passer, has a knack for creating space and finding open lanes .. accelerates swiftly and attains good top speed from a long and powerful skating stride .. a threat in transition, generates a burst with each step, and on crossovers to produce excellent diagonals speed .. adept at holding the puck, exploiting his poise and patience .. competes -- chippy and aggressive -- willing to do what it takes to win .. gets caught flat-footed watching defensive sequences and must strive to stay involved with the play in his own zone .. prone to over-handling the puck at times .. reluctant to drive his slight frame at defenders and will peel off and relinquish possession under the threat of contact .. filling in and adding strength and mass to his frame will aid him as he moves forward .. will play an immediate depth role, and may see some select power-play time .. however, he will have to adjust to the pace and speed that the OHL brings, while also physically maturing .. once he makes that adjustment, he has the ability to be a front-line offensive force for the Attack, while also bringing a high compete level and willingness to do what it takes to win.
Justin Lemcke (D, 2015), Whitby Wildcats – 6'1" – 192 pounds – February 13, 1997
Drafted 18th overall by the Belleville Bulls
Captain of the Whitby Wildcats .. tall, poised rearguard is an attractive skater for his size .. fluid with good range .. reaches top gear quicker having added power to a long, smooth stride .. more agile and stronger on his edges and gradually improving his turning speed .. still can lose time on his pivots and transitions .. misses elite start-up and top-end speed .. displays an understanding for when to integrate himself into the attack, aided by good puck-handling skills and a booming shot .. strong on the puck, patiently waits for outlets to open and makes a good first pass .. sustains strong gap control, defending the rush with poise while relying on his active stick .. can be overtaken time to time with his average backwards speed, as opposing skaters have the ability to skate wide on him .. lacks assertiveness in physical battles, needs to learn how to better use his frame and exploit his excellent strength .. competitive, difficult to play against, uses his thick frame to lean and grind down on opponents below the defensive red line .. can still waste energy running around and chasing the puck in his own zone .. most effective when focusing on proper execution .. must continue to bulk up his spacious frame while upgrading his offensive tools .. can struggle in possession, not making quick enough reads in the offensive zone .. should come into Belleville and play an immediate depth role for a re-tooling Bulls squad .. has the ability to be a defensive-focused player who logs a significant amount of hard minutes .. will not be a pure puck-mover, but could act as an effective trigger-man on the power-play.
Mitch Marner (C, 2015), Don Mills Flyers – 5'8" – 130 pounds – May 5, 1997
Drafted 19th overall by the London Knights
Marner played his first year with the Don Mills Flyers after spending his bantam year with the Vaughan Kings .. used as an affiliate player for the St. Michael's Buzzers of the OJHL, playing top-9 minutes and adding some important secondary scoring for the Buckland Cup champions .. gifted passer and shooter, imaginative, he has an excellent sense for how to create offence .. possesses some paralyzing one-on-one moves, accentuated by remarkable in-tight escapability .. dynamic, undersized speedster hunches forward and generates a blistering pace .. generates a strong start-up burst and accelerates to top gear within seconds .. opens up lanes via explosive lateral cuts at high speed .. dangerous off the rush, hard to contain gaps on .. plays a brave game in spite of a diminutive frame, displaying resilience and persistence .. continues to work on upgrading his defensive zone play .. still gets erased by bigger, stronger defenders who successfully contain his time and space .. balance and strength will be an issue moving forward .. struggles to maintain his edges and protect the puck when engaged .. has put on weight and is maturing, however needs to continue to add core strength to his slight frame .. projected as a skilled, top-6 forward at the next level whose future may be tied into his ability to upgrade his strength .. may play a depth role for the Knights next year, given the team's deep returning forward core .. once matured, Marner has the ability to be one of the top scorers in the OHL, based on his individual puck skills and high offensive ceiling.