Paraphrasing Brian Burke, he once famously declared otherwise knowledgeable, experienced GM's lose their minds at the trade deadline and free agency on July 1st. Making their greatest mistakes at the trade deadline, followed closely by free agency. In fantasy hockey, the trade deadline is also fraught with ill-advised deals, and a heightened level of desperation in search of a championship, but there is an argument to be made that the first ten games of the fantasy hockey season produce some interesting trade opportunities. Surprising results from a small sample of games can lead to some itchy GM fingers in the 'irrational exuberance" of the excitement of another season.  
However, if you keep a relatively cool head it is a good time to make some trades based on early results. One of the time-tested measures for goal scorers in particular, is the number of shots they are producing, and their corresponding shooting percentage. A look at the top shot producers in the league to date uncovers some established scorers who should see the law of averages begin to work in their favour. There are some excellent sites doing some advanced work on shooting and scoring chances, but we will stick to a simpler approach for this article. Here are some suggestions to throw a buy-low offer at.
Taylor Hall on Edmonton leads the league with 39 shots, with a 7.7% shooting percentage. Not a big dip from the 8.9% he connected on last year, but down from his career shooting percentage of 11.0%.
Daniel Sedin is tied for second in the league with Tarasenko and Pacioretty with 36 shots and a meagre 5.6% shooting percentage. Well off his career average of 11.6%, but be aware he has not shot at that level since 2011-12. In the previous three seasons he has posted an 8.2% shooting percentage, as he has been producing around a twenty-goals pace. A long way from his heyday, and should temper any hope of a significant uplift.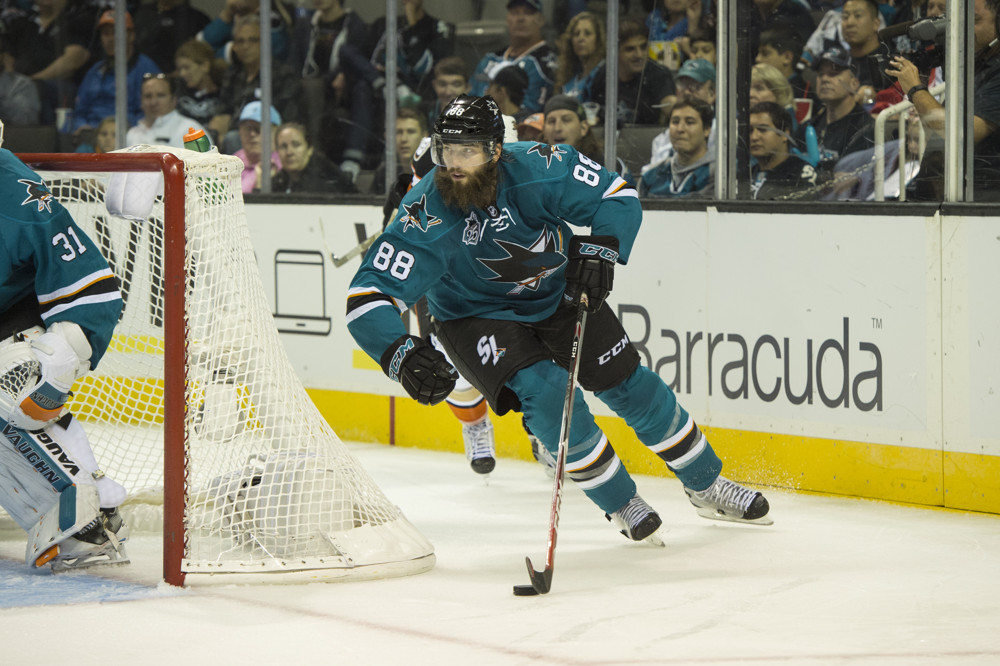 Brent Burns leads all defenseman in shots with 35, but has only one goal, with a 2.9% shooting percentage. His past results get a little muddied by his time as a forward of the past few years, but has shot at 8.0% over the previous two seasons. Given the scoring opportunities created by his bomb from the point, it is very encouraging that he is firing away 4.4 shots a game versus 3.0 last season.
Tied for ninth with 32 shots each are Nazem Kadri, Rich Nash and Radim Vrbata with a 3.1% shooting percentage and a single goal to date. All of them are due to rebound.
Rich Nash owns a 12.4% career shooting percentage and potted 42 last season with a 13.8% success rate.
Kadri, has almost double his shot count from last season with 4.5 a game versus 2.4 last year (with a 10.2% shooting percentage).
Vrbata recently was re-united with the Sedins, and looks to be staying there. He has been firing well below his career average (9.4%), but the opportunities have been there and he is due.
Ryan Johansen (one goal in 24 games) and Nick Foligno (one goal in 30 shots) are both due. Johansen's injury clouds things, but they are good buy-low targets. Look for a turnaround from a dismal start, with a kickstart form new coach Tortorella. Foligno may not hit the highs he did last year, but his stats will improve.
Other honourable mentions include Jakub Voracek with no goals on 28 shots. Claude Giroux sits with one assist to date, so they are likely to ignite together. Two games this week against an injured Buffalo team and one against New Jersey (playing well and not an easy out) could be the tonic.
In addition to some unexpected starts there was a slew of injury news to start the week in the NHL. Here are some key fantasy performers that will shake up line combinations and your line-up decisions.
The St. Louis Blues are early front-runners for the 'Triage Award' for injuries this season, having lost Patrik Berglund, Paul Stastny, Kevin Shattenkirk, Jaden Schwartz, and Robby Fabbri for periods. Schwartz being the lasts blow that will remove him from the line-up for three months. Opening opportunities for Ty Rattie and Dmitrij Jaskin to fill some much needed offensive holes. The 22-year old Rattie is off to a hot start with the Chicago Wolves with four goals and seven points in three games, in his third season with the Wolves. Here is an excerpt from his McKeen's profile available for subscribers.
"Skilled sniper netted 17 goals in 36 games before his recall from Chicago Wolves .. scored 12 goals between his second and third assists of the season .. watched Blues postseason from press box and then was scoreless in three Calder Cup games .. crafty and slick in possession thanks to good athleticism, quick hands .. beats opponents with elusiveness and speed of execution .. flashy skater – light and nimble on his feet .. lateral agility is well above average – excels making diagonal cuts .. able to sustain speed through crossover sequences .. at times shy about driving into congested areas .. work-in-progress away from the puck .. scattered, unstructured, not a puck winner .. swerves out of coverage lanes – can be slow picking up defensive marks .. attempts low-percentage diagonal passes .. may not play regularly if he's not in the top six"
Jori Lehtera becomes ever more central to the attack, centering the top line in the absence of Paul Stastny. He had been previously lining up with Schwartz. He skated 22:40 in the last St. Louis game, leads the team in P/60 with 3.59, and is familiar with Steen and Tarasenko. He skated 82% of his shifts in 2014-15 alongside Tarasenko. An opportunity for a sophomore breakout and significant increase of his 44-point rookie season.
Colton Pareyko has seized the opportunity opened up by Shattenkirk's injury. He has produced five points in the last six games, including two power play points in 2:34 of average ice time. He played over 22 minutes a game for the last two and shown poise and confidence, and not afraid to rush the puck. At 6'5" and 225 pounds he looks like he belongs at the pro level.
Buffalo has lost Evander Kane for four to six weeks with a torn MCL. The Sabres have recalled forward Tim Schaller from Rochester, where he had a goal and an assist in six games. Line juggling at practice saw Nick Delauriers taking his place, but a natural goal scorer will be hard to replace on the offensively challenged Sabres, having only scored 16 goals this season in eight games. I am not sure there is a silver lining for anyone's fantasy upside in this situation. Sam Reinhart may be the biggest beneficiary, but he has already produced solid numbers with four points in eight games. 
Aleksandr Barkov is expected to be out of action for two to four weeks with a broken bone in his hand. Surgery is not required, limiting his time on the sidelines. It will affect his grip on his stick and something you will want to monitor on his return, before inserting him into your line-up. It is a blow to the Florida Panthers as he appeared to emerging as a breakout star, at both ends of the ice. Three goals and six points in seven games, picking up from the hot finish to last season alongside Jaromir Jagr and Jonathan Huberdeau. Exceptional two-way play for a third year pro.
Ryan Johansen listed as day to day, but undergoing tests. He has been plagued by low energy, and the team is insisting it is not related to his heart, after being hospitalized this summer for an accelerated heart rate according to the Columbus Dispatch.

He missed the Blue Jackets first win of the season under new coach John Totorella. I am not a big fan of Tortorella's coaching style, but this may be a good fit in the short term to inject some energy into a moribund team. The personnel fits his style. If Johansen's medical concerns turn out to be easily remedied, he could be an excellent buy-low target.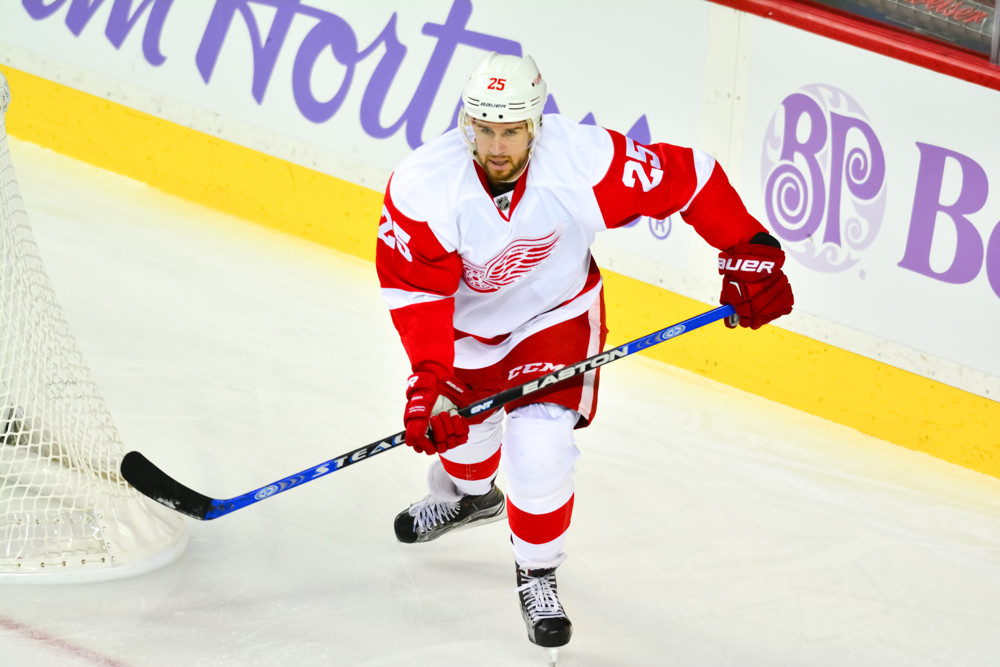 Detroit's two free-agent acquisitions are now both on the shelf. Mike Green has been sidelined for two to three weeks with a shoulder injury, from a hit from Calgary's Josh Jooris. Green had been struggling to adjust to life in Motor City, having been replaced prior to his injury on the first unit powerplay by Niklas Kronwall, as the only defenseman on the unit with four forwards, prior. He had only produced one point in seven games.
Brad Richards continues to undergo tests on his back, while not believed to be serious, the potential for continued problems this season should make you wary. Age combined with the always tricky back could make for continued difficulties.  
The NHL's three stars were led by Evgeni Kuznetsov with a spectacular nine point week. He is no longer under any radar, but has looked sensational centering Alexander Ovechkin and Oshie. The shocking thing is he could actually had more goals from his chances. He provides two dangerous scoring units, with Niklas Backstrom coming back strongly from injury with seven points in three games to skate between newcomer Justin Williams and Johansen.
The Caps look like they could be a offensive powerhouse this season, with John Carlson emerging as a bonafide superstar on the back end, and a second-ranked power play, that features two excellent distributor from the half boards in Backstrom and Kuznetsov - with some deadly finishers in Ovechkin and Oshie to feed.