Amidst a lineup that includes the wunderkind Connor McDavid, the first-round pick Andre Burakovsky, the veteran scorers Connor Brown and Dane Fox, the defensive stalwart Adam Pelech and the highly-touted goalie Oscar Dansk lays a true sleeper.
There wasn't a headline for Kyle Pettit to make this season playing for the stacked and loaded Erie Otters, but his disposition never wavered. He routinely dropped off the hard hat and lunch pail when he showed up for work, and walked out with bags of ice as his medals for a job well done.
Pettit scored just five times this season. He has a mere 16 points in 120 games. And yet, he's a definite candidate for the late portion of the draft. Pettit is the sum of his parts, a team player and a pro in every definition of the word.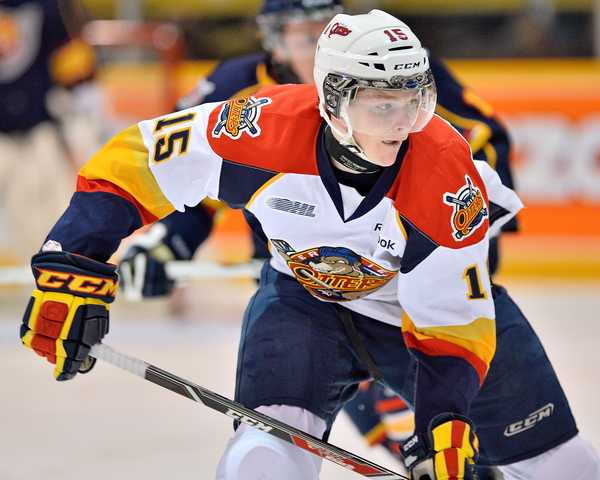 A model of consistency last year, Petitt only missed one game however missed 15 this season to a shoulder injury .. a consummate two-way player, his value isn't measured by points but by his attention to detail away from the puck and relentless work ethic .. a team player who buys in and does whatever is necessary to win games .. willingly blocked shots this season even when his team was up by five goals in some contests .. extremely effective at taking face-offs and would routinely take defensive zone draws, win them and skate hard to the bench for a change .. a decent skater for his size -- his mechanics are not polished but show the potential to improve .. despite his size (6'4" and 190 pounds) he is not aggressive .. plays an honest game and while he doesn't look for hits, he will use his size to lean on players down low .. lacks offensive zone awareness as he is always chasing the puck and possesses very little poise with it in his possession .. Pettit has good size and does all the little things well .. with graduations to the Otters' top six, he should get more opportunity to work on his puck skills.