In a short time period, the US-NTDP has earned a strong reputation for developing some elite prospects. Established in 1996, the program has graduated skaters such as Patrick Kane, Erik Johnson, Phil Kessel and Cam Fowler, representing their country internationally while developing their skills. The 2014/2015 U17 program has some impressive talents, here is some notes on ones that were on display this past weekend in Ann Arbour. 
Clayton Keller (2016), F, 5'9, 165 lbs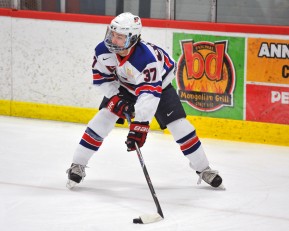 High skill forward who has all the tools to be an offensive leader at the next level. Offensive leader of the 2015 US-NTDP, leading the team in scoring, the offensive flows through him. A Draft pick of the Windsor Spitfires who has committed
to play for Boston University for 2016, following in the footsteps of 2015 NHL Draft prospect Jack Eichel. A natural flow to his game, he controls the puck almost autonomous to the rest of his body. Plays a speedy, uptempo style, darting skater and clever play maker. Loves to be a difference maker and can break a game open with his razor sharp instincts and dynamic first step burst. Quick and sly with a gift for disguising intentions and making plays out of nothing. Elite weapon is a dynamic snapshot with an unpredictable release point. Soft, skilled hands, can paralyze opponents with his 1 on 1 moves. Continues to add bulk and mass to a slightly undersized frame, adding power and strength to his game. Lacks a natural mean streak, can shift to an outside threat when the going gets tough. Doesn't appear to be as energetic with his three zone play, as he can lack commitment to the defensive size of his game. Has all the tools to be one of the top offensive threats in the 1998 birth year and a top prospect for the 2016 NHL Draft if he continues on his current levels of projection. 
Chad Krys (2016), D, USNTDP, 5'11, 182 lbs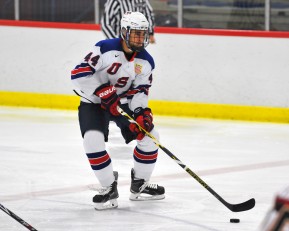 A skilled and creative puckmover with gifted vision and high intelligence. A New Jersey native and draft pick of the Moncton Wildcats of the QMJHL. Assertive, take-charge type who displays a calm nature to his game. Elusive thanks to fast and deceptive skating,  plus an ability to think the game steps ahead. Skilled and mobile, a natural moving with the puck. Slick on his edges boasting exceptional lateral quickness and agility. Excels as a transition threat, displaying good skill and tempo on outlets, equally adept at skating the puck into open ice or stretching the ice. Confidently joins the attack, provides support for forwards. A true powerplay quarterback, smartly walks the line, head up and assessing, creating space and passing lanes. Increasingly assertive as a physical presence along the boards, yet not as diligent patrolling the crease, can be passive in net front battles. Gradually adding muscle to a lean frame and learning to use his skating to sustain a positional edge defending 1-on-1. Suffers lags in intensity and can be too accommodating to opposition forwards. Has yet to commit to an NCAA program, however he is expected to do so soon. May look to follow in the footsteps of Zach Werenski and Noah Hanifin by playing in the NCAA as a 17 year old Draft eligible skater. 
Nick Pastujov (2016), F, USNTDP, 6'0", 195 lbs
Instinctive, finely skilled sniper with a terrific shooting release. A Florida native who moved to Detroit to face a higher level of competition. A standout in the recent World U17 Challenge. A graduate of the HoneyBaked U16 program, where he skated with brother Michael, a top prospect for the 2015 OHL Draft. Dangerous and slippery in one-on-one situations and in transition. A gifted passer and sneaky puck carrier, able to impact the game offensively in many ways. Patient and unpredictable, masterful at finding passing seams. An assertive shooter, gets the puck to high percentage scoring areas and flashes an ability to finish plays. Does not rush delivery, shot is hard, accurate and deceptive. Increasingly more 
comfortable in traffic, aided by gains in overall strength and skating. Can struggle with consistency, looks like a star one game and struggles to make an impact another. Still somewhat one dimensional, doesn't track back into coverage and can fail to support defenders. Drafted by the Saginaw Spirit of the OHL, he is expected to play with the U18 program next year before heading to Michigan for 2016. 
Max Jones (2016), F, USNTDP, 6'2", 189 lbs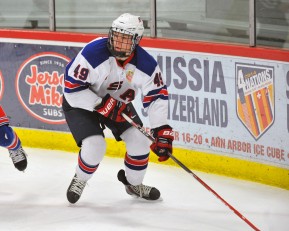 A high-compete level winger with an elite snapshot. One of the top performers at the 2014 World U17 Challenge, where he was named to the tournament All Star team. An instinctive player who brings a unique blend of skill, determination and toughness. Unusually calm in possession, can dangle due to soft hands.Intentions are masked due to excellent body language and overall presence. Stays in constant motion, has a knack for getting to loose pucks, powered by impressive anticipation. Fiery and competitive, extremely difficult to play against, specifically in puck battles. An elite shooter, finds ways to put the puck on net, taking advantage of a hard, accurate snap shot, one that he can get off quickly and in stride. Can go overboard, doesn't always know when to pull back, can take some undisciplined penalties. Can struggle with tunnel vision when in possession at times, fails to make the proper assessment, holding onto the puck for a bit too long. Making more astute reads of the ice in possession will be a key. Must continue to develop a more well-rounded two way game, keeping his feet moving in the defensive zone and injecting himself into the defensive zone with passion. Projects as a skilled finisher who plays a mean, uncompromising game at the next level. A 1st round draft selection of the London Knights of the Ontario Hockey League in 2014, he has yet to commit to either the OHL or NCAA.