The hype was real and McDavid skated. When the dust settled and the people could focus on other players not wearing number 97, this year was a year for progress and for debuts at the Young Stars tournament. After sitting out with injuries last year Canucks fans got to see Jake Virtanen and Jared McCann, even if they missed out on college bound Brock Boeser. Flames fans can rejoice as Sam Bennett picked up right where he left off and the first showing for OHL defenseman Rasmus Andersson was as strong as anyone who skated for them in a while. With a loaded Jets squad stepping up and finally giving their team something to cheer about in their last game of the weekend, with disappointing starts from Josh Morrissey, Nick Petan, and Nik Ehlers. However, their lackadaisical play allowed for a big weekend from goaltender prospect Connor Hellebuyck and gave CHL import player Michael Spacek a place to make a name. Enjoy some prospect updates on some of your favorite players, and some not so well known guys who are taking steps in the right direction.  
Winnipeg Jets
Michael Spacek- LW/RW
The Czech national was an instant stand out on a lacklustre Jets team, a responsible player who is aware of roaming defenders and offering back up. Skates with a purpose in a powerful head first manner showing a tenacious ability to pursue loose pucks and an aggressive rusher when carrying in transition, shows poise and confidence with the puck and protects well. An import pick of Red Deer, his showing should put him on the map sooner than later as a force not to be taken lightly in the WHL. He will be depended on for offense and should become more of household name as they build toward the Memorial Cup.
Ryan Olsen – C
Word from Winnipeg media was that Olsen had adjusted his off-season training and it has appeared to pay off. A quicker skater than he  had previously shown in the WH, with a noticeable pick up in his first 3-4 strides. A knack for breaking up plays and grinding down low, making life very difficult on his opponents. Had some offensive chances that were created out of hard work and strong puck pursuit. His positioning and defending are strong and doesn't give up any easy plays. Positioned himself up the depth charts and could one day fill a solid bottom six role.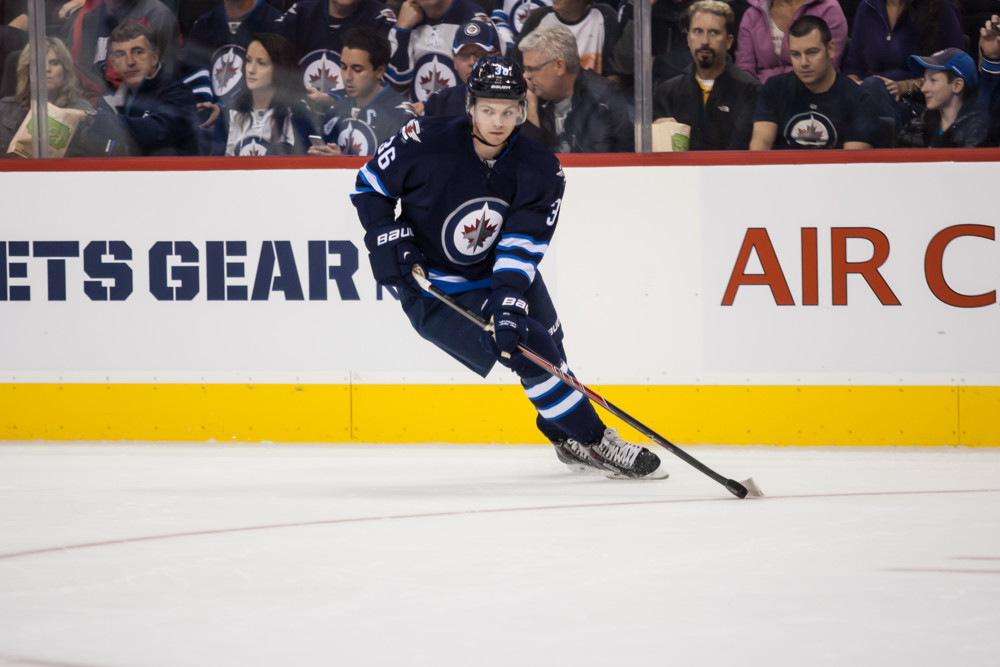 Josh Morrissey – LD
As always skating and passing were on display but its time to see the "next step" and must build pro habits into his game on a regular basis. He has a tendency to skate himself into trouble by moving into positions that limit him options for outlets and skating lanes, needs to drive the play at defenders more often and remain unpredictable. Jaws at other teams in an unnecessary way that makes it look like its more important than playing. Shot is as good as ever from the blue line in, picks shooting lanes with precise accuracy and controls the zone very well both at even strength and with the man advantage. Delivered a glimpse of what could be during 3-on-3 OT - a place he should thrive. All in all a disappointing weekend for Morrissey despite some glimpses of his best in the last game. He will need to take a spot on the Jets to be a full time player, but likely bound for the AHL until he plays with the switch on every shift.    
Marcus Karlstrom- RD
Tall and rangy with a long reach and a skinny frame, Karlstrom plays a quiet game with a skilled efficiency. Holds a wide stance and edges well, while remaining fluid in his stride, although could get lower and really drive the puck forward. Small, skilled plays open options for him, especially when clearing the zone and looking for options up ice. Outlet passes are well above average and might be the his biggest strength. Reads off partner well, makes himself available as an option by adjusting his position to be open, especially as a hang back option when a rush fails. Showed  ability to plays both side of the ice and both special teams. Certainly a project player with a need to fill out and get stronger, but shows a good intelligence for the game and is worth keeping an eye on.
Calgary Flames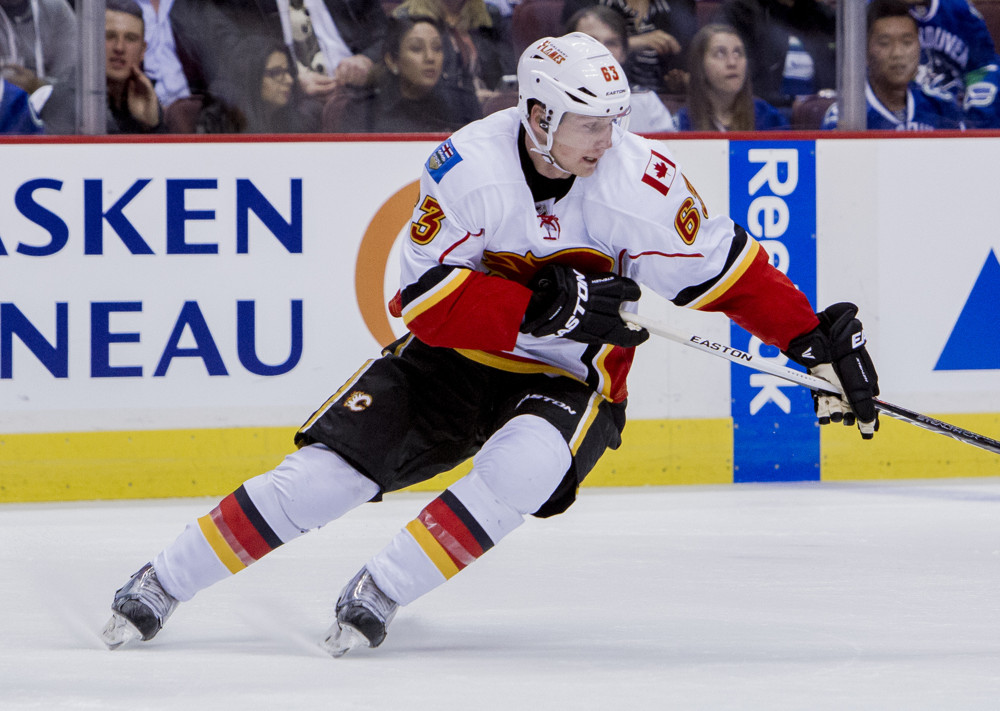 Sam Bennett – C
Its always as advertised with Bennett, everything about him was strong this throughout the tournament and he looks poised to make a strong run at Flames camp this year,and not only make the team, but be a significant contributor. Up to 6'1 and 190lbs his work ethic is putting him in a place to withstand the rigors of the NHL season. He battled and dished out the body contact with ease and pursued the puck like a bulldog, not taking a shift off this tournament. Precise multi-directional skating and blistering wrist shot were both on display along with his heads up passing ability. People are focused on the names Eichel and McDavid, but at the end of the season if Bennett finishes as the top rookie it should not shock anyone. 11 NHL playoff games were a learning experience and a major building block toward a successful career.
Rasmus Andersson - LD
Plays the game with pace and looks like a bit of steal at 53rd overall in 2015, helps to pad the already loaded defensive depth of the Flames. Doesn't seem interested in letting any opponent define the pace of the game, looking to lead and be a catalyst, and can be heard talking and communicating throughout the all three zones, helping direct the play. Work ethic is on display when defending, with no problem taking it to players of all sizes, not backing down from a battle. Strong reads on the offensive blue line with a ripping shot and a quarterback mindset - smart short plays open space to make quick plays in an up tempo fashion. Owns a strong IQ and instincts for the game with good habits. Easily the best Flames defender in this tournament, and should be a standout in the OHL this year with all the tools to be a pro.  
Oliver Kylington - LD  
The slick skating defenseman, who fell quite low to 60th on draft day ,after being ranked all over the board, is certainly a work in progress. Something the Flames can work with based on their depth on the backend, there is some raw skill there, but Kylington would be best served heading to the WHL for more Junior level development. His speed was on display at times showing a strong puck rushing ability, quickly driving up ice and giving defenders some fits in transition. In his own end he looks confused at times, unsure of positioning and unwilling to compete with forwards in front of the net or deep along the boards. Can be tentative and rush his decisions when other players are closing on him, leading to poor decisions and turnovers. Showed he is adept at controlling the offensive blue line and flashed some quality instincts with man advantage. Would be well served on a stacked Brandon team for a long playoff run under Brad McCrimmon. 
Andrew Mangiapane – LW
Flames may have found a diamond in the rough, after seeing a kid like this play I have no idea how 30 NHL teams passed on him so many times, unless you favor size above all. Soft, soft hands were on display for the Barrie product during the Youngstars. Drew first line duties in the games he played and did not look out of place, important part is he could keep up his when making plays and showed a knack for creating either a shot or offering up a good pass. Uses his head well to look off defenders. Offensive numbers more than doubled in his second OHL season and Calgary would be smart to let him dominate and see if he can continue a strong development curve. 
Edmonton Oilers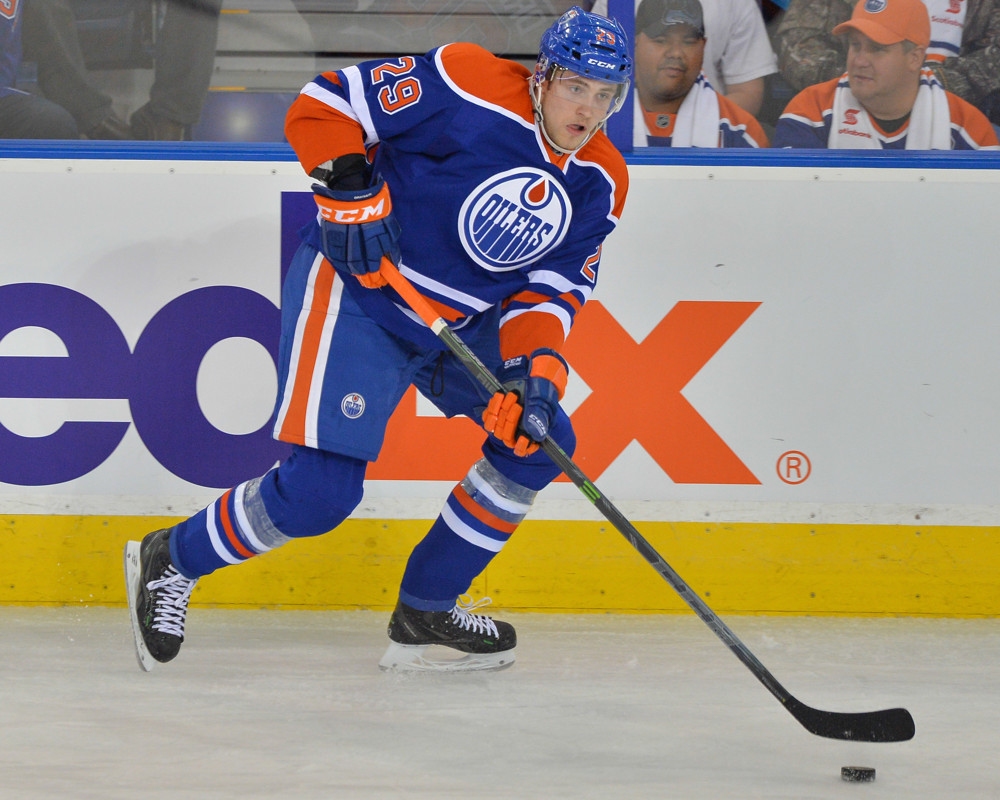 Leon Draisaitl – C
Lined up at center for this tournament, was a little overshadowed by McDavid in his first game, something he'll have to get used too. Saw a few habits in his game that were still apparent in junior hockey and will need to be ironed out before he becomes an everyday pro. Often remains stationary on the half boards and telegraphs with his eyes, needs to move his feet more often and learn to look off defenders to become less predictable. Passing ability is pro level and dazzles off the rush with precision. Known as a pass-first guy, he can certainly fire a quick and powerful wrist shot - as he continues to develop he'll need to keep defenders guessing by respecting his passing. Looked more motivated as the weekend drew on and he was the main option for Oilers offence. The pace of his skating is good and the game slows down around him, acceleration is still not great and becoming more explosive would help his game. Should bounce between AHL and the NHL this year as he's now a pro from here on out.  
Alexis Loiseau – C
One of the most competitive players to touch the ice all weekend, immediately standing out with strong skating ability and bulldog mentality for loose pucks and the front of the net. Some players have a knack for making thing happen, and you get that feeling when you key in on Loiseau - who is looking like great poster boy for the late bloomer tagline. Not viewed out of place much, he owns a high hockey IQ, which helps his drive to create by thinking and not over playing. Surprising ability to finish had five points in the last game of the weekend, the Oilers maybe have found someone who can create some needed depth in the AHL this year. He can provide a chippy bottom six forward with some offensive upside that earns every inch of ice for his team.  
Vancouver Canucks
Jake Virtanen – RW
Not many players make you feel their presence like Virtanen. The always tough to play against winger is a pain, with his nuisance style of play and strong ability to body check the opposition in a ferocious manner. Brings a high energy level, always going hard and competing shift to shift, often targeting the oppositions best players. Packs a powerful shot that holds weight and wants to go through the goalie instead of picking a corner, but it must be respected. Slightly underrated as a passer as it important to guard his shot. Considered a new-age power forward, a battler that skates hard and grinds it out in front of the net and would look good as a complement to skilled players. Possesses the potential to be a marquee member of the Canucks youth movement and could one day find himself on a line with the Sedin twins as the perfect fit for one touch scoring chances and taking some of the defensive focus off them. He will need to brush up on his defensive zone play but has the physical tools and speed to challenge for the big club
Hunter Shinkaruk - LW/C
Shinkaruk always leaves you looking for a little more. His development seems to have stalled slightly even, with his health concerns behind him and a season of AHL hockey under his belt. He still seems plagued with trying to do too much and playing himself into trouble instead of consistently looking for teammates and creating chemistry. Watching him play you can tell he wants the puck and wants to make plays, but he still looks tentative at times making his way to the front of the net for dirty scoring chances - while the perfect play doesn't always happen. Has a great shot but often settles for a low percentage shooting area. Skating is good, but doesn't seem to have progressed greatly from junior, as a smaller player he needs a high-end separation gear to create openings.  Must have a productive AHL year and put his tools into action to show some progress, players are passing him on the depth charts and his chances could be running out.
Brendan Gaunce -  LW
Looking to be a fixture on the left wing Gaunce has shifted from the middle ice and appears to have taken a stride forward in his development. Chalked with NHL size at 6'3 and 213 lbs, his biggest question mark was his skating and he has made strides in this area, appearing more fluid with stronger pivots and directional changes. Quickness is developing, allowing for a good push getting up ice and into the soft offensive areas for a dart and attack offensive. Responsible in his own end he doesn't make it easy to play against him, showing a strong defensive acumen. Plays a two-way game and can work to shut down top line players, often enjoys the challenge of playing against high end forwards and taking away their time and space. Looks good carrying the puck, aids in moving the flow of play up ice, shows intelligence when making decisions and making pays with the puck. Progressing as a viable option for the big club, looks to be responsible player that will chip in offensively and make the smart play instead of the easy play