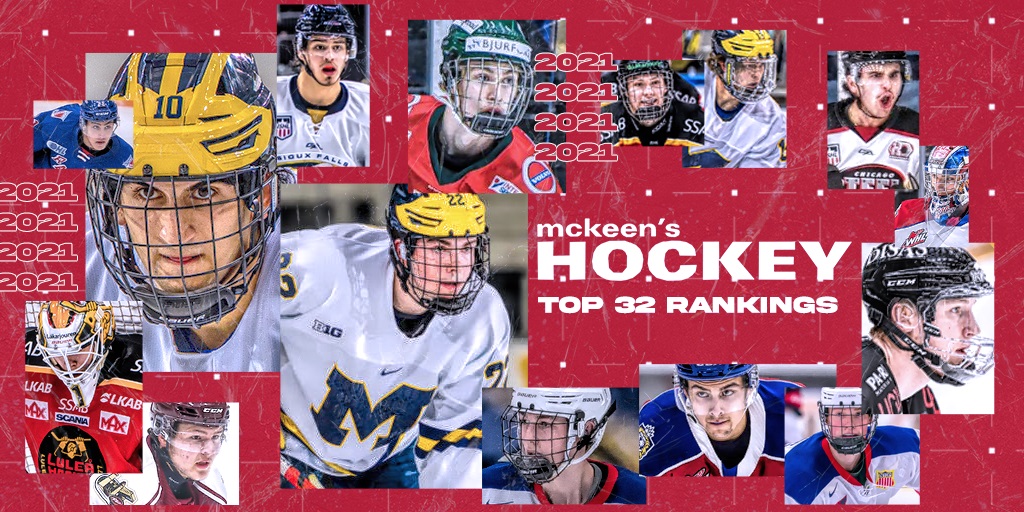 Scouting the draft certainly has not been easy this year. We could go on at length about that. Delays to the WHL season. The (recent) cancelation of the OHL season. Shortened junior seasons in Europe. Constant disruptions due to covid protocols. Rink restrictions. A greater reliance on video. These are the struggles that independent scouting agencies like ourselves have had to endure in order to evaluate and rank the best the 2021 NHL Draft has to offer. But the show must go on. Just because scouting has been different this year does not mean that our scouts have not been putting in the work. That work just looks a little different.
It has been over two months since the release of our preliminary Top 32 ranking. This time around, for our mid-season ranking, we will be increasing the length of our list to 64, along with some honorable mentions.
While the top 5 remains unchanged from our previous list (Beniers, Power, Hughes, Wallstedt, Edvinsson), there have been some pretty significant changes to the way we have ranked the players inside the Top 15. Chaz Lucius, Matthew Coronato, and Sebastian Cossa have made significant jumps, while Carson Lambos, Zachary L'Heureux, and Corson Ceulemans have seen large drops.
Lucius, of the U.S. National Development Team, was injured early on in the season, severely limiting our views of him. Now fully healthy, he is playing exceptional hockey (averaging over a goal per game in the USHL) and has moved up into our Top 10. Coronato has sustained his high level of play from earlier in the USHL season, leading the USHL in goal scoring. While Sebastian Cossa has been sensational to start the WHL season in Edmonton, currently leading the 'Dub" in save percentage. His 6'6 frame and stopping ability are going to make him very attractive to NHL scouts inside the lottery range. The last time we had two goalies taken inside the Top 15 was 2006 when Jonathan Bernier (11th) and Riku Helenius (15th) were selected. There is a very real possibility of that happening again in 2021.
Carson Lambos is definitely a widely debated prospect these days. His play in Finland (on loan) was indifferent and, unfortunately, his season was ended early due to a medical procedure which halted his WHL season two games in and has prevented him from playing at the World Under 18's in Texas. Ultimately, our scouts are less sure of his high-end offensive potential than they were a year ago, or even several months ago. Zachary L'Heureux is a talented player, no doubt, but his inability to stay in the Halifax lineup due to suspensions has become a concerning trend. And Ceulemans' play since the AJHL returned has not been at the same level as it was before the stoppage. His play at the U18's in support of Brandt Clarke on Team Canada will go a long way in determining his value for the draft.
In total, there are seven new faces ranked inside of our first round compared to last time. Those would be the aforementioned Chaz Lucius, Logan Stankoven, Aidan Hreschuk, Jack Bar, Ayrton Martino, Simon Robertsson, and Ville Koivunen.
Of course, this list is far from being set in stone. The IIHF World Under 18's in Texas, which commence at the end of April, will be highly scrutinized. With the cancellation of events like the Hlinka/Gretzky Cup, the World Junior A Challenge, and the Five Nations, this will be the first time scouts will have an opportunity to compare the top talent against one another. While it is important to not use a single tournament as the basis of your evaluation on a player, there is no doubt that the results of the U18's will have wide sweeping effects on the year end lists of NHL scouts. Of our ranked top 64, 32 (exactly half) are scheduled to play at the U18's.
While tempering projections based on the U18's will be one challenge, the other main one is the cancellation of the OHL season. Typically, nearly 20% of all players drafted come from the Ontario Hockey League. While some of the top players have played in Europe (like Brandt Clarke and Mason McTavish) or will be participating in the Under 18's (like Ben Gaudreau and Wyatt Johnson), others will have their evaluations and grades based upon their performances last season. That is unless the CHL and Hockey Canada can successfully stage a prospect tournament in a bubble setting sometime before the draft (which is apparently being discussed and on the table). Where to slot OHL based players inside our final rankings will be a challenge.
As mentioned, this time around we have ranked the Top 64. Of course, there were several players who just missed this list. Our 'Honorable Mentions' for midseason were as follows (alphabetically): Eric Alarie, William von Barnekow, Josh Doan, Liam Gilmartin, David Gucciardi, Jayden Grubbe, Samuel Helenius, Brent Johnson, Tristan Lennox, Robert Orr, Kyle Masters, Connor Roulette, Joshua Roy, Ryan Winterton, and Trevor Wong.
Without further ado...the McKeen's April top 32 rankings for the 2021 NHL Draft. Subcribers can access the top 64 by linking here.
| RANK | PLAYER | POS | TEAM | HT/WT | DOB | GP-G-A-PTS |
| --- | --- | --- | --- | --- | --- | --- |
| 1 | Matthew Beniers | C | Michigan (B1G) | 6-1/175 | 5-Nov-02 | 24-10-14-24 |
| 2 | Owen Power | D | Michigan (B1G) | 6-6/215 | 22-Nov-02 | 26-3-13-16 |
| 3 | Luke Hughes | D | USN U18 (USDP) | 6-2/175 | 9-Sep-03 | 38-6-28-34 |
| 4 | Jesper Wallstedt | G | Lulea (SHL) | 6-3/200 | 14-Nov-02 | 12-10, 2.23, .908 |
| 5 | Simon Edvinsson | D | Vasteras (Swe 2) | 6-4/200 | 5-Feb-03 | 14-0-5-5 |
| 6 | Chaz Lucius | C | USN U18 (USDP) | 6-0/175 | 2-May-03 | 12-13-5-18 |
| 7 | Dylan Guenther | RW | Edmonton (WHL) | 6-0/170 | 3-Apr-03 | 12-12-12-24 |
| 8 | Brandt Clarke | D | Nove Zamky (Svk) | 6-1/180 | 9-Feb-03 | 26-5-10-15 |
| 9 | Fabian Lysell | RW | Lulea (SHL) | 5-10/175 | 19-Jan-03 | 26-2-1-3 |
| 10 | William Eklund | LW | Djurgardens (SHL) | 5-10/175 | 10-Dec-02 | 40-11-12-23 |
| 11 | Kent Johnson | C | Michigan (B1G) | 6-1/170 | 18-Oct-02 | 26-9-18-27 |
| 12 | Aatu Raty | C | Karpat Oulu (Fin) | 6-2/185 | 14-Nov-02 | 35-3-3-6 |
| 13 | Matthew Coronato | LW | Chicago (USHL) | 5-9/180 | 14-Nov-02 | 50-46-37-83 |
| 14 | Cole Sillinger | LW | Sioux Falls (USHL) | 6-0/195 | 16-May-03 | 31-24-22-46 |
| 15 | Sebastian Cossa | G | Edmonton (WHL) | 6-6/210 | 21-Nov-02 | 12-0, 1.61, .939 |
| 16 | Mason McTavish | C | Olten (Sui 2) | 6-0/200 | 30-Jan-03 | 13-9-2-11 |
| 17 | Francesco Pinelli | C | Acroni Jesenice (Slv) | 6-0/185 | 11-Apr-03 | 13-5-6-11 |
| 18 | Logan Stankoven | C | Kamloops (WHL) | 5-8/170 | 26-Feb-03 | 6-7-3-10 |
| 19 | Oskar Olausson | RW | HV 71 (SHL) | 6-1/180 | 10-Nov-02 | 16-3-1-4 |
| 20 | Ryder Korczak | C | Moose Jaw (WHL) | 5-10/170 | 23-Sep-02 | 13-3-11-14 |
| 21 | William Stromgren | LW | MODO Hockey (Swe 2) | 6-3/175 | 7-Jun-03 | 27-3-6-9 |
| 22 | Isak Rosen | RW | Leksands (SHL) | 5-11/155 | 15-Mar-03 | 22-0-1-1 |
| 23 | Aidan Hreschuk | D | USN U18 (USDP) | 5-11/180 | 19-Feb-03 | 43-5-28-33 |
| 24 | Jack Bar | D | Chicago (USHL) | 6-2/190 | 24-Oct-02 | 32-5-10-15 |
| 25 | Corson Ceulemans | D | Brooks (AJHL) | 6-1/190 | 5-May-03 | 8-4-7-11 |
| 26 | Simon Robertsson | RW | Skelleftea (SHL) | 6-0/190 | 5-Feb-03 | 22-1-1-2 |
| 27 | Ayrton Martino | LW | Omaha (USHL) | 5-10/170 | 28-Sep-02 | 36-18-36-54 |
| 28 | Zachary L'Heureux | LW | Halifax (QMJHL) | 5-11/195 | 15-May-03 | 33-19-20-39 |
| 29 | Xavier Bourgault | C | Shawinigan (QMJHL) | 6-0/170 | 22-Oct-02 | 29-20-20-40 |
| 30 | Stanislav Svozil | D | Kometa Brno (Cze) | 6-1/180 | 17-Jan-03 | 30-1-2-3 |
| 31 | Ville Koivunen | LW | Karpat Oulu (Fin Jr) | 5-11/160 | 13-Jun-03 | 38-23-26-49 |
| 32 | Brennan Othmann | LW | Olten (Sui 2) | 5-11/170 | 5-Jan-03 | 34-7-9-16 |