It has been nearly two years since the IIHF World Under 18 Championships last occurred due to the covid pandemic. Last year's tournament was canceled and there was some doubt that this year's tournament would occur. However, the success of the IIHF U20's in December/January gave hope to the IIHF that this event could be played safely. With no Hlinka/Gretzky Cup this past summer, this will be the first time many of these Canadian kids will be playing together since the 2019 World Under 17 Hockey Challenge.
In a normal year, the construction of the Canadian roster at this event is always a challenge. Hockey Canada selects from a pool of players across the CHL and other leagues who are not participating in their league playoffs. This often means that many of the country's best U18 players cannot participate and as such, team Canada's success at this tournament is not nearly as noteworthy as the Hlinka/Gretzky Cup. That said, this is an extremely important event for the scouting community and even if gold medals are elusive for Canada (only two in the last 16 events), the opportunity to participate often elevates the draft stock of many Canadian players.
This year, with the WHL operating behind schedule and the OHL currently without one, there were no restrictions in terms of selecting from those two leagues. Several USHL players also find themselves as part of this Canadian effort. However, no QMJHL players were allowed to participate due to the league beginning their playoffs during the quarantine and playing periods of the U18's. This is very unfortunate considering the strength of the 2003 birth crop from the QMJHL, however those players will have to rely on strong playoff performances to boost their draft stock and will have to wait for future U20 tournaments to potentially don the Maple Leaf again.
The strength of this team will undoubtedly be their depth and skill level at forward. Team Canada has a chance to be one of the best offensive teams at this tournament because of this. Potential top 10 selections in 2021 Dylan Guenther and Mason McTavish should be key players, as well as future draft eligible stars Shane Wright (2022), and Connor Bedard (2023). All eyes will be on Bedard, in particular, as he attempts to replicate the success Connor McDavid had at this event previously as a U16 player (a gold medal and tournament MVP). Of note, Canada did lose one of its key forwards in Cole Sillinger, as he failed to clear COVID protocol and will be ineligible for the tournament.
The defense will be led by potential top five selection Brandt Clarke, fresh off a strong performance in the Slovak men's league. Clarke will be logging significant minutes in all situations for this Canadian team and is a top candidate to wear a letter. The key to victory for Canada will be whether others can step up to perform well, such as Corson Ceulemans, Nolan Allan, and Ethan Del Mastro. Potential first round selection Carson Lambos had been chosen for the event but he has since been replaced as he recovers from a medical procedure.
In net, the talent level is high, even if it is not yet known which of the three selected goaltenders will start. Tyler Brennan and Thomas Milic have gotten off to terrific starts in the WHL this season. Brennan, in particular, recently had a long shutout streak broken before leaving for the U18's and leaves the WHL top five in nearly every goaltending category. The other netminder on the roster is Ben Gaudreau from Sarnia in the OHL. He may actually have the highest pedigree of any of the three goaltenders, even if he has not played this year. Heading into his OHL draft year, many scouts believed him to be the best goaltending prospect to come out of Ontario in many years and this led him to become the highest goalie selected (7th overall) in nearly two decades. It is likely that Canada gives all three goaltenders a game during the round robin in order to make a determination on a starter.
Canada starts their quest for Gold on April 27th against medal favourites Sweden. Let us take a closer look at some of the team's most integral players.
Dylan Guenther RW, Age: 18, H/W: 6-0/170/, Shoots: R
The talented Edmonton Oil Kings winger was sensational to start the WHL season, averaging two points per game before leaving for the U18's. This has vaulted him into contention (with so many others) for first overall in 2021. Guenther checks a lot of boxes. His combination of skill, vision, and skating ability makes him an absolutely dynamic offensive player. He will unquestionably be counted upon to be an offensive leader for this Canadian team and he has a chance to be in contention for the scoring race by tournament's end. The last Canadian player to do that was Tyson Jost in 2016. If his play meets the lofty expectations, his chances to be selected first overall will certainly increase even further.
Brandt Clarke D, Age: 18, H/W: 6-1/180/, Shoots: R
With the OHL on hiatus, Clarke went to Slovakia to play for HC Nove Zamky this season. After a slow start (which had more to do with being unlucky than performing poorly), Clarke finished extremely strong, closing out his stay in Slovakia with seven points in his last five games. A cerebral offensive defender, Clarke is extremely aggressive with and without the puck and is constantly in attack mode. His confidence with the puck is very high and he will look to play deep in the offensive zone to make things happen or prolong possession. This tournament will go a long way in terms of proving that he can be effective in the defensive zone too, as he will no doubt eat up a ton of critical minutes for Canada. Like Guenther, with a strong tournament, Clarke can really establish himself as a contender for first overall, which is completely up for grabs at this current moment.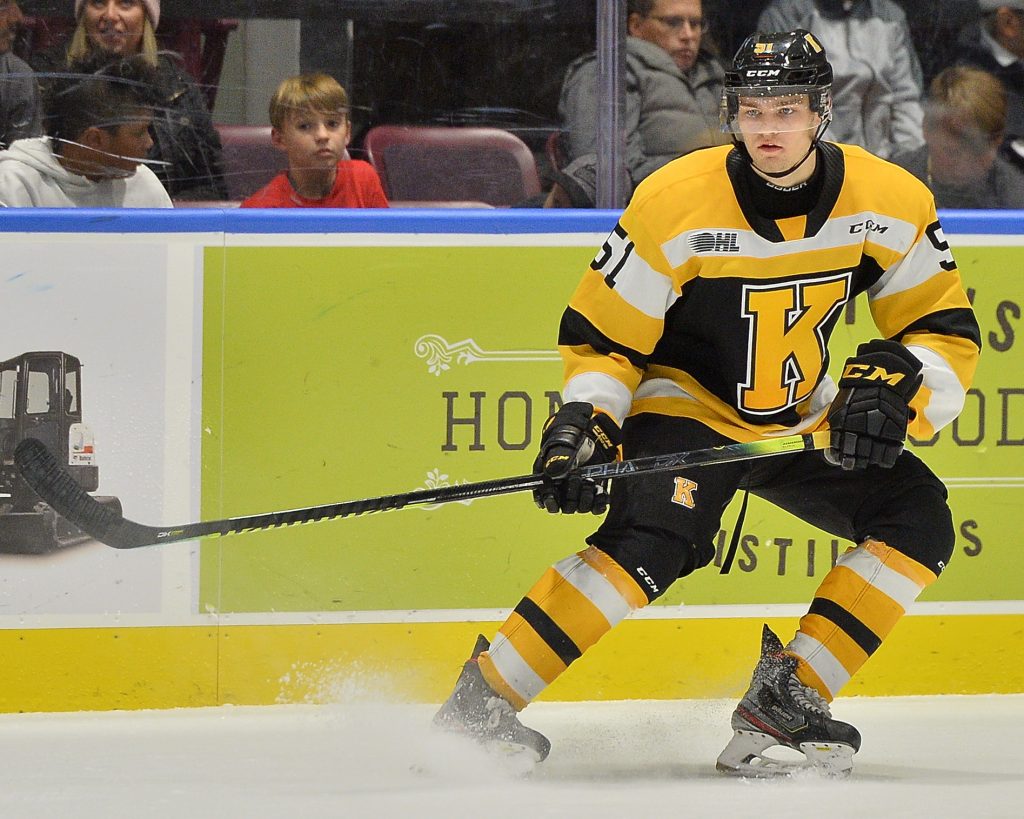 Shane Wright C, Age: 17, H/W: 6-0/185/, Shoots: R
While he may be an underager at this event and not eligible for the NHL Draft until 2022, Wright actually has a terrific chance of being named captain for this event. He wore the 'C' for Canada Black at the Under 17's in 2019 and already wears an 'A' for the Kingston Frontenacs of the OHL. Granted exceptional status to play as a 15-year-old, Wright truly is exceptional. His rookie season with Kingston last year was truly one for the ages. His 1.14 points per game by a U16 player were second best in OHL history behind John Tavares and ahead of Connor McDavid. Wright is such a high-level thinker on the ice who is constantly one step ahead of his opponents. He controls the game the way you want your center to, dominating touches in all three zones and elevating the play of those around him. Look for him to have a terrific tournament.
Connor Bedard, C, Age: 15, H/W: 5-8/165/, Shoots: R
Speaking of exceptional, Connor Bedard will be playing in this tournament as a double underager after torching the WHL (with the Regina Pats) to start the season. The expectations were high for him but I do not believe anyone expected him to be leading the WHL in scoring as a 15-year-old before departing for the U18's. One of the top young phenoms on the planet, many eyes will be on Bedard as he attempts to copy Connor McDavid's performance from the 2013 U18's as a double underager, where he led Canada to a gold medal and captured the scoring title. A natural center, one has to wonder whether he slides to the wing for this tournament given the team's depth and his age. However, he should play a prominent role and be given every chance to showcase his high end scoring ability and his ability to play with pace.
Mason McTavish C, Age: 18, H/W: 6-0/200/, Shoots: L
Like teammate Brandt Clarke, McTavish went overseas to start the year because the OHL had not started. He played for EHC Olten of the Swiss second league and performed very admirably, posting over a point per game when you combine his regular season and playoff stats. An extremely talented goal scorer, McTavish has one of the best releases in this draft class and he will likely get his share of chances to showcase it at this tournament given the number of high-end playmakers that Canada has on this roster. If McTavish can demonstrate that he can play a heavier game more consistently and make good decisions with the puck, he could certainly cement himself as a top 10 candidate for 2021.
Corson Ceulemans, D, Age: 17, H/W: 6-1/190/, Shoots: R
Even though the AJHL has been something of a defenseman factory of late (Cale Makar, Colton Parayko, Ian Mitchell, Jacob Bernard Docker, etc), many scouts do have difficulty figuring out how to evaluate the play of Tier 2 players in comparison to the rest of the draft class. Ceulemans, a University of Wisconsin commit, has had back-to-back strong seasons with the Brooks Bandits (alumnus of Cale Makar), but a strong performance in a tournament like this would go a long way to proving that he belongs in the conversation as one of the best defenders available for this year's draft. A right shot defender with good size, mobility, and offensive skill, Ceulemans is likely to play an integral role for Canada and should also see significant powerplay time with Brandt Clarke.
Francesco Pinelli C, Age: 18, H/W: 6-0/185/, Shoots: L
Without question, Pinelli was one of the players NHL scouts were most excited to see play this year in the OHL. After a strong rookie season in a supporting role, he was set to take on a starring role for the Kitchener Rangers this year, but covid had other plans. As such, like other OHL'ers on this list, he took his talents overseas to play in Slovenia in the AlpsHL, a lower tier professional league. Given the strength of that league, this tournament will go a long way into determining where Pinelli slots at the draft this year. A competitive two-way center, Pinelli is likely to be a jack-of-all-trades player for the Canadian coaching staff. He will probably play in all situations and could be asked to play a shutdown role. However, hopefully his skill and ability to create in traffic is given a chance to be showcased.
Logan Stankoven, C, Age: 18 H/W: 5-8/170/ Shoots: R
Stankoven is a true wild card for this team. Due to his lack of size (at 5'8), he is flying under the radar currently for the NHL Draft in 2021. However, as his start to the WHL season indicates (six goals in five games for Kamloops), he is a dynamic offensive player. Another natural center on this roster, Stankoven could definitely slide to the wing and perhaps even play on a scoring line. Opinions on Stankoven are all over the map right now in the scouting community, especially when it comes to whether he possesses the skating ability to excel as a smaller player. If he can play with intensity, produce offensively, and play a large role for this team, he could cement his status as a first round pick in 2021.
Brennan Othmann LW, Age: 18, H/W: 5-11/170/, Shoots: L
Another OHL player who left to play in Europe to start the season, Othmann suited up alongside McTavish with EHC Olten. Playing with McTavish is certainly an option at this event. As is playing the wing with Shane Wright, as the two played minor hockey together in the Don Mills Flyers organization (GTHL). Othmann is a hardnosed, two-way goal scorer who could play a variety of different roles for this team. Thanks to his versatility and goal scoring chops, Othmann is another potential first round candidate on this Canadian roster. Watch for Team Canada to use him on the powerplay at the half wall where his one timer is lethal.
Brett Harrison C, Age: 17 H/W: 6-1/175/, Shoots: L
A big-bodied center, Harrison is going to be looked at as one of those asked to really step up due to the loss of Cole Sillinger. The Oshawa Generals forward did play some games this year in Finland (in the KOOVEE program), so he should not be as rusty as some of his Ontario teammates. He can be a major asset near the crease because of his size, hands, and awareness, so look for Canada to experiment with him on the powerplay in that position. Like some of the others mentioned, he also provides versatility with the ability to play on the wing and in any situation asked of him. A borderline first rounder coming into the tournament, Harrison will look to prove that he deserves a place in the Top 32.
Sleeper - Ethan Del Mastro D, Age: 18, H/W: 6-3/195/, Shoots: L
Someone is going to have to step up for this Canadian team and be a third dependable defender (assuming Clarke and Ceulemans prove to be that too). Mississauga Steelheads defender Ethan Del Mastro has a chance to be that player. Few 2003 born players improved as much as Del Mastro did over the course of last season in the OHL and he has a chance to be Canada's most reliable player in the defensive end. It would not be shocking at all to see him partner with Brandt Clarke at even strength given how familiar they are with each other (Canada Black U17 teammates, Team Ontario at the Canada Winter Games teammates, GTHL alumni) and that would be a ton of ice time and exposure for Del Mastro. Due to the OHL hiatus and his decision to not go overseas, he has not played yet this year and thus has not had the chance to show NHL scouts that he deserves to be in the conversation for the first two rounds. Look for him to step up to the plate, use his 6'4, 200lbs frame and mobility to dominate the defensive end, and alleviate concerns over Canada's defense.