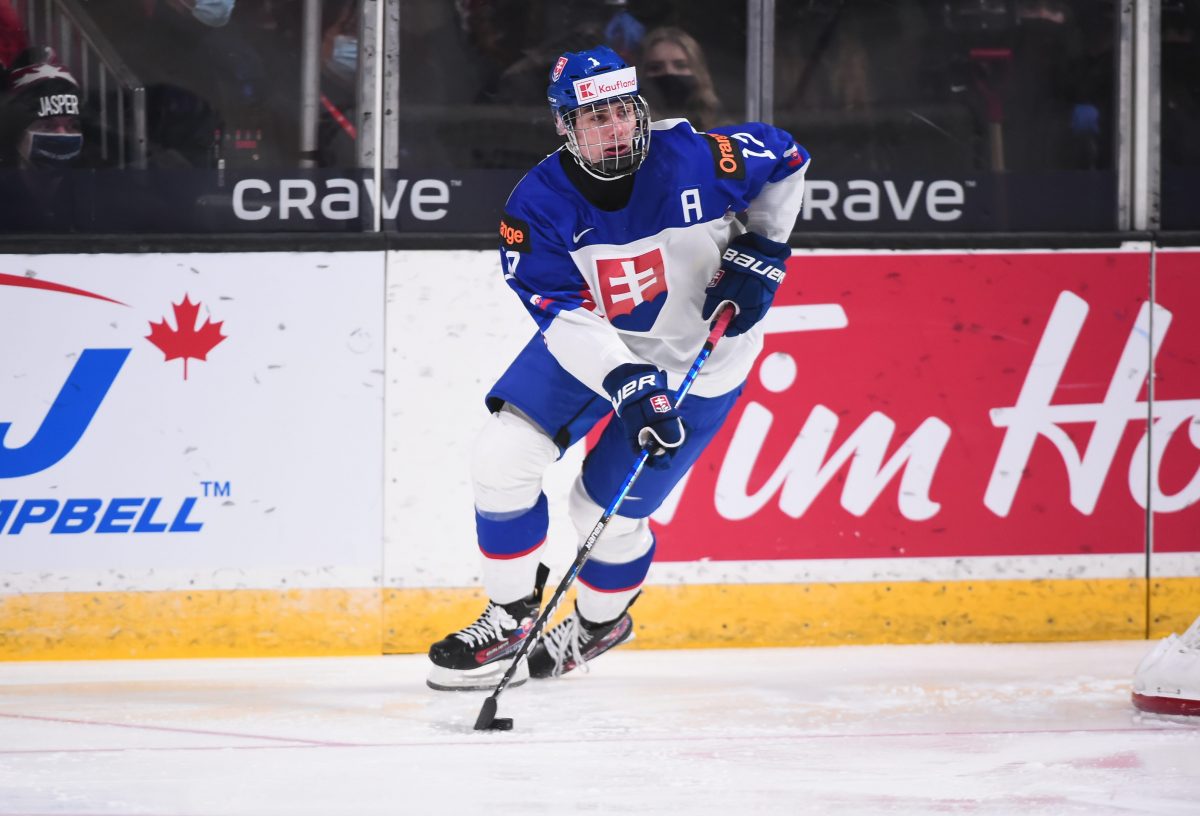 A new year means a new draft ranking at McKeen's Hockey, as we expand our list at mid-season to a Top 100. Back in mid-November, we released our preliminary ranking, a top 32, so this serves not only as an update, but an expansion too.
Like many, we were disappointed with the abrupt ending of the World Junior Championships, not just because it robbed us of some terrific hockey, but because it prevented a high-quality look at some of the best talents in this draft year. While a poor showing at the World Juniors is often dismissed, a strong showing can really help elevate a player's standing. Ultimately, the decision to stop the tournament was the correct one, given the circumstances, however, hopefully the World Under 18's can occur in Germany as planned in April.
At this point Kingston Frontenacs center and former CHL exceptional status player Shane Wright remains at the top of our rankings, however the gap is admittedly closing between him and some of the other players inside of our top five. Defenseman Simon Nemec is having a historically good season in the Slovak men's league and will play for Slovakia at the Olympics. Center Logan Cooley is proving to be a dynamic two-way threat and is fresh off a terrific performance at the Biosteel All American Game. Center Matthew Savoie of the Winnipeg Ice continues to lead the WHL in scoring on the top ranked team in the Canadian Hockey League. A year ago, it was unfathomable to imagine anyone else but Wright being selected first overall. That concept is not as far-fetched today. Without question, Wright will need to pick up his play in the second half to withstand his competitors.
Looking specifically at those ranked inside our first round (top 32), the positional breakdown is as follows: 10 defenders, 22 forwards, and zero goaltenders. In fact, we do not have a single goaltender ranked inside the first two rounds. Tyler Brennan and Topias Leinonen are our top goaltenders, ranked 84th and 87th, respectively. The quality and depth of goaltenders available this year may be the worst that we have ever seen as a scouting staff.
Regionally, the breakdown is as follows: ten players from the CHL, seven players from the USHL (more specifically the NTDP), four players in Sweden, four players in Russia, three players in Finland, two players in Slovakia, and two players in Czechia. The U.S. National Development program is extremely well represented with ten players inside of our first two rounds.
This top 100 was formed in consultation with our regional scouts and our video scouting team. Now that we have our midseason list formed, look for our annual, in-depth individual scouting reports to start being published in the very near future.
| RANK | PLAYER | POS | TEAM | HT/WT | DOB | GP-G-A-PTS |
| --- | --- | --- | --- | --- | --- | --- |
| 1 | Shane Wright | C | Kingston (OHL) | 6-1/190 | 5-Jan-04 | 25-12-19-31 |
| 2 | Simon Nemec | D | HK Nitra (Svk) | 6-1/190 | 15-Feb-04 | 28-0-19-19 |
| 3 | Matthew Savoie | C | Winnipeg (WHL) | 5-9/180 | 1-Jan-04 | 35-19-34-53 |
| 4 | Logan Cooley | C | USN U18 (USDP) | 5-10/180 | 4-May-04 | 25-15-20-35 |
| 5 | Danila Yurov | RW | Metallurg Magnitogorsk (KHL) | 6-1/175 | 22-Dec-03 | 21-0-0-0 |
| 6 | Joakim Kemell | RW | JyP (Fin-Liiga) | 5-11/175 | 27-Apr-04 | 21-12-6-18 |
| 7 | Juraj Slafkovsky | LW | TPS (Fin-Liiga) | 6-4/225 | 30-Mar-04 | 20-1-3-4 |
| 8 | Conor Geekie | C | Winnipeg (WHL) | 6-4/205 | 5-May-04 | 35-11-27-38 |
| 9 | Brad Lambert | C | JyP (Fin-Liiga) | 6-0/180 | 19-Dec-03 | 24-2-4-6 |
| 10 | Ivan Miroshnichenko | LW | Omskie Krylia (VHL) | 6-1/185 | 4-Feb-04 | 30-9-6-15 |
| 11 | David Jiricek | D | HC Plzen (Cze) | 6-3/190 | 28-Nov-03 | 29-5-6-11 |
| 12 | Filip Mesar | C | HK Poprad (Svk) | 5-10/165 | 3-Jan-04 | 22-6-5-11 |
| 13 | Pavel Mintyukov | D | Saginaw (OHL) | 6-1/190 | 25-Nov-03 | 31-6-17-23 |
| 14 | Denton Mateychuk | D | Moose Jaw (WHL) | 5-11/190 | 12-Jul-04 | 35-7-24-31 |
| 15 | Marco Kasper | C | Rogle BK (SHL) | 6-1/185 | 8-Apr-04 | 27-4-2-6 |
| 16 | Alexander Perevalov | LW | Loko Yaroslavl (MHL) | 6-0/190 | 16-Apr-04 | 29-19-20-39 |
| 17 | Seamus Casey | D | USN U18 (USDP) | 5-10/160 | 8-Jan-04 | 31-5-13-18 |
| 18 | Frank Nazar | C | USN U18 (USDP) | 5-10/175 | 14-Jan-04 | 33-15-23-38 |
| 19 | Noah Ostlund | C | Djurgardens J20 (Swe J20) | 5-10/160 | 11-Mar-04 | 19-6-18-24 |
| 20 | Cutter Gauthier | C | USN U18 (USDP) | 6-2/190 | 19-Jan-04 | 33-20-12-32 |
| 21 | Jonathan Lekkerimaki | C | Djurgardens J20 (Swe J20) | 5-11/170 | 24-Jul-04 | 25-19-15-34 |
| 22 | Tristan Luneau | D | Gatineau (QMJHL) | 6-2/175 | 12-Jan-04 | 26-5-10-15 |
| 23 | Nathan Gaucher | C | Quebec (QMJHL) | 6-3/205 | 6-Nov-03 | 30-15-11-26 |
| 24 | Ty Nelson | D | North Bay (OHL) | 5-9/195 | 30-Mar-04 | 33-5-21-26 |
| 25 | Vladimir Grudinin | D | Krasnaya Armiya Moskva (MHL) | 5-10/160 | 9-Dec-03 | 15-2-7-9 |
| 26 | Owen Beck | C | Mississauga (OHL) | 5-11/190 | 3-Feb-04 | 33-13-16-29 |
| 27 | Simon Forsmark | D | Orebro (SHL) | 6-2/195 | 17-Oct-03 | 22-0-1-1 |
| 28 | Mats Lindgren | D | Kamloops (WHL) | 5-11/175 | 26-Aug-04 | 34-2-19-21 |
| 29 | Rutger McGroarty | LW | USN U18 (USDP) | 6-1/205 | 30-Mar-04 | 27-15-17-32 |
| 30 | Jiri Kulich | C | Karlovy Vary (Cze) | 6-0/175 | 14-Apr-04 | 31-7-4-11 |
| 31 | Isaac Howard | LW | USN U18 (USDP) | 5-10/180 | 30-Mar-04 | 33-15-24-39 |
| 32 | Jimmy Snuggerud | RW | USN U18 (USDP) | 6-1/185 | 1-Jun-04 | 33-16-22-38 |