We are still 234 days away from the start of the 2018 NHL Entry Draft, and very little is understood about how that event will play out. Hundreds of 17-, 18-, and 19-year old prospects are right now developing their skills and physiques in hopes of being among the 217 (assuming a lack of compensatory picks added) players drafted.
As things stand a little over one month into the 2017-18 season, there is a clear top two looking to lead the charge, followed by a group of six who could go in literally any order and be reasonable. The third tier runs approximately eight players deep, while the fourth level goes through the end of the first round at least.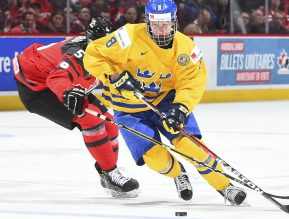 For our preliminary list, we have ranked Swedish wunderkind Rasmus Dahlin at the top. As Swedish scout Jimmy Hamrin reports  "Dahlin is the best Swedish prospect in a very long time." He further noted that he looks like a future franchise-level player with the full set of tools to dominate at every level. If Dahlin holds on to this spot and is eventually selected first overall, he would be only the third blueliner taken with the top pick in 22 years, joining Erik Johnson and Aaron Ekblad as the other defensive front runners of this century.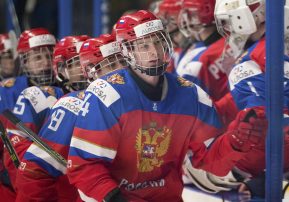 The other early leader is Russian winger Andrei Svechnikov, who has scored wherever he has played. After dominating the USHL with Muskegon last year as an underage player, who has moved on to Barrie of the OHL. Although currently on the shelf due to a broken hand, scoring 10 goals in his first 10 games helped to insure that he would not be forgotten in his brief absence. His health makes him questionable for the upcoming WJC, but he was a dominant force for Team Russia at last year's WU18, proving his bona-fides at the international level.
It should be noted here that the Svechnikov injury played no role in ranking Dahlin first. The defenceman's skill set is relatively unique and there is clear daylight between the two, talent-wise, which can be said with absolutely no disrespect to Svechnikov.
The next group include three alumni from the USNTDP – only one of which is still with the program, two forwards from the QMJHL and another Swedish blueliner. The latter is the highest ranked of the three at present, although he has perhaps the greatest uncertainty of the group.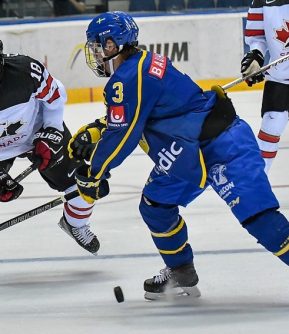 Adam Boqvist is slightly undersized and still playing mostly in SuperElit, the highest junior level in Sweden. He got his draft year started with a bang, thanks to a stunning performance at the Ivan Hlinka tournament, where he showcased very strong puckmoving skills and outstanding skating.
This second grouping includes two players who left the USNTDP early to get a head start on their college careers in Quinn Hughes and Brady Tkachuk. Hughes, at Michigan, is, like Boqvist, a talented puckmover who has questions about his size. He was a force last year with the USNTDP and finished strong at the WU18. He has stepped right into a top role on a strong Wolverines blueline.
Tkachuk is a pure power forward type, much like older brother Matthew and father Keith. He was once thought to be the most talented of the Tkachuk clan, a claim up for debate, but at this stage of his nascent career, he is roughly in line with Matthew's accomplishments. He is being tested early as a true freshman with Boston University, allowing him to test his mettle against older competition than he would face in the USNTDP, or had he followed in his brother's footsteps to the OHL.
Filip Zadina, ranked in between the previous two prospects at fifth, passed up the chance to head to the WHL last year, after he was selected fourth overall in the CHL Import draft by the Vancouver Giants. He stayed for one more year in his native Czech Republic, excelling at the WU18 and the Ivan Hlinka, before moving on to Halifax, who made him a two-time CHL Import first rounder. With 12 goals through his first 16 QMJHL games, his creativity and wrist shot are on constant display.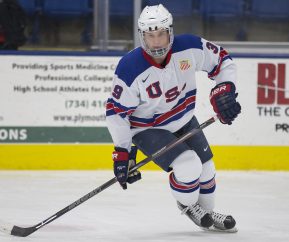 Oliver Wahlstrom, a dual-citizen (American-Swedish), has committed to playing hockey for Harvard, but is spending his draft year dominating all competition with the USNTDP, with 20 points in his first 12 games. He has dynamic offensive skills and instincts and will likely be given a chance to repeat his strong showing at last year's WU18 in the upcoming WJC.
Joe Veleno rounds out the second tier. Long in the spotlight as the only player ever grant exceptional status in the QMJHL, allowing him to start his junior career a year early, he blends talent with compete. Very strong on the puck and with a powerful shot, he plays a pro-style game that should translate to the NHL in short order. Until then, he needs to prove that he can do more to create offense on his own.
The rest of our first look at the 2018 draft is a hodge-podge of talented players from everywhere hockey is played. Instead of looking at them one by one for now, we can examine a few early trends.
While Canadians are conspicuous in their absence from the top, Veleno being the highest ranked one, there is more Canuck representation up the middle. Veleno kicks off a run of six in a row, including players from all three CHL leagues.
Dahlin and Boqvist are in the top three, and Isac Lundestrom, Jacob Olofsson, Adam Ginning, and Rasmus Sandin (who has since left Sweden to play in Sault Ste. Maire) are also projected first rounders. There were others considered for a spot in the top 31 as well, in addition to even more talent projected for the second and third rounds.
This is shaping up to be a strong draft for blueliners near the top. Not only are three of our top four playing defense, but we also see Jared McIsaac, Ty Smith, and Ryan Merkley in the top 12 and Noah Dobson, Jett Woo, Bode Wilde, and Calen Addison further down in the draft.
This is a strong year for the QMJHL. Halifax will be scouted heavily, with Zadina, MacIsaac, and Benoit-Olivier Groulx all playing for the Mooseheads. Veleno and Dobson are also projected first rounders and a few other players who drew consideration for this list are also in Eastern Canada.
What the OHL lacks up top (only one in the top ten), they make up for with depth.
WHL is weak this year. Ty Smith is the only sure-fire first rounder. Woo and Addison need to stay strong to give Smith company and there were not too many others from the league given serious consideration at this time.
Russia is also not expected to be much of a factor early on. Svechnikov is, of course Russian, although he is already in his second North American season. Per Russian scout Roman Solovyov, there are no players based in Russia who look like first rounders, and possibly not in the second round either, although it is still early enough for that assessment to need modification down the road.
There are three representatives from the USNTDP in the projected first round in Wahlstrom, Wilde and Joel Farabee, in addition to the two alumni in Hughes and Tkachuk, although the rest of the USHL is lacking in projected impact talent.
| RANK | PLAYER | POS | TEAM | HT/WT | DOB | GP-G-A-PTS |
| --- | --- | --- | --- | --- | --- | --- |
| 1 | Rasmus Dahlin | D | Frolunda (Swe) | 6-2/185 | 13-Apr-00 | 14-3-3-6 |
| 2 | Andrei Svechnikov | RW | Barrie (OHL) | 6-2/185 | 26-Mar-00 | 10-10-4-14 |
| 3 | Adam Boqvist | D | Brynas (Swe Jr) | 5-11/170 | 15-Aug-00 | 10-3-6-9 |
| 4 | Quinn Hughes | D | Michigan (B1G) | 5-10/175 | 14-Oct-99 | 6-1-2-3 |
| 5 | Filip Zadina | RW | Halifax (QMJHL) | 6-0/200 | 27-Nov-99 | 16-12-12-24 |
| 6 | Brady Tkachuk | LW | Boston University (HE) | 6-3/195 | 16-Sep-99 | 8-0-5-5 |
| 7 | Oliver Wahlstrom | RW | NTDP (USA) | 6-1/205 | 13-Jun-00 | 12-11-9-20 |
| 8 | Joe Veleno | C | Saint John (QMJHL) | 6-1/195 | 13-Jan-00 | 17-2-13-15 |
| 9 | Jared McIsaac | D | Halifax (QMJHL) | 6-1/195 | 27-Mar-00 | 15-0-6-6 |
| 10 | Ty Smith | D | Spokane (WHL) | 5-10/180 | 24-Mar-00 | 16-2-13-15 |
| 11 | Akil Thomas | C | Niagara (OHL) | 5-11/170 | 2-Jan-00 | 14-5-11-16 |
| 12 | Ryan Merkley | D | Guelph (OHL) | 5-11/170 | 14-Aug-00 | 15-4-11-15 |
| 13 | Ryan McLeod | C | Mississauga (OHL) | 6-2/200 | 21-Sep-99 | 14-6-10-16 |
| 14 | Joel Farabee | LW | NTDP (USA) | 5-11/165 | 25-Feb-00 | 12-10-6-16 |
| 15 | Isac Lundestrom | C | Lulea (Swe) | 6-0/185 | 6-Nov-99 | 15-3-4-7 |
| 16 | Barrett Hayton | C | Sault Ste Marie (OHL) | 6-1/190 | 9-Jun-00 | 14-6-8-14 |
| 17 | Jesperi Kotkaniemi | C | Assat Pori (Fin) | 6-1/190 | 6-Jul-00 | 19-5-4-9 |
| 18 | Rasmus Kupari | C | Karpat Oulu (Fin) | 6-1/185 | 15-Mar-00 | 16-3-1-4 |
| 19 | Benoit-Olivier Groulx | LW | Halifax (QMJHL) | 6-1/195 | 6-Feb-00 | 16-8-6-14 |
| 20 | Noah Dobson | D | Acadie-Bathurst (QMJHL) | 6-3/180 | 7-Jan-00 | 17-1-15-16 |
| 21 | Jacob Olofsson | C | Timra (Swe 2) | 6-2/190 | 8-Feb-00 | 13-4-2-6 |
| 22 | Serron Noel | RW | Oshawa (OHL) | 6-5/200 | 8-Aug-00 | 11-10-4-14 |
| 23 | Jett Woo | D | Moose Jaw (WHL) | 6-0/205 | 27-Jul-00 | 14-6-8-14 |
| 24 | Bode Wilde | D | NTDP (USA) | 6-2/195 | 24-Jan-00 | 12-3-8-11 |
| 25 | Jack McBain | C | Toronto Jr Canadiens (OJHL) | 6-3/195 | 6-Jan-00 | 20-6-18-24 |
| 26 | Calen Addison | D | Lethbridge (WHL) | 5-10/180 | 11-Apr-00 | 13-3-11-14 |
| 27 | Adam Ginning | D | Linkopings (Swe) | 6-3/195 | 13-Jan-00 | 7-0-0-0 |
| 28 | Ty Dellandrea | C | Flint (OHL) | 6-0/190 | 21-Jul-00 | 14-6-5-11 |
| 29 | Jesse Ylonen | RW | Espoo United (Fin 2) | 6-0/165 | 3-Oct-99 | 10-1-3-4 |
| 30 | Allan McShane | C | Oshawa (OHL) | 5-11/190 | 14-Feb-00 | 15-2-16-18 |
| 31 | Rasmus Sandin | D | Sault Ste Marie (OHL) | 5-11/190 | 7-Mar-00 | 2-0-1-1 |