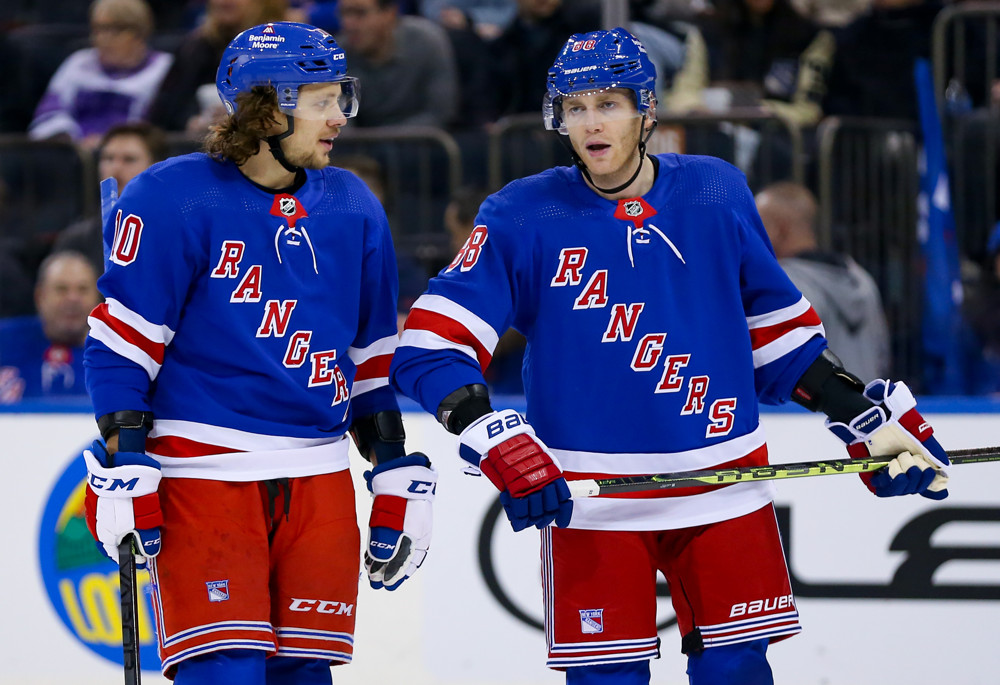 Each week I dive into the numbers and offer some insights that should help when it comes time to make fantasy hockey decisions.
This week brought a flurry of trades even before Friday's NHL Trade Deadline and then not so much on deadline day. Nevertheless, here is a look at the potential impact of the most significant moves, including Patrick Kane, Timo Meier, Jakob Chychrun, Shayne Gostisbehere, Tyler Bertuzzi and many more.
#1 When the New York Rangers traded for Vladimir Tarasenko, it looked like Patrick Kane might not get his wish to end up on Broadway. Kane re-ignited trade interest by putting up 10 points (7 G, 3 A) in his last four games with the Blackhawks and he should be productive in New York, where he will have a stronger supporting cast and is re-united with former Blackhawks linemate Artemi Panarin. Overall, this probably improves Kane's value down the stretch but his strong finish in Chicago ensures that he won't be any kind of buy-low bargain for fantasy managers.
#2 A shot generating beast, Timo Meier was acquired by the New Jersey Devils from the San Jose Sharks and while he is recovering from an upper-body injury, there is an excellent opportunity awaiting him with the Devils. Whether he ends up with either Nico Hischier or Jack Hughes as his center, Meier is going to be in position to keep producing at an elite level. He had 31 goals in 57 games with San Jose, averaging a career-high 4.47 shots on goal per game. As for the Sharks, they will offer a bigger role for Fabian Zetterlund, who had 20 points (6 G, 14 A) in 46 games for New Jersey and Andreas Johnsson, who has been stuck in the minors for most of the season and had 30 points (9 G, 21 A) in 36 AHL games, but they would only hold appeal in the deepest of leagues.
#3 The Ottawa Senators landed one of the most sought-after defensemen with the addition of Jakob Chychrun from the Arizona Coyotes. Chychrun has had trouble staying healthy throughout his career but has also been very productive when he is on the ice. Since 2018-2019, among defensemen that have played at least 200 games, Chychrun ranks sixth with 0.19 goals per game (49 goals in 256 games) and seventh with 2.73 shots on goal per game. The question is whether Chychrun has a chance to supplant Thomas Chabot on Ottawa's top power play unit. In Arizona, Juuso Valimaki is set to take over as the full-time quarterback on the Coyotes power play. He has 10 assists, including five with the man advantage, in the past 11 games.
#4 One of the reasons that Valimaki is the new No. 1 option on the Arizona blueline is that, in addition to trading Chychrun, the Coyotes dealt puck-moving defenseman Shayne Gostisbehere to Carolina. Gostisbehere will get regular power play time with the Hurricanes and given Carolina's five-on-five dominance, he should see an uptick in production at even strength, too. The Hurricanes also acquired right winger Jesse Puljujarvi from Edmonton. While Puljujarvi is probably more of a long-term project, who arrives with 14 points (5 G, 9 A) in 58 games, he did score 29 goals in 120 games over the previous two seasons. He has been a strong play-driving winger, which fits in Carolina, but Puljujarvi may also have some untapped offensive potential, too.
#5 With long-term injuries hitting wingers Taylor Hall and Nick Foligno, the Boston Bruins wasted no time in dealing for Tyler Bertuzzi from the Detroit Red Wings. Bertuzzi was an attractive commodity on the trade market even though he had just 14 points (4 G, 10 A) in 29 games for Detroit. He was scoring on a career-low 6.5% of his shots, with a 7.8% on-ice shooting percentage, so he is probably due for some positive regression when it comes to his percentages. With Bertuzzi departing Detroit, Dominik Kubalik moved back up to the Wings' top line.
#6 Power forward Nino Niederreiter landed with the Winnipeg Jets after scoring 28 points (18 G, 10 A) in 56 games for the Nashville Predators. Niederreiter is a six-time 20-goal scorer and should have a good opportunity to produce down the stretch for Winnipeg. He played more than 18 minutes in his first game for the Jets, something Niederreiter did in 11 of 56 games for the Predators. While Nashville has made several changes, one of the more notable moves was to call John Leonard up from the AHL, where he had 32 points (11 G, 21 A) in 52 games for Milwaukee. Leonard scored in his first game for the Preds, skating on a line with Cody Glass and Matt Duchene.
#7 After scoring 24 goals as a rookie last season, Tanner Jeannot was snakebit for most of this season in Nashville, scoring just five goals and 14 points in 56 games. He also had 213 hits and can drop the gloves, if need be, so he can have an impact without scoring, but the Tampa Bay Lightning will try to rekindle Jeannot's touch around the net. He is skating on the third line with Ross Colton and Nick Paul, a line that should be tough to play against. With Jeannot gone, Cole Smith has joined Colton Sissons and Yakov Trenin on Nashville's checking line.
#8 One more deal for Nashville, as they sent Mikael Granlund to the Pittsburgh Penguins. Granlund had 36 points (9 G, 27 A) in 58 games for the Preds, and has three seasons in his career with more than 60 points, so he has the skill to be a productive contributor. At the same time, it is not like he is stepping into a big role with the Penguins. In his first game for Pittsburgh, Granlund played mostly with Jeff Carter and Danton Heinen, which is not the best spot for putting up points. Granlund's departure from Nashville does open up room for a scoring winger and recently called up right winger Philip Tomasino has a chance to take advantage of that situation. Tomasino had 32 points (12 G, 20 A) in 38 AHL games before getting called up and has five points (1 G, 4 A) in nine games since his promotion.
#9 The Vancouver Canucks made one trade with an eye to the future and one that is more geared to the present. First, they sent checking winger William Lockwood to the New York Rangers for Vitali Kravtsov, a 23-year-old winger who had fallen out of favor with the Blueshirts after managing six points (3 G, 3 A) in 28 games. Kravtsov might have some long-term upside but is not likely to offer fantasy value this season. Vancouver's other major deal involved the addition of Filip Hronek from the Detroit Red Wings. Hronek is a 25-year-old right shot defenseman who has already tied his career high with 38 points (9 G, 29 A) in 60 games. However, 16 of those 38 points have come on the power play and it would seem unlikely that Hronek would get first unit power play time ahead of Quinn Hughes in Vancouver. Hronek's departure does open up more of an opportunity on the power play for Detroit's sophomore blueliner Moritz Seider, who started slowly, but has 18 points (2 G, 16 A) in his past 23 games.
#10 The St. Louis Blues continued to sell off veteran talent, dealing versatile forward Ivan Barbashev to the Vegas Golden Knights. Barbashev had a career-high 60 points in 2021-2022 and is not likely to get to that level again, but had 29 points (10 G, 19 A) in 59 games for St. Louis before the trade. Barbashev is getting an excellent opportunity in Vegas, skating on the top line with Jack Eichel and Jonathan Marchessault, so Barbashev is worth tracking in his new location. St. Louis has overhauled a lot of their forward group, but waiver pickup Kasperi Kapanen is looking at a better role than he had in Pittsburgh. Kapanen had 20 points (7 G, 13 A) in 43 games for the Penguins, but was playing just 12 minutes per game. He will play more than that in St. Louis and is getting a look alongside Robert Thomas and Pavel Buchnevich.
The Blues picked up a winger desperately in need of a fresh start. Jakub Vrana was traded from Detroit to St. Louis and the 27-year-old winger spent some time in the NHL/NHLPA Player Assistance Program this season. He had just two points (1 G, 1 A) in five games for the Red Wings as well as 11 points (6 G, 5 A) in 17 AHL games. However, when he was not injured or otherwise out of the lineup Vrana did score 22 goals in 42 games with Detroit, so there is obvious upside for a team like St. Louis, that is not looking for a full rebuild, but a quick turnaround instead. Tread cautiously with adding Vrana for this season but see what kind of opportunity he gets with the Blues and expect that he will have sleeper value next season.
#11 The Edmonton Oilers bolstered their roster with the additions of defenseman Mattias Ekholm from Nashville and center Nick Bjugstad from Arizona. Ekholm is a defensive standout, but is a capable puck mover, too, and has recorded more than 30 points in five different NHL seasons. Tyson Barrie went to Nashville in the Ekholm deal and going from Edmonton's power play to Nashville's power play is going to be a shock to the system. Edmonton has scored 12.50 goals per 60 during five-on-four play, easily the best in the league, while Nashville has scored 6.34 goals per 60, ranking 24th. Barrie scored 28 of his 43 points with the man advantage and will be replaced on the Oilers power play by Evan Bouchard, who has been able to generate points at evens, but has 14 of his 70 career points on the power play. Since the Oilers' power play is driven more by Connor McDavid and Leon Draisaitl, Bouchard should benefit from the new role. Bjugstad had 13 goals and 23 points in 59 games for Arizona, but he is likely to fill a bottom six role with the Oilers, so should not bring much fantasy value.
#12 The Los Angeles Kings, feeling like contenders, upgraded their defense and goaltending in a trade with the Columbus Blue Jackets, acquiring blueliner Vladislav Gavrikov and netminder Joonas Korpisalo, while sending goalie Jonathan Quick to Columbus. Gavrikov tallied a career-high 33 points last season but has just 10 points (3 G, 7 A) in 52 games this season, so he does not offer much fantasy appeal. Korpisalo, however, is looking at the opportunity to start for a team that is headed to the playoffs. Over the course of his career, Korpisalo has mostly been a below average goaltender, but he had a .919 save percentage in his last 17 games for Columbus and that is good enough for him to count as an upgrade for a Kings team that needed AHL call-up Pheonix Copley to save their season. Quick was reportedly not happy about the deal to Columbus and was then flipped to the Vegas Golden Knights. With Logan Thompson and Laurent Brossoit injured, Vegas could use someone to back up behind Adin Hill. Quick had a .876 save percentage in 31 games for the Kings, which would be a career-low mark for the 37-year-old goaltender. All of this is to say that Quick does not offer much for fantasy managers at this stage of his career.
#13 The Toronto Maple Leafs continued their active ways, dealing defenseman Rasmus Sandin to the Washington Capitals for Erik Gustafsson and a first-round pick. Sandin has a chance to play a substantial role in Washington for the rest of this season and beyond. With John Carlson injured, and Gustafsson heading to Toronto, Sandin is looking at a prime situation in which he can quarterback Washington's first power play unit. Gustafsson, who had scored 11 of his 38 points with Washington while on the man advantage, is tied for 15th among defensemen with 27 even-strength points. However, Toronto's blueline looks awfully crowded so, barring a sudden change, Gustafsson is likely to fall into a depth role, virtually eliminating his fantasy appeal. Toronto also added defensemen Jake McCabe and Luke Schenn, as well as center Sam Lafferty, any of whom might help Toronto's plans to add grit for the postseason, but none of them look like fantasy contributors.
#14 The Dallas Stars acquired Evgeni Dadonov from the Montreal Canadiens, sending Denis Gurianov the other way. The Stars also brought in center Max Domi from the Chicago Blackhawks. Dadonov is a skilled veteran winger who had a shooting percentage of 5.6% and on-ice shooting percentage of 6.6% for the Habs, both of which are likely to get a natural lift – he's due! Dadonov has three points (1 G, 2 A) and eight shots on goal in three games for the Stars, skating on a line with Jamie Benn and Wyatt Johnston. Gurianov had just two goals in 43 games for Dallas, but he scored 20 goals in 2019-2020, so there is some upside there and the Habs have the time to draw it out of him. Gurianov scored a goal in his second game for Montreal and played more than 17 minutes in his first two games for the Canadiens, a threshold he had not hit this season in Dallas. Domi wrapped up his tenure with the Blackhawks by scoring 14 points (4 G, 10 A) with 29 shots on goal in his last eight games. He has 49 points, his most in a season since scoring 72 points in 2018-2019. He will be in more of a supporting role with Dallas, so while he may contribute in Dallas, his fantasy value has probably peaked already. With Domi gone, 2020 first-round pick Lukas Reichel has been promoted from the AHL, where he had 46 points (17 G, 29 A) in 51 games for Rockford. Reichel has stepped into Domi's spot, centering Chicago's top line between Andreas Athanasiou and Philipp Kurashev.
#15 The Minnesota Wild made some modest deals to improve their forward depth before making bigger deals at the deadine. First, they added Gustav Nyquist from the Columbus Blue Jackets and Marcus Johansson from the Washington Capitals. Nyquist is injured, but should be healthy by the time the playoffs roll around and he is a competent scoring middle six winger. Johansson could have a little fantasy sleeper value. He had 28 points (13 G, 15 A) in 60 games for Washington, but started his second stint with the Wild by playing more than 16 minutes while skating on a line with Joel Eriksson Ek and Matt Boldy.
The Wild then added defenseman John Klingberg from Anaheim, where he had 24 points (8 G, 16 A) in 50 games, and just going to a better team ought to help Klingberg's production. Will he step into the Wild's top power play unit? The Wild rank 10th with 8.18 goals per 60 minutes of five-on-four play, but rookie defenseman Calen Addison is the top-scoring power play defenseman for the Wild and he has been a healthy scratch recently.
Minnesota also shipped winger Jordan Greenway to Buffalo, but he had just seven points (2 G, 5 A) in 45 games. Greenway produced a career-high 32 points (6 G, 26 A) in 56 games in 2020-2021, but has typically not scored enough to matter for fantasy purposes. The Wild replaced Greenway on the roster with Oskar Sundqvist, who had 21 points (7 G, 14 A) in 52 games for Detroit. Of all these additions by the Wild, Klingberg is the only one with widespread fantasy appeal.
#16 Although he played just 13 minutes per game for the Toronto Maple Leafs, lanky winger Pierre Engvall could have a better situation waiting for him with the New York Islanders, at least in the short term. With injuries up front, the Isles have Engvall starting out with Anders Lee and Bo Horvat on the top line. It's worth giving him a look. In 21 games this season in which Engvall played more than 14 minutes, he contributed seven goals and four assists.
#17 With the deals covered, there are still some players that are heating up and worth adding, starting with the Devils' Dawson Mercer. The second year forward has scored a goal in seven straight games, putting up 14 points (9 G, 5 A) with 22 shots on goal. He has a good thing going on a line with Nico Hischier and Tomas Tatar.
#18 Carolina's second year right winger Seth Jarvis has returned to the top line, alongside Sebastian Aho and Teuvo Teravainen. He has seven points (5 G, 2 A) and 20 shots on goal in his past six games and his increased shot rate makes it easier to buy him as a scoring threat down the stretch.
#19 Trying to recapture last season's magic, when Ryan Hartman had a career high 34 goals and 65 points the Minnesota Wild have re-united Hartman with Kirill Kaprizov and Mats Zuccarello on the top line. Hartman has seven points (3 G, 4 A) and 20 shots on goal in his past seven games.
#20 Scoring Buffalo's only goal in Thursday's 7-1 loss at Boston, Casey Mittelstadt is on a tear, with 10 points (3 G, 7 A) and 15 shots on goal in his past 10 games. That shot rate is concerning when it comes to sustaining his offensive production, but Mittelstadt is up to a career high 38 points (10 G, 28 A) in 60 games and that warrants consideration in deeper leagues.
*Advanced stats via Natural Stat Trick and Evolving Hockey.