The QMJHL's silly season is upon us.
The league's trading period opens up Sunday, and several trades are already in the books, some of which were consummated before the opening bell was officially opened. The period closes up on January 6. One thing to be expected this season: contenders will have to pay to make their teams better heading into the second half.
All eyes are on the Halifax Mooseheads this season as the Memorial Cup hosts in May. Because of this, the team has some extra pressure to build a contender. On paper, they are one of the strongest teams in the entirety of the Canadian Hockey League, but they have struggled a little bit with consistency. The team is noticing some potential issues that may need solving for the tourney, adding to their depth.
Now, if newspaper quotes are to be believed, Mooseheads general manager Cam Russell is not all that interested in blowing up the future for the present, as he observes that his team could be even better next season as presently constructed. However, this year is a guaranteed Memorial Cup berth, whereas future years are earned solely by hard work from August-to-May. The sure thing dictates that this declaration is just posturing, as a Memorial Cup host can expect a heightened market for any assets.
Further, this Mooseheads squad could use some tinkering. Edmonton Oiler forward Ostap Safin, acquired from Saint John at the start of the season, has been in and out of the lineup due to ongoing hip issues. Overager Jordan Maher has simply not been the best fit with the team with just four goals so far, despite his best efforts. Anaheim Ducks prospect Antoine Morand's game has been as expected, but the numbers are not quite where they should be, with 28 points in 29 games. Potential first rounder Raphaël Lavoie has hit a bit of a snag this season, not looking like himself from last season; he is scoring less and seeing his focus wane at times this season. The offence, a strong suit in prior years, is sixth-best in the league right now, with a few blowouts augmenting the numbers.
New Jersey Devils defender Jocktan Chainey has seen his ice time drop and Chicago Blackhawks blueliner Jake Ryczek has seen his rise, but behind Jared McIsaac and Justin Barron, who have been solid, there is no big third defender option. Despite that, the team has solid defending numbers, tied for second-best in goals against.
To his credit, goaltender Alexis Gravel has been maybe the team's most valuable player so far this season, but his backup option is Cole MacLaren, a decent choice but not a goalie you want starting against the OHL and WHL champions.
To that end, Halifax will be in on a defenceman this trading period, and potentially a second goaltender as well. If the price is right, they may also look to add to the forward group to try and jumpstart the offence.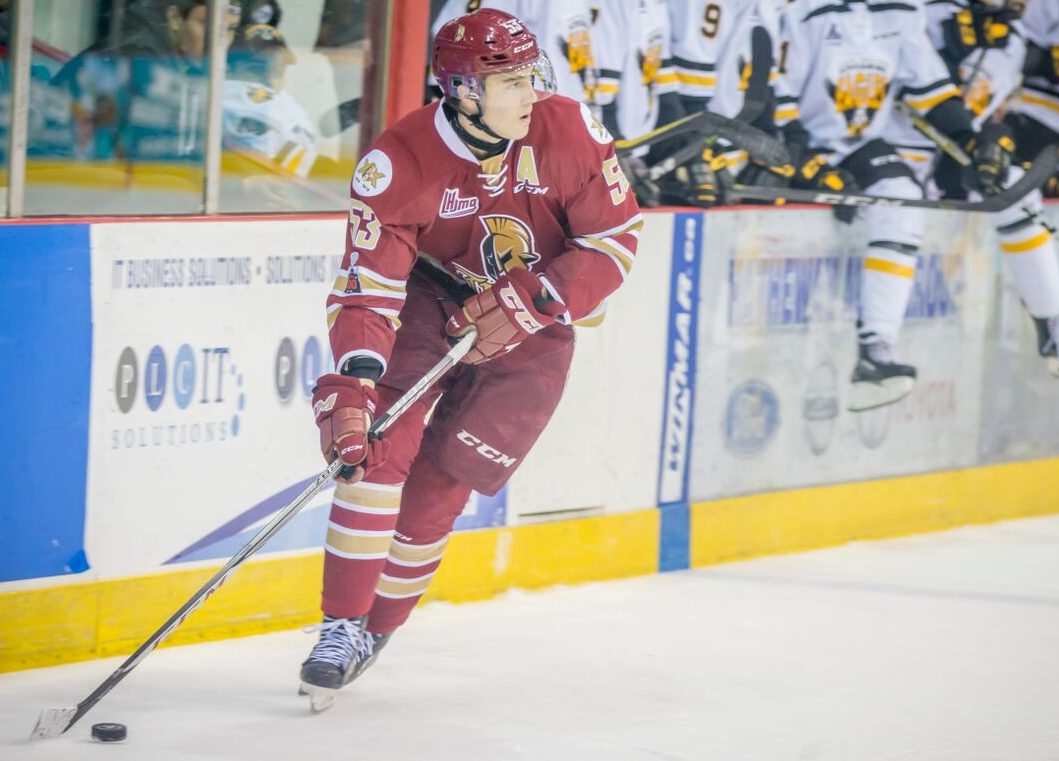 Thankfully for the Mooseheads, the two biggest names available in the trading period are both defencemen. New York Islanders prospect Noah Dobson is the biggest fish in the pond, and right behind him is Arizona Coyotes draft pick Pierre-Olivier Joseph.
The price for Dobson will set the market, as he is the prize all teams are competing for. Dobson is a game-changer on defence, capable of controlling a game from the back-end, and has championship experience on the biggest stage. Joseph is a very solid consolation prize, as teams who find the price for Dobson too high may rather try to acquire one of the league's hardest workers and smartest players. The Islanders also have very useful players to add into a Joseph trade to help a win-now team, such as Keith Getson or Anaheim Ducks prospect Hunter Drew, but it's believed that Jim Hulton is not looking for far-off picks, preferring players that can help as early as next season in exchange for his assets. Having said that, the Islanders are in a contending position, and could choose either to stand pat or add to their team.
What is interesting in the Dobson speculation is that it is rumoured that any deal involving him will have to go through the Chicoutimi Saguenéens, as part of conditions of a prior deal for Bathurst last season. The Sags would rather the assets that Dobson would provide rather than use him this season, as Chicoutimi is a middling team with no real title aspirations this season. The suspense will run into the new year, as Dobson cannot officially be traded until his term with Team Canada at the World Junior Championships are over.
There are some top-level defender and forwards beyond those two, but in goal, most contenders seem to be set with one or two good goaltenders. There are many options for a team to buy for a playoff run – Minnesota Wild prospect Dereck Baribeau from Quebec, Pittsburgh Penguin signee Alex D'Orio in Saint John and fellow Penguin camp attendee Tristan Côté-Cazenave, to name three – but most of the top teams are set in net.
The changed playoff format this season could also have an effect on the trading period, due to the imbalance of talent between the Eastern and the Western Conferences. Starting this year, to prevent so many easy matchups in the first round and to cut down on potential travel, the league decided to drop the 1-vs-16 format and form two conferences of two divisions each. The Maritime teams and the Eastern-most Quebec teams form the 10-team East, and the rest create the eight-team West. There is the potential for wildcards to allow the top 16 teams to make the playoffs, but the weakness of this playoff format is best demonstrated by the Cape Breton Screaming Eagles. At the time of writing, the Eagles would hold home ice in the old playoff format, sitting in eighth spot in the league. Because of the new conference format, though, Cape Breton would be sixth in the East, drawing a tough, contending Baie-Comeau team, on the road no less, in the opening round, rather than 11th-place Quebec. That format change could influence some teams in terms of whether to buy, sell or stand pat this season.
Two definite contenders outside of Halifax that dominate the list of other potential buyers are the Rouyn-Noranda Huskies and the Drummondville Voltigeurs.
Rouyn-Noranda are a very strong team built from within and coached and managed by last year's Memorial Cup winner, Mario Pouliot. They are hard-working, very deep in net and on defence, and just one player on the entire roster has played for another Q team. Their wildcard is the potential return of injured Pittsburgh Penguin prospect Zachary Lauzon. His return would put the Huskies in limbo with their overagers, and they would have to make a decision on their 20-year-olds.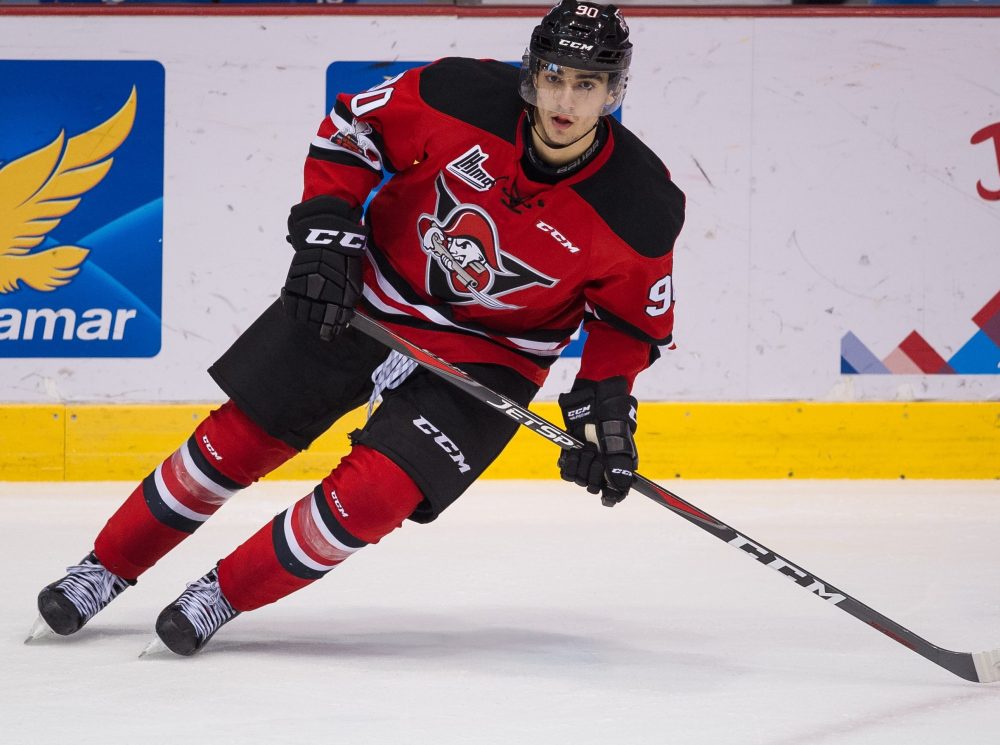 The Voltigeurs are maybe the league's deepest team, led by Anaheim Ducks prospect Maxime Comtois and Detroit Red Wings first rounder Joe Veleno up front, Chicago Blackhawks first rounder Nicolas Beaudin and New Jersey Devils prospect Xavier Bernard on defence, along with Edmonton Oilers prospect Olivier Rodrigue in goal. Comtois's return to the Q is maybe the biggest acquisition any team could have made this season. They are a rumoured team for Dobson, and adding Dobson to Beaudin and Bernard defensively would make Drummondville a very tough team to face in the playoffs with that three-headed monster on the back end.
One team that is certainly making some changes is the Baie-Comeau Drakkar. General Manager Steve Ahern has promised that several trades will be announced Sunday. They are heavily linked to the above-mentioned D'Orio.
Further with the Drakkar, Calgary Flames pick D'Artignan Joly has left the team on his own accord, awaiting a trade. Joly and the team have had a bumpy 2018, with player wanting to be more creative and team wishing he was more engaged and aggressive. Joly can absolutely score at this level, but he is an artist more than he is a worker.
Editor's note – prior to publication, it was announced that Joly had been dealt to Victoriaville
The Rimouski Oceanic were a contender for the league title on paper this season, but they look up at the Drakkar at this point in the year and are facing a decision – do they go for it or hold back and go for it next year. According to bench boss Serge Beausoleil, they will be tentative, but not sell off players who won't return, including captain Charles-Edouard D'Astous, who drew some interest from the Ottawa Senators in the summer. The Oceanic are the proud team of phenom Alexis Lafrenière, who will return to the league next season, and Rimouski could set themselves up to be an even better team next season.
The Moncton Wildcats may opt to do the same, as they have a high-flying offence, but many players also set to return for next season, namely potential first rounder Jakob Pelletier and Minnesota Wild pick Alex Khovanov, despite some issues on the defensive end. Unlike the Oceanic, though, players not returning next season or otherwise not in the plans for next season could be available for trade.
Among the anticipated sellers, the Acadie-Bathurst Titan have also had a move announced ahead of Sunday's opening day for the mid-season trading period. They will acquire forward Anderson MacDonald from the Wildcats for a pair of picks. MacDonald has not had the bounce-back season either he or the Wildcats were hoping after he was surprisingly undrafted in last June's NHL Entry Draft. MacDonald has battled injuries all year, and has played in only four games, largely on the fourth line, before being shuffled out of Moncton to the north of New Brunswick.
The Titan have also all but moved Dobson, fellow blueliner Keenan MacIsaac and forward Ethan Crossman, and will continue to take calls on defender Michal Ivan. The foursome all played key roles for the Memorial Cup winning Titan squad last year, as they look to set themselves up for a rebuild.
Editor's note – Prior to publication, both Crossman and MacIsaac were dealt to Baie-Comeau
One can add the Blainville-Boisbriand Armada to the list of potential sellers, as they may look into cashing in on the remaining assets from three straight strong playoff runs. Montreal Canadiens prospect Joël Teasdale is a name that would garner lots of interest, and they have many useful veterans they do not need this season – Rémy Anglehart, Alex Katerinakis, Luke Henman, Thomas Ethier and Charles-Antoine Giguère come to mind. The Armada could recoup a lot of assets for their collection of forwards.
Editor's note – Giguère was traded to Moncton prior to publication
The Gatineau Olympiques could also cash in on a few of their players for the future, namely Minnesota Wild prospect Shawn Boudrias and overager Gabriel Bilodeau, who could put up points on a contender looking to upgrade their powerplay. So could Val-d'Or's David Noel, a St. Louis Blues pick, who is 19, but is currently on the shelf with an eye injury.
The composition of the QMJHL's top teams will look different between now and January, and despite the high prices, expect a lot of player movement this time around.