Kevin Olexson provides a detailed scouting report on Stelio Matheos of the Brandon Wheat Kings. We have provided this profile for free to give you an idea of what is available with a subscription. You can learn more here.  Here is a sample of Matheos write-up to see what you receive in the magazine available to subscribers for download. Mackenzie Entwisle and Stelio Mattheos free sample
McKeen's 2017 NHL Draft Guide
With highly touted first ranked prospect Nolan Patrick sidelined by injury for long stretches of the year, Mattheos, himself the former first overall selection of the WHL bantam draft in 2014, had a greater share of spotlight to himself. It may be fair to say that he was at his strongest when Patrick was not around. In the two months between Oct. 11, 2016 and Jan. 13, 2017, he played 34 games, scoring 11 goals and adding 22 assists (0.97 points-per-game). Considering that he contributed 0.8 points per game over the rest of the season, there is evidence to suggest that Mattheos has the skill set to be a more focal point of the offensive attack if given free rein to do so. This impression was only fortified when he was Brandon's leading point getter in their abbreviated postseason (again, with Patrick out of commission) and he tied for Team Canada's lead in goals scored at the U18 tournament.

We expect him to significantly increase his offensive output next season. He succeeds with plus stickhandling and finishing skills. His shot is dangerous from middle-distance on in. He likes to rush the net and has the hands to beat the netminder once he bears in on the crease. He also plays a promising two way game, showing plus penalty killing ability at the U18s. Not an overly aggressive physically, he has a pro-sized frame and is certainly not soft either. Expected to be selected in the second round, he has the raw tools to play above that pedigree down the road.
A note on the 20-80 scale used below. We look at five attributes (skating, shooting, puck skills, hockey IQ and physicality) for skaters and six for goalies (athleticism/quickness, compete/temperament, vision/play reading, technique/style, rebound control and puck handling). Each individual attribute is graded along the 20-80 scales, which includes half-grades. The idea is that a projection of 50 in a given attribute meant that our observer believed that the player could get to roughly NHL average at that attribute at maturity.
| Stelio Mattheos | 2017 Draft Eligible |
| --- | --- |
| Position: RW, Shoots R | H/W: 6-1", 195 lbs |
| Stats to date (GP-G-A-PTS-PIMS) | Brandon Wheat Kings, WHL (69-26-35-61-59) |
| | Canada U18, WU18 (5-4-0-4-2) |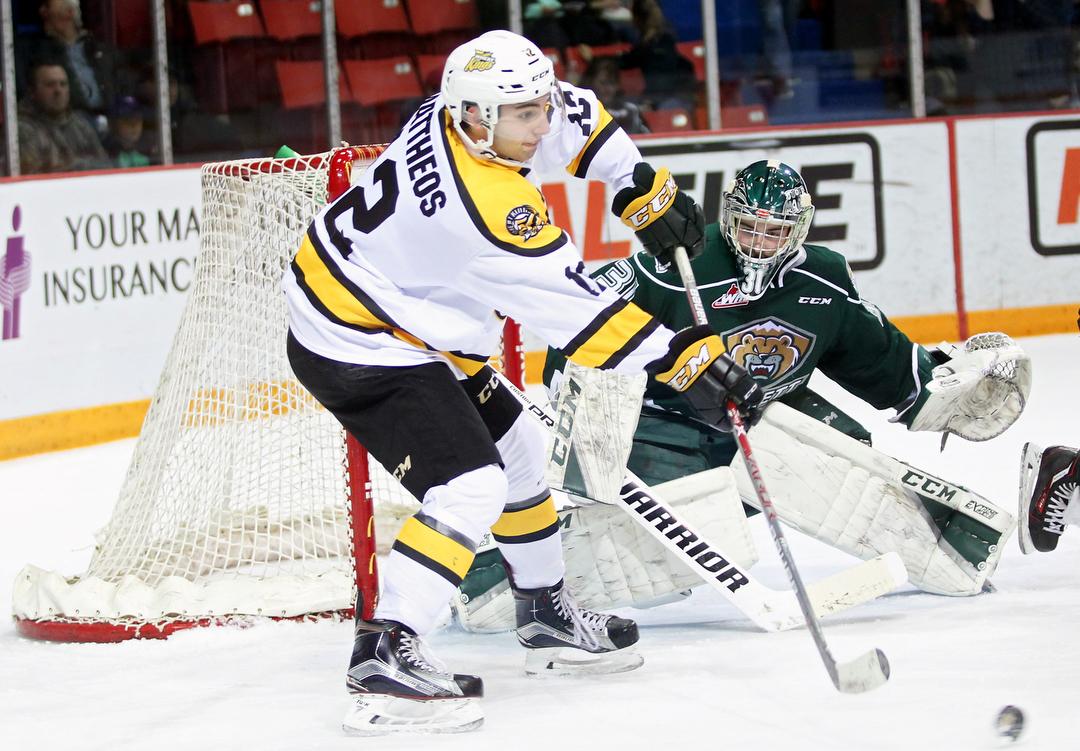 Skating: Mattheos is a strong player who is sturdy on his skates with good overall skating ability. He is sound in his movements, and moves well both north and south. He has good balance and can hold off defenders with his strength. He takes strong strides, and has impressive speed with decent acceleration. He is a handful to contain when he builds speed and gets going. When he has the puck, he drops his shoulder to take defenders outside on his way to driving the net. Grade: 50
Shot: A strong shooter with a great shot. He has a quick release on his wrist shot, and can be very deceptive with a quick release. His wrist shot is also very accurate, and he really leans into his slap shot and one timer and gets his weight behind it. One of the knocks on Mattheos is not using his shot enough, as he seems to battle in front of the net and score a lot of goals from in close or by tap in. Grade: 55
Skills: Mattheos is a player with a good blend of skills. He has decent hands and handles the puck well. He plays unselfishly and distributes and moves the puck around nicely to teammates. He is very strong on the puck and hard to knock him off it or otherwise create turnovers when he has the disc. Grade: 50
Smarts: Mattheos is a smart player who plays a strong two-way game. He has a great work ethic, and aggressively forechecks and pressures defenders. He knows how to play in his own end, and comes back very hard defensively. He is very reliable, positionally sound, and covers opponents very well. He plays angles nicely to get to pucks, and pressure opponents. He fills lanes, uses an active stick to disrupt passes and take away space, and will get in front of and block shots as well. He excels in his defensive or checking role. Grade: 55
Physicality: He has good size and is not afraid to use it or play physical. He is able to use his size and strength to battle for position in front of the net and overpower defenders for loose pucks and scoring opportunities. He finishes his checks, is willing to go hard to the net, and plays physical along the boards. He is very strong and hard to stop, and is usually able to battle past defenders and physical contact to develop opportunities and extend plays. Mattheos plays with passion, energy, and hustle, and he could stand to play even more physical, as it would help him be more dominant on the ice. Grade: 55
Summary: Stelio Mattheos is a strong center with good size. He is a very effective player who does not really jump out at you, as he does all of the little things properly that tend to go unnoticed. He plays good positionally, is versatile and can play center or wing, and is reliable in his own end. He had to step in and fill big shoes with Wheat Kings center Nolan Patrick being injured for long stretches of the season and performed admirably, supporting teammates and scoring at almost a point a game pace - a better level of production than he accomplished when Patrick was in the lineup. The thing with Mattheos is that he is at his best when he is playing a defensive or checking role, and keeping his opponents at bay. He has all of the tools to become a good power forward at the pro level, and should be a solid bottom six forward, a strong two-way player, and be very effective in a checking role.